Full-service Juneyao Airlines to establish low cost Jiu Yuan Airlines while growing partnerships
Analysis
Privately-owned Shanghai carrier Juneyao Airlines is looking to capture growth across multiple segments. Complementing its full-service brand with an increasing array of partnerships is a pending new low-cost carrier, Jiu Yuan Airlines, which will offer "jiu yuan fares" (CNY9/USD1.48) in China's domestic market.
Jiu Yuan will be based in Guangzhou, well away from Juneyao's base, and is a by-product of recent change in China that supports new private carriers, the LCC model and deregulation of minimum fare pricing. It is early days for this more relaxed – but still restricted – environment, so Juneyao's Jiu Yuan strategy may change. For now the intent is to keep the two carriers separate, which should be easy as Juneyao's only service from Guangzhou is to Shanghai. A shakeup could occur if, or when, there is the emergence of an LCC subsidiary from China's largest domestic carrier: China Southern, whose fortress hub is at Guangzhou.
In its first year of pursuing partnerships, Juneyao has secured 15 interline agreements and two domestic codeshare partners. It now awaits its first international codeshare.
Juneyao awaiting approval for Jiu Yuan Airlines, the first subsidiary of China's small private airlines
Juneyao says it has submitted an application to regulator CAAC to establish Jiu Yuan Airlines, with Juneyao having at least a 70% stake and the remaining held by non-aviation companies. This will ensure Juneyao remains in control, although Jiu Yuan is likely to be run separately from Juneyao and some staff will likely be seconded.
The arrangement, for now, is not quite a dual-brand strategy since overlap potential is restricted: Juneyao's only destination from Guangzhou is Shanghai. This contrasts to other dual-brand strategies where a full-service and low-cost carrier share at least a hub and often routes. Jiu Yuan's launch as an LCC may be opportunistic given the current support for LCCs: presently this is in the form of regulatory support but subsidies for LCCs are likely. Using the LCC model is also a reflection of practicality (wanting inexpensive flights) and demand (Guangzhou not having the income of Beijing and Shanghai).
Jiu Yuan would be the first example – outside of the HNA Group – of an entirely privately-owned Chinese carrier having a subsidiary. State-owned carriers Air China, China Eastern and China Southern have subsidiary airlines (and sometimes those subsidiaries have their own subsidiaries). HNA has a number of airlines, but HNA has become the fourth force in Chinese aviation. Much smaller companies including China Express, Chengdu Airlines, Juneyao, Okay Airways and Spring are privately-owned and have so far tended to their own operation. In addition to Juneyao seeking approval for Jiu Yuan, Okay Airways is seeking approval for a regional subsidiary airline.
Jiu Yuan to offer CNY9 fares after pricing deregulation
The CAAC announced in Nov-2013 that it had ended minimum pricing requirements on 20-Oct-2013. These requirements had set a minimum airlines could charge based on distance, but now the minimum is CNY1 (USD0.16) – so not quite zero.
The CAAC has retained the maximum threshold, however. The minimum requirement had not deeply impacted the industry as it allowed for discounting, but not LCC-style discounting that uses bottom rates in marketing campaigns and also to stimulate demand. Spring had encountered some difficulties, but aside from this its impact was not felt, largely because Spring was the only sizeable LCC.
Now that LCCs are set to grow, removing this restriction is important for them to differentiate their business model, gain awareness, and stimulate demand through low fares.
The fact that Juneyao is naming its LCC after a fare amount that could not (officially) exist a few months ago shows the speed at which change is being made and embraced by the sector.
Juneyao also certainly hopes to attract public attention by naming an airline after fares the public has not imagined, unlike markets elsewhere in the world accustomed to LCC pricing. Even then, CNY9 is an exceptionally low amount to be advertising – and so perhaps Jiu Yuan should prepare for the inevitable backlash when the public has difficulty securing a CNY9 fare whenever they want.
Guangzhou is especially ripe for low-cost presence. It is China's second largest airport after Beijing, but third largest airport system with Shanghai Hongqiao and Pudong collectively larger than Guangzhou. Unlike Beijing and the Shanghai airports, the slot situation in Guangzhou is comparatively better.
Guangzhou has neither the government and related traffic of Beijing nor the business traffic of Shanghai, making its catchment area – and this is a very large area – lower yielding. This should translate to solid demand for low-cost services, stimulating new markets rather than diverting traffic from China Southern, already hurt by the spread of the High Speed Rail network.

Trunk routes to Beijing, Chengdu, Hangzhou, Haikou, Sanya and Shanghai account for one-third of seat capacity from Guangzhou. While Jiu Yuan may have success in markets like Haikou and Sanya, the rest will be difficult to enter due to slot restraints. There are lots of low-hanging fruits, but time will tell how much China Southern tries to restrict Jiu Yuan out of its home market.
Top 10 domestic routes from Guangzhou ranked on seat capacity: 11-Nov-2013 to 17-Nov-2013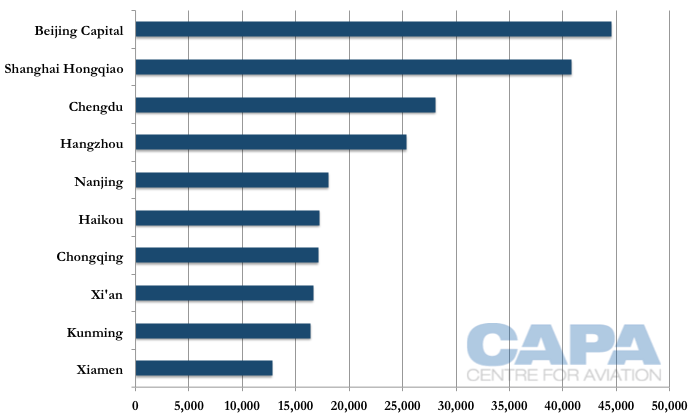 China Southern is almighty at Guangzhou, its home base, but it has some cosy positions. China Southern has a monopoly on 36 of its 76 domestic routes from Guangzhou. Seats on these routes account for about 20% of its domestic capacity from Guangzhou.
Can Jiu Yuan prove that LCCs can flourish outside of Shanghai?
Jiu Yuan's challenge is to create a low-cost base that can sustainably support services to smaller cities; many such routes are unprofitable for the major airlines. The task is both easy and difficult.
On the one hand, the state-owned carriers are bloated and relatively unable to reduce their cost base. Financials from Juneyao are not available, but limited information from LCC Spring Airlines (also based in Shanghai) shows that a private LCC can have a structural difference.
As CAPA previously wrote of a CAAC report into Spring Airlines:
Spring had a load factor of 94% compared to an industry average of 76%, a selling expense of RMB0.08 per ASK compared to an industry average of RMB0.41, maintenance expense of RMB0.13 compared to an industry average of RMB0.25, management cost per ASK of RMB0.11 compared to an industry average of RMB0.25, utilisation rate of 11.4 hours compared to China's average A320 utilisation rate of 9.2 hours, and 95 employees per aircraft compared to the industry average of 122.
See related report: China: 'We urgently need to develop LCCs' – is this the moment for Asia's 'last' LCC market?
The findings are impressive, and even competitor airlines agree. But the caveat is that Spring's success has been heavily tied to Shanghai, which has a wealthy catchment area, although it sees sizeable numbers of business travellers.
Spring was born during the relatively liberalised period last decade. The only other carrier that was born during that time and today has found large-scale success is Juneyao, also based in Shanghai. (There are two other LCCs in China: Chongqing-based West Air, which only adopted the LCC model in 2013, and Kunming-based Lucky Air.)
The economic development that has occurred since 2005 means private carriers, including LCCs, should now find success in other parts of the country. But that is heavily contingent on there being a relatively supportive regulatory environment. Although Spring is still in business (as is Juneyao), due to regulatory constraints Spring is about half the size it originally expected to be.
It is not just China Southern Jiu Yuan will be up against. Air China and China Eastern are, respectively, the second and third largest carriers in Guangzhou's domestic market, but with much smaller shares: 11% for Air China and 10% for China Eastern.
Guangzhou domestic seat capacity by carrier: 11-Nov-2013 to 17-Nov-2013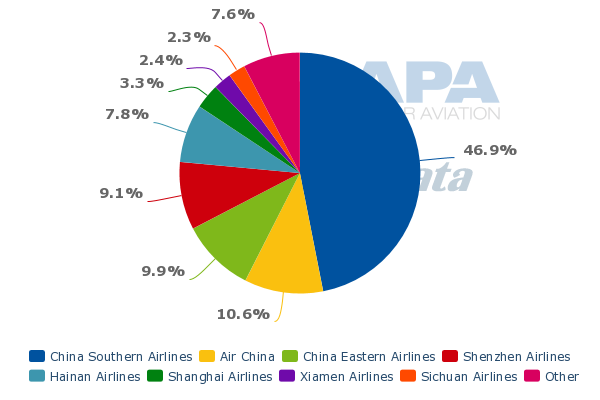 But the two are largely focused on hub routes. 85% of Air China's domestic capacity from Guangzhou is on trunk routes to Beijing, Chengdu, Chongqing, Hangzhou, Shanghai and Tianjin. The remaining 15% of Air China's domestic capacity from Guangzhou is deployed across nine routes.
For China Eastern, 63% of its domestic capacity from Guangzhou is to Hangzhou, Kunming, Nanchang, Shanghai and Xi'an. Its remaining 37% of domestic capacity at Guangzhou is deployed across 13 routes. So while Air China and China Eastern are large at Guangzhou, Jiu Yuan should be able to carve out markets around them.
Juneyao has established 15 interlines and two domestic codeshares. Next: international codeshares
Juneyao meanwhile is growing its partnership business. Since seeking partners, beginning in mid-2012, Juneyao says that as of Nov-2013 it has 15 interline partners, including carriers elsewhere in Asia and other continents. While this is well short of the hundred-plus interline agreements other carriers may have, this accumulation is only after a year or so and is from a relatively young – and unknown – carrier.
Juneyao also launched its first codeshares, which took place in the domestic market when it commenced codeshares with Air China and China Eastern earlier in 2013. The codeshares have seen a nice uplift of traffic on Juneyao's network from the two behemoths. The advantage, proportionally, is to Juneyao, and this should be expected given the larger size of Air China and China Eastern meaning they have a wider pool of passengers to place on smaller Juneyao.
Juneyao is now looking to achieve its first codeshare with an international carrier as well as its first codeshare from a domestic carrier on international routes, which the carrier is growing to Korea and Thailand. It has also launched cross-Strait routes to Taiwan.
Much growth is being focused on the China-Thailand market, which is rapidly growing due to outbound Chinese demand. Today's capacity – from Juneyao and others – is a fraction of what it will be in the future.
Juneyao is a small player in the overall market, but accounts for about 20% of capacity from Shanghai to Thailand. Rapid growth is expected once visa-free entry is permitted for Chinese nationals.
See related reports:
Thailand to China capacity by carrier (one-way seats per week): 19-Sep-2013 to 16-Mar-2013
In tandem with its partnership growth, Juneyao is expanding its IT compatibility, already working with TravelSky, Abacus, AXESS and Sabre. Juneyao positions its proposition as suitable feed for carriers flying into Shanghai.
At Shanghai Hongqiao, Juneyao is the second largest full-service airline (counting Shanghai Airlines as being part of China Eastern) while at Pudong it is third behind China Southern.
Shanghai Hongqiao and Pudong carriers ranked on domestic seat capacity: 11-Nov-2013 to 17-Nov-2013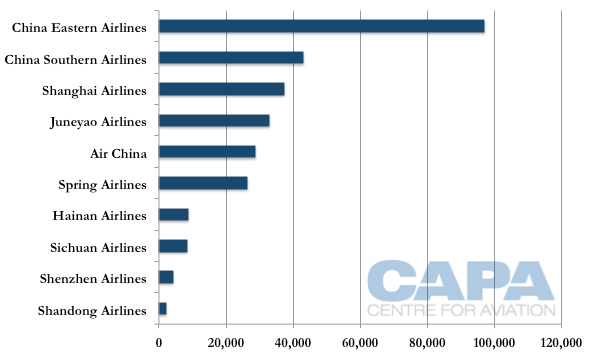 Juneyao may even argue it offers a premium service above incumbents with adjustable headrests and more legroom. Hot meals, snacks and beverages are complimentary in both cabins: Juneyao's A320s seat 150 in economy and eight in first class (which is more a business class lite). The A320s comprise the bulk of the fleet although the carrier is receiving four larger capacity A321s to deploy on trunk routes.
Outlook: Juneyao may be small, but it is diversifying and growing; partnerships are important

Juneyao lacks the size of China's big airlines, but its strategy is notable given how engaged the carrier is. Juneyao is one of the first to launch an LCC under this new wave of liberalisation.
As with almost all aspects of the current reforms, there are many questions and answers that may not be evident for a few years, and may very well change along the way. Juneyao and Spring are unique for having survived and flourished amongst the new entrants from last decade, and that is a vote of confidence for Jiu Yuan to – eventually – find success. As with Juneyao, Jiu Yuan's success will be tied to regulatory freedom.
Many Chinese carriers focus almost exclusively on organic growth in the domestic market, but Juneyao has realised there is a tidy income to be made from a partnership strategy - which, like the carrier, is young but growing and seemingly respected.