easyJet sees large profitability decline but improvements ahead
Analysis
easyJet reported a 91% slump in operating profit and a 82% decline in net profit, to GBP60.1 million and GBP71.2 million (and a net profit margin of 2.7%), respectively, in the 12 months ended Sep-2009 (FY2009). The results were "in line" with the carrier's expectations.
easyJet operating profit margin and net profit margin: FY2004 to FY 2009 (year ended 30-Sep)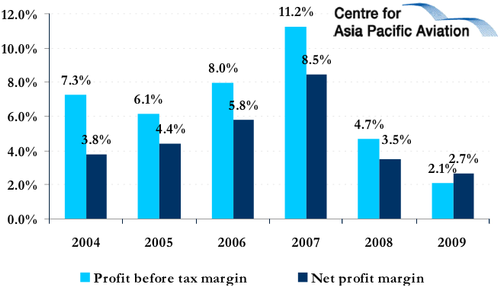 Despite the reductions, easyJet CEO, Andy Harrison, stated, the results represented "an extremely resilient performance making easyJet the best performing European airline based on our robust yields". He added, "we are one of the very few European airlines to make a profit during the last 12 recessionary months".
easyJet financial highlights for 12 months ended 30-Sep-2009
| Currency: GBP | | % Change |
| --- | --- | --- |
| Revenue (mill) | 2,667.8 | +12.9% |
| Operating costs (mill) | 2,442 | +16.2% |
| EBITDAR (mill) | 225.1 | +9.5% |
| Operating loss (mill) | 60.1 | +34.0% |
| Profit before tax (mill) | 54.7 | -50.4% |
| Net loss (mill) | 71.2 | -14.4% |
| Revenue per ASK (pence) | 4.58 | +8.1% |
| Cost per ASK (pence) | 4.51 | +12.1% |
| Cost per ASK exc fuel (pence) | 3.12 | +13.6% |
| Traffic pax (mill) | 45.2 | +3.4% |
| Traffic RPKs (bill) | 50.6 | +6.0% |
| Capacity ASKs (bill) | 58.2 | +4.4% |
| Load factor (%) | 85.5% | +1.4 ppts |
easyJet expecting substantially higher profit in 2010; hurt by fuel hedging
easyJet was negatively effected by rising fuel costs and lower interest income in the 12-month period - the carrier reported a GBP330 million loss on fuel hedges in the 12-month period with interest income in 2009 being GBP30.5 million lower than in 2008 at GBP18.4 million, offset by a GBP120 million gain on USD hedging.
Explaining this situation, Mr Harrison, in an interview with BBC Radio, stated, "the issue with our profits is to do with the way in which our fuel hedging works; we average fuel prices which means that there is a delay between the drop in market prices and the benefit to easyJet so we'll see a GBP100 million improvement to our profits in 2010".
On the outlook, Mr Harrison stated the carrier expects profits to be substantially higher in 2010, despite the carrier expecting a "tough Winter ahead".
easyJet's shares fell 3.6% upon the release of the financial results. The carrier's stock has advanced 38% in 2009, boosting its market value to GBP1.64 billion.
easyJet share price growth: Jan-2009 to Oct-2009
Ancillary revenues a saviour in 2009
easyJet's total revenue for 12 month period increased 12.9% year-on-year to GBP2,666.8 million, equating to GBP50.47 per seat (up by GBP4.96/seat or 10.9%). During the period, the percentage of revenues denominated in Euros in 2009 was 42% with, in aggregate, non-sterling revenues accounting for 51% of total revenues.
easyJet revenue and cost per passenger/seat breakdown: 2009
| Currency: GBP cents | | % Change |
| --- | --- | --- |
| Passenger revenue | 2,151 | +7.8% |
| Ancillary revenue | 516 | +40.6% |
| Total revenue per seat | 50.47 | +10.9% |
| Total revenue per seat at constant currency | 47.36 | +4.1% |
| Passenger revenue per seat | 40.70 | +5.9% |
| Ancillary revenue (inc checked bag) per seat | 9.77 | +38.2% |
| Checked bag per seat | 4.51 | +62.3% |
| Revenue per ASK | 4.58 | +8.1% |
| Revenue per ASK at constant currency | 4.30 | +1.4% |
| Cost per seat | 49.64 | +15.1% |
| Cost per seat exc fuel | 34.36 | +16.5% |
| Cost per ASK | 4.51 | +12.1% |
| Cost per ASK ex fuel | 3.12 | +13.6% |
On a unit basis, the revenue results were also positive, with revenue per ASK up 8.1%.
easyJet unit cost and unit revenue (per seat): FY2006 to FY 2009 (year ended 30-Sep)
These results were driven by improvements to the carrier's network mix, impressive ancillary revenue growth, competitor capacity reduction of around 6%, an improved load factor performance and the carrier's success in attracting higher-yield business passengers (this, however, involved the carrier increasingly deploying capacity to better-located but more expensive airports preferred by customers).
Ancillary revenues were, once again, a saviour in the period, surging 40.6% to GBP516.3 million in 2009 to represent 19.4% of total revenues (up from 15.5% in the previous corresponding period).
Ancillary revenue of total revenue: FY2006 to FY 2009 (year ended 30-Sep)
On a per seat basis, ancillary revenue income grew by 38% to GBP9.77 per seat (The checked bag charge averaged GBP4.51 per seat, an increase of GBP1.73 per seat in the year, and other ancillary revenues grew by GBP0.97 to GBP5.26 per seat).
easyJet revenue and cost per passenger/seat breakdown: FY2009
| Change in ancillary revenue per seat | vs 2008 |
| --- | --- |
| Baggage/Sporting goods | 53.3% |
| Speedy boardings and other discretionary charges | +43.0% |
| Card/change fees | +31.0% |
| Partner revenues | +15.4% |
| In-flight revenues | -5.9% |
The growth was driven mainly by increases in the checked bag charge - baggage charge revenue delivered GBP238.1 million in 2009, an increase of GBP94.0 million or 65.2% compared to the previous year.
easyJet, which stated its Speedy Boarding product continued to deliver "strong" results in 2009, added that, "as expected, this has been accompanied by a small yield dilution, but with approximately 70% of passengers having checked baggage, the net result is positive".
Operating costs outpacing revenues; unit cost improvements also on the rise
Increases in operating expenses, however, exceeded the carrier's revenue growth in FY2009, increasing 16.2% year-on-year to USD2.4 billion, compared to a 12.9% increase in revenues to USD2.7 billion.
However, the carrier stated it has made "significant" progress on cost reduction initiatives, as part of which the carrier exited nine "expensive" aircraft from the fleet, enacted system improvements and renegotiated maintenance arrangements with SRT to deliver savings of approximately GBP175 million over the 11-year life of the contract.
On a unit basis, costs were also up, with total cost per seat excluding fuel increasing 16.5% or GBP4.87 per seat to GBP34.36 in 2009. This was partially driven by increased sector length (+2.6% to 1,101 km) and planned lower aircraft utilisation during the Winter (-6.9% in the full year to 11.0 hours per day).
easyJet unit cost per seat (not including Net ownership costs): 2008 vs 2009 (year ended 30-Sep)
During the 12 month period, and in addition to the strengthening of the US dollar and Euro against the GBP, the Swiss Franc strengthened by 19%. As a significant proportion of the cost base is denominated in these currencies, this has had a significant impact on unit costs. Excluding the impact of exchange rates, cost per seat excluding fuel was up 6.2% or GBP1.83 per seat compared to last year.
Focused on strategy development, amid uncertain macro conditions
Due to the tough macro economic environment, characterised by volatility of fuel prices and currency rates, rising unemployment across Europe and reduced travel demand, easyJet has focused its strategy on reducing risk, boosting cash reserves and revenues while reducing costs (predominantly through entering lower cost deals with key suppliers), and expanding into key markets in order to expand the scope and effectiveness of its network mix.
The ultimate aim of this is to continue with profitable growth in the medium term, from which the carrier aims to achieve a 15% return on equity.
1. Measured approach to fleet management, capacity growth and cash conservation
easyJet, which currently has a fleet of 183 aircraft, plans to enact a fleet plan which will deliver approximately a 7.5% capacity growth p/a over the next five years.
This fleet plan will enable easyJet to grow its share of the European short-haul market from around 7% to 10%, according to the LCC.
In the past year, easyJet took delivery of 15 A320 aircraft and 20 A319 aircraft. A further 70 aircraft are currently planned for arrival over the next three years, a net increase of 26 aircraft, for an expected total number of aircraft of 207 by 2012.
easyJet fleet growth plans: FY2008 to FY2012
| Fleet | FY2008 | FY2009 | FY2010 | FY2011 | FY2012 |
| --- | --- | --- | --- | --- | --- |
| | 120 | 155 | 182 | 194 | 207 |
| B737-700s | 29 | 17 | 8 | 2 | 0 |
| GB Airways A320s | 16 | 9 | 2 | 0 | 0 |
| Total | 165 | 181 | 192 | 196 | 207 |
easyJet ownership fleet plans
| Fleet | Owned | Operating lease | Finance lease | Total | Future deliveries | Unexercised purchase rights |
| --- | --- | --- | --- | --- | --- | --- |
| | 103 | 46 | 6 | 155 | 72 | 88 |
| B737-700s | 0 | 17 | 0 | 17 | 0 | 0 |
| GB Airways A320s | 4 | 5 | 0 | 9 | 2 | 0 |
| Total | 107 | 68 | 6 | 181 | 74 | 88 |
easyJet's cash and money market deposits as at 30-Sep-2009 exceeded GBP1 billion. easyJet also has sufficient resources in place, through a combination of undrawn committed facilities and surplus cash, to fund future aircraft deliveries for at least the next 18 months. In the year, gearing increased from 29% to 38% reflecting increased debt-financed capital expenditure as the carrier continues the replacement of our Boeing sub-fleet.
2. Continued strategic market development; strong growth in key business markets
During FY2009, easyJet continued with its strategy to cautiously and strategically develop its network. During the period, easyJet's shift towards deploying relatively more capacity to European markets continued.
Overall, easyJet's capacity (measured in seats flown) grew by 1.8% during the year, with a 16% increase in Mainland Europe, focused on France (+30%), Italy (+78%) and Spain (+16%). easyJet's capacity at Gatwick grew by 12%, partly driven by the full year effect of the GB Airways acquisition on 31-Jan-2008. Capacity was reduced in weaker performing markets such as Luton and the UK regions (-8.4%).
easyJet now has a presence on the top 100 routes in the European short-haul aviation. According to the LCC, approximately 200 carriers compete in the European short-haul market and the top five players, including easyJet, account for approximately 60% of total capacity, with the rest of the market being highly fragmented.
During the 12-month period, easyJet handled 45.2 million passengers, a 3.4% year-on-year increase, with a load factor improvement of 1.4 ppts to an industry-leading 85.5%, with the load factors representing the first time since 2005 that the annual load factor exceeded 85%.
easyJet passenger numbers growth and revenue growth: FY2004 to FY 2009 (year ended 30-Sep)
Comparatively, the average growth of the European short-haul aviation market shrank by approximately 5% in the period, as airlines sought to mitigate losses created by reduced travel demand, higher fuel costs and intense competential.
Hence, easyJet was able to gain market share in the year, with the LCC also strengthening its position in a number of key business markets including Paris, London Gatwick, Milan and Madrid, resulting in the carrier increasing slots at constrained airports by over 10% in the year.
easyJet also continued its strategy of carefully targeting growth in markets from which weaker competitors are retreating in this period of recession. Through this strategy, easyJet stated it is "building strong, defendable market positions that will ensure it is well positioned for profitable growth once the European economy improves".
easyJet key market analysis
Region

Strategy

Total Market

Leading presence on the top 100 routes in Europe, increasing by six following entry onto routes such as Rome to Milan and Paris to Barcelona;
Position in European short-haul aviation has strengthened with market share gains in a number of key business market, such as Paris, London Gatwick, Milan and Madrid and over a 10% increase in slots at capacity constrained airports;
Positions at primary airports that are attractive to time sensitive consumers.;
Network appeal to both leisure and business pax;
Half of easyJet's passengers now originate from outside of the UK, with its more balanced revenue base protecting easyJet from the worst effects of recession and allowing the carrier to gain market share;
Continues to actively manage network by optimising routes. During the past year, 28 underperforming routes were closed and 70 new routes were launched.

Now the leading airline with 39 based aircraft and a 30% share of the airport's passengers;
Continuing to leverage that position to absorb competitive pressures;
Longer sectors are performing well and slots acquired with GB Airways were optimised with business orientated routes being allocated to peak slots and leisure routes moved to later in the day;
"Winning the competitive battle on traditional sun routes with excellent load factors, albeit with weaker market pricing";
Benefited from legacy competitor withdrawal on key business routes.

Based aircraft at Milan;
Continues to "outperform" the competition in Milan, with "significantly stronger" load factors;
Opened a base at Rome Fiumicino with three aircraft based there operating on both intra-uropean and Italian domestic routes;
Madrid delivered improvements in load and profitability in the year as competitors continued to retreat and the carrier optimized its schedule accordingly.

Has 14 aircraft based in France;
France's second largest airline with a 10% market share;

consequently has structurally higher fares.

Celebrated its tenth birthday in Switzerland in the past year;
Has 12 aircraft based in Switzerland;
Position improved as competitors came off key routes;
Expanded operations between Switzerland and the French regions and Scandinavia.

Improved the schedule during the year;
Additional capacity added on routes to Milan, Copenhagen and Brussels from Berlin base, improving the airline's appeal to business travelers;
Closed Dortmund base but retained profitable sectors.
3. Focus on margins by driving revenue and reducing costs
Looking forward, easyJet's strategy is for growth with margin improvements and therefore the focus is to improve on all three drivers of margin - namely yield, ancillaries and costs.
Going forward ancillary revenue growth is expected to continue its growth trajectory, with in-flight revenues to benefit from the introduction of electronic point of sale equipment on board and food offerings tailored by market and designed to appeal to a broad range of consumers. Improvements in website presentation are also expected to result in improved conversion rates for car hire and hotels.
The carrier is also seeing opportunities in increasing Speeding Boarding penetration and is seeing improvements in in-flight spend per head and in the ability of easyJet.com to drive partner revenue conversion.
easyJet plans to enact continued aggressive cost management, to enable the carrier to continue to offer competitive fares profitability. During 2H2009, easyJet stated it saw improvements in aircraft ownership and maintenance costs. easyJet also delivered improvements in its operations IT infrastructure in the year and key systems to support the crew efficiency programme have now been implemented. The carrier is also currently engaging with Government and regulators in order to reduce navigation costs and airport charges.
Encouraginglly, the carrier has reviewed its progress against the GBP125 million cost savings target identified in 2008 and believes there is "greater potential to take cost out of the business". The carrier has thus updated its targets and now expects to deliver cost savings of GBP190 million by the end of FY 2012. After inflation and increases in regulated airport charges, this will equate to approximately GBP1 per seat profit improvement.
From a yield perspective, easyJet is benefiting from its efforts to target the business travel market with approximately 15% of business passengers now originating through business orientated distribution channels. Business customers tend to book later, paying approximately 20% more than the average fare, according to the LCC. This trend is expected to continue, as the carrier continues to allocate aircraft into stronger markets and continues to implement good commercial management, in the areas of pricing, promotion and route selection.
4. Mitigation of risk through hedging strategies
Looking forward, easyJet has, on a rolling basis, between 50% and 80% of the next 12 months anticipated fuel requirements hedged and between 20% and 50% of the following 12 months anticipated fuel requirements hedged.
easyJet hedging positions: as at 31-Mar-09
| | Six months to 30-Sep-09 | Six months to 30-Sep-10 | 12 months to 30-Sep-2010 | 12 months to 30-Sep-2011 |
| --- | --- | --- | --- | --- |
| Fuel requirement | 72% at USD769 per metric tonne | 61% at USD732 | 66% at USD750 | 22% at USD722 |
| USD requirement | 65% using forwards at USD1.78 | 38% at USD1.64 | 51% at USD1.72 | 20% at USD1.62 |
| Euro surplus | 87% using forwards at EUR1.17 | 76% at EUR1.14 | 80% at EUR1.15 | 35% at EUR1.08 |
Outlook: Opportunities in challenging times
Despite the numerous challenges and a tough Winter ahead, easyJet's network remains well positioned against the competition, with the carrier benefiting as a flight to value by business passengers is offsetting some of the weakness in discretionary leisure travel. The withdrawal of competitors capacity has also helped offset market softness.
Uncertain revenue environment: The revenue environment across Europe remains uncertain due to rising unemployment, which is expected to lead to some yield deterioration over the European Winter.
With over 45% of available 1H2010 capacity now booked, total revenue per seat at constant currency in the period is expected to decline by a few percentage points compared to the prior year.
easyJet forward bookings by month: October to March, FY2008 vs FY2009 vs FY2010
But strong financial position: easyJet, however, has a strong financial position, enabling the carrier to take advantage of the current recessionary and to "exploit" profitable growth opportunities when economic conditions improve.
Capacity growth moving forward: Capacity (ASKs) for both 1H2010 and FY2010 is expected to increase by approximately 10% as the carrier continues its strategy of carefully targeting growth. The current expectation is that competitor capacity on easyJet routes will be down by low single digits, enabling the LCC to increase market share.
easyJet 'Asset allocation' –targeted Winter growth
Cost per seat to increase: Total operating costs per seat, excluding fuel, at constant currency are expected to be broadly flat for the full year and up low single digits in the first half of 2010. Improvements in maintenance, crew and overhead costs are expected to offset the mix impact of the carrier's continued growth in primary airports.
Improved profits expected: easyJet is forecasting a GBP100 million improvements in profit in FY2010 "as higher price fuel hedges roll off".