easyJet 3Q profit fall and IAG, Lufthansa profit warnings suggest a tipping point
Analysis
Following easyJet's fall back into loss in 1H2016 (six months to Mar-2016), it still expected that the summer months would more than offset this, allowing another year of profit growth. A profit warning after the UK's Brexit vote dashed this hope in late Jun-2016. EasyJet's 3Q2016 (April to June) trading statement casts a bigger shadow over its outlook, as weak unit revenue is not being offset by unit cost reduction. According to CAPA calculations, easyJet's 3Q2016 pre-tax profit fell by 59% year on year.
European LCCs Norwegian and Wizz Air have reported improved profits for the same quarter and are on track to achieve stronger full year results, but easyJet is not alone among European airlines in lowering earnings expectations in recent weeks. IAG and Lufthansa have also issued profit warnings. Growing macroeconomic and geopolitical uncertainties are weighing on unit revenue. For some, there is no longer a sufficient release coming from lower fuel prices, which also contribute to unit revenue weakness by encouraging additional capacity.
The majority of European airlines have yet to report April-June results, most notably Ryanair, Air France-KLM and IAG. Nevertheless, the reporting season seems likely to herald a more cautious phase of the airline cycle.
3Q2016 pre-tax profit down 59% year on year
easyJet only reports full details of its income statement for 1H and FY. In 1Q and 3Q, it reports data on traffic, revenue and revenue per seat. This year, it has also reported cost per seat (based on costs at the pre-tax profit level) for 1Q and 3Q, together with prior year comparables, which allows its pre-tax profit result to be calculated for these quarters both this year and last year.
From the data that has been reported, it is possible to calculate that easyJet's 3Q2016 pre-tax profit fell by 59% year on year to GBP56 million (from GBP137 million) and that its 9M2016 pre-tax profit fell by 78% to GBP32 million (from GBP144 million). Its pre-tax result has fallen in every quarter of FY2016 so far.
Note that easyJet has a September year end, which means that its 3Q is calendar 2Q (Apr to Jun) and its 9M is Nov to Jun.
EasyJet 3Q2016 and 9M2016 traffic and revenue performance
| | 3Q2015 | 3Q2016 | Change | 9M2015 | 9M2016 | Change |
| --- | --- | --- | --- | --- | --- | --- |
| Seats million | 20.8 | 21.9 | 5.5% | 53.0 | 56.5 | 6.6% |
| Pax million | 19.1 | 20.2 | 5.8% | 48.0 | 51.2 | 6.7% |
| Load factor % | 91.8 | 92.0 | +0.2ppts | 90.6 | 90.7 | +0.1ppts |
| Ave sector length km | 1,132 | 1,111 | -1.8% | 1,095 | 1,076 | -1.8% |
| Seat revenue GBPm | 1,209 | 1,174 | -2.9% | 2,948 | 2,914 | -1.2% |
| Non-seat revenue GBPm | 19 | 22 | 15.8% | 47 | 53 | 12.8% |
| Total revenue GBPm | 1,228 | 1,196 | -2.6% | 2,995 | 2,967 | -0.9% |
| Revenue per seat GBP | 59.08 | 54.54 | -7.7% | 56.53 | 52.54 | -7.1% |
| Revenue per pax GBP | 64.42 | 59.30 | -7.9% | 62.40 | 57.95 | -7.1% |
| Cost per seat GBP | 52.49 | 51.97 | -1.0% | 53.81 | 51.96 | -3.4% |
| Implied pre-tax profit** GBPm | 137 | 56 | -58.9% | 144 | 32 | -77.5% |
easyJet's 4Q dominates FY result
It had always been known that easyJet's FY profit is driven by its 2H performance, but the newly calculated quarterly data now show how important 4Q is to annual profitability (it has a Sep year end, so 4Q includes the peak summer months).
In FY2015, 4Q accounted for 79% of easyJet's pre-tax profit (GBP542 million out of GBP686 million), according to CAPA calculations.
See related report: easyJet falls back into 1H loss. Increases dividend payout, but weak pricing is still a challenge
EasyJet pre-tax result by quarter (GBP million) FY2015 and FY2016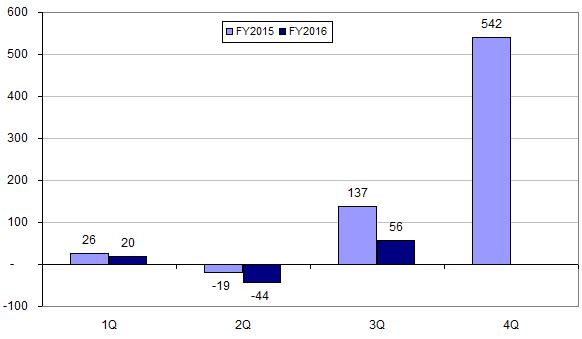 Accelerating fall in revenue per seat
In 3Q2016 (Apr to Jun), easyJet increased its seat capacity by 5.5%, a little slower than the 7.3% increase in 1H, and maintained stable load factor at 90.7% (+0.1ppts). However, its total revenue fell by 2.6% to GBP1,196 million, with revenue per seat down by 7.7%, compared with a 6.6% fall in 1H. At constant currency, revenue per seat fell by 8.3% in 3Q, compared with a 4.2% drop in 1H.
The acceleration in the rate of decline of revenue per seat in 3Q was flagged by easyJet in late Jun-2016, following disruption due to French ATC strikes, congestion at Gatwick, severe weather and lower consumer demand resulting from incidents such as the Egyptair tragedy.
At the 1H stage, easyJet had guided towards a 7% decline in revenue per seat at constant currency.
The reported revenue per seat decline in 3Q2016 was a little greater than in 1H, but easyJet's reported cost per seat performance suffered a more marked deterioration.
Cost per seat falling at a slower rate
In 3Q2016, its total cost per seat fell by only 1.0%, compared with a 5.0% decline in 1H. This 3Q performance was adversely affected by the weakening of GBP.
At constant currency, easyJet's 3Q cost per seat fell by 3.8%, similar to the 3.7% fall in 1H. However, this constant currency decline in cost per seat is due to lower fuel prices and easyJet's ex fuel cost per seat at constant currency was flat (+0.1% in 3Q).
On time performance slips again
An area of easyJet's performance that CAPA has previously flagged continues to give some cause for concern, namely its on time performance (OTP, the proportion of flights arriving within 15 minutes of schedule). This fell from 88% in FY2012 to 80% in FY2015, reaching as low as 70% in 4Q2015.
easyJet's OTP recovered to 82% in 1Q2016 and 2Q2016 (although both quarters were below the same period a year earlier), but slipped again to 74% in 3Q2016. OTP reliability is an important contributory factor in easyJet's preferred positioning towards the premium end of the low cost spectrum of business models.
easyJet on time performance* by quarter FY2010 to FY2016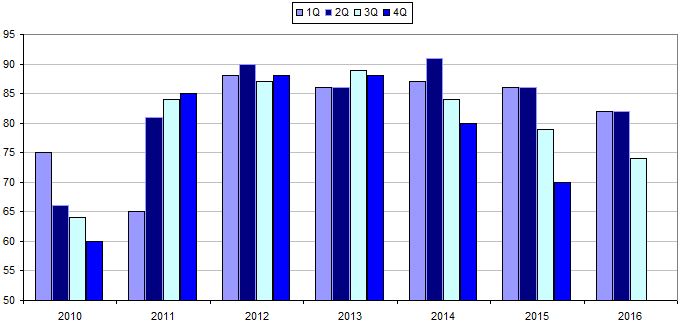 Divergence between unit revenue and currency trends highlights easyJet's pricing challenge
The trend of easyJet's revenue per seat development has been on a broadly negative path since the start of FY2014, albeit with some volatility. Through FY2014 and FY2015, and even into 1Q2016, this could partly be attributed to currency movements since a stronger GBP meant that revenue earned in EUR translated into a smaller GBP figure. However, in 2Q2016 and, in particular, 3Q2016, GBP has weakened, but easyJet's revenue per seat has continued to fall.
The external uncertainties mentioned by easyJet have clearly contributed to this underlying weakness in revenue per seat. Nevertheless, this negative trend adds to the suggestion that easyJet faces an underlying pricing challenge, particularly when compared with Ryanair. The Irish ultra-LCC's average revenue per passenger is one third below easyJet's, but Ryanair has higher margins.
See related report: easyJet: how the pricing model is being challenged as Ryanair moves into its territory
Year on year change in easyJet's revenue per seat and revenue per passenger (left hand axis) and change in GBP versus EUR (right hand axis, reverse order) 1Q2014 to 3Q2016*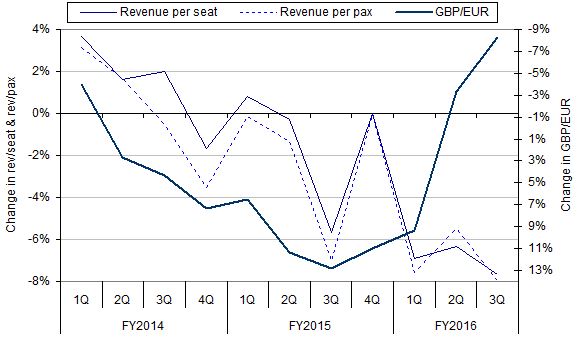 Among other European LCCs, Wizz Air and Norwegian improved results for the quarter; Ryanair yet to report
Ryanair's results for the quarter ended Jun-2016 are due on 25-Jul-2016, so it is not yet possible to compare the progress of Europe's two largest LCCs for the three month period. Analyst attention will no doubt focus on whether Ryanair maintains its net profit guidance range for FY2017 (March year end) of EUR1,375 million to EUR1,425 million, a 13% year on year increase at the midpoint.
Among other European LCCs, two have reported improved results for calendar 2Q. Ryanair's fellow ultra-LCC Wizz Air achieved a 14% increase in underlying net profit to EUR39 million and a 27% increase in operating profit to EUR44 million. Its revenue grew by 10%, with ASKs up 20% and seat numbers up 17%.
In spite of higher capacity growth than easyJet, Wizz Air's revenue per seat fell by 6.2%, less than the 7.7% fall suffered by easyJet. Moreover, Wizz Air's cost per seat fell by 7.9%, compared with only 1.0% for easyJet.
Wizz Air's operating margin improved by 1.6ppts to 12.0%, while easyJet's profit margin shed 6.4ppts to 4.7% (this is based on easyJet's pre-tax profit, as calculated by CAPA, since its operating profit is not available, although the two results are usually very close). Finally, Wizz Air maintained its guidance range of EUR245 million to EUR255 million for its underlying net profit in FY2017 (March year end).
Apart from Wizz Air, the only other European LCC so far to have reported earnings for calendar 2Q this year is Norwegian. In NOK, it achieved unit revenue stability (RASK +0.7%), but this was mainly due to NOK weakness and its underlying unit revenue trend was down (RASK converted to EUR fell 7.3%). However, it managed to widen its profit margin, thanks to lower fuel prices.
See related report: Norwegian Air: A321neo LR gives short long haul options; 2Q margin grows on lower fuel
No easyJet profit target for FY2016, but likely to be well below last year
The importance of the peak summer months to easyJet's FY result means that a significant amount of its FY2016 profit is still there for the taking, but it will be some way short of last year's record figure of GBP686 million. Moreover, easyJet has warned of a worsening unit revenue outlook into 4Q2016.
easyJet said the economic and operating environment remains uncertain, citing high levels of disruption, the Brexit vote and recent events in Turkey and Nice, together with market capacity growth in short haul. Although it has already sold around 65% of 4Q seats (in line with the same time a year ago), the booked average revenue per seat at constant currency for these sales is down by 7.5%.
Booked revenues for 4Q were above last year until the Brexit vote in late Jun-2016, but have fallen below last year since then. Seat growth will be around 6%, similar to 3Q, but easyJet said that the "revenue per seat trajectory in the fourth quarter remains uncertain".
At the 1H stage, it expected 2H revenue per seat at constant currency to be down by a low to mid single digit percentage, but amended this in late Jun-2016 to "at least a mid single digit percentage".
EasyJet still expects cost per seat ex fuel at constant currency to fall by 1% in FY2016.
Unusually so late into its financial year, easyJet has still not announced a pre-tax profit target for FY2016. CAPA understands that market consensus was around GBP720 million at the time of the airline's 1H results in May-2016, but this was cut to somewhere closer to GBP600 million following easyJet's late Jun-2016 profit warning.
Further cuts to analysts' forecasts now appear likely and this explains the negative share price response on the day of its 3Q announcement (a 5% fall and down some 30% since immediately pre-Brexit).
Since the UK's Brexit vote in late Jun-2016, five European airlines have reported quarterly results and/or provided updates to their profit outlook. Wizz Air reported growth in profit and margin and maintained profit guidance. Norwegian also reported growth in profit and margin, but did not give a profit target.
Shortly after the Brexit vote, IAG said that it no longer expected to increase its FY2016 operating result by a similar amount as in FY2015, but did not give a revised target. IAG is due to report quarterly results on 29-Jul-2016.
Late on 20-Jul-2016, Lufthansa changed its FY2016 adjusted EBIT target from "slightly above previous year" to "below previous year".
Lufthansa also announced that its (calendar) 1H2016 adjusted EBIT was EUR529 million, above last year's EUR468 million, but below the consensus forecast of EUR585 million.
It cautioned: "Advance bookings, especially on long-haul routes to Europe, have declined significantly, in particular due to repeated terrorist attacks in Europe and to greater political and economic uncertainty". Lufthansa's full 1H report is due on 2-Aug-2016.
The lowering of expectations for easyJet's FY2016 profits tips the balance among these five European airlines towards the cautious. The majority of European airlines have yet to report for calendar 2Q2016, but it seems that a tipping point may be approaching where lower fuel prices are no longer sufficient to offset falling unit revenue.
CAPA's Jul-2016 update of its world airline profit outlook continues to expect industry margins in 2016 that are higher than in 2015, before falling slightly in 2017 (while remaining above previous cyclical peaks).
Calling the turning point in any cycle is a dangerous game, but recent signals from European airlines reinforce the growing suspicion that the upswing since 2011 may not have much further momentum.
See related report: CAPA airline profit outlook. Record margins from capacity restraint, but upswings are not forever