Despite new air routes, traffic between Japan and the US is down from last decade
Analysis
All Nippon Airways (ANA) on 25-Jul-2012 is launching a Tokyo Narita-Seattle service, one of several new routes between Japan and the US to open this year. While these services will grow the market, US-Japan traffic is 25% below 2005 levels, the peak over the past decade.
Traffic has declined between Japan and the mainland US as airlines have reduced frequencies and downgauged services, typically from Boeing 747-400s to 777s, coinciding with a global gradual reduction of the 747. The US leisure markets of Guam, Hawaii and Saipan have also seen sharp decreases.
As ANA, Japan Airlines (JAL) and United Airlines launch new services this year, many to be operated with new 787s, Japan-mainland US traffic could recover to pre-global financial crisis levels. But a complete recovery in the full Japan-US market is unlikely to occur in the medium term.
Small recovery in Japan-US traffic after four years of decline
Traffic between Japan and the US over the past decade peaked in 2005 with 13.5 million passengers between Japan and the US, including 7.6 million between Japan and the 48 mainland US states with the remaining traffic going to Guam, Hawaii and Saipan (Northern Marianas), which are almost entirely leisure markets.
Traffic has been declining since then, reaching in 2011 10.1 million passengers between Japan and the US and 5.6 million between Japan and the 48 states. The exception was small growth in 2010, which saw 10.7 million passengers between Japan and the US and 5.9 million between Japan and the 48 states. But 2010's growth was wiped out in 2011 due to the Mar-2011 earthquake and tsunami in Japan. 2011 traffic was slightly below 2009 levels, indicating that were it not for the earthquake and tsunami, 2011 could have seen traffic levels similar as 2010, or possibly with some growth.
Japan-US (includes Guam, Hawaii and Saipan) and Japan-48 States passengers carried: 2002 to 2011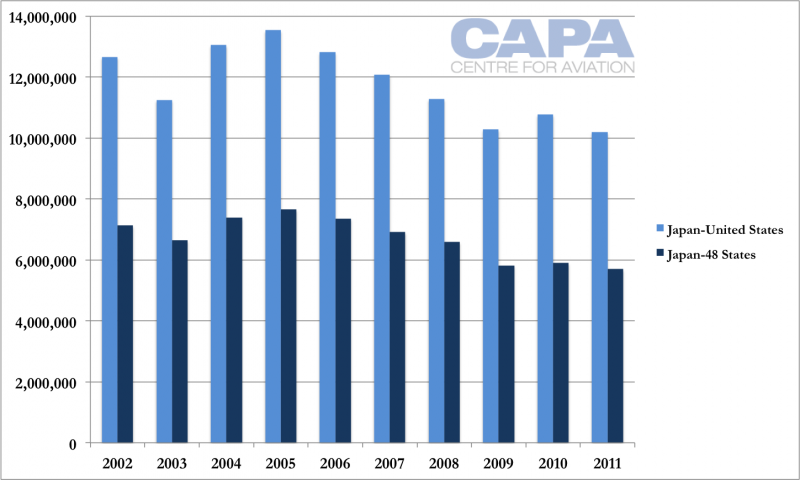 The declining traffic was reflective of economic indicators – Japan's weakening economy, the global financial crisis – as well as airline changes. JAL in 2005 withdrew from Saipan, taking 182,000 seats out of the market annually. ANA in 2005 downgauged services from Tokyo Narita to Los Angeles and New York JFK from 325-seat 747-400s to 250-seat 777-300ERs while JAL in 2009 went from approximately 320-seat 747-400s to 250-seat 777-300ERs on the Tokyo Narita to Chicago and Los Angeles routes.
Other US services saw downgauges as well. JAL has fully retired its 747-400s and ANA only operates the type domestically while Delta and United have downgauged some frequencies from 747 service.
2011 levels received a boost with Singapore Airlines (SIA) in Jul-2011 upgauging its Singapore-Tokyo Narita-Los Angeles service from approximately 375-seat 747-400s to 471-seat A380s, adding approximately 55,000 passengers to the Japan-US market, but much of SIA's traffic on this route transfers through Tokyo. This year's traffic will receive a small boost as Malaysia Airlines from Mar-2012 re-routed its Kuala Lumpur-Taipei-Los Angeles service to transfer in Tokyo Narita instead of Taipei. The four times weekly service on 282-seat 777-200s will add approximately 70,000 passengers to the market.
Four new Japan-US routes to be launched over one year
Between Apr-2012 and Mar-2013, ANA, JAL and United Airlines will launch four new Japan-US routes.
New Japan-US route launches: 2012 to 2013
ANA's Tokyo-San Jose route, to be operated by 160-seat 787-8s, will not fully restore the capacity lost when American Airlines in 2006 ended its Tokyo-San Jose service, which was operated daily by approximately 240-seat 777-200ERs. ANA's service will be San Jose's only intercontinental service and one of the airport's few international services (Mexico's Guadalajara and Los Cabos are also served).
See related article: New Denver-Tokyo 787 service to help boost United's sagging trans-Pacific performance
New services will restore traffic to near pre-GFC levels
The additional services – adding approximately 530,000 annual seats to the market – combined with a full rebound from the earthquake and tsunami affect on traffic, should restore passenger numbers between Japan and the US to around 2008 levels, although this full effect may not be realised until 2013. Economic recovery could further improve the market, with the medium- to long-term holding potential for traffic between Japan and the 48 States to return to levels experienced early last decade. But in the larger Japan-US (including Guam, Hawaii and Saipan) market, a full return to historical levels will be a goal possible only in the long term.