Delta Air chases investment grade ranking with a contrarian strategy that is not without its risks
After reaching a point during 2013 when it could finally issue some return to shareholders for the first time in roughly a decade, Delta Air Lines is now starting to benchmark itself against other industrial transportation companies alongside its airline industry peers.

In a broad sense Delta's new benchmarking mechanisms are the culmination of nearly a decade's worth of work to clean up its balance sheet and develop a strict policy of ensuring every expenditure meets its return on invested capital targets.

The result of those efforts is a prediction by Delta that 2014 will mark the carrier's second year of profitability of more than USD2 billion, and its fifth year of profits in excess of USD1 billion. Obviously Delta has some road ahead in achieving it stated goal of reaching and sustaining investment grade, but it is encouraging it has reached a point where it can outline a seemingly realistic plan of reaching those targets.
Delta's contrarian strategy, in ageing fleet, no growth and business diversification raises longer term questions, but for now the noises are mostly positive.
Delta continues to tout its capital spending discipline to investors
Delta CEO Richard Anderson during a recent discussion with investors noted that since 2010 the carrier has averaged a return on invested capital (ROIC) of 10%. But as part of its quest to reach investment-grade status, Delta is targeting a 15% ROIC, which is close to the average of high-quality industrial companies that Delta is now measuring itself against.

The carrier believes that by delivering an ROIC of 14% to 15% it can achieve double-digit pre-tax growth. Much of Delta's rhetoric during the past couple of years has centred on its disciplined approach to cash management and capital expenditure, and the carrier continues to stress that philosophy to investors.
Delta Air Lines long-term financial goals: Dec-2013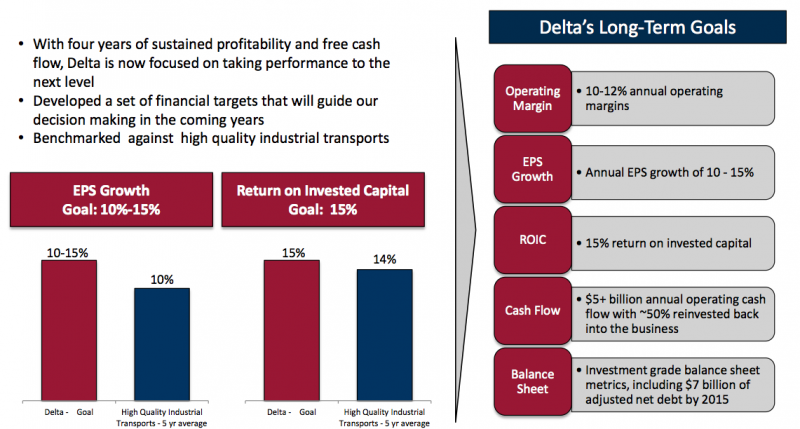 Delta CFO Paul Jacobson remarked that any project more than USD1 million in expense "needs to have a rapid payback, generally within a two-year time frame and a minimum 15% return". Some projects that have a slower payback are presently on hold in order for Delta to maintain the discipline it has displayed during the past few years with respect to capital deployment, Mr Jacobson explained.
Delta aims to invest half of its cash flow back into the business
Delta's long-term goal is to generate USD5 billion in annual cash flow and invest roughly 50% of that amount back into its business. The remainder is earmarked for debt reduction, pension funding and continuing shareholder returns.

During 2013 Delta has refined its net debt targets from USD10 billion to USD7 billion by 2015, which would result in a reduction of USD10 billion since 2009. Previously the carrier stated it arrived at that target after studying "investment grade-like credit metrics". With a USD7 billion debt target, Delta could attain BBB rating characteristics.
Delta Air Lines' adjusted net debt: 2009 to 2015
See related report: Delta Air Lines aims to usher in lasting business model change with new shareholder rewards
Delta expects capital deployment of USD2 billion to USD2.5 billion from 2014 through 2017, and its contrarian fleet strategy is the backbone of that capital expenditure. Delta largely opts to purchase used aircraft that produce lower ownership costs, which helps negate some of the higher fuel costs generated by older aircraft.

Throughout the past few years the carrier has opportunistically added MD-90s, and more recently, the Boeing 717s Southwest has opted to shed as it progresses with its merger with AirTran. The carrier has about 10 of the narrowbodies in service, and believes the 88 717s it is adding produce 120% more seats versus the 50-seaters they are replacing with only a 60% increase in expense.

The 717s are part of a broad domestic fleet restructuring designed to shed 50-seaters in lieu of aircraft with 76-plus seats. By 2015 Delta estimates a fleet of 100-125 50-seat jets versus 500 when it merged with Northwest in 2008.
Its average gauge will grow from 119 in 2008 to 138 by 2015.
Delta Air Lines domestic fleet count, seat trends and profit margin: 2009 to 2014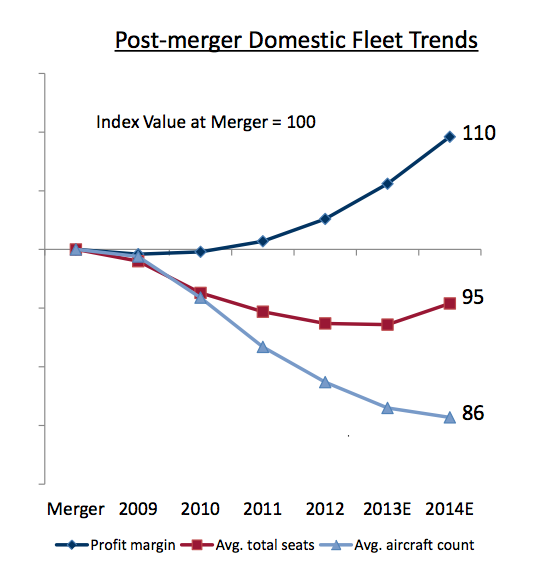 Delta is also in the midst of accepting deliveries of 100 Boeing 737-900ERs and 76 new Bombardier CRJ900s. But the carrier remains bullish on its philosophy of opting not to rush to buy new aircraft, noting maintenance cost opportunities inherent in operating a somewhat older fleet, including surplus engines and components. "It's not about the exterior of the airplane, Mr Jacobson remarked. "If you can make the interior of the airplane equivalent and you can make it reliable, I think that's just as good in the customer's eyes."

Carrier president Ed Bastian highlighted that Delta's margins have improved as the airline has undertaken its domestic fleet restructuring. He believes Delta can achieve improved capital returns by using a mix of new and used aircraft. "This is, what I would say, would be the number one thing that's going to fuel our continued margin expansion are these opportunities."
Delta improves its financial ratios as debt diminishes and cash flows become consistent
Delta's efforts to generate consistent levels of cash flow to pare down its debt has resulted in improved financial ratios, which should put the airline on a path to possibly reach investment grade over the long term.

By 2015 the carrier expects to have a debt/EBITDA ratio of 3.7x to 4.2x, which would result in a BB status in the S&P Industrial index, although achieving that result does not seem like a laudable goal compared with other business sectors. For years Southwest Airlines has been the only US carrier holding investment grade status. Based on data from trade group Airlines For America, during 2012 Delta held a B grade versus the BBB- held by Southwest, which shows Delta has some ground to cover in attaining its long-term financial goals.
Delta Air Lines' financial ratios: 2012 to 2015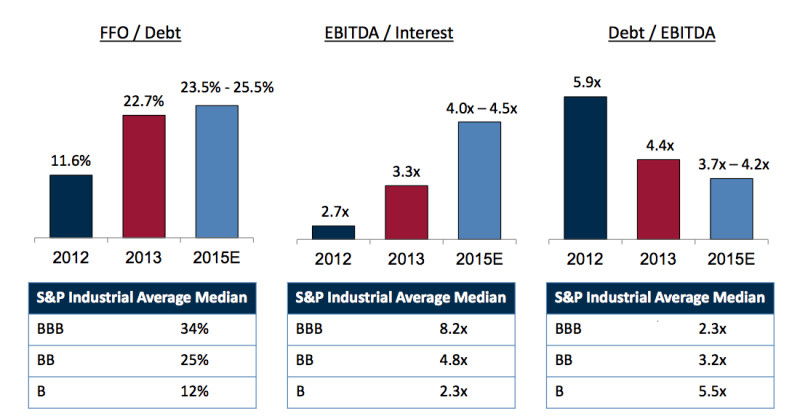 US carrier investment ratings compared with other companies: 2012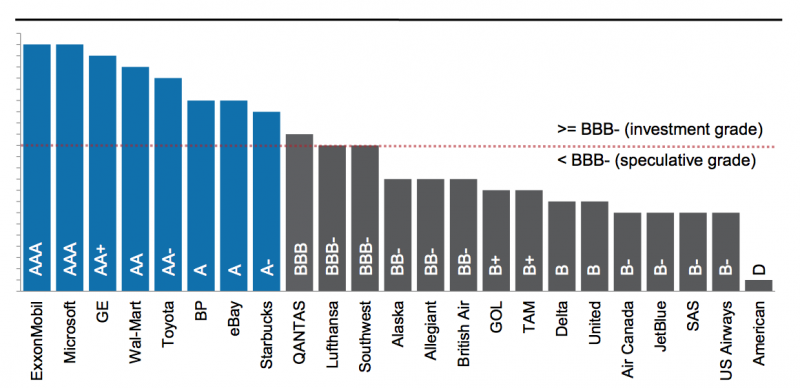 Delta is showing favourable momentum as it marches toward financial stability
As Delta ticks off a list of laudable financial results – a record USD2.6 billion profit projected for 2013 (a 70% year-on-year increase), a stock price that has risen 140% year-to-date (as of 11-Dec-2013) and a return of USD350 million to shareholders by YE2013 – Mr Anderson concludes Delta believes it has "earned the right to be measured as a high-quality S&P industrial transportation company".

That Delta can even reasonably discuss benchmarking itself against transportation companies outside the commercial airline sector is commendable.
Delta's ability to withstand the inevitable shocks that arise to pressure its profitability may raise legitimate questions for some investors, but the airline seems to be building its business to withstand sudden jolts that in the past would have wiped out profitability for years. As always, the proof will be in the execution, but for the moment Delta seems to be riding positive momentum toward its financial goals.
There are of course sustainability questions, as is normal for any contrarian strategy
For the longer term, the carrier's average fleet age – at around 17 years, older than Africa's, across a diverse variety of fuel-thirsty aircraft types – has to raise questions about the sustainability of a model that relies on avoiding capital investments in aircraft and a hope that fuel prices will stay low. In this respect Delta has certainly been lucky that fuel costs have softened (and where any potential savings from owning an oil refinery would be marginal at best). A USD30 a barrel increase in oil prices would have made an ageing aircraft strategy look considerably less clever.
A seemingly more controllable risk is in the accompanying maintenance activity that goes with such an old fleet – its maintenance division, Delta TechOps, employs nearly 10,000 staff and cross-subsidises its own extensive maintenance with some 150 third party operator customers. This is no small business in its own right – although it too is exposed to external forces, in particular exchange rate fluctuations; the activity has expanded during a period when the US dollar has been weak.
And finally, the Delta revenue strategy has relied on a substantial reduction of competition in the US domestic market and the ability to ramp up fares, along with the massive new revenue streams delivered by de-bundling baggage charges and hiking booking change fees – the two of which almost dollar for dollar match recent profits. The result of these price increases has been negligible passenger growth.
Delta actually carried 4% fewer passengers in Nov-2013 than it did in the same month two years previously. Assuming that increased profitability relies on stagnation of this sort, a prolonged no-growth strategy – accompanied presumably by some increased efficiencies – would diminish the prospects for professional advancement, with the likely outcome that staff will seek a larger share of the new-found profitability. Here Mr Anderson has been savvy, keeping his mostly-unionised pilots happy with phased pay increases; the remainder of the airline is largely non-unionised.
Then there is the much downplayed threat of new entry by ultra low-cost airlines. A combination of slot shortages and their small scale have limited the impact of low price operators. But higher yields in the domestic market have been enough to divert Spirit Airlines from an international expansion and to encourage innovative investors to convert Frontier into a ULCC also. For the time being, the impact on Delta is minuscule, but higher prices and no growth have in the past been fertile breeding ground for lower priced alternatives.
That said, Delta has shown that, in certain circumstances, it is actually possible to aspire to investment grade ratings and to generate profitability that will attract equity investors. In that respect even a short term burst of respectability is enough to shine a beacon for the rest of the industry.