Delayed Haneda slot talks produce agreement. Delta's divide on Tokyo unites American and United
Analysis
At the strenuous urging of Delta Air Lines, the US government unilaterally postponed talks with Japan that were due to take place the week of 08-Feb-2016. The talks eventually led to an agreement that would finally grant daytime slots to US-Japan flights at Tokyo Haneda airport, slots which have already been enjoyed by airlines – and passengers – from countries including Canada, France, Germany and the UK.
The US Department of Transportation and Secretary Foxx had again submitted to pressure from the intense lobbying campaign that Delta mounted in Jan-2016. Delta opposed the Haneda deal, holding the view that the ANA/United and JAL/American partnerships will benefit more than Delta will. Delta argues that those two alliances will win local Tokyo traffic from it and cause Delta to cut back drastically its Tokyo hub, which connects to other parts of Asia. Extrapolating effectively on a grain of fact, Delta has galvanised support from politicians representing cities that it threatened with loss of Tokyo service, and resulting economic benefits. The political pressure – moreover in an election year – became too much for DoT, which has also failed to move on from the anti-Norwegian International and anti-Gulf campaigns that Delta has largely led.
The talks were rescheduled to 16/17-Feb-2016, signalling that the US was ready to move on, although not without some egg on its face. There could be more aeropolitical uncertainty in the future if Delta CEO Richard Anderson elects to use his executive chairman appointment to step back from day-to-day matters and take on more policy lobbying.
The agreement produced a reasonable outcome for US airlines
The negotiations were clearly on the usual meticulous level, forcing an extension for a further day into 18-Feb-2016. The result, an opening of another five daytime slots at Haneda for US airlines and five for Japan's. A nighttime slot each was also added. According to a Department of State announcement, services will be able to begin "as early as this fall".
Delta immediately responded with regret, saying in a formal announcement: "Delta is deeply disappointed with the final agreement reached today between the U.S. and Japanese governments to incrementally open the Tokyo-Haneda airport. Tokyo-Haneda will remain a severely restricted airport with limited competition. Delta is committed to doing our best to maintain the viability of our current Asian route structure and our Narita hub for as long as possible, recognizing that commercial impacts are imminent. Delta will make a careful assessment and adjust our network accordingly."
American and United welcomed the agreement. Inevitably it is less than the US side would like, but given the limited number of slots available, probably a reasonable outcome for the US.
The airlines that will benefit from daytime Haneda access – mostly American and United, but also Hawaiian – had been relatively quiet during Delta's latest round of lobbying, making the Haneda situation look mostly negative. The airlines finally needed to go on the offensive to force DOT to act in the more general interest by supporting those Haneda slots and not rejecting them.
Although American and United maintain their restrictive stances on Norwegian and Gulf airlines, American is supporting United during its struggle to secure slots in Shanghai Pudong. Delta has been able to secure slots thanks to its local partner, China Eastern. Delta lobbies to restrict Tokyo when not in its interests while simultaneously benefitting from Shanghai restrictions.
Start-up LCC AirAsia Japan has flagged its intent to fly from Japan to the US by the end of the decade, which it should be able to do under US-Japan open skies. Yet with the Big 3 US airlines having objected to Norwegian over labour practices, will US airlines find labour policies at AirAsia Japan to object to?
The aeropolitical battles largely waged by Delta have grown to unprecedented levels. Delta CEO Richard Anderson, having already separated Delta from lobbying group A4A, may well use his retirement and appointment to executive chairman to escalate public policy lobbying even further and wind back the clock in a country that has proudly pioneered aviation's liberalisation.
Delta objected to the Tokyo Haneda plan, arguing competitors will benefit more
CAPA has previously reviewed Delta's concerns on Tokyo Haneda slot growth. To recap: Delta (rightfully) regards the deal as benefitting competitors more: ANA/United and JAL/American are in JVs, whereas Delta has no Japanese partner. The Japanese and US sides will each receive the same number of slots, and the Japanese side will be divided between only two airlines: ANA and JAL.
The US slots will be divided between up to four airlines: American, Delta, Hawaiian and United. Assuming there is some equal distribution on the US side between the airlines, American and United will naturally have an advantage since their Japanese partners will have more slots. ANA/United and JAL/American operate as combined business units in the US-Japan market (and to some other Asian markets).
Located close to downtown, Haneda is the preferred airport for travel to/from Tokyo; Narita airport is much further out. As the ANA/United and JAL/American businesses increase their flights at Haneda, they will naturally carry more Tokyo originating/departing passengers. This will impact Delta since it will not have as many Haneda slots. Delta will be reliant on its Tokyo Narita operation, which includes US-Tokyo Narita flights and fifth freedom flights from Tokyo Narita to other points in Asia.
Delta argues that losing Tokyo traffic to ANA/United and JAL/American will start a domino effect: Delta will have to end some US-Tokyo flights because the Tokyo traffic will go to competitors. Yet Delta's flights carry passengers connecting beyond Tokyo, so as Delta cancels US-Tokyo flights, it will have to cancel Tokyo-Asia flights since there will be reduced inbound feed. Fewer Tokyo-Asia flights means there will not be as many passengers on remaining US-Tokyo flights, so some of those may need to be cancelled as well.
See related report: Delta Air Lines' our-way-or-no-way attitude risks subverting US & Japan interests on Haneda flights
Delta has argued that either the deal should not go ahead (retain the status quo) or that Delta should be given enough slots to move its Tokyo Narita operation to Tokyo Haneda. The Japanese and US sides were last assigned four nighttime Haneda slots each, with respective governments then allocating the slots to a particular airline.
Tokyo Haneda Airport to United States of America (seats per week, one way): 19-Sep-2011 to 25-Jul-2016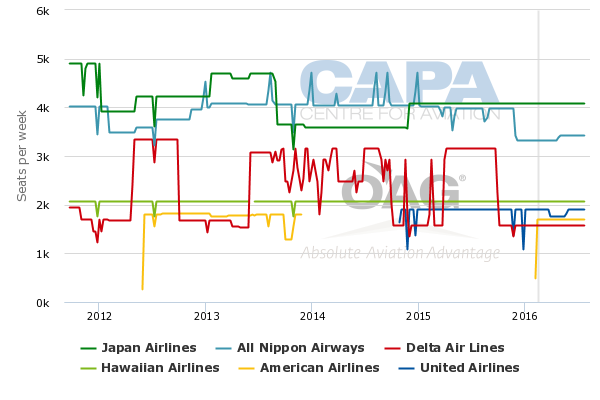 Japan offered to change this from four nighttime Haneda slots to a total of six Haneda slots: one nighttime slot and five daytime slots. This was a net increase of two slots, but changes from nighttime to daytime open up new service opportunities, making for interesting slot allocation procedures. There has been no public comment on how regulators on each side will allocate the new Haneda deal as some nighttime slots will be lost. An airline could argue a better use for a slot over a competitor merely by moving an existing nighttime slot to a daytime slot under the new deal.
Daytime slots are preferable as they enable more connections in both directions, with easier ground access at both arriving and departing times, and they allow further inland US cities to be served by Haneda. Current nighttime slots cannot be used sustainably to serve the central and eastern parts of the US (American withdrew Haneda-New York JFK service). All existing Haneda-US slots are used for flights to Honolulu, Los Angeles and San Francisco.
For Delta to move its existing Tokyo Narita hub to Tokyo Haneda, it would need so many Haneda slots that it would become the third largest daytime international slot holder at Haneda, and would have almost as many daytime international slots as JAL has been granted to serve the entire world. This is clearly a preposterous request, and cannot even form the start of a negotiating point.
That begs the question of what Delta's end game really was in Tokyo: presumably - as appears likely with the obscure objective of the loud opposition to expansion by the Gulf carriers - merely to delay negative impacts of added competition.
Tokyo Haneda daytime (0600-2200) international slots operated by ANA and JAL, and theoretical size of Delta (in red) if it moved its Narita operation to Haneda: 11-Jan-2016 to 17-Jan-2016
Delta's key argument was that expansion of Haneda slots risks deconstructing its Tokyo Narita hub. United Airlines was the only other US (or global) airline granted a hub at Narita, and has been gradually pulling down its network; in 2016 it will exit Tokyo Narita-Singapore, leaving United with only one daily fifth freedom flight from Tokyo Narita.
ANA and JAL do not face the same hub deconstruction challenge as Delta does in Tokyo. ANA and JAL have been growing Tokyo Haneda services but have also increased Tokyo Narita flights, preserving the Narita hub while starting to build a second international hub at Haneda.
In the short term, ANA and JAL may move existing Narita-US flights to Haneda. In the medium and long term, ANA and JAL's strategic plans identify the US as the major long haul growth opportunity. Since additional slots are not expected at Haneda in the near future, there will be more US flights from ANA and JAL at Narita.
ANA and JAL average daily US flights from Tokyo Haneda and Tokyo Narita: 2006-2016
Delta's intense lobbying campaign led to US DoT postponing talks
In Jan-2016 Delta mounted an aggressive lobbying campaign to thwart the Haneda talks. It appears that Delta spoke to every US airport that it links with Tokyo, and cautioned that it may have to end the service if the Haneda deal goes through. Delta tried to shape what was bad for Delta as being bad for the United States. Unspoken, of course, was that losses from Delta would surely be offset by gains from other airlines, requiring sophisticated analysis of those airports and regions which felt a Delta withdrawal would not be adequately substituted.
Delta's "March on Washington" was strident, while other US airlines were not proactive in gaining support for Haneda growth. This led to US DoT cancelling the talks with only a few days' notice.
Delta's campaign relied on slippery-slope arguments. Delta argues that its Tokyo presence will diminish as Haneda is opened up. Yet the counterfactual needs to be considered: Delta will likely decrease its Tokyo presence if there is no change to Haneda. Delta has been reducing its presence in Tokyo by trimming flights and downgauging capacity. Delta's flights between Tokyo Narita and the US have decreased from approximately 11 daily in 2010 to eight daily in 2016.
Delta has flagged further cuts, including the retirement of 747s that serve Tokyo.
Delta (including Northwest) US-Tokyo Narita and Tokyo Narita-Asia average daily slot pair usage: 2006-2016
Unsurprisingly, it appears that Delta's lobbying campaign left lasting false impressions. Democrat Rep. Betty McCollum of St. Paul (whose airport Minneapolis/St. Paul has a daily Delta service to Tokyo) remarked: "We want to make sure that we're not allowing the Japanese government to pick winners and losers in the airline industry, which can affect our businesses in Minnesota." It is difficult to claim that Japan is picking winners and losers in the US. It is DoT, not Tokyo, that approves routes and allocates slots. Tokyo is only supplying a - somewhat limited - pool of slots that the US will decide how to disperse.
Delta had the easier position to argue. It shaped a campaign around the prospect of routes being closed and jobs being lost if the Haneda deal proceeded. It is often easier to drum up support for something that risks being taken away than something that could be gained – the position for American and United, but also Hawaiian.
Ultimately only a few US cities will be able to have daytime Tokyo Haneda service, meaning the pro-Haneda airlines needed support from airports and area politicians that may not receive Haneda access in the end. (Hopefully airports consider the wider benefit of the Haneda deal to be inthe concept of liberalisation, which they largely championed against the US Big 3 in the anti-Gulf campaign.)
Delta's campaign on a city losing a flight has clear consequences. This is in contrast to the benefit of switching a Narita flight to Haneda or a night time Haneda flight to a daytime Haneda flight, which can be difficult to comprehend. Even within aviation, those benefits may not appear so strong as the risk of a flight being removed entirely.
In recent public lobbying campaigns, the submissions to US DoT for the reallocation of Delta's Seattle-Tokyo Haneda slot were colourful and amusing, but hardly captured the public's attention. American's early 2015 Haneda campaign, under the hashtag #LetAAFlyHaneda, did not receive much public attention.
Other campaigns – against Norwegian International and the Gulf airlines – resulted in the Big 3 US airlines unifying. This excludes lobbying from A4A. Now that Delta has exited A4A there may not be disagreement on supporting the Haneda proposal - but the effectiveness of Delta's solo campaign perhaps justifies Mr Anderson's withdrawal. Then again, not all A4A members (Alaska, JetBlue, Southwest and the cargo airlines) stand to directly benefit from the Haneda deal. However, Alaska, JetBlue and the cargo airlines weighed in on the Gulf airline debate, although the stakes were arguably higher: Alaska and JetBlue are partners to Emirates while the cargo airlines benefit from open skies.
Combined, American and United offer more service from US cities to Tokyo than Delta does. American and United offer service to Tokyo from nine US cities, three of which have Delta service (Honolulu, Los Angeles and New York JFK/Newark). Delta is the sole US operator to Tokyo from only five US cities. The benefits of a Haneda deal further grow when adding the unique destinations (including Boston, San Diego and San Jose) served by American and United's JV partners ANA and JAL.
US cities with US airline service to Tokyo (Narita, unless specified as Haneda/both): 28-Feb-2016 to 05-Mar-2016
In a small but poignant gesture, American supports United's struggle with Shanghai slots
As is often the case, protectionism is founded in mercantilism. While Delta fights for "fair and equal access" to Tokyo Haneda, there is a remarkably different scenario unfolding two hours flight time away at Shanghai Pudong. In Nov-2014 United announced its intent to add a second daily San Francisco-Shanghai Pudong service, but has had to delay it three times now due to difficulties obtaining commercially viable slots at Shanghai.
Timeline of United's second San Francisco-Shanghai Pudong service: 2014-2016
| | |
| --- | --- |
| Date | Action |
| 13-Nov-2014 | United requests seven additional frequencies from San Francisco to Shanghai to give it double daily service |
| 21-Nov-2014 | US DoT approves United request for seven additional frequencies from San Francisco to Shanghai to give it double daily service |
| 29-Jun-2015 | US DoT grants United's motion for 60-day start-up extension from 15-Jul-2015 to 13-Sep-2015 (first delay) |
| 13-Aug-2015 | US DoT grants United's motion for 60-day start-up extension from 13-Sep-2015 to 26-Mar-2016 (second delay) |
| 27-Jan-2016 | United requests additional start-up extension, from 26-Mar-2016 to 29-Oct-2016 |
| 03-Feb-2016 | American Airlines urges US DoT to approve United's motion for start-up extension |
| 09-Feb-2016 | US DoT grants United's motion for start-up extension (third delay) |
United's third start-up extension request said: "Unfortunately, while United continues to pursue slot times at Shanghai that would support its desired operations, it has not yet been able to secure slots." Beijing and Shanghai, among other airports, are capacity-constrained. Yet the slot environment is opaque. While United has still not been able to secure Shanghai slots for a service announced in Nov-2014, Delta has been able to obtain Shanghai slots for a Los Angeles-Shanghai Pudong flight that it announced in Jan-2015 (after United) and commenced in Jul-2015.
It is unclear whether Delta obtained a new slot or worked with SkyTeam partner China Eastern, which is based in Shanghai. Either way, while Delta champions "fair and equal access" to Tokyo Haneda, there is titled environment in Shanghai. This conveniently benefits Delta. Delta is not known to have made any efforts to help United obtain Shanghai Pudong slots, which would be in contradiction to Delta's "fair and equal" Tokyo Haneda talking point. In fact, it is an open secret that China Eastern, with Delta backing, has lobbied to prevent United from obtaining slots. While United continues to face difficulties obtaining slots, Austrian Airlines and British Airways have been able to obtain Shanghai Pudong slots (including movements at peak hours) even though both are, for now, competitors to China Eastern, albeit not nearly to the degree of China Eastern and United.
Shanghai Pudong experienced significant movement growth in 2015 as slots became available following the completion of a new runway. It is understood that slots made available from the runway will be phased in over a few years, meaning that there are still new slots available for allocation. Shanghai Pudong system movements were up 11.5% in 2015, including 12.1% internationally.
This indicates faster growth in international movements than domestic movements as a result of proportionally more slots being available for international services.
United's slot challenge cannot be because of a lack of slots (they exist), but rather their allocation to airlines other than United.
Shanghai Pudong Airport monthly international aircraft movements: 2010-2015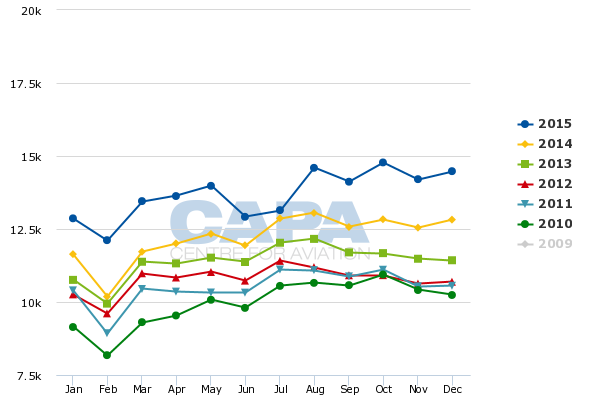 In response to United's Jan-2016 extension request, American Airlines submitted a reply supporting United. This was the first time there had been a third party response to United's second daily Shanghai service. American wrote: "American strongly supports United's motion for a start-up extension for the period requested. The process of obtaining commercially viable take-off and landing slots in China can be protracted.
Thus, it is difficult for U.S. carriers to add routes between the United States and China, particularly to China's two largest cities. We urge the U.S. Government to address this issue at the earliest possibility." (American encountered slot difficulties with its Chicago-Beijing service, and had to cancel it right before launch.)
United's application and motion had been unopposed at all stages. But since United's last request (in Aug-2015) Delta has opposed American's delayed launch of the Los Angeles-Tokyo Haneda service (using Delta's former Haneda slot). American was encountering delays with Japanese authorities, and Delta surely knew about this but instigated annoyance anyway. It is in this background – Delta fighting American and United on slot matters – that American put in its support.
American and United do not directly overlap on San Francisco-Shanghai, but do indirectly when considering US connections. While American and United may be competitors, they have more to gain by counterbalancing Delta; 'my enemy's enemy is my friend'. American could have made its submission to pre-empt any chance of Delta saying anything, or simply to make a point. Delta would have been wise to continue to have the graciousness of staying silent on United's Shanghai matter.
United's new start-up extension through Oct-2016 makes it possibly two years that United will have to wait from proposal to launch. Even then, this could be optimistic.
American and United could square off against Delta's potential push for China open skies
United's struggle with Shanghai Pudong slots, and any other current or future slot issues that US airlines have in China, will hardly be the zenith of contention. There is a strong chance that American and United will square off about liberalisation between the US and China. Delta will likely advocate open skies. This may seem surprising given Delta's protectionist tactics elsewhere. Yet open skies will allow Delta to form a joint venture with China Eastern, giving scale benefit but also slowing the rate of growth in the market.
American and United could be concerned that opportunities will not be equal since they have had difficulties securing slots, while Delta most recently has not. The two also lack partners: American has no oneworld partner in mainland China (it has a bilateral partnership with Hainan Airlines, but this has not significantly grown in recent times) while United has rebuffed Air China's partnership approaches. In the US-mainland China market, China Eastern and Delta combined are larger by a double digit percentage than are United or Air China (the two largest).
China to United States of America (seats per week, one way): 19-Sep-2011 to 18-Jul-2016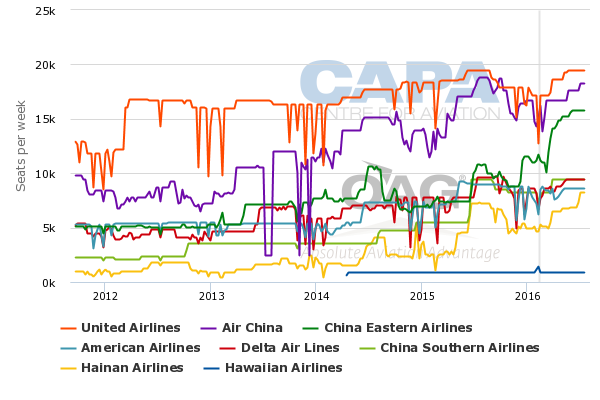 Outlook: CEO Anderson could take on more lobbying in "retirement". AirAsia Japan sets its sights on the US. DoT needs to revert to representing consumer interests
Following the announcement that Delta CEO Richard Anderson would step down there were questions whether there were sighs of relief from industry counterparts that Mr Anderson had duelled with. It might have instead been asked if there were worries.
Mr Anderson is not leaving Delta. He will become executive chairman. Notably Delta's head of the board is the chairman, not the executive chairman. There are questions whether Mr Anderson will let go of day-to-day affairs at the airline and instead focus on political projects. ALPA President Lee Moak (a Delta pilot) stepped down at the end of 2014 but stepped up his anti-Gulf campaign via his lobbying group Americans for Fair Skies.
Meanwhile Nagoya-based LCC start-up AirAsia Japan (Mk II) has plans to commence regional high-density A330 service in 2018, to open Tokyo Narita-Honolulu service in 2019, and then in 2020 to serve Seattle or San Francisco. This is significant lead time and details can change, but there is clearly intent to operate to North America as an LCC. AirAsia Japan would have access under US-Japan open skies, but could face US challenges if airlines find issues with AirAsia Japan as they did with Norwegian. Whether the issues are the same or different, they would have the effect of being simply protectionist.
It is curious to consider: if an issue were to arise, which US airlines would object. Delta would likely lead any opposition. American and United have supported US-Japan but joined Delta in lobbying against Norwegian, which would have some similar characteristics (and thus opportunities for objection) as AirAsia Japan.
AirAsia Japan will hardly be the last new-age airline to potentially cause ruffles in the US DoT, to say nothing of the current unresolved Gulf and Norwegian matters.
Whereas DoT's stalling once annoyed airlines, it is spreading to multiple levels of foreign governments and consumers. As CAPA recently wrote of Norwegian's latest struggles with DoT:
Its intention to add a service from Cork to Boston, operated by its subsidiary Norwegian Air International (NAI) has not yet come to fruition. It is still waiting for US Department of Transportation (DoT) approval of NAI's application for a US foreign airline permit. Meanwhile, according to Mr Kjos on the analyst conference call, "the Irish community is getting really angry" at the delay in launching this route.

Norwegian is also waiting for DoT approval of a similar application by its newer UK subsidiaryNorwegian Air UK. Mr Kjos told analysts that he did not think the UK government would like to be "stepped on" by US Transportation Secretary Anthony Foxx.
See related report: Norwegian Air back in profit, signals aggressive long haul expansion. DoT help would be welcome
On international matters, US DoT seems to be adjusting its stance depending on the mood and wishes of US airlines. That indicates the airlines are not supporting a general pro-consumer policy but rather what is in their specific business interest, as might be expected, of course. What DoT – and the consumers it represents – needs is a policy framework that regulates airlines rather than being shaped by the entities it is supposed to be regulating. Having had the vision to lead liberalisation and open skies, DoT should now defend the territory it has gained. After all, most of the US majors strongly opposed open skies when the DoT first promoted the concept globally.
Haneda concerns only a handful of slots and is a market of limited growth. And Japan can hardly be described as a leader in liberalising long haul markets when its national airlines' interests are at stake.
But of greater moment - and with bigger benefits to consumers would be squashing the US Big 3's protectionist rhetoric and allowing uninhibited growth from Norwegian, Gulf airlines, and whoever else (from AirAsia Japan to new Chinese airlines) is next.
A blurred policy framework will only become more difficult in future years, limiting consumer choice. It is the consumer interest today that should be the driver of policy. The US majors are now so powerful and profitable - accounting between them for almost half of the world's total airline profits - that seeking to protect the status quo on every front has little logical value from a public policy point of view.