Continental: Curb your enthusiasm despite 4Q2009 profit
Analysis
Continental Airlines managed to squeeze a surprise USD85 million profit for the fourth quarter or USD0.60 per diluted share. For the full year 2009, Continental reported a net loss of USD282 million, or a loss of USD2.18 per diluted share, a 51.9% swing from the USD586 million lost in the year-ago period.
Operating margin for Continental was zero in the 4Q2009 period. However, net margin, which was deeply negative earlier in 2009, is now rising, reaching to +3% in the 4Q2009 period.
Continental Airlines operating margin v net margin: 4Q2007 to 4Q2009
Newly installed Continental Chair & CEO Jeff Smizek cautioned on reading too much into RASM improvements because they are based on very weak year-on-year comparable statistics. But more interestingly, he spoke of structural changes in the industry that could mean sustainable profitability even with the cyclical swings that conspire against the industry.
"Everyone should curb their RASM enthusiasm going into this quarter as we will again benefit from extremely weak year-over-year [comparisons] with the steep drop-off in business travel we experienced in the first quarter of 2009," he said. "We're a long way from being out of the woods, although we're seeing some signs that business travel is beginning to head in the right direction. We are keenly focused on making money again, and we will make many changes as we challenge every aspect of our business to find ways to increase revenue and decrease costs."
Unbundling and self service transformation
Smizek pointed to product unbundling and the increasing self-sufficiency of passengers as two major structural changes that will also benefit the airlines.
"I think you're seeing the industry further, not only unbundle its product, but discover its merchandising power, and the ability to sell goods and services and generate ancillary revenue that has a very significant margin," he said. "I think that's structural change that unfolding in this industry and will continue for a considerable period of time."
He also pointed out that there is a quantitative difference between the unbundled products and its core product in that they have a much higher margin. "So I think that ultimately the ancillary revenues can become a significant portion of our future profitability," he said.
"The second structural change, I think is the transformation of self service in this industry," he continued. "Customers are demanding and expecting more self service, and we're investing in technology that will permit that throughout the process. That is during the purchase process, post purchase at the airport, after the flight itself and that technology is going to enable not only ultimately better customer service and more consistent customer service, but also I think significant cost savings in the industry. I think the combination of unbundling and merchandising, coupled with more and more customer self service and investment in technology I think those are structural changes in this industry that hopefully will lead to sustainable profitability."
He was questioned on how ancillary revenues would contribute to sustained profitability, given the fact that Continental has always raised a good amount of non-fare revenue which has not contributed to a sustained profitability before. Why won't that get competed away as well, he was asked.
"I think that you're assuming that you're just fracturing the fares and keeping the fares the same," Smizek responded. "I think what you are going to see is the ability to merchandise goods and services in addition to what you would expect the traditional fares. So I think it's additive."
See related report: Ancillary revenues: Airlines to earn USD58 billion in 2010; CAPA to review Asia Pacific prospects
Having set a cautionary tone, Smizek outlined the benefits the company is seeing with its change to the Star Alliance. "We are now connecting as many passengers with United as we connected during the same period last year with Delta and Northwest combined," he said, adding that however much the code is important, the real value is in the frequent flyer programs. "The frequent flyer response actually drives far greater value than codeshare."
Executive Vice President & Chief Marketing Officer, Jim Compton, explained the dramatic traffic impact: "Comparing connecting passengers this December, over Frankfurt with connecting passengers last December, over Paris and Amsterdam combined, we have 65% fewer seats in the Frankfurt market, but we've made up 85% of the connect traffic. As a result, we are now connecting twice as many passengers per seat beyond Frankfurt than we did last December in Paris and Amsterdam combined. That's a sign to us that's really clear. Star is pulling up very nicely and I would say better than our expectations. Part of Star is the relationship with United. Already connecting passengers to and from United are exceeding where Delta and Northwest were combined."
He also said Frankfurt is turning out to be a better hub than Paris and Amsterdam. "Star has a much more expansive network from where we came from, so the number of destinations that we're able to offer is much greater than what we're able to offer in the past," he said. "So not only is it the terrific facility, the breadth of what we can do out of Frankfurt is very powerful in terms of connecting traffic."
On the domestic side, the benefits of the Star Alliance come because the partners want to see Continental succeed "as opposed to wanting to kill us and that's a positive," Compton continued. "Secondly, with United, we have very complimentary route networks. United and we are, essentially, not competitors, although legally my general counsel will tell me, we are competitors, we essentially have very little overlap and, what you want in an alliance, is precisely that. You want complimentarity so that you provide for your customers a broad array of destinations and connection points. That's what United and Star Alliance bring to us. US Airways is helpful as well with us as a partner, but clearly not as important to us as United, given the complimentarity of our network with United."
The alliance switch has also resulted in stronger demand off the West Coast to Hawaii, prompting new service to support not only increased demand but also increased demand for its Micronesia routes.
"We serve more destinations in the Pacific than any other carrier," said Compton. "One of the ways we get people to the Pacific is off the West Coast through Hawaii. We have increased demand, West Coast to Hawaii, and we also have demand into the Micronesia Islands that we're trying to meet. With a nice market like Fiji being served out of Honolulu and Guam, that also added to that need for demand."
RASM improvement
Compton also said that he airline saw sequential improvement in year-over-year business first RASM comparisons throughout the quarter, which turned positive in the trans-Atlantic and trans-Pacific region in December 2009, mainly driven by increased load factors.
"The results for the fourth quarter were that mainline RASM was down 9.9% and regional RASM was down 4.0% year-over-year," he said. "Fourth quarter load factor was up year-over-year and we also had improvements in year-over-year yield declines. However, on an absolute basis, yields remained weak. For the fourth quarter, mainline yield declined 13.6% year-over-year and regional yield declined 7.5% year-over-year. Our December mainline year-over-year RASM decline outperformed what many were expecting. Part of our performance was related to the spool up of our Star Alliance."
Continuing mantra: capacity discipline
Smizek was firm on capacity discipline. "We have seen the benefits from and understand the importance of capacity discipline," he said. "We have a bias towards capacity discipline, because we are firmly committed to achieving and sustaining profitability. Accordingly, we've adjusted downwards our anticipated 2010 capacity from earlier estimates. For 2010, we now expect our consolidated capacity will be up only 1% to 2% with our mainline capacity up 1.5% to 2.5%, our mainline domestic capacity about flat year-over-year and our mainline international capacity up 4% to 5% year-over-year."
He noted that the international increase is actually the run rate of capacity additions last year, which included the long-haul routes of Houston-Frankfurt in November, Houston-Rio in August, and New York-Shanghai in March, as well as the restoration of the schedule to Mexico which was pulled down on H1N1 fears.
"On the revenue side, we will further unbundle our product and also offer new goods and services," he said, citing the airline's day-of-departure upgrade program which sells seats that would otherwise spoil. "On the day of departure if, after all Elite upgrades have been made, there are still first class seats available for sale, we offer customers an opportunity to buy a day-of-departure upgrade to first class. Last year, we generated over USD25 million from this program. We have a lot of ideas for generating additional revenue and offering customers' choice and we think our passengers and investors will like them as we roll them out in the future."
For the full year, Continental increased "other revenues," which includes ancillary fees by 7.4% to USD1,082 billion. However, that was not enough to overcome a 17.4% drop in operating revenues to USD12,586 billion. Even so, for the full year, Continental managed to shave 18.1% from operating expenses to USD12,732 billion.
They're back! Corporates flying again
Just as American and Southwest reported, Continental said corporate revenue booking trends are positive, and it is seeing a pickup in bookings inside of 14 days. However, yields are remaining soft.
It also reported some success on international pricing with fuel surcharge matching in those markets. "Our corporate accounts are telling us that travel budgets are still fairly tight. That said we are seeing business travel slowly comeback," said Compton. "In addition to easing restrictions on front cabin bookings, some accounts are permitting travel for internal meetings, which have stimulated a small pickup in our bookings related to group meetings. We've also seen a pickup in corporate bookings from the financial sector and, of course, we're getting great feedback on our new flat-bed seat. We believe that we've been losing some customers, we otherwise could have attracted, especially on really long-haul routes because we didn't have flat-bed seats."
In May, Compton pointed out the decline in high-yield traffic reached 38%, including the airline's corporate revenue. In December, with improvements and loosening of travel restrictions and budget, it was only down 1% year over year.
Executive Vice President & Chief Financial Officer Zane Rowe covered the cost side. "For the fourth quarter, mainline CASM, holding fuel rate constant and excluding special items, was up 1.4% on a mainline capacity decrease of a half a percent year-over-year," he said. "For the full year, it was up 1.5% year-over-year on a capacity decreased of 5%."
Both CASM and RASM are dropping at Continental with both ending in the -20% range in 4Q2009, compared to +8% for CASM in 4Q2008 and +6% for RASM in the 2008 period.
Continental Airlines CASM v RASM: 4Q2008 to 4Q2009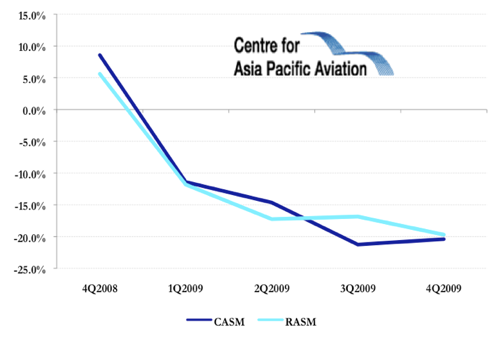 CASM improvements are expected to continue in 2010. "For the full year 2010, excluding special items and holding fuel rate constant, we expect both our consolidated and mainline CASM to be up about 1% year-over-year," said Rowe. "Our fourth quarter consolidated fuel price, including taxes and hedge impact, was $2 per gallon. Given the current forward curve we estimate that including taxes and hedge impact our first quarter consolidated fuel price per gallon will be about USD2.13 and for the full year about USD2.25."
Consolidated PRASM for Continental is again on the rise, despite being at -4.5 in Dec-2009 after falling from a high of about 12% in the Aug-Sept-2010 period.
Continental Airlines consolidated PRASM (US cents per ASM): Feb-2008 to Dec-2009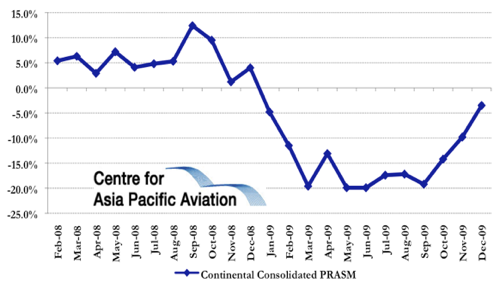 RJs Declining
The latest deal cut with ExpressJet eliminates eight Embraer ERJs from its regional fleet. However, XJT will continue to lease the aircraft. "Two of these aircraft were removed in December, ending the year with 264 regional jets," said Rowe. "The other six 145 will be removed from the capacity purchase agreement by the end of April." Continental is also taking seven CRJ-200s out of the fleet in the first quarter along with its three remaining 737-300s
Compton said that the airline will be relying on fewer regional jets, especially over Newark. "We have plenty of room for future growth in Newark it's a very powerful hub for us," he said. "However, one regional jet takes up the same airspace and slot as one 777 or 787 for the future. So I think you'll see, overtime, a trend of fewer and fewer regional jet operations in our Newark hub and more mainline operations."
However, the airline is in no way abandoning the short-haul markets now served with RJs. Instead it will serve them with Bombardier Q400s there. "We will be able to grow the feed and many of these short hauls will be covered by Q400s," he said. "Candidly, those are great aircraft. They have essentially the same trip cost as a 145 and they have 24 additional seats. They're very quiet and very comfortable aircraft for those shorter haul markets. So they satisfy the customers and they are more efficient operation for us to run."
The airline will also take delivery of 14 aircraft – two 777s, two 737-900ERs and 10 737-800s, the latter of which are expected in Dec-2010. In addition, during the first quarter, it will add three leased 757-300s. By the end of June, the mainline fleet counts will be down seven aircraft year-over-year and the regional fleet count will be down 15 aircraft year-over-year. Rowe reported it has back-up financing for the remaining three 737 deliveries in 2010, but is also exploring other financing alternatives.
Cash and liquidity
Continental ended the fourth quarter with USD2.86 billion in unrestricted cash and short-term investments. As a percentage of the last 12 months' revenue, cash was approximately 23%, said Rowe. Continental expects to end the first quarter with approximately USD2.9 billion to USD3 billion of unrestricted cash and short-term investments. "For full year 2010, we estimate our cash capital expenditures related to fleet will be approximately USD265 million. This includes aircraft, winglets, and our new flat bed business first seats. Our non-fleet cash capital expenditures will be approximately USD140 million", he said.
"Long and slow" wins the race
"We're at the very beginning of the economic recovery, and we don't know how long that recovery will take, but I suspect it will be long and slow," said Smizek. "That said a long and slow recovery is better than what we faced in 2008 and 2009. We need to start making money and to keep making money. To do this, we'll need to take thoughtful and measured risks by trying out some different approaches to the business, and you'll see a number of changes at Continental as a result. Never in the history of Continental have we had a better fleet, a better network, better facilities, a better product, or better people."