Thai Airways feeling effects of swine flu, China Airlines' yield weak in Jun-2009
Asia Pacific airline shares were mixed on Thursday (16-Jul-09), despite most Asian equity markets closing higher. Shares in Shanghai Airlines and China Eastern, the two Shanghai-based carriers which recently announced plans to merge, continued to rise yesterday, by 5.0% and 4.0%, following gains of 5.1% and 11.0% on Wednesday, respectively.
Official Chinese data showed that the Chinese economy expanded at a faster-than-expected pace of 7.9% in 2Q2009. Domestic travel demand has also remained strong, although this rebound has come at the expense of yield, which, according to Hong Kong's Daiwa Institute of Research, has fallen by more than 10% at the "big three" carriers in 1H2009. Shares in China Southern and Air China slipped 0.9% and 1.2%, respectively, yesterday.
Asia Pacific selected airlines daily share price movements (% change): 16-Jul-09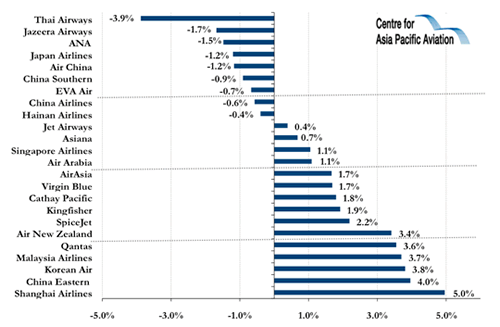 Also in North Asia, China Airlines shares' slipped 0.6%, as the carrier reported concerning yield reductions in Jun-2009, of 19.1% for passenger operations and 33.0% for cargo services.
In Japan, ANA and Japan Airlines' shares were down 1.5% and 1.2% yesterday. The IMF, on Wednesday, stated it expects Japan's economy, which plunged into a "severe recession" in late 2008, will shrink by 6% over 2009, with the outlook for the second largest worldwide economy remaining uncertain. The IMF, however, predicts a recovery in 2010 (GDP is expected to expand by 1.75% in 2010), although this will "hinge critically on improvement in overseas lending conditions and trade".
Thai hit by flu
Thai Airways shares were also down yesterday, slipping 3.9%, as the carriers' Executive Board Chairman, Wallop Bhukkanasut, stated that the swine flu outbreak has caused the carrier's passenger numbers to fall steeply, with reductions of up to 20% in passenger numbers from key North Asian source markets, including China, Japan and Korea. This echoed similar comments by Cathay Pacific CEO, Tony Tyler, who stated that the carrier has seen passenger reductions, particularly in North Asia, Japan, China and some parts of Southeast Asia, as a result of the outbreak. However, Mr Tyler stated the impact has eased in Jul-2009. Cathay's shares gained 1.8% yesterday.
Among the other major Asia Pacific carriers, Qantas shares gained 3.6%, with Singapore Airlines shares up 1.1%.