China Airlines begins full service airline fare unbundling in Asia. Going back will be difficult
Analysis
The hybridisation of airlines blurs the lines between full service and low cost airlines in Europe and the US – if those terms are even any longer applicable. Yet in Asia the landscape has been more segmented.
But now that appears to be changing. With little fanfare, China Airlines has made a leap towards unbundling services. For now it is a tentative move: China Airlines is offering a new hand baggage-only fare between Taipei and Tokyo Narita. It is not the base/entry fare but rather is subject to inventory control, and for example is more available during off-peak flights.
China Airlines intends to expand the offering gradually to more routes. It may seem a perplexing countermeasure for LCCs, when China Airlines has its own LCC subsidiary – Tigerair Taiwan, whose second largest route is to Tokyo Narita. Yet the fare is also a way to compete with other full service airlines, which are for now still larger than LCCs. China Airlines is exploring what else it can do for differentiation, but is reluctant to make any changes that impact the passenger experience after check-in. There are many ways for this to evolve – from China Airlines and competitors. What appears certain with this unbundling is that there is no going back. For China Airlines, or for the Asia Pacific industry.
China Airlines offering hand luggage-only fare
China Airlines for three weeks has been selling an unbundled fare called "Economy Let's Go". China Airlines commenced sales on 25-May-2016 for travel from 09-Jul-2016. The fare is initially only on the Taipei Taoyuan-Tokyo Narita route but China Airlines plans to roll the fare out to other routes. The fare is without checked luggage, which can be purchased for USD30 for a 20kg allowance.
China Airlines fare family comparison chart Taipei Taoyuan-Tokyo Narita: Jun-2016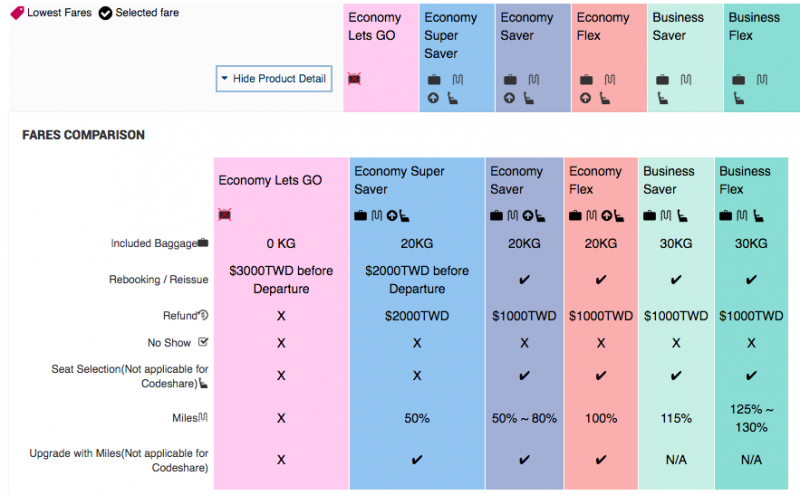 The fare is its own family and made possible technologically by China Airlines' recent cutover to Amadeus. The fare is not simply China Airlines' lowest fare without checked luggage – a response that some full service airlines elsewhere in the world have initiated. The fare is more strict, carrying a higher rebooking fee; it cannot be refunded, does not earn frequent flyer miles and cannot be upgraded.
Those factors may not be apparent to passengers, or of great impact. A big difference to passengers, however, is that the fare – since it exists as its own family – is subject to inventory management. It does not have to be offered on every frequency on a route. In the instance of Taipei-Tokyo Narita, it can be offered in greater volume for off-peak frequencies, or specific flights against competitors that China Airlines is targeting.
China Airlines fares Taipei Taoyuan-Tokyo Narita: Jun-2016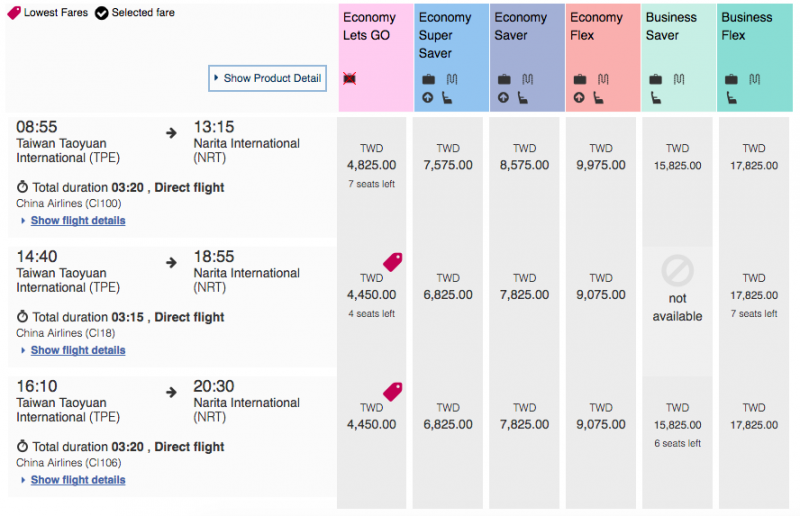 China Airlines looking to expand the fare, but without impacting passenger experience after check-in
China Airlines' "Economy Let's Go" fare has different fare rules and paid luggage structure. But China Airlines has sought to emphasise that the fare includes the same service after check-in as for other economy passengers, including complimentary meals and in-flight entertainment. China Airlines' development has been watched by its competitor EVA Air, which does not operate an LCC.
EVA Air is cautiously watching the development and is eager to see whether China Airlines will continue with the offering. EVA Air was partially surprised by the offering since it says that China Airlines had previously tried a fare that did not include items like meals and it was not popular with the market, and was consequently withdrawn.
China Airlines is likely to expand the offering – not just in the number of routes offered (as confirmed by the airline), but in service differentiation. What this may entail is to be determined, but China Airlines is intent on not making any changes to the passenger experience after the check-in process – perhaps avoiding changes that EVA Air says were not popular last time.
Unbundling may seem at odds with China Airlines owning the LCC Tigerair Taiwan (only 10% is owned by Tigerair Holdings, and China Airlines is expected to wholly own Tigerair Taiwan in the future). Unbundling has been a competitive tactic by full service airlines reacting against LCCs. But Tigerair Taiwan's CEO, Kwan Yue, sees China Airlines not strictly competing in Tigerair Taiwan's space but rather putting into the marketplace a third option.
"What China Airlines has done is to offer another product...that will be pretty attractive for some travellers. As far as between China Airlines and Tigerair [Taiwan], we still maintain we are two different product offerings to the same destinations," Mr Yue told CAPA TV.
Tigerair Taiwan CEO Kwan Yue at CAPA's LCCs in North Asia Summit discusses developments at the airline: Jun-2016
Nine of China Airlines' 10 largest routes are within Asia: routes with large FSC competition
China Airlines' 10 largest routes ranked on available seat capacity are all within Asia, except for its eighth largest route – Taipei-Los Angeles. On all routes China Airlines faces more competition from other full service airlines than it does from LCCs. The only notable LCC competition is on Taipei-Tokyo Narita and Taipei-Osaka Kansai; indeed, Narita is the first market for this new fare. Kansai could logically be one of the next markets to expand the offering to.
Elsewhere, infrastructure – slots, air traffic rights – may preclude LCC entry or a significant market share gain by LCCs. This is the case in Hong Kong-Taipei and Taipei-Shanghai, among other markets. Without the ability to deploy Tigerair Taiwan in the near future this fare offering could be a logical competitive move to add choice to the marketplace.
Seat capacity by airline on China Airlines' 10 largest routes ranked on seat size: 20-Jun-2016 to 26-Jun-2016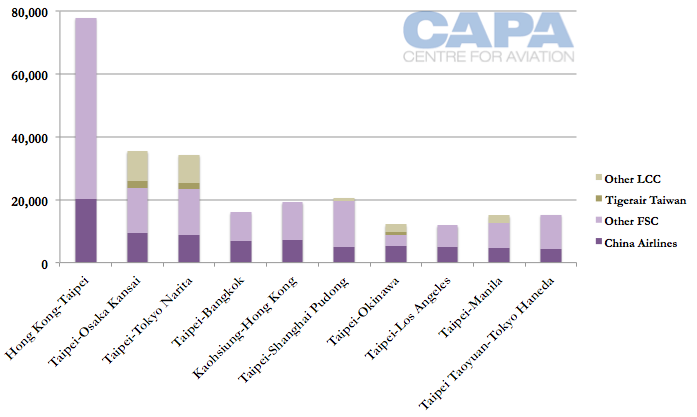 China Airlines typically accounts for a quarter to a half of seat capacity on its 10 largest routes. LCCs are present on only five routes, with their share generally 17-33%, except Taipei Taoyuan-Shanghai Pudong at 4%.
Seat capacity shares on China Airlines' 10 largest routes: 20-Jun-2016 to 26-Jun-2016
Unbundling is still rare at Asian full service airlines
A full service airline such as China Airlines offering a fare in Asia without checked luggage is a contrast in a region where some LCCs still offer checked luggage for free – sometimes due to regulatory restrictions, sometimes by their own choice.
V Air, the LCC of the Taiwanese full service airline TransAsia, said in response to China Airlines' new fare that the boundary line between full service airlines and LCCs will become increasingly blurred in the future, as FSCs continue to roll out luggage purchase schemes and LCCs start to roll out packages that include inflight meals and checked baggage. For V Air the advantage is in being able to offer a large number of low fares.
This has parallels to Cathay Pacific's "fanfares", which offer tickets – with all normal perks – at special prices, either on flights with low volumes or for the airline to be seen as still being relevant to all market segments. That volume of tickets is a fraction of what a local LCC could offer.
That this fare development occurs at China Airlines is surprising. China Airlines is the most notable state-owned airline in Northeast Asia outside mainland China. It has taken on typical government-owned characteristics and has in the past been slow to change. This has created opportunities for private competitor EVA Air, which is quickly overtaking China Airlines in certain markets.
In recent years China Airlines has tried to push its boundaries, so far mostly in marketing areas, such as with bold interiors and uniform designs. The hand baggage-only fare represents a commercial innovation. Tigerair Taiwan also pushed the boundaries but then again, the Taiwanese government had been agitating for local LCCs to establish.
But once the egg is scrambled, others may adopt the taste
The only way to find how effective the fare will be in a new market is to try it. Some passengers may not have checked luggage anyway and now will receive a discount. At the very least, the offering involves little design and implementation cost, but it has managed to attract significant marketing attention, so the downside should be limited.
In contrast to the government position EVA Air has consistently - and arguably wrongly - said that Taiwan is not ready for LCCs. With China Airlines having both an LCC as well as fare bundles on its full service operation, EVA Air may feel some pressure to amend its views; alternatively it could decide China Airlines' initiatives would have little value if replicated at EVA Air.
Yet history suggests that once fare unbundling starts, there is no going back. There will not necessarily be any rush to replicate – evaluation and study will be a prerequisite – but more competitive offerings, in whatever form, will be needed in Asia.