Cebu Pacific & AirPhil are main beneficiaries as Philippines domestic LCC penetration rate nears 80%
Analysis
The low-cost carrier penetration rate in the fast-growing domestic Philippine market is about to reach 80%, a remarkable achievement and a figure unprecedented in the global aviation industry. An LCC penetration rate of 85% is even plausible in the foreseeable future as Philippine LCCs, led by Cebu Pacific and AirPhil Express, are rapidly expanding domestically while flag carrier Philippine Airlines (PAL) continues to reduce domestic capacity.
LCC competition in the Philippine international market is expected to increase significantly, driven primarily by the launch of AirAsia Philippines, which was originally planned for this month but has encountered last second delays. Domestic competition, however, is not likely to increase as AirAsia Philippines and the proposed Tiger Airways-SEAir joint venture face uphill battles in their attempt to secure authorisations for domestic operations. While international routes linking the Philippines with other Asian countries could see intense competition from five or more LCCs, the domestic market will likely be served by two or at most three LCCs in future.
Cebu Pacific and AirPhil are confident they will emerge as the big domestic winners, with AirPhil targeting a 30% to 35% share of the domestic market. Cebu Pacific is positioned to remain the market leader with roughly a 50% share while full-service carrier PAL is likely to see its share erode to about 15%.
LCC domestic penetration rates reached 68% in 2010 and 75% in 2Q2011
LCC penetration rates in the Philippines have been rising steadily over the last several years driven by rapid expansion at Cebu Pacific. LCC penetration rates particularly surged last year, reaching 68% compared to only 59% in 2009, primarily because of growth at two new LCCs: AirPhil and Zest Air. AirPhil, formerly known as Air Philippines, has pursued rapid domestic expansion since rebranding and adopting the LCC model in Mar-2010. Zest, previously known as Asian Spirit, initially adopted the LCC model in 2008 and started to pursue more aggressive expansion in 2010.
Philippine CAB data shows the three LCCs combined account for 75% of total passenger traffic in 2Q2011, compared to only 66% in 2Q2010. Scheduled capacity data for the current week shows LCCs have a 77% share of the domestic market in the Philippines, with Cebu capturing 44.4%, AirPhil 20.3% and Zest 12.4%.
Philippines scheduled domestic capacity by carrier (seats per week): 24-Oct-2011 to 30-Oct-2011
Annual LCC penetration rate in the Philippine domestic market: 2003 to 2010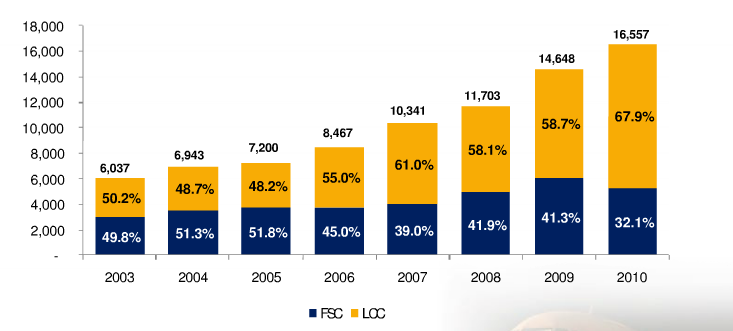 Cebu Pacific and AirPhil executives expect LCCs to soon start capturing nearly 80% of the Philippine domestic market. Cebu Pacific and AirPhil are both adding significant domestic capacity in 4Q2011, as they take delivery of several additional A320s. PAL, meanwhile, has further reduced its domestic capacity. Over the last two years PAL has been steadily reducing its A320 fleet, returning aircraft as leases expire and leasing two A320s to AirPhil.
PAL and AirPhil have common owners and a close partnership which includes codesharing on domestic routes. CAPA has been informed that PAL is now only operating 90 daily domestic flights, down from 145 daily flights previously. The latest capacity reductions were initially implemented during a ground crew strike at PAL late last month but are now believed to be permanent. AirPhil handled PAL passengers that were inconvenienced during the strike and continues to work closely with the flag carrier as PAL focuses more on the international market, where there is higher demand for a premium service.
AirPhil to expand A320 fleet to 15 aircraft by end of 2012
AirPhil currently operates eight A320s and eight Dash 8 turboprops. The carrier is planning to nearly double its A320 fleet over the next year, with almost all the additional capacity to be deployed domestically. AirPhil SVP marketing and sales Alfredo Herrera tells CAPA that the carrier's ninth A320 will enter service next month followed by the 10th in December and two more in Jan-2012. Three more deliveries are planned for later next year, resulting in a fleet of 15 A320s by the end of 2012.
Of the four A320s to be delivered to AirPhil over the next three months, Mr Herrera says three will be deployed domestically while one aircraft will be used for international charters. AirPhil is now primarily a domestic operator with only two daily scheduled international flights: Manila-Singapore and Cebu-Hong Kong. It also has regular charters to several destinations in mainland China. "We are still a domestic player first and foremost. International is gravy," Mr Herrera tells CAPA.
By focussing on the domestic market with its first 15 A320s, Mr Herrera expects AirPhil can be a "strong number two" behind Cebu Pacific, capturing 30% to 35% of the domestic market. The carrier's A320s are being used to build up market share on trunk routes while its eight Dash 8s are used for some of the several domestic destinations in the Philippines that have runways that are too short for jets. AirPhil has five 70-seat Dash 8-400s and three 50-seat Dash 8-300s with the -300s used exclusively to operate a high frequency service from Manila to Caticlan, the gateway to popular tourist destination Boracay Island that is also served by Cebu with ATR 72s.
AirPhil aims to eventually pursue some international expansion, which would allow it to increase the utilisation of its A320s. But for now AirPhil plans to only expand its international operations via charters, partially because traffic rights on prime routes such as Manila-Seoul are not currently available.
Cebu Pacific has a much larger international operation, accounting for 21% of its total capacity. While some of Cebu's international flying is currently not as profitable as its domestic operation, the international routes are key in helping Cebu keep its costs lower than its competitors, including AirPhil, as several of the international flights are operated during overnight hours.
Cebu Pacific to add three A320s in 4Q2011
Cebu Pacific is also adding three A320s in 4Q2011, with most of the additional capacity being used to increase frequency on domestic routes. The first of these aircraft was placed into service last week and used to operate additional flights to three domestic destinations. One more A320 is slated for delivery by the end of this month, with the last one expected in December, giving Cebu Pacific a year-end fleet of 29 A320 family aircraft and eight ATR 72s.
Cebu Pacific's current fleet plan includes four additional A320s in 2012, followed by seven more in 2013. As a result, it expects a fleet of 40 A320 family aircraft and eight ATR-72s by the end of 2013.
Cebu Pacific has seen its domestic traffic increase by 10% through the first three quarters of 2010 to 6.7 million passengers. The carrier also transported 2 million international passengers through the first nine months of 2011, a 25% increase compared with last year. Last year Cebu Pacific transported over 8 million domestic passengers, accounting for 52% of the 16.6 million total passengers in the Philippine domestic market.
Cebu Pacific's portion of total annual domestic passenger traffic in the Philippines: 2003 to 2010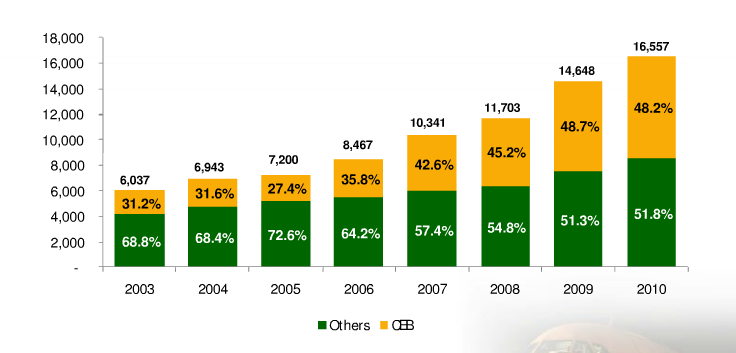 Cebu Pacific is primarily focussed on defending its fortress position domestically, aiming to exploit its first mover advantage in the local Philippine LCC market and grow at least as fast as its competitors. Unlike pan-Asian LCC groups such as AirAsia and Jetstar, Cebu Pacific does not have an ambition to become a major international player. The carrier plans to continue growing its international network, as it helps diversify its revenue stream and keep its A320 utilisation levels at about 14 hours per day, but the main priority is to defend its market leading position domestically.
Cebu Pacific sticks with pure LCC model while hybrid model appeals to AirPhil
Cebu Pacific also plans to stick with a pure LCC model and will not be tempted by elements of hybrid models, such as codeshares, GDSs and corporate bookings. Cebu Pacific chief executive advisor Garry Kingshott told an IATA conference in Singapore earlier this month that airlines pursuing "blurry models" typically have lower profit margins than pure LCCs or FSCs. "In this industry you are either a low-cost producer or a high differentiator," Mr Kingshott said. "Everyone who gets mixed up will lose money."
Cebu Pacific uses travel agents locally in the Philippines as credit card usage remains relatively low in the country but connects with them via the web. Mr Kingshott is adamant Cebu Pacific will not turn to the GDSs. "We have far more success today in using Twitter and Facebook as booking channels," he said. "We're in a very complex business. Everything you touch seems to complex up for whatever reason."
Cebu Pacific's insistence on remaining pure to the LCC model could provide an opening for AirPhil to follow a more hybrid model. AirPhil already codeshares with PAL and could pursue partnerships with foreign carriers seeking improved access to domestic destinations in the Philippines as full-service carrier PAL continues to increase its focus on the international market. AirPhil already offers some frills, such as free checked luggage, in an attempt to differentiate its product from larger Cebu Pacific. In Singapore it also decided to use Terminal 2 instead of following Cebu Pacific into Changi's budget terminal.
However, as Mr Kingshott pointed out, following a hybrid model comes at a cost. AirPhil's costs on domestic trunk routes are already higher as its A320 fleet is smaller and utilised less (Cebu Pacific enjoys more economies of scale with its much larger A320 fleet and utilises its A320s on average about two more hours than AirPhil, primarily because Cebu Pacific now does a lot more international flying). Cebu Pacific also now has a cost advantage over AirPhil on the turboprop routes because the ATR-72 has lower per seat costs than the faster but generally less economical Dash 8.
AirPhil also uses a legacy reservation system from Sabre. Its codeshare with PAL also adds cost, although this cost is offset as the AirPhil seats sold by PAL are typically higher-yielding than seats sold by AirPhil directly.
Future of Zest Air appears more uncertain
There is clearly room in the Philippine domestic market for at least two LCCs and it would make sense for AirPhil to differentiate itself from Cebu Pacific by following a slightly different model. Zest Air, which currently operates seven A320 family aircraft, is probably the most vulnerable as it is the smallest of the carriers and does not yet have the economy of scale enjoyed by Cebu Pacific or the partnership AirPhil has with PAL.
Zest also does not have as much cash at its disposal. Zest's most valuable assets are its slots at Manila, which Cebu Pacific and AirPhil would quickly swoop up if given the opportunity. The current slot situation at Manila is currently one of the biggest challenges limiting growth for Cebu Pacific, AirPhil and the domestic LCC market generally. The carriers are now having to base some of their additional aircraft at Cebu instead of Manila but believe more slots could potentially be made available at Manila by improving the efficiency of operations at the congested airport.
Tiger-SEAir and AirAsia Philippines are also eyeing the domestic market. But the incumbents are confident the status quo will be maintained and neither carrier will secure permission to operate domestic trunk routes.
Tiger and SEAir joint venture remains in limbo
Tiger and SEAir initially filed for domestic trunk routes in 2Q2011 and have since been fighting a show cause order which forced them to suspend ticket sales and postpone the launch of flights from Manila to Cebu and Davao. Tiger has said its planned 33% investment in the joint venture with SEAir is contingent on securing domestic rights. It is looking increasingly likely that the application will be denied and the proposed joint venture will fizzle altogether – similar to what recently happened with Tiger's planned joint venture in Thailand.
Without the equity tie-up and domestic joint venture, the marketing tie-up which has been in place between Tiger and SEAir since late last year on international routes could also be in jeopardy. The marketing tie-up now includes SEAir operating two Tiger-branded A319s from Manila's alternative airport, Clark. Expansion of this operation has been put on hold multiple times. The marketing tie-up and proposed joint venture excludes SEAir's existing small turboprop domestic operation, which includes routes from Manila to regional destinations such as Caticlan and currently accounts for 1% of total capacity in the Philippines domestic market.
The SEAir Tiger-branded international operation now faces the prospect of competition on all of its routes from AirAsia Philippines. The new AirAsia affiliate took delivery of its first A320 in Aug-2011, unveiling plans to launch services in Oct-2011. AirAsia Philippines was aiming to start by year-end linking Clark with five international destinations – Bangkok, Hong Kong, Macau, Singapore and Seoul – and two domestic destinations – Kalibo and Puerto Princesa. But ticket sales have not yet begun on any of the planned initial routes and the AirAsia Group said this week that its new Philippine affiliate is now aiming to launch services in early 2012 as it continues to work on securing required regulatory approvals.
AirAsia Philippines, which plans to operate seven A320s by the end of 2012, should still be able to launch services on some international routes – including Bangkok, Singapore and Macau – in 1Q2012. But sources tell CAPA some of the planned international routes, particularly South Korea, are in jeopardy because of a lack of room in existing bilaterals for another Philippine carrier. AirAsia Philippines may also not receive the domestic licence it needs to operate the planned Clark-Kalibo and Clark-Puerto Princesa routes. For now the new carrier has only received a temporary permit for international routes. Its first aircraft has been sitting at Clark now for 10 weeks without a single revenue service and a second aircraft is about to be delivered.
While AirAsia Philippines may have some initial headaches, its ability to leverage the AirAsia brand and the group's infrastructure across Asia should allow it to become established as a major player in the Philippine international market. Tiger and small local LCC Spirit of Manila are the most vulnerable as AirAsia Philippines quickly expands at Clark. The impact on Cebu Pacific and AirPhil should be limited because they have the advantage of operating international flights at more convenient Manila. They are also primarily domestic carriers and are focussed on profiting from their enviable position in the fast-growing Philippine domestic market.
See related article: AirAsia Philippines impact on Cebu Pacific and PAL should be minimal - at least initially
Given the slot restrictions at Manila and the challenges Tiger/SEAir has faced, the Philippine domestic market remains relatively closed. But with two to three LCCs competing fiercely and an unprecedentedly high LCC penetration rate, fares will almost certainly remain low. As a result demand will continue to be stimulated and, as more Filipinos start to fly more often, the domestic market should continue to chalk up double-digit annual growth.
As Mr Kingshott pointed out earlier this month, the domestic LCC penetration rate now being achieved in the Philippines is without precedent in the global industry. "It proves if you can take fares to a level where people can afford them, LCCs will succeed," he said.
While domestic LCC penetration rates of 50% to 60% are common in some other emerging markets - such as Brazil, India, Malaysia and Mexico - there has never been a domestic market of a significant size with an LCC penetration rate approaching 80%. In mature markets, such as the US and several European countries, domestic LCC penetration rates are currently about 30%.