Cathay Pacific's first half disappoints - commits to future of higher costs
Cathay Pacific's interim result does not make for encouraging reading. Cathay's recent hairy-chested growth strategy has come at a big cost, with capacity expansion and reduced hedging benefits leading to a destruction of earnings. Operating profit margin slumped into negative territory in the first half of 2008, compared to a 9.2% margin in 1H07 and a double-digit margin in the full year of 2007.
Cathay Pacific Group operating profit margin: 2003 to 1H08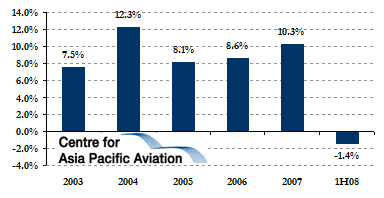 The airline swung from a HKD2,581 million net profit in the first half of 2007 to a HKD663 million loss this year, including a USD60 million (HKD468 million) fine for Cathay's involvement in international cargo price fixing. The net result was much worse than even the most pessimistic of analyst forecasts.
Cathay's earnings report stated the big change in the company's financial performance "was entirely due to the relentless rise in the cost of jet fuel in recent months". Cathay's non-fuel unit costs also rose 2.4%.
Overall, the airline's cost base, including fuel, ballooned by a third, against a 22.6% revenue increase. Higher expenditure mainly reflected increased flying operations including staff (+8.7%), inflight service and passenger expenses (+19.1%), MRO (+12.1%), aircraft depreciation (+16.8%) and commissions (+11.4%).
Cathay Pacific Group operating costs: 1H08 to 1H07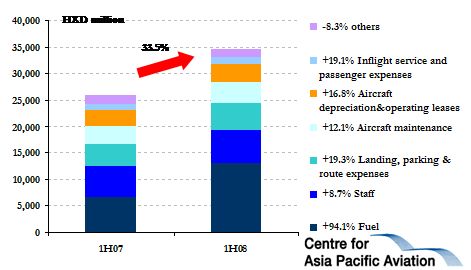 Cathay's total fuel bill rose 94% in the first half year-on-year, due to reduced hedging benefits and the airline's double-digit capacity increases.
Asia Pacific carrier passenger capacity (ASK) and passenger capacity growth (% change year-on-year): Five months ended 31-May-08: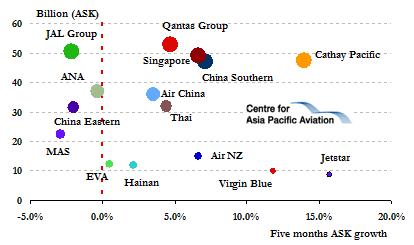 Fuel now accounts for a punishing 45.3% of total costs.
Staff vs fuel cost proportion of total: 1999 to 1H08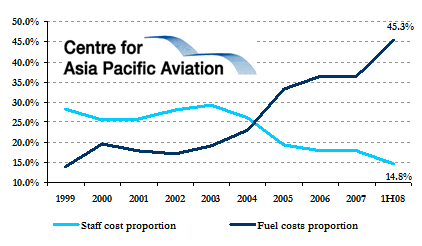 Chairman Christopher Pratt stated, "global aviation is making a painful adjustment to the new reality of USD100-plus oil". For many carriers, that means reducing capacity, developing alliances, raising fares, slashing costs and trimming workforces.
Cathay, on the other hand, is committing to a higher cost future and hoping passengers and shippers will continue to deliver. Passenger yield increased 4.1% for the period, mainly as a result of fuel surcharges, although there was "some softening" in First and Business demand in the latter part of the first half - suggesting a declining yield path.
Illustrating Cathay's quest for yield, Mr Pratt stated the carrier is reducing other costs "where it can, but there is a limit to how much cost can be saved before quality and brand are compromised". He added, "it is thus inevitable that fares for passengers and shippers will have to rise to reflect the new cost of operation".
This is a risky strategy as the icy winds of global economic slowdown blow into Asia. Japan appears headed for recession, while North Asian economies generally are clearly cooling. The US appears in for further turmoil and several key European economies, including the UK and most of continental Europe, are slowing.
Cathay has been unable to pass on the cost of higher fuel to passengers in the past. Revenue from fuel surcharges rose 63% in the first half and the carrier is subject to a cumbersome government approval mechanisms in Hong Kong for further increases. It will continue to be difficult to pass on higher fuel costs more effectively in the future, particularly when cheaper alternatives exist in the market, as competition intensifies.
Mr Pratt noted, "it is difficult to forecast with any degree of accuracy the extent to which these higher fares will reduce demand, but thus far it has remained robust".
The freight market, which was more buoyant than expected in the first four months of 2008, slowed in May-08 and Jun-08 and yields simultaneously contracted. If air freight is still an indicator of underlying economic conditions, a passenger downturn can be expected to follow.
Cathay Pacific passenger number growth vs freight (tonnes) growth:
Jan-08 to Jun-08
Nevertheless, Mr Pratt concluded, the company's priority at this time is to "protect the integrity of its network". He stated there will be some redeployment of capacity within the network, which to date has resulted in further increases in Cathay's network, particularly to the Middle East later in the year. He added, "it is not envisaged that the company will withdraw from any destination it now serves".
Cathay's 'grow at any cost strategy' may eventually prove successful, or its timing could be spectacularly wrong. Whatever the outcome, the carrier appears to be adopting a higher risk strategy than most of its competitors at this stage. Investors will consequently be more nervous, especially as conditions soften.