Cargo rout to hit passenger markets next
Analysis
Asian exports are in free fall, cargo markets are in intensive care, and passenger markets will be next. Japan's GDP contracted a startling 3.3% in the fourth quarter of 2008, taking the annualised rate of decline to -12.7% – the most severe since the 1974 oil crisis – and worse is expected.
China's trade figures deteriorated further in Jan-09, with a worse than expected 17.5% fall in exports - the biggest drop in 11 years - while imports contracted by 43.1%. Exports from India fell 24.0% in Jan-09 and plummeted by 32.8% and 44.1%, respectively, from South Korea and Taiwan.
The downturn is showing up in the extremely weak air freight data from some of the major industry participants.
No-one is immune to the downturn
Northwest's volumes were cut in half last month, while EVA Air reports its cargo volumes in Jan-09 shrank by 43% to just 36,941 tonnes. EVA's cargo revenue plummeted 55.7% in the month as yields (per FTK) collapsed by 21.6%. China Southern Airlines and China Eastern Airlines reported their cargo traffic fell by one third in Jan-09.
Selected airlines' cargo traffic (FTK) growth (% change year-on-year): Jan-09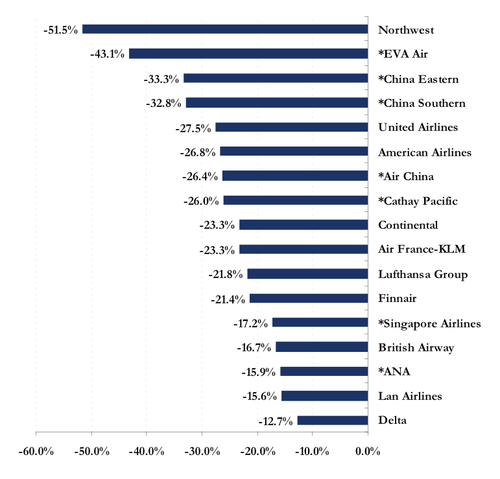 Hong Kong Airport's biggest ground handler, HACTL, reported further slides in cargo throughput in the month. HACTL's volumes are down by one third, year-on-year.
HACTL cargo volume growth (% change year-on-year): Feb-08 to Jan-09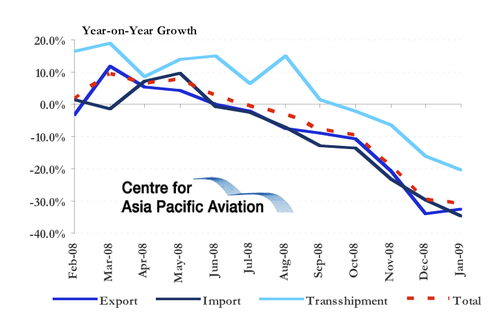 Outlook: Massive downturn to hit passenger markets next
Singapore Airlines, whose freight volumes slumped by over 17% in Jan-09, is taking preventative action on the passenger side, announcing an 11% cut in capacity from Apr-09. Qantas and Virgin Blue joined SIA in announcing further capacity cuts this week.
SIA CEO, Chew Choon Seng, stated, "given the falls of over 20% that we have seen recently in air cargo shipments, and the tradition of demand for air travel following closely behind trends on the cargo side of the business, we have to face the reality that 2009 is going to be a very difficult year".