CAPA Fleets: Rolls-Royce Trent 1000 engine directive implications
Analysis
The Rolls-Royce Trent 1000 engines that power the 787 are back in the news due to an airworthiness directive requiring more frequent inspections, as well as applying a reduced ETOPS rating.
The Trent 1000 powers 39% of 787s so far delivered while the remaining are powered by GE, which is not impacted. Most Rolls-Royce engines for the 787 are under scrutiny, although the newer version – the Trent 1000 TEN – is not impacted. The latest development concerns Package C Trent 1000s.
ANA, LATAM, British Airways and Virgin Atlantic fly the greatest number of aircraft with Package C power plants. The number of faulty engines is unclear: Norwegian has identified one problematic engine, while LATAM has stored one aircraft and Virgin Atlantic has stored two. As airlines wait for a solution due next year, they are seeking interim lift capacity.
Summary
Airlines globally are having to inspect certain 787 engines more quickly. Norwegian Air has identified one faulty engine.
ETOPS has been reduced from 330 minutes to as low as 140. All Nippon Airways has said it is working with regulators for 787 flights to North America that would fall under the revised ETOPS.
ANA, LATAM, British Airways and Virgin Atlantic have the most aircraft impacted by the airworthiness directive, according to CAPA Fleets.
Some aircraft have been placed in storage.
Airlines are looking for interim lift.
JOIN OVER 13 AIRLINE CEOs at CAPA's Airline Leader Summit – 17/18 May 2018, Powerscourt, Dublin.
Some 787 Rolls-Royce engines need more checks; ETOPs reduced

In Mar-2018 Rolls-Royce and EASA issued a directive requiring operators of Trent 1000 'Package C' engines to carry out maintenance checks on a specific part of the engine compressor earlier than usual. This check was already required prior to the engine reaching a flying threshold of 2,000 cycles. The directive reduces that time frame to 300 cycles. Rolls-Royce issued an advisory that 380 engines globally are impacted by the directive. The more recent Trent 1000 TEN model engines, used on recent 787 deliveries, are not impacted.
The U.S. Federal Aviation Administration (FAA) has reduced ETOPS for impacted aircraft down to as low as 140 minutes, compared to the previous limit of 330 minutes. The concern about reducing ETOPS is that failure of one engine could require the other engine to operate at full thrust, which would increase risk for a second engine failure.
There is no public account of how many faults have been identified. Reuters said on 14-Apr-2018 that Norwegian had already identified one faulty engine and would complete checks before 26-May-2018.
In Mar-2018 Rolls-Royce said that it expected to incur a peak cost of GBP340 million in 2018, with reduced costs in 2019.
Airlines with the most package C Trents: ANA, LATAM, BA and Virgin Atlantic
The CAPA Fleet Database records 190 787s with package C Trent 1000 power plants. Currently, 189 of the impacted aircraft are in service with airlines. One frame (serial 38484) is not in active service with an airline.
There have been 676 787 deliveries as of 18-Apr-2018, according to the CAPA Fleet Database. Rolls-Royce is the smaller power plant supplier on the 787 programme, accounting for 39% of the 676 deliveries (263), while GE holds the balance. Of the delivered Rolls-Royce 787s, 72% are impacted by the airworthiness directive for package C Trent 1000 power plants.
The airline with the highest number of aircraft containing package C Trent 1000s is All Nippon Airways. ANA has 64 787s with package C power plants – significantly more than the next largest operator of package C power plants, LATAM with 23.
British Airways has 18 aircraft with package C power plants and Virgin Atlantic has 15, Air China has 14, Avianca 12, Air New Zealand 11 and Air Europa 10. Other operators have less than 10 impacted aircraft.
Number of 787s with package C Trent 1000 engines, by airline: 17-Apr-2018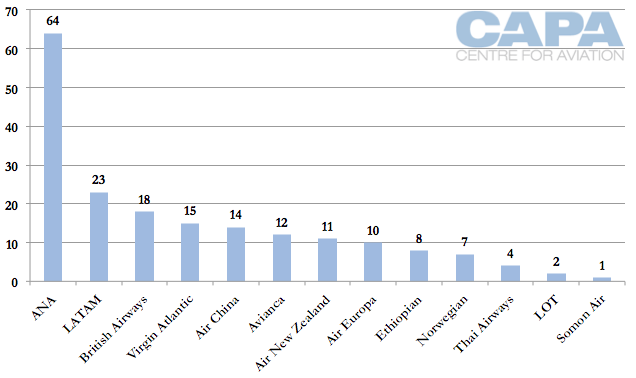 Operational impact is different by airline
It is difficult to assess operational impact from the airworthiness directive for package C Trent 1000s. ANA has multiples of impacted aircraft, compared to other airlines. This equates to substantial lost operating time as well as inspection/repair costs (although presumably airlines will reach agreements with Rolls-Royce).
Yet some airlines can be disproportionately impacted. The ETOPS restriction, for example, has reduced impact on ANA where most of its 787 flights are in the domestic market or to Europe and other parts of Asia where there are plenty of relatively close diversion points nearby. North American 787 services are not significantly impacted. ANA may also have back-up aircraft, or be able to consolidate services owing to its low average domestic load factor (sub-70%).
ANA domestic load factor: 2014-2018 YTD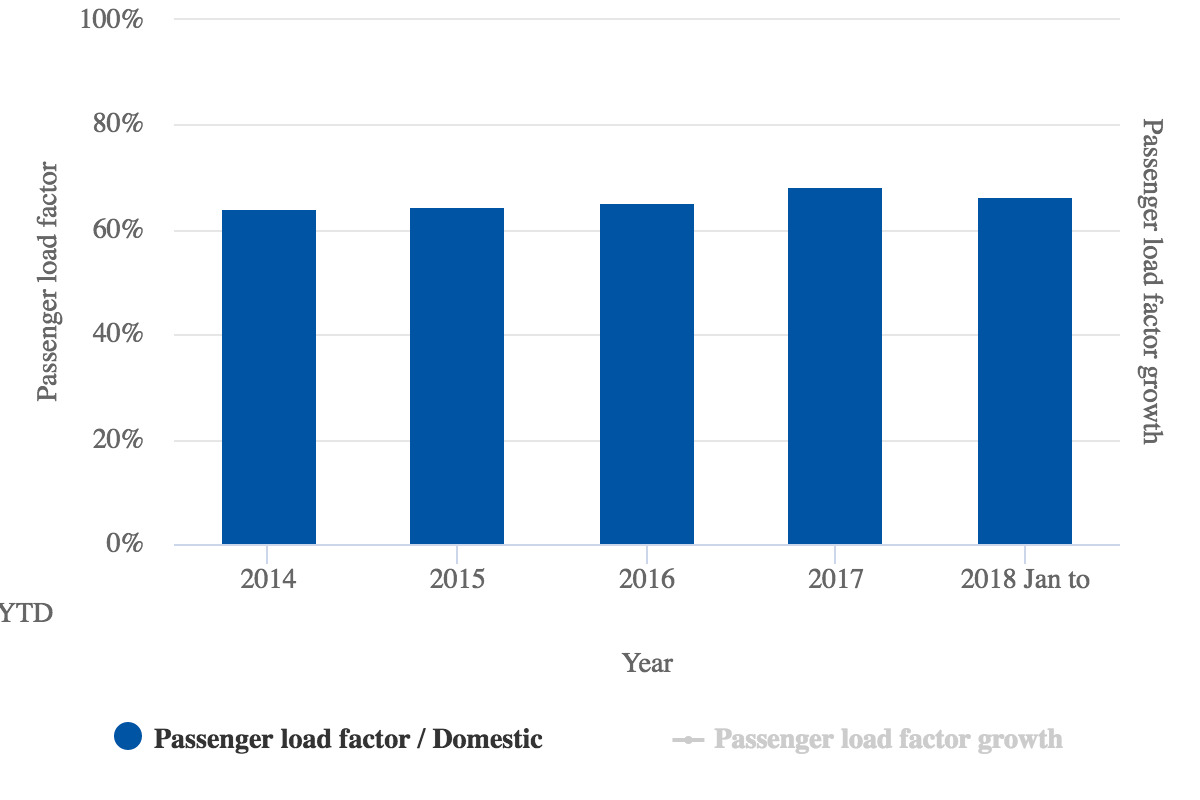 Air New Zealand, owing to its geography, may be more impacted by ETOPS restrictions. Norwegian may have less spare capacity. At Virgin Atlantic, 15 of its 16 787s have package C Trent 1000s, impacting one third of its fleet.
Virgin Atlantic Airways aircraft share, by type: as at 16-Apr-2018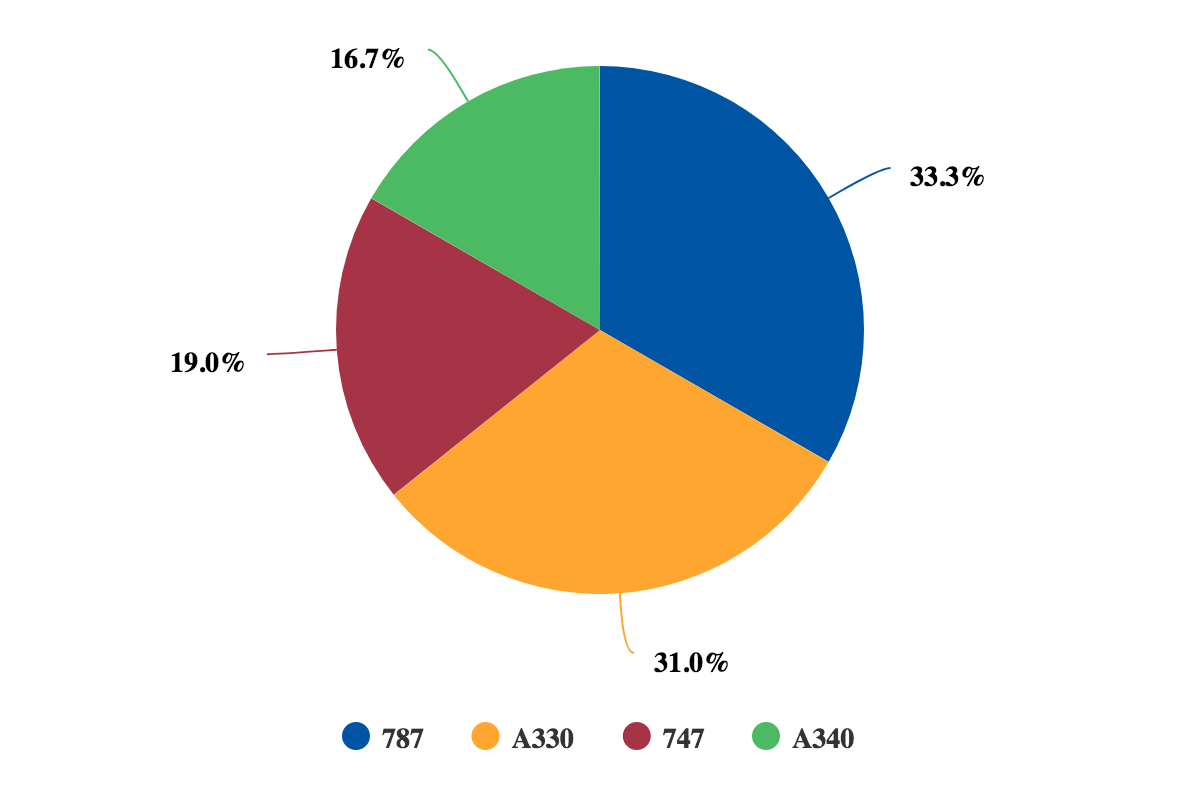 Airlines plan 787 works and recovery options
Most airlines are keeping a low profile about 787 inspections, repairs and recovery plans. But some airlines have provided guidance, as below.
Air New Zealand is adjusting its operation to accommodate the required checks. Air New Zealand has had to cancel an unspecified number of flights, and other services have been rescheduled. The airline has estimated that 6,500 passengers are impacted.
Air New Zealand will complete checks on 20-Apr-2018. Based on expected required repair work, the airline will adjust its forthcoming schedule. Air New Zealand apparently expects significant shortfall of capacity as it plans to lease aircraft from Hi-Fly while seeking medium term 777 dry leases, according to Aviation Week. As recently as 16-Apr-2018, Air New Zealand said it did not expect the incident "to materially impact FY18 earnings and previous guidance remains unchanged".
At All Nippon Airways, the operator with the most impacted engines, the airline has reported that 31 of its aircraft will be required to have the shorter ETOPS rating, as well as a lower payload to reduce required engine thrust. A failure of an engine would require the other engine to fly at cruise at full thrust. ANA is working with Japanese regulators on forthcoming plans, particularly regarding services by 787s to North America.
In Feb-2018 LATAM sent one 787-8 (CC-BBD) to storage at Southern California Logistics Airport. There were reports that a second aircraft (CC-BBE) could be stored, but this has not occurred.
Virgin Atlantic has stored two aircraft at London Heathrow, one since Sep-2017 and one since Oct-2017.
Norwegian plans to lease in 777 capacity to cover grounded 787s, according to CH-aviation.
Virgin Atlantic was previously leasing three A330-200s as interim lift. The initial Trent 1000 checks occurred as airberlin was exiting the market, putting aircraft capacity on the market. The three A330s in question with Virgin previously flew with airberlin.