Brussels Airport: Ryanair tests itself against Vueling and Gulf airlines offer long haul connections
Analysis
Brussels Airport's passenger traffic was badly hit in the global financial crisis. Although it recovered in 2011, it was only when two leading LCCs established bases at the airport in 2014 that traffic growth really took off. Ryanair's battle with Vueling at Brussels, also played out in a number of airports across Europe, provides the Irish LCC with a meaningful calibration of its attempts to improve customer service and its appeal to business passengers. It also seems to have stimulated the airport's leading airline Brussels Airlines into its own European route expansion.
Although there has been an increase in traffic to intercontinental destinations over the past decade, this rapid growth of LCCs has further sharpened the airport's already high focus on European traffic. Long haul accounts for fewer than one in five seats at Brussels and is mainly centred on North America and Africa. Destinations in Asia Pacific are reached mainly via other airports (principally Frankfurt and other Lufthansa Group hubs). The growth of Gulf airlines at Brussels provides competition to these hubs in providing long haul connectivity to the Belgian capital.
Passenger growth strong in 2014 and still healthy in 2015
According to the airport's own traffic data, the number of passengers served by Brussels Airport (BRU) in 2014 was almost 22 million, a 15% increase on 2013. In the first eight months of 2015, growth has slowed, but still achieved a healthy 8%.
Passenger numbers were heavily reduced in 2009 (a drop of 8%) by the global financial crisis, but bounced back above their pre-crisis levels in 2011 before broadly stagnating in 2012 and 2013. The strong growth of 2014 owed much to increased LCC activity at the airport, which helped to drive traffic to EU destinations up by 21%, while non-EU traffic grew by 5%.
Brussels Airport annual passenger numbers and growth 2004 to 2014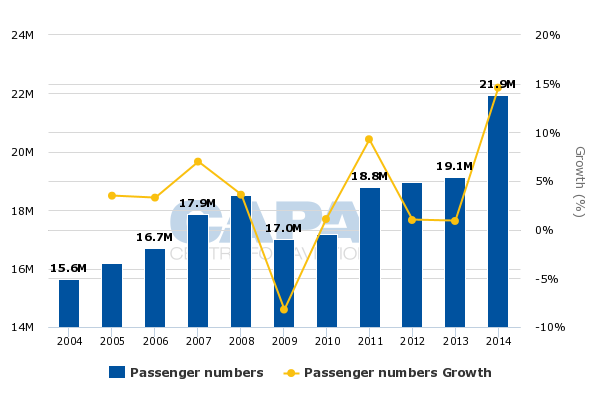 Average number of passengers per flight continues to grow
In the period from 2004 to 2014, passenger numbers at BRU increased by 40%, while commercial passenger air traffic movements fell by 3% (source: Brussels Airport). Thus, according to our calculations, the average number of passengers per passenger flight grew by 40% from 75 in 2004 to almost 109 in 2014. In the first eight months of 2015, this grew further to 113.
This increase in passengers per flight reflects load factor improvements and larger aircraft. Increased aircraft size is due not only to faster growth in intercontinental passengers, up 92% from 2004 to 2014 compared with a 31% increase in European passengers, but also to a reduction in regional aircraft and an increase in larger narrow bodies.
In 2014, European passengers accounted for 78% of passenger numbers. Although this was down from 84% in 2004, it still represented a large majority and, moreover, was little changed from 2008 (it increased from 76% in 2013 due to the rapid growth in LCC traffic).
Brussels Airport: average number of passengers per passenger flight 2004 to 2014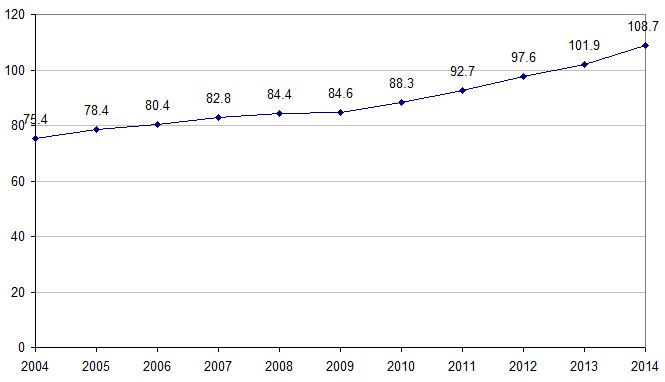 Cargo volume plummeted in the global financial crisis…
BRU's number 14 ranking among European airports for cargo payload outdoes its status as the number 23 airport for passenger numbers (source: CAPA/OAG). Nevertheless, cargo volume through the airport has collapsed over the past decade, falling by almost one third (-32%) from 2004 to 2014.
This heavy fall mainly took place during the global financial crisis in 2008 (annual fall of 16%) and 2009 (-32%), but, in spite of a modest recovery in 2010, there were further declines in cargo volume in 2011-2013. Brussels' position as a cargo airport was also damaged by DHL's decision to move its main European hub from Brussels to Leipzig in 2005.
Brussels Airport annual cargo tonnage 2004 to 2014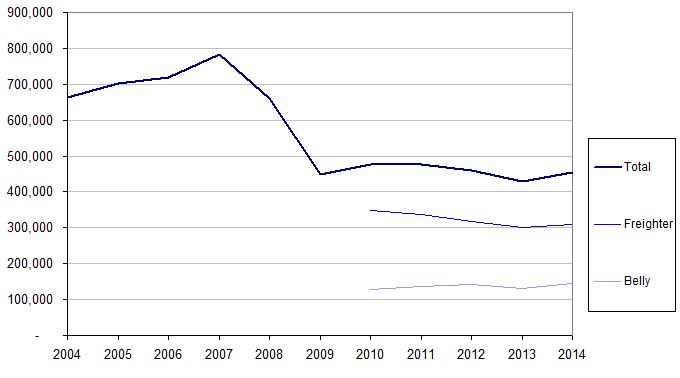 …but is growing again as freighters return
In 2014, BRU's cargo tonnage started to recover and grew by 6%, although it remained 42% below its 2007 peak. The cargo recovery has accelerated into 2015, with growth of 11% in the first eight months of this year.
The fall in cargo air traffic movements over the ten years 2004 to 2014 was more dramatic than the drop in volume. Over this decade, the number of cargo flights number more than halved (-51%) as full freighter aircraft were withdrawn in favour of passenger belly cargo space. Between 2010 and 2014, when total cargo volume fell by 5%, the tonnage carried by freighters fell by 11%, while belly cargo grew by 12% (data on the freighter/belly split is not available prior to 2010).
However, freighter volume recovered in 2014 (up 3%, although belly cargo was up 11%) and the cargo growth of the first eight months of 2015 has been led by a 15% increase in freighter cargo (versus 2% for belly cargo). This demonstrates the impact of a number of new freighter operations at BRU in 2014/2015.
These include a Qatar Airways A330F, which started in Oct-2014 three times weekly and is now six times, a four times weekly Ethiopian Airlines 777F launched in Jan-2015, a four times weekly Yangtze River Express 747F launched in Mar-2015 and a four times weekly KG Cargo DC-10-30F from Toronto launched in May-2015.
Incumbent freighter operators at BRU include Saudia, Singapore Airlines, Asiana and Royal Air Maroc (six times), as well as some continued activity from DHL.
Passenger flights account for 95% of commercial air traffic movements at BRU and the rest of this report will focus on passenger activities. Brussels Airlines is the leading carrier by seat numbers at BRU, with a seat share of 34%, according to OAG data for the week of 28-Sep-2015. Its share at BRU is lower than any other 'national' carrier in Western Europe at its home hub.
See related report: Brussels Airlines reduces its losses, but yields fall as Ryanair and Vueling enter its Brussels hub
Brussels Airport airline market share by seat numbers 28-Sep-2015 to 5-Oct-2015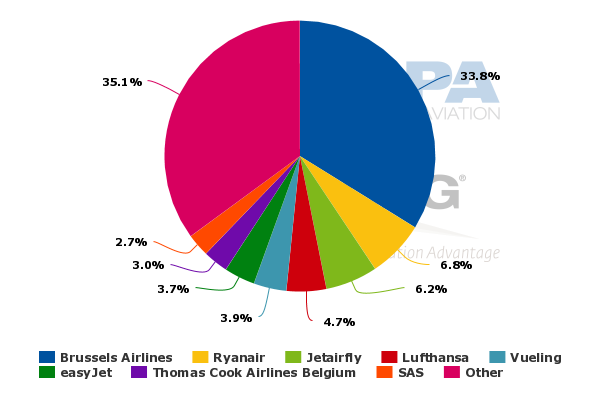 Moreover, if Brussels South Charleroi Airport is also taken into account, Brussels Airlines' share of seats in the Brussels airport system is only 27%. Ryanair has 23% and LCC Jetairfly, a TUI Travel subsidiary has a 10% overall share. LCCs Vueling, easyJet and Wizz Air have 8% of Brussels system seats between them.
Combined seat capacity by airline at Brussels Airport and Brussels South Charleroi Airport 28-Sep-2015 to 5-Oct-2015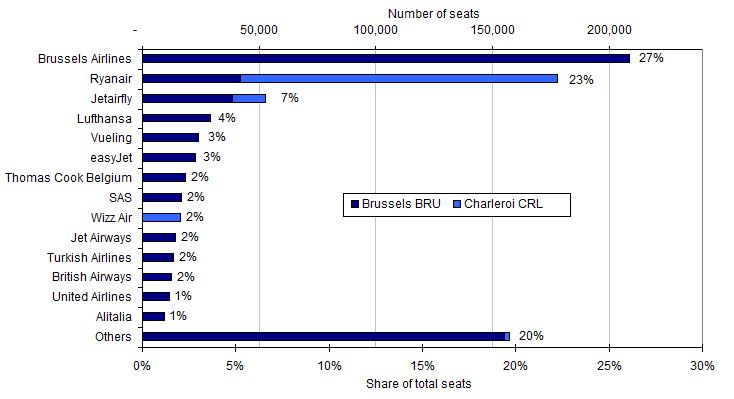 LCCs have 23% of seats at BRU, led by Ryanair
We calculate from OAG data for the week of 28-Sep-2015 that LCCs have a combined seat share of 23% at BRU. Ryanair, which only entered the airport in Mar-2014, is the airport's number two airline with 7% of seats. LCC Jetairfly has 6%, Lufthansa (a shareholder in Brussels Airlines) has 5% and LCCs Vueling and easyJet each have 4%. Air Arabia Maroc, Germanwings, Blue Air, airBaltic and Pegasus Airlines are also present at BRU.
Ryanair's entry and Vueling's expansion in 2014 led to a loss of market share for Brussels Airlines, whose share of seats at the airport fell from 36% in summer 2013 to 29% in Aug-2014 (sources: OAG and Innovata). Its share price fluctuates seasonally as the peak summer period attracts more capacity and so Brussels Airlines' share is lowest in August, but has broadly stabilised in 2015.
Indeed, Brussels Airlines' passenger growth rate of 12.5% for the first eight months of 2014 is faster than the 8% growth at the airport overall and this suggests that its has increased its share of traffic this year. According to CAPA's route changes database, Brussels Airlines will have launched 13 new routes through 2015, of which 10 during the summer schedule.
Combining passenger data published by Brussels Airlines and Brussels Airport indicates that the airline's share of traffic fell from 31% in 2013 to 30% in 2014, but has recovered to 31% in the first eight months of 2015.
All but one of these are European destinations (the exception being Accra, resumed this winter after an absence of more than three years). LCC activity is also increasing with, for example, Ryanair's launch of Brussels-Berlin Schoenefeld in Oct-2015 and Bratislava and Larnaca in summer 2016. Ryanair targets 2.4 million passengers at BRU (and 5.7 million at Charleroi). Nevertheless, Brussels Airlines appears to be fighting back, albeit largely on routes not directly competed with LCCs.
As noted above, Brussels Airport's passenger traffic is dominated by Europe. According to OAG data for the week of 28-Sep-2015, this continent accounts for 121 destinations, out of a total of 174, and 81% of seats (65% Western Europe). Medium haul destination regions Middle East and North Africa provide a further 20 destinations and 7% of seats. The only significant long haul region, in terms of seat capacity, is North America, which takes 9 destinations and 16% of seats. There are only four Asia Pacific destinations (Bangkok, Beijing, Delhi and Mumbai).
BRU does, however, have something of a niche between Europe and Africa.
According to OAG data for the week of 28-Sep-2015, it is Europe's number eight airport ranked by seats to Africa, which provides 30 routes and around 7% of seats to/from BRU. This is largely, although not entirely, due to Brussels Airlines' African network and its role within the Lufthansa group.
See related reports:
Brussels Airlines reduces its losses, but yields fall as Ryanair and Vueling enter its Brussels hub
Brussels Airlines: the long wait for consummation with Lufthansa – Part 1
Brussels Airlines: the long wait for consummation with Lufthansa – Part 2
Brussels Airport seats by region 28-Sep-2015 to 5-Oct-2015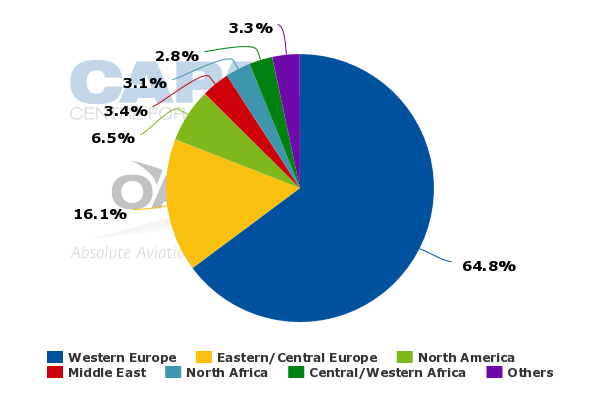 Top 5 European destinations all achieved double digit growth in 2015, spurred by LCCs
Brussels Airport's annual traffic data publication reveals its top ten European and intercontinental city destinations. In 2014, all of BRU's top five European destination cities enjoyed double digit growth in passenger numbers, thanks in no small measure to increased LCC activity.
The fastest growing European cities for passengers flying to/from Brussels were Barcelona (growth of 60%), Rome (55%) and Lisbon (67%). These three cities also ranked, respectively, at number one, three and five in Brussels' biggest European destinations.
Brussels' number two destination by passenger numbers in 2014 was Madrid, Traffic to Madrid grew by 12%, mainly due to a capacity ramp up by Iberia. The number four city from BRU was London, where easyJet's entry (Brussels-London Gatwick) drove passenger growth of 18% in 2014, in spite of modest capacity cuts by Brussels Airlines and British Airways on their Heathrow services.
Both Brussels Airlines and easyJet trimmed capacity on the Geneva route in 2014, when the Swiss city was the number 6 destination from BRU, although passenger numbers grew by just under 4%. Traffic between Brussels and number seven ranked Milan (its three airports combined) grew at a similar rate. Ryanair operates from Charleroi to Milan Bergamo with a similar level of capacity as Brussels Airlines from BRU to Malpensa and Linate (around one third of the seats on the city pair, with easyJet and Alitalia sharing the remaining third).
Istanbul was the only top ten European city to suffer a decline in passenger numbers to/from Brussels in 2014 (-3%), after Pegasus withdrew from its Sabiha Gokcen service in Mar-2014 (partially replaced by Turkish Airlines in addition to its Ataturk-Brussels operation). Traffic to number nine destination Antalya was flat and tenth ranked Frankfurt, a Lufthansa monopoly on the route to/from Brussels, experienced passenger growth of 3% in 2014.
Brussels Airport Top ten intra-European destinations by passenger numbers 2013 and 2014
| | 2013 | 2014 | Change |
| --- | --- | --- | --- |
| Barcelona | 509,505 | 813,574 | 59.7% |
| | 661,101 | 738,203 | 11.7% |
| Rome (CIA,FCO) | 466,692 | 722,299 | 54.8% |
| | 569,541 | 673,448 | 18.2% |
| | 398,930 | 664,092 | 66.5% |
| | 536,833 | 557,364 | 3.8% |
| Milan (MXP-LIN-BGY) | 491,385 | 511,313 | 4.1% |
| Istanbul (IST-SAW) | 516,225 | 498,424 | -3.4% |
| | 492,316 | 492,366 | 0.0% |
| | 459,555 | 472,400 | 2.8% |
Ryanair's competition with Vueling at Brussels is a test of its re-positioning
The strong growth to Barcelona, Rome and Lisbon from BRU in 2014 reflects Ryanair's launch on all three routes and Vueling's launch on two of them. Ryanair established a base in Brussels Airport in Mar-2014, adding to services operated from its longstanding base at Brussels South Charleroi. Ryanair moved into BRU just before rival LCC Vueling commenced a significant expansion of its operation there in Apr-2014 and targeted routes that the Spanish airline already operated or had already announced it would launch.
Vueling had previously served BRU from Barcelona, Valencia (both since 2004), Malaga and Alicante (since 2013). In Apr-2014, Vueling made BRU a new base and launched a number of new routes, including Brussels-Rome FCO and Brussels-Lisbon.
On all three of Barcelona, Rome and Lisbon, Ryanair reduced its capacity from Charleroi, while increasing its total capacity on the city pair by 60%-70% through its entry into BRU. It took a similar approach on five other routes that Vueling also operated or planned from BRU (Alicante, Malaga, Porto, Valencia and Venice). Ryanair typically put more capacity than Vueling onto the BRU where the two competed.
Vueling's brand was previously better positioned than Ryanair's for customer service and for its appeal to business travellers, although Ryanair's lower cost base has always allowed lower average fares. This made Ryanair's entry into BRU, a primary airport, an interesting test of Ryanair's 'Always Getting Better' initiative, under which it is seeking to move itself up the ratings on these two features. Similar competitive tests are taking place with Vueling (and easyJet) elsewhere in Europe, including Barcelona and Rome.
See related reports:
Barcelona El Prat: Europe's leading airport for LCCs a battleground in fight for business travellers
Rome Fiumicino Airport: Vueling, Ryanair, easyJet and Alitalia are locked in mortal combat
Italy aviation: Ryanair, easyJet and Vueling pursue Alitalia across the country
Ryanair is still operating on all eight routes from BRU where there was competition with Vueling, while Vueling has withdrawn from one (Venice, which it served through Marco Polo, rather than Ryanair's choice of Treviso). Ryanair's brand improvements, coupled with its continued low cost base, may put more pressure on Vueling.
Star Alliance hubs provide long haul connections
Ranked by seats to individual airports, rather than cities, Frankfurt is the number four destination from BRU, behind Rome FCO, Barcelona and Madrid, according to OAG data for the week of 28-Sep-2015. The paucity of direct long haul connections from BRU, particularly to Asia Pacific, means that it is heavily reliant on other bigger hubs to provide such links.
Frankfurt is the main hub of Brussels Airlines' Star Alliance partner and 45% shareholder Lufthansa, which has an extensive global network. The Star Alliance hub at Vienna is also in BRU's top ten destinations by seats in Sep-2015. Schedules data from OAG for the week of 28-Sep-2015 show that Lufthansa Group airlines currently offer 192 weekly connections (one way) from BRU to their main hubs Frankfurt, Munich, Zurich and Vienna (Lufthansa has 67 weekly flights to Frankfurt and 64 to Munich, SWISS offers 33 to Zurich, Austrian flies 26 times weekly to Vienna, where Brussels Airlines also operates 20 times). In total., this represents around 10% of all weekly frequencies from BRU to European destinations.
New York is the leading intercontinental destination from BRU
Only one of BRU's top ten intercontinental destination cities, New York, would rank in its overall top ten. Growth in passenger numbers to New York, served by Brussels Airlines, United, and Delta and by Jet Airways under fifth freedom rights, was 3% in 2014.
Among the top ten intercontinental destinations, two North American destinations saw double digit traffic growth to/from Brussels in 2014. Passenger numbers to Washington grew by 12%, benefiting from almost ten months of service by Brussels Airlines after its entry in Jun-2013 gave it less then seven months the year before. At the end of the summer 2014 scheduled, Brussels Airlines reduced its Washington service to summer only, while leader United continues year-round.
Growth to Montreal was 14%, prompted by increased capacity from Air Canada (Air Transat is the only other operator, on a summer-only schedule). Toronto also enjoyed healthy growth, at 7%. North America is clearly a region for which it makes more sense for BRU to have direct flights than to make connections via other Star hubs, which would involve doubling back.
The strongest growth among BRU's top ten intercontinental destinations in 2014 was to/from Tel Aviv (up 26%), simulated by the entry of Jetairfly in Mar-2014 and capacity growth by Brussels Airlines. This follows the signing in Jun-2013 of an EU-Israel Open Skies agreement that will gradually see the removal of all traffic rights restrictions by 2018.
See related reports:
Israel's air travel markets benefit from liberalisation, but El Al is losing out to LCCs: Part 1
Brussels Airport Top ten intercontinental destinations by passenger numbers 2013 and 2014
| | 2013 | 2014 | Change |
| --- | --- | --- | --- |
| NewYork(JFK-EWR) | 574,106 | 593,015 | 3.3% |
| TelAviv | 187,433 | 236,928 | 26.4% |
| Washington | 201,144 | 226,162 | 12.4% |
| AbuDhabi | 170,743 | 171,648 | 0.5% |
| | 145,729 | 166,295 | 14.1% |
| | 157,029 | 162,384 | 3.4% |
| | 170,076 | 158,149 | -7.0% |
| | 144,394 | 155,041 | 7.4% |
| Doha | 131,159 | 138,939 | 5.9% |
| | 136,071 | 138,309 | 1.6% |
All three main Gulf hubs (and the Turkish one) are connected to BRU
Two of the three major Gulf hubs, Abu Dhabi and Doha, featured in BRU's top ten intercontinental destinations in 2014. Abu Dhabi is served from Brussels only by Etihad, while Doha is served only by Qatar Airways. There was no service to the third Gulf hub, Dubai, until Emirates' entry into BRU in Sep-2014. Emirates, which carries 230,000 passengers on the route in its first year, now has more weekly seats, but fewer frequencies, to/from Brussels than either of its two Gulf rivals.
These growing links from BRU to the three main Gulf hubs, in addition to Turkish Airlines' Istanbul Ataturk service, provide increasing competition to Lufthansa Group hubs as the transfer points of choice for connections into Asia Pacific. There are some developments that will increase BRU's direct long haul connectivity, while also bypassing the Lufthansa hubs. For example, a new Tokyo-Brussels operation is to be launched by ANA this winter and there is even talk of Etihad equity partner Jet Airways' launching a Kolkata-Brussels service.
Gulf competition may also have some negative impact on BRU's African traffic (although traffic originating in Western Europe will have a much longer journey if it connects via a Gulf hub).
According to schedules data from OAG for the week of 28-Sep-2015, the four super connectors currently have a total of 52 weekly frequencies (one way) to their hubs. This comprises 28 for Turkish (not counting 7 to Sabiha Gokcen), 7 for Emirates, 9 for Qatar and 8 for Etihad. This total is less than Lufthansa's 67 to Frankfurt and 46 to Munich, but compares quite favourably with these figures.
It may be a political objective for the administrative capital of the European Union to retain and grow direct connectivity with other continents. Nevertheless, the growth of regional LCCs and Gulf based long haul super-connector airlines suggests that this is unlikely. Rather, European destinations seem set to remain the focus for Brussels Airport.