Boeing delays B787 test flight (again) and share price tumbles – Share Price Wrap
At the beginning of Jul-2007, Boeing was on a high. It had just rolled out its first B787 from its Everett factory and was reveling in record ordering (532 for the six months to Jun-2007) as airlines enjoyed their best year for more than a decade. Later in the month its share price hit a record high of USD107.80.
Roll forward almost 24 months and the situation is vastly different.
The company's share price has lost more than 50% of its value (the stock had lost as much as 70% of its value, but a recovery since March has retraced some of the losses), as the airline industry wades through its biggest ever crisis as demand and yields slump. Boeing has just ten net orders for the year to date and the B787 order book is going backwards as airlines cancel orders as they reconsider the future demand environment. So far, 58 B787 orders have been cancelled over the first six months of this year.
Boeing share price growth: Jun-2007 to Jun-2009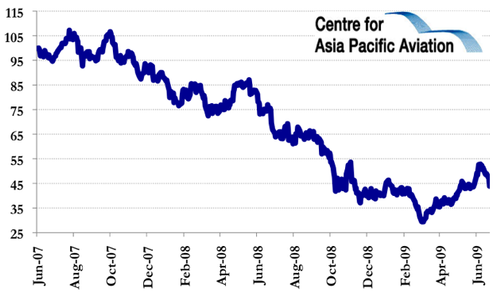 Making matters worse, Boeing has just announced a fifth delay to the test flight for its B787, pushing it back from the end of June deadline, due to structural issues. A new schedule for the test flight, and first delivery to All Nippon Airways, will not be available for "several weeks".
The B787 programme, much like Airbus' A380 programme, has now been subject to almost two years of delays. The aircraft, which was originally due to enter commercial service in May-2008, has yet to leave the ground and Boeing's customers and shareholders are clearly unhappy. Boeing faces the spectre of further compensation claims, should the first flight delay translate into further delivery delays.
Boeing B787 delays timeline
Date

Event

Further information

Jun-06

Major component assembly commences.

Test flight set for Aug-07, first delivery for May-08.

May-07

Jun-07

Boeing announces possible delay to initial test flight to Sep-07.

May-08 delivery target unchanged.

Jul-07

B787 rollout at Everett plant

Sep-07

First delay announcement – 3 month delay to test flight, due to shortage of aircraft fasteners and integration and supply problems.

Test flight rescheduled to mid-Nov-07 to mid-Dec-07. May-08 delivery target unchanged.

Oct-07

Second delay announcement - 6 month delivery delay, due to "continued challenges completing assembly of the first airplanes," including out-of-sequence production work, parts shortages and remaining software and systems integration activities.

Delivery target pushed from May-08 to late-Nov-08 or Dec-08.

Oct-07

New head of B787 programme appointed

Pat Shanahan appointed VP & General Manager of the B787 programme, succeeding Mike Bair.

Jan-08

Third delay announcement - 3 month delay to deliveries and test flight, due to supplier problems and slower than expected assembly.

Test flight delayed until at least Jun-08, initial delivery delayed to 1Q09.

Apr-08

Fourth delay announcement – 6-month test flight and delivery delay, due to continued problems with suppliers.

Test flight set for 4Q08, first delivery for 3Q09.

Aug-08

First B787 order cancellation by Azerbaijan Airlines

Sep/Oct/

Nov-08

Boeing machinist strike, halting most manufacturing between early Sep-08 and Nov-08. Test flight delayed to 2009.

Further details to delivery programme to delay Jetstar deliveries from Nov-09 to mid-10.

11-Dec-08

Boeing confirmed recent rumours with an updated schedule for its B787 programme. The new schedule reflects the impact of disruption caused by the recent Boeing machinists' strike along with the requirement to replace certain fasteners in early production aircraft. The extra delays are a result of a machinists' strike, for which Jetstar is not eligible for compensation, and a problem with the fasteners.

Test flight set from 2Q09, first delivery for 1Q10.

23-Jun-09

Fifth delay announcement – test flight postponed, new dates for initial test flight and first deliveries to be announced in "several weeks"
Boeing's stock was the worst performing on Dow Jones Industrial Average yesterday, dropping 6.5%. All Nippon Airways, the launch customer, expressed its "disappointment" and has urged Boeing to "specify the schedule for the programme as a whole as quickly as possible."
Qatar Airways' CEO, Akbar Al Baker, has a bit less tactful over the progress of the B787, launching a broadside at last week's Paris Air Show, accusing Boeing of being indifferent to customers' needs and cautioning that Boeing could be left with "a load of parked planes". The CEO indicated Qatar Airways could walk away from its B787 and B777 orders and return to an all-Airbus fleet.
Elsewhere, shares in Airbus parent, EADS, eased 1.1%, while Rolls-Royce fell 1.9%.
Selected aviation suppliers' daily share price movements (% change): 23-Jun-09