bmi regional prepares to launch as an independent operator
Analysis
In a couple of weeks bmi regional will cut the umbilical cord with parent bmi and start operating as an independent regional airline under a new 'BM' IATA designator and a softly revamped branding. The airline's network will encompass four UK domestic routes and 11 European routes.
The decision to enter the market carefully and not with a dazzling big bang proves a responsible management that is fully aware of the prevailing challenges faced by regional airlines in Europe. Airline members of the European Regions Airline Association (ERA) recorded a 2.9% decline in scheduled passenger numbers and a 5.5% fall in scheduled RPKs for 1H2012, showing a drop in demand that reflects the current economic climate and uncertain outlook.
The formal split from bmi on 28-Oct-2012 follows the acquisition of the Aberdeen Airport-based regional airline by Sector Aviation Holdings Ltd (SAH) in May-2012 and the preceding purchase of bmi by British Airways' parent company International Airlines Group (IAG).
IAG bought the bmi group of airlines from Lufthansa in Apr-2012, but it had only an interest in the bmi mainline slot portfolio at London Heathrow and consequently decided to divest bmi's regional and low-cost subsidiaries. No buyer could be found for the heavily loss-making bmibaby operation and IAG grounded the airline, with the last flight taking place on 09-Sep-2012. bmi mainline is being integrated in British Airways while bmi regional was sold to SAH for GBP8 million.
See related article British Airways/IAG with bmi looks to re-establish world leadership – and long term survival
The sale to SAH included all bmi regional's fixed assets and long-term liabilities, including owned aircraft and jets under operating lease. The airline currently operates a fleet of 18 Embraer regional jets on scheduled services as well as ACMI and charter contracts within the UK and Europe. All four of the 37-seat Embraer ERJ-135 aircraft and 10 of the 14 49-seat ERJ-145s are owned.
bmi regional fleet summary as of 25-Sep-2012
A five-month transition process
bmi regional is reaching the end of a five-month transition process to establish its independence from bmi, including the replacement of all IT systems and the creation of new commercial and financial structures.
As fully owned and integrated subsidiary of bmi, bmi regional was dependent on bmi for all support functions and all these had to be established following the sale to SAH. Speaking to CAPA at the ERA general assembly in Dublin on 20-Sep-2012, the airline's new CCO Cathal O'Connell compared the transition process to the peeling of an onion: all the layers were removed and only the core remained. "These layers have to be rebuilt", Mr O'Connell said.
He noted that this process while being challenging also provided management with a unique opportunity to take out complexity and legacy, and start from scratch. Mr O'Connell formerly worked at Aer Lingus, Aer Arann and Eastern Airways.
The airline will shed the 'BD' bmi flight numbers and adopt its new 'BM' IATA designator with the start of the northern winter 2012-13 schedule. It will also open its own booking website at the end of Oct-2012 and it is currently setting up its own call centre. For now, sales are still being directed through the flybmi website and flights are operated under the 'BD' flight numbers.
As part of the agreement with IAG, Sector Aviation Holdings bought the bmi regional brand and it has full rights to the bmi name from 01-Apr-2013. "We could drop regional and fly as bmi", Mr O'Connell confirmed. But it is unlikely the airline will modify its existing brand in the near future given the intrinsic regional make-up of its fleet and network. The company did make some slight changes to the bmi regional corporate logo to mark its new ownership and independent status and retained M&C Saatchi to create a new marketing campaign 'Streamlined for business'.
The Streamlined for business tag encapsulates both the turnaround process taking placing internally to streamline the business and the external positioning of the airline offering a quality product, steeped in tradition with a strong heritage and a loyal customer base of business travellers. "Customers do not want hassle, everything will be streamlined," Mr O'Connell vowed.
New bmi regional logo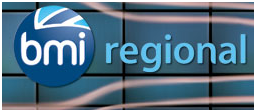 The airline will remain true to its full-service approach and continue offering business and economy fares and complementary food (hot and cold) and refreshments. It is developing its own frequent flyer programme and the in-flight product will be upgraded to give it a more contemporary flair.
Independent status will lead to non-Star Alliance partnerships
The revived bmi regional will not move away from its existing business model and will continue to provide domestic services within the UK and into Europe with a fleet of ERJ135/145 regional jets.
The carrier's current network of scheduled routes operated under the bmi regional brand comprises three domestic routes and 10 routes connecting secondary airports in the UK with European gateways. As former Star Alliance member, bmi regional did fly into Star Alliance member airlines' hub airports in Brussels (Brussels Airlines), Zurich (SWISS), Copenhagen (SAS Scandinavian Airlines) and Frankfurt (Lufthansa), but these previous ties will be cut when bmi regional starts life as an entirely independent airline.
"Free from the ties of big carrier ownership and practices, we are emerging as a flexible, streamlined, nimble and forward-thinking regional airline with the ability to act quickly to launch new route opportunities and explore new business opportunities in the sector," SAH Executive Chairman Ian Woodley explained on the sidelines of the ERA general assembly in Dublin.
Sector Aviation Holdings Executive Chairman Ian Woodley (left) with CCO Cathal O'Connell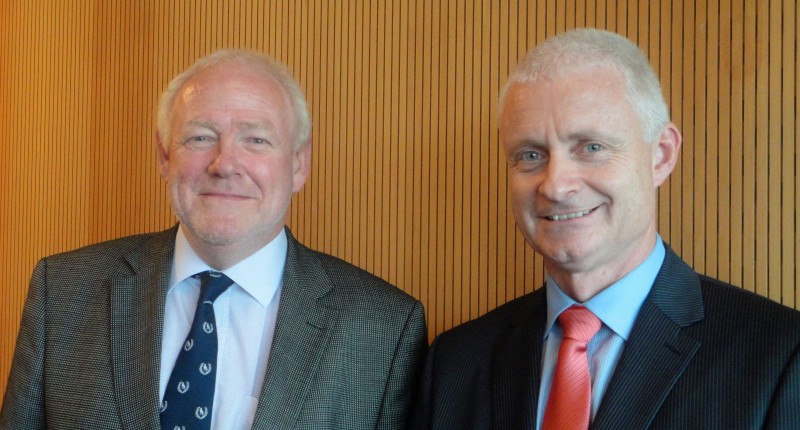 The airline has already announced two new routes which will commence on 29-Oct-2012. These new services comprise twice daily weekday links between Bristol and Aberdeen and between Manchester and Antwerp, with single weekend daily rotations. The new services will be operated using Embraer jets and bolster the carrier's network to four domestic and 11 European routes.
bmi regional route network as of 25-Sep-2012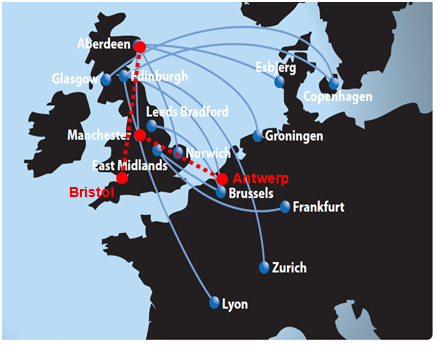 Regional connectivity within the UK and to Europe
bmi regional believes its existing Embraer fleet allows it to pursue a number of route opportunities. The carrier is seeking to focus on UK domestic connectivity and routes linking UK regional cities with major EU destinations and regional EU destinations with major UK cities. As it is targeting business related traffic the airline wants to serve routes preferably with a double daily weekday service, although bmi regional's current schedule offers several routes on a daily basis only. Its first two new routes will have a double weekday frequency.
bmi regional current route network and weekday frequencies
| Route | Weekday frequencies |
| --- | --- |
| | 2 |
| | 2 |
| | 4 |
| | 4 |
| | 1 |
| | 1 |
| | 3 |
| | 2 |
| | 1 |
| | 2 |
| | 3 |
| | 1 |
| | 2 |
| | 1 |
| Manchester–Antwerp (as of 29-Oct-2012) | 2 |
Mr Woodley of SAH admitted that the past uncertainty over the future of bmi regional has not been "helpful" to build the business and said the airline will have to reinstate and expand its interline and codeshare activity, particularly on routes into major hubs. bmi regional's new independent status should facilitate contracts with partners of all three alliances and talks are ongoing with several airlines to set up interline and codeshare agreements, said Mr O'Connell.
Staggered route launches will be complemented by ACMI
At present, ACMI and charter activity represents half of the bmi regional business with seven aircraft flying under ACMI contract and two ERJ 145s running a corporate shuttle for Airbus to Toulouse out of Bristol and Chester. Existing ACMI operations encompass five aircraft flying for British Airways/bmi at London Heathrow and two aircraft flying for Brussels Airlines from Bristol and Newcastle to Brussels. These contracts will end in late Oct-2012.
The Heathrow slots belonged to the bmi mainline but they were operated by bmi regional to safeguard them, mainly on routes to Aberdeen and Edinburgh. bmi's slots were a critical part of the IAG acquisition of bmi and bmi regional will stop operating to Heathrow when the present IATA northern summer schedule ends on 28-Oct-2012. Some of the slots now used for the regional services are being made available to other carriers as an intrinsic component of the remedy package imposed by the European Commission to clear the BA/bmi merger. But SAH and bmi regional are not bidding for these slots.
bmi regional's new owners and management looked at the option to put some of the returning ACMI aircraft straight into service on new scheduled routes but decided against it because it does not want to overstretch its resources. The airline will keep these seven aircraft for ACMI and charter operations for the winter season before committing to network growth in spring 2013 "when we can ensure the new routes have the best opportunity to succeed," Mr O'Connell said. He emphasised that also in the coming years route development will be staggered and bmi regional will build up its position as a key supplier to third party operators through short- and long-term charter contracts or full ACMI support.
bmi regional faces competition on only a small number of routes
bmi regional currently flies international routes from Aberdeen to Esbjerg and Groningen; from Edinburgh to Brussels, Copenhagen Kastrup Airport and Zurich; from East Midlands to Brussels and Frankfurt; from Glasgow International to Copenhagen; from Leeds Bradford to Brussels; and from Manchester to Lyon Saint-Exupery Airport. Domestic routes include services from Aberdeen Dyce Airport to Norwich and Manchester and from Edinburgh to Manchester.
On nine of its 13 routes, the airline is the sole operator, and most of the routes are too thin to support a second carrier. bmi regional is the only carrier on the Aberdeen to Esbjerg and Groningen routes; on the Edinburgh to Brussels, Zurich and Frankfurt routes; the Manchester to Lyon route; on the East Midlands to Brussels and Glasgow to Copenhagen routes, and on the Leeds Bradford to Brussels route.
bmi regional will also face no direct competition on its first two new routes as an independent carrier, since Eastern Airways abandoned the non-stop Aberdeen-Bristol service in Oct-2011 (it now operates the route via a stop in Leeds Bradford aboard Saab 2000 aircraft) and Air France's wholly owned subsidiary CityJet ceased operating Manchester-Antwerp on 17-Sep-2012. CityJet served the route six times weekly using Fokker 50 aircraft.
Manchester to Antwerp capacity by carrier (seats per week, one way): 19-Sep-2011 to 17-Mar-2013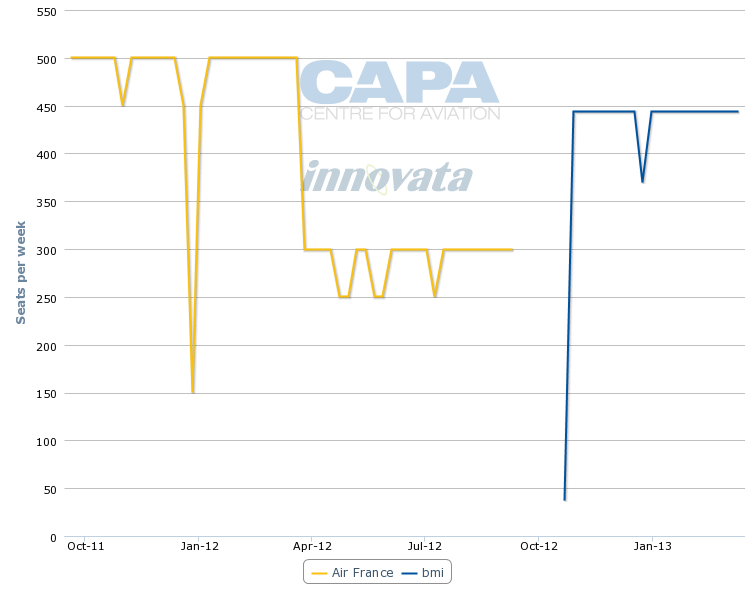 Conversely, bmi regional at present is the sole operator on the Edinburgh-Brussels route where it provides 882 weekly one way seats, according to schedules in Innovata for the week of 24-Sep-2012 to 30-Sep-2012. But Brussels Airlines will commence flights on 29-Oct-2012 and start competing with its former Star Alliance partner on the route.
Edinburgh Airport to Brussels Airport capacity by carrier (seats per week, one way): 19-Sep-2011 to 17-Mar-2013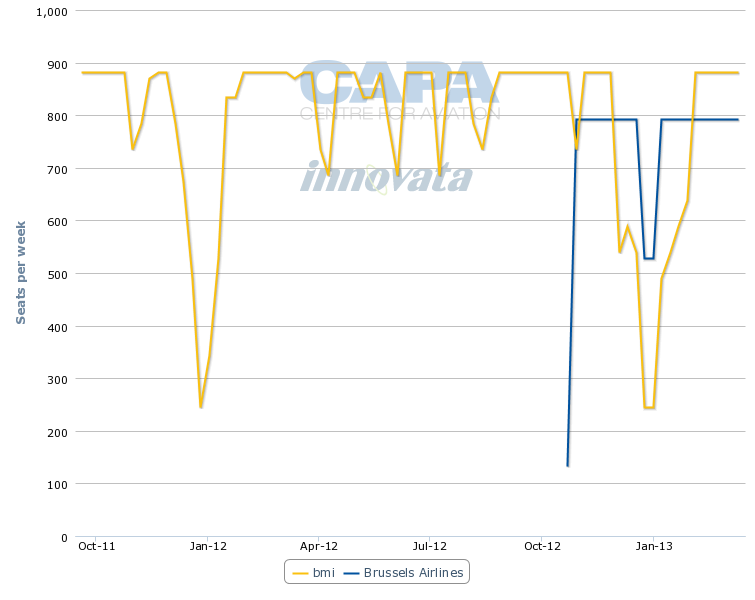 bmi regional and competitors capacity (one-way seats) and capacity share (% of seats): 24-Sep-2012 to 30-Sep-2012
Route

Airlines

Capacity

(one way seats)

Capacity share

444

750

37%

63%

1152

2340

33%

67%

898

2106

30%

70%

111

100%

222

100%

882

100%

588

930

39%

61%

294

100%

407

100%

784

100%

343

100%

407

100%

185

100%
Challenging environment for Europe's regional airlines
It takes a lot of courage to take over a regional operator in the current dire European environment and take it to the skies without the backing of a larger airline or airline group. Anticipating a drop in demand, members of the ERA have reduced capacity significantly this year, by 9.3% in terms of ASKs and by 6.4% in terms of seats for 1H2012 compared to 1H2011.
ERA member scheduled traffic operating indicators: 1H2012 vs 1H2011
But Mr Woodley and his partners in the new venture, Stephen and Peter Bond, know the regional business well. Mr Woodley founded bmi regional's predecessor, Business Air, and sold it to British Midland in 1996. He tried to buy the business back three years ago and re-launched new attempts in 2011 when Lufthansa Group revealed it wanted to divest bmi. Negotiations, first with Lufthansa and afterwards with IAG, finally succeeded in May-2012. Now Mr Woodley has his opportunity to re-infuse vitality into bmi's regional operations.