Berlin's Brandenburg airport: opportunity in a long haul vacuum
Analysis
Following the opening of the Istanbul New Airport at the end of Oct-2018, eyes will inevitably turn to the delayed opening of the Willy Brandt Berlin Brandenburg International (BBI) airport, now scheduled for Oct-2020 to be at full capacity.
Much has been made of the delay and the reasons for it, but this report is concerned with the state of the business at the two existing Berlin airports as preparations for operational transfer begin.
Despite being a hugely significant capital city, Berlin mainly hosts 'low-cost' airlines, and passenger traffic is quite low compared to other European capital cities. Lufthansa's longstanding commitment to Frankfurt and Munich does not help.
What Berlin needs is a boost, and the much-anticipated opening of the new airport may provide one in itself.
Summary
Until the new BBI opens, Berlin is served by two main airports, Tegel and Schönefeld.
Tegel will probably not remain open; it has been losing traffic, the main cause of which was the bankruptcy of Air Berlin.
Schönefeld is the "low-cost" airport, but easyJet has a major presence at both airports and has effectively become Berlin's airline.
The national airline Lufthansa is committed to its Frankfurt hub and, to a lesser degree, to Munich.
Consequently, there is a lack of long haul services and network operations compared to other European capitals and foreign airlines have not really picked up yet on the opportunities.
But the opening of a new airport will always drive new opportunities.
Berlin is a major European city, lacking proportionate airline activity
Berlin is not only the most populous city proper in Germany (3.7 million people) but is the second most populous in the European Union, with the seventh biggest EU urban area. Significant industries include IT, pharmaceuticals, biotechnology and electronics. It is a World City in respect of science and media, as well as of politics as the capital of the country with the largest economy in Europe and the fourth largest in the world; the third largest exporter and importer. As it has always been, it is also a centre for culture and nightlife.
Until the new BBI opens Berlin is served by two main airports, Tegel and Schönefeld, of which Tegel is the larger. Unlike some other German cities such as Frankfurt and Düsseldorf, it has no alternative 'low-cost airports' in the vicinity (although it could be argued that neither Hahn nor Weeze airports are actually close to their cities).
Berlin Tempelhof Airport, the centre of the Berlin Airlift of 1948-49 and one of Europe's three iconic pre-World War II airports (along with London Croydon and Paris Le Bourget), closed in Oct-2008. It has since been used as a recreational space and a refugee camp.
The debate over Tegel's future justifiably continues
Whether or not Tegel Airport should now be closed when BBI opens has become a bone of contention. It was originally scheduled to close in Jun-2012 after BBI opened, but the delay there rendered its future uncertain.
A non-binding referendum, supported by the city, resulted in a majority of votes cast in favour of keeping it open, but the German federal state and the state of Brandenburg are committed to closing it and redeveloping it into an 'Urban Tech Republic' for up to 800 companies, and 17,500 employees in the Research and Industrial Park alone. It will be the largest single inner-city development area in Berlin.
Tegel's passenger traffic figures since 2012 (when BBI should have opened) are detailed in the chart below. They have been in decline since 2014, dropping into negative growth territory in 2017.
Berlin Tegel Airport passenger numbers from 2012 to 2018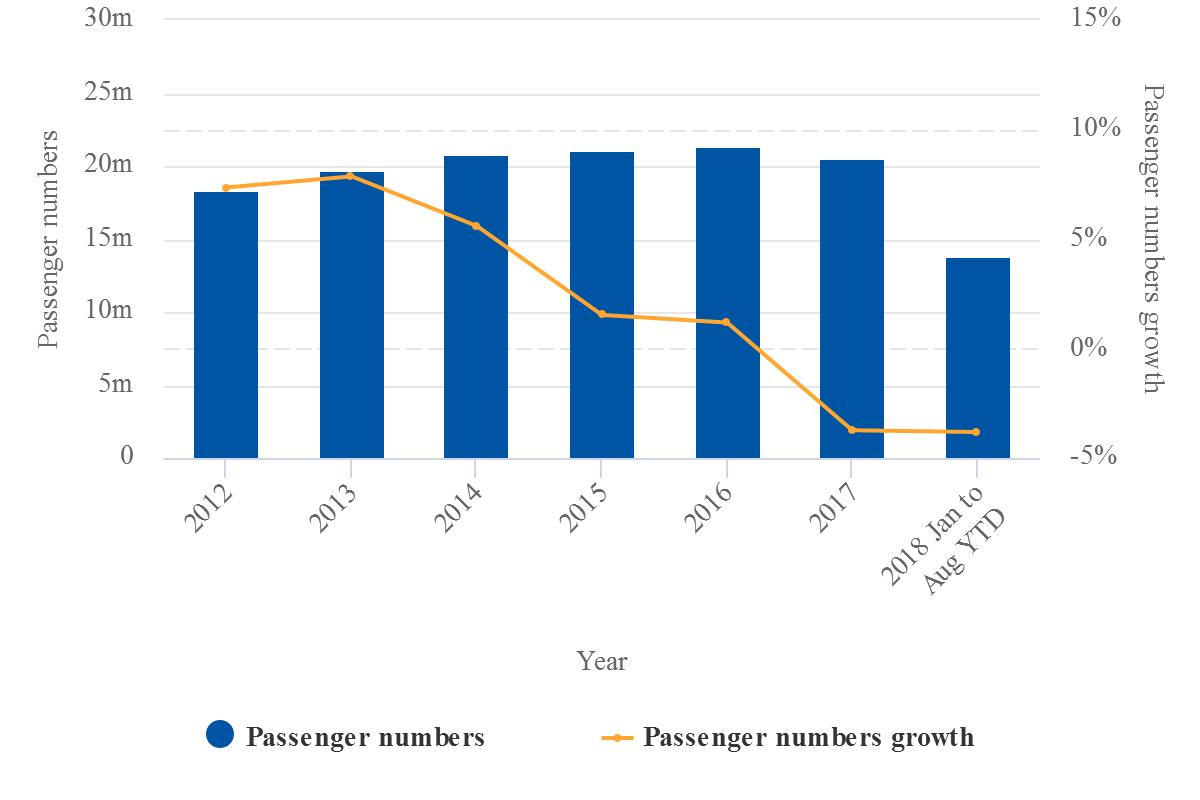 Air Berlin capacity loss has only been partially reclaimed
One of the reasons Tegel has slipped in scale, of course, is the bankruptcy in Aug-2017 of Air Berlin, once Germany's second largest airline and Tegel's largest customer. The capacity loss has only partially been reclaimed.
The airport has an equal mix of full service and low-cost seat capacity and is not dominated by any single airline. EasyJet is the largest by capacity, with Eurowings the second largest, but they sit alongside airlines such as Air France, SWISS and Lufthansa –which has a modest presence at 14.4% of capacity.
Berlin Tegel Airport seats for all business models: week commencing 08-Oct-2018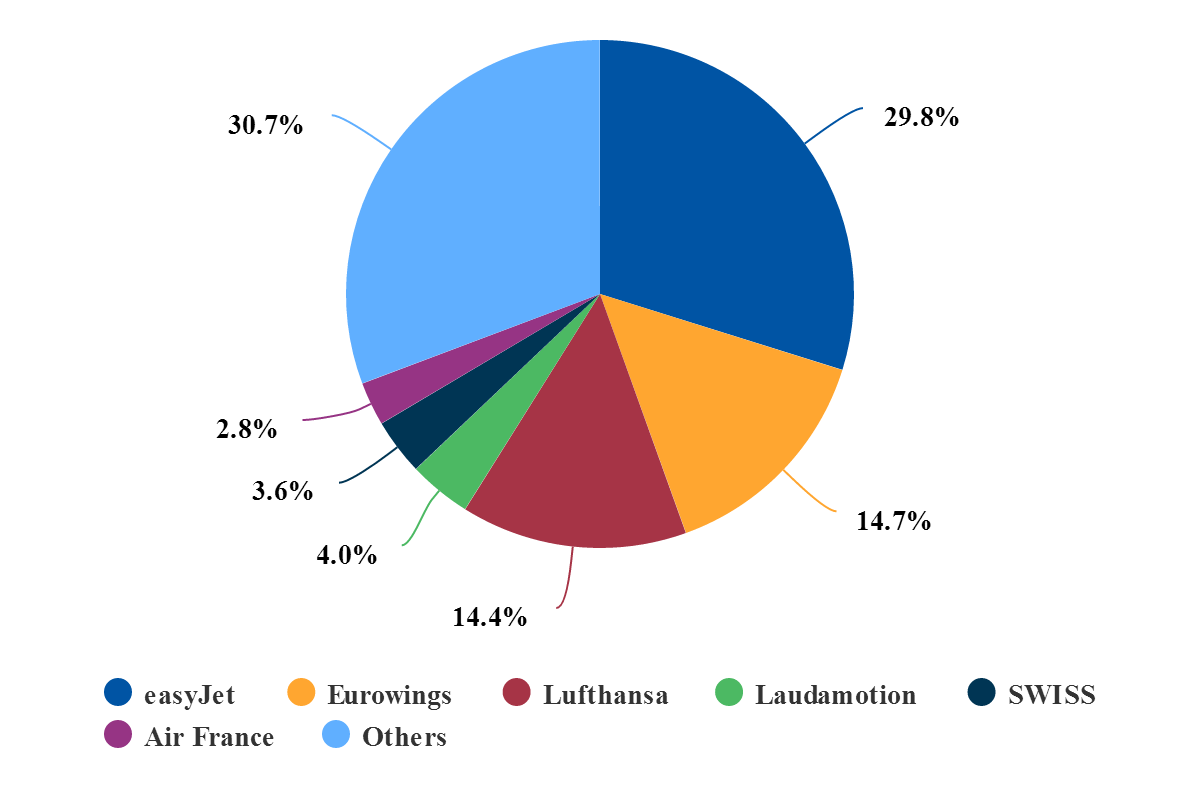 The market power of EasyJet is one of the reasons for a low level of market penetration by airline alliances. Almost 60% of seating capacity is unaligned and Star Alliance (which includes Lufthansa of course, the biggest player) has 27.7%.
Berlin Tegel Airport, seats by airline alliance: week commencing 08-10-2018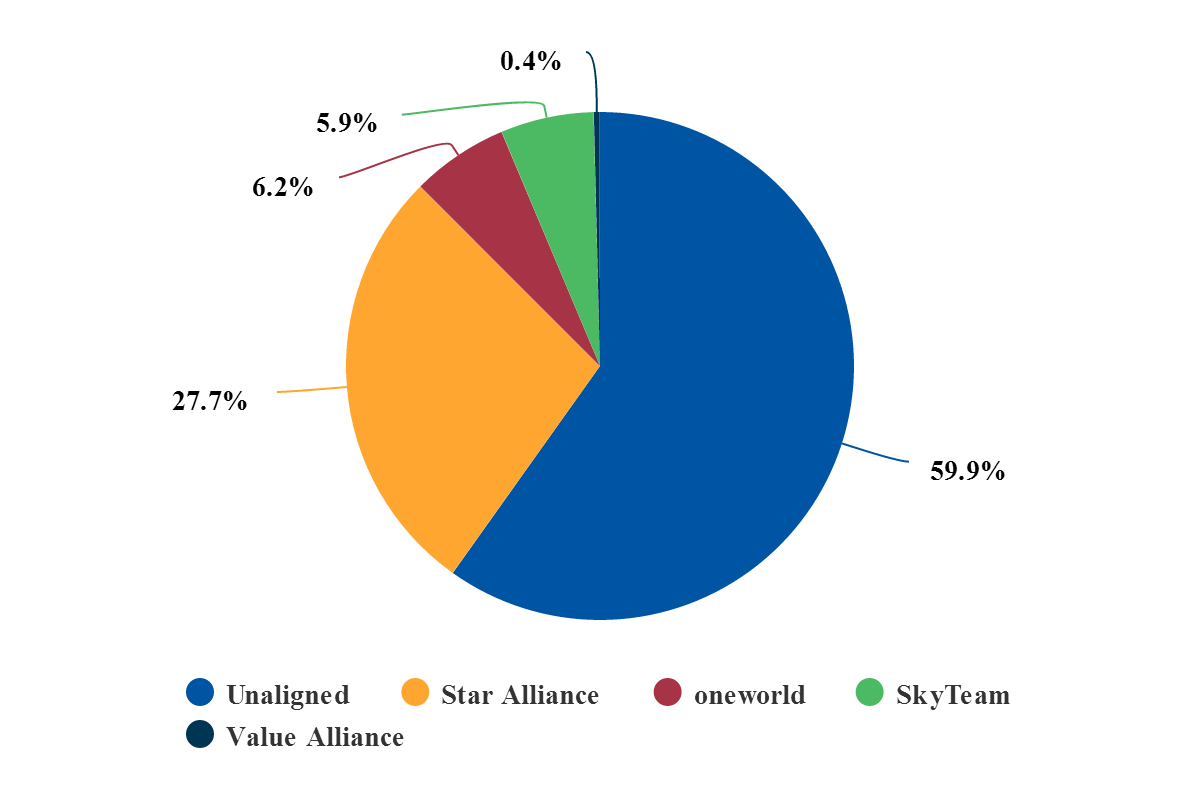 Schönefeld's growth has outstripped that of Tegel
In contrast, Schönefeld is a smaller airport with a much larger input from the low cost segment (88.4% of seats) and it has been growing in the past three years, as the chart below shows.
However, that growth has levelled off from a high of 36.7% in 2016 to one of just 0.1% in the period Jan to Aug-2018. Schönefeld acts as the base on which BBI is being built and it will retain some of its facilities.
Berlin Schönefeld Airport passenger numbers: 2012 - 2018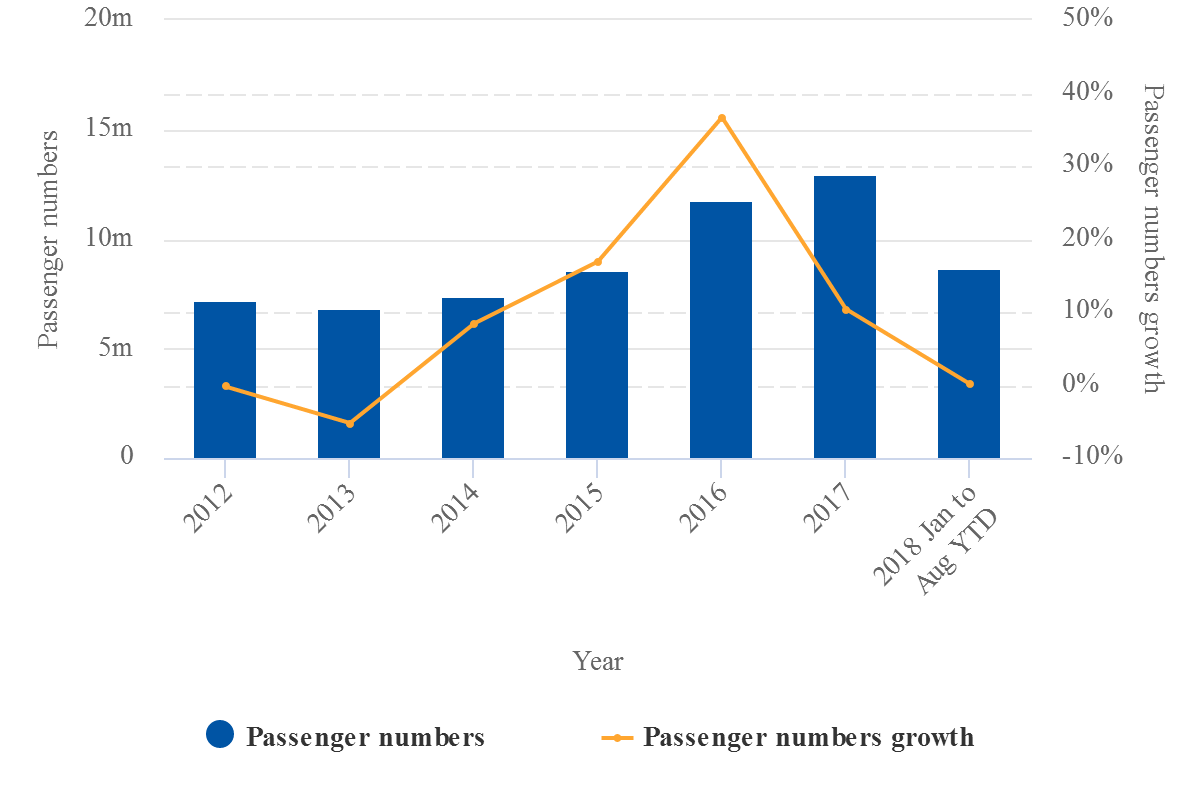 In Schönefeld's case the capacity spoils are shared by Ryanair and easyJet, each with more than a third of seat capacity.
Berlin Schönefeld Airport seats for all business models: week commencing 08-Oct-2018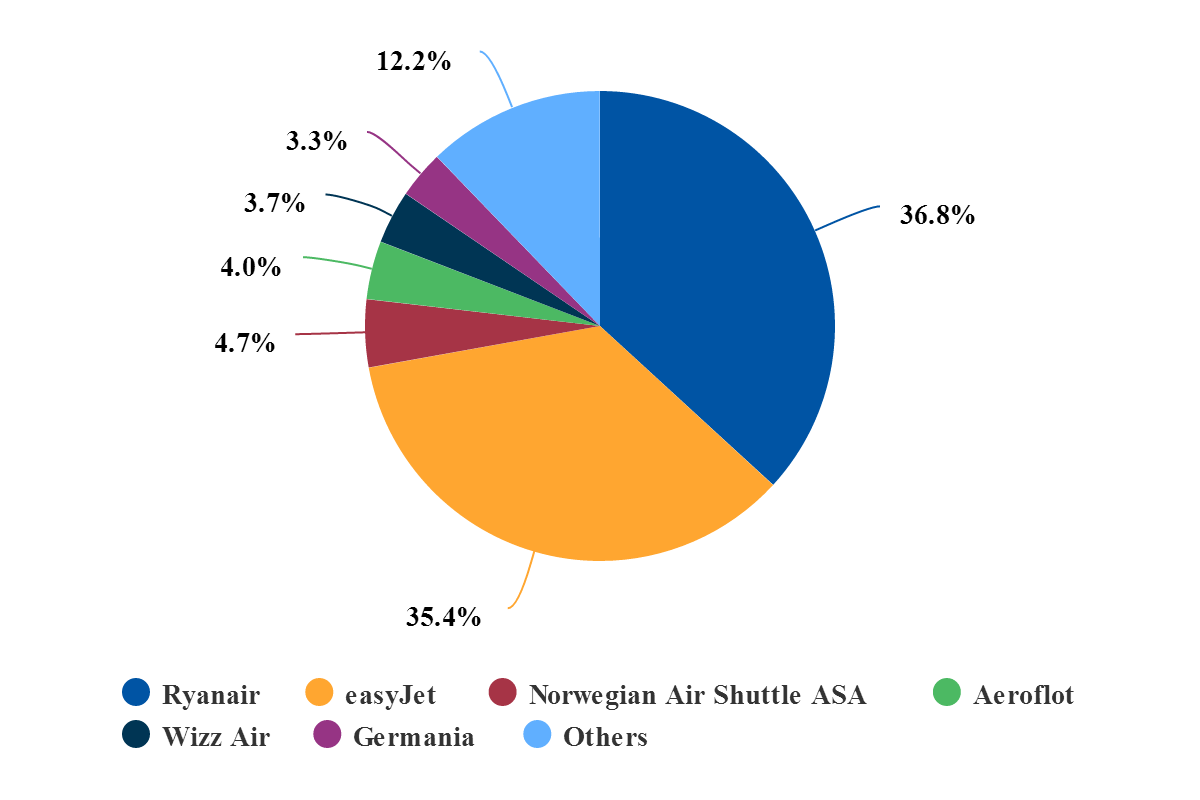 This implies that easyJet, a UK budget airline, is the most important airline operating out of Berlin, the capital city of Germany.
And again, this strong LCC presence limits the influence of airline alliances. Unaligned airlines operate 95.5% of seat capacity at Schönefeld and the larger of the two alliances that actually are present, SkyTeam, accounts for just 4%.
Berlin Schönefeld Airport seats by airline alliance: week commencing 08-Oct-2018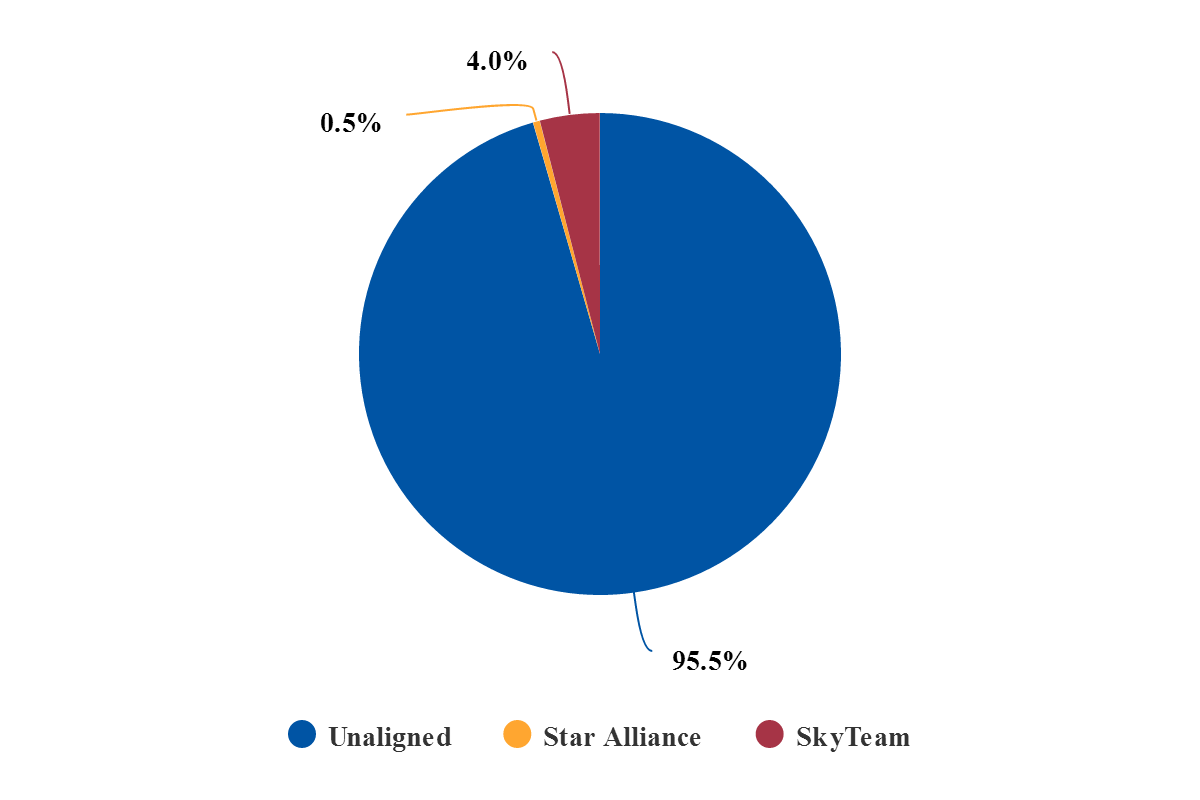 Lufthansa's commitment is to Frankfurt (and Munich) rather than to Berlin
While easyJet is a staunch supporter of the Berlin airports, comparatively speaking Lufthansa is not.
During the past year or so several reports have previously been published by CAPA and the associated publication Blue Swan Daily which attempted to understand why that should be the case, and why Berlin lacks the depth of long haul capacity enjoyed by other European cities of similar standing. Earlier this year it was reported that long haul routes served by Berlin's two airports have actually decreased by 76% in the past 10 years.
First, on the specific subject of Lufthansa, as was shown earlier, the airline accounts for less than 15% of capacity at the Berlin airports, and all of that is at Tegel. There are no Lufthansa operations out of Schönefeld, which is similar to there being no British Airways at London Gatwick (16% of capacity) or Air France at Paris Orly (30.7%).
Indeed, Lufthansa no longer has any long haul routes from either of the Berlin airports, and no international routes at all for that matter. Right now it only flies from Tegel to Frankfurt and Munich, its two main hubs. As the chart below of Lufthansa's top 10 bases shows, only 3.1% of its capacity is directed towards Tegel Airport.
Deutsche Lufthansa AG, top 10 hubs/bases/stations by system seat capacity: week commencing 08-Oct-2018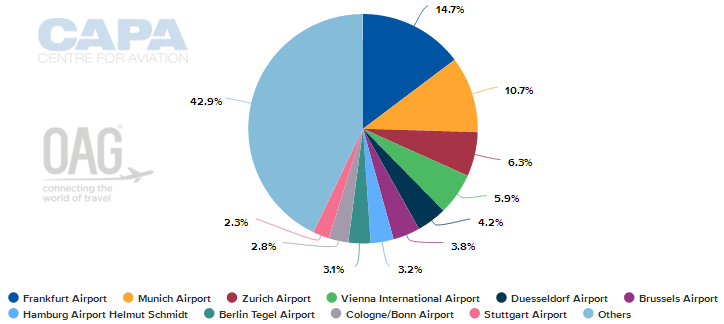 But Germany's geography – Lufthansa's base at Frankfurt fairly central to the country but Berlin in the northeast and closer to Poland than to much of its own national population – means that while Lufthansa may increase its presence at major airports around Germany (Munich, Düsseldorf and Hamburg in particular, as well as Berlin), it is not likely to switch flights from its hub airport to the capital any time soon.
The relative location of Berlin to other major German cities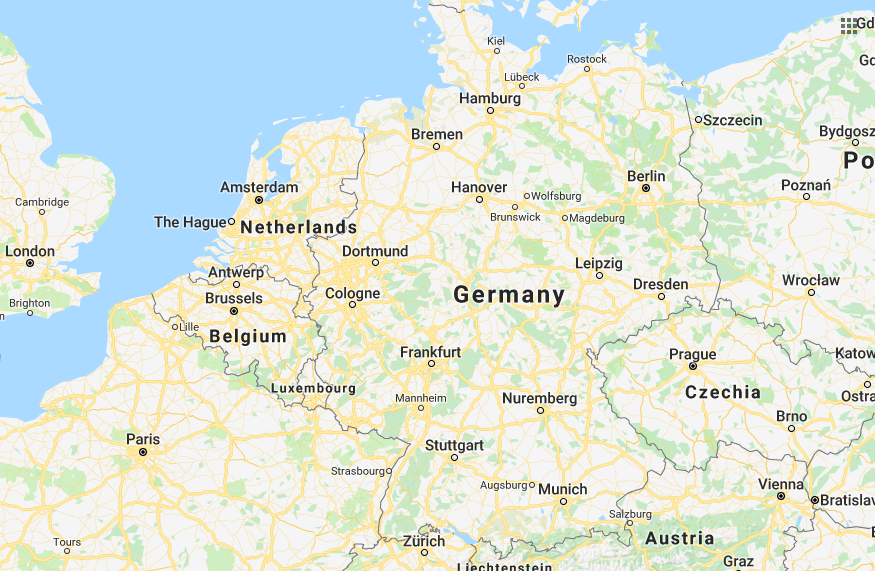 Foreign airlines could do more
On the other hand, foreign airlines have hardly stepped up to the plate.
Currently only Air Canada Rouge (Toronto), Delta Air Lines (New York), Hainan Airlines (Beijing), MIAT (Ulaanbaatar), Qatar Airways (Doha), Scoot (Singapore) and United Airlines (Newark) fly medium or long haul from Tegel. EgyptAir serves Cairo from Schönefeld and El Al resumes Tel Aviv service on 15-Oct-2018.
The upshot of all this is that Berlin lags considerably behind peer cities in Europe where long haul is concerned.
Even in this example it is clear how important 'low cost' is to Berlin, in the long haul arena as well as the short haul one, as services to and from Canada and Singapore are operated not by the mainline brand but by budget subsidiaries.
What all this means is that Berlin lags other major European capital cities considerably in its aggregate passenger traffic figures.
Comparison of Berlin airports with those of other major European capitals – passenger numbers 2017
City

Main Airports

Total passenger traffic 2017

(millions)

Berlin

Tegel, Schönefeld

33.3

101.5

London

169.8

Rome

46.9

68.4

Barajas

53.4
Overseas visitors numbers trail the other European capitals
Previous research has indicated that part of the reason for the traffic downturn may be that, while comparing tourist figures is not easy as they are calculated in different ways, it appears that Berlin trailed Paris, London, Rome and Madrid (just) in the number of overseas tourist visitors in 2017. One conclusion may be that its popularity has waned a little. Even its local rival Hamburg is catching it, with 3.5 million foreign visitors last year.
Berlin ranks behind Madrid and Rome, has just close to half the foreign visitors recorded by Paris, and a third of those in London: 2017 arrival statistics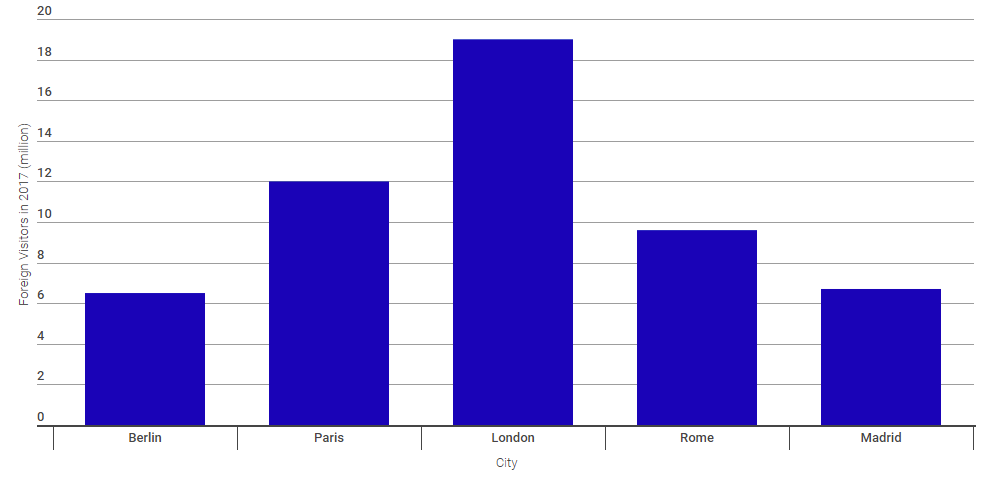 Berlin ranks lower in globalisation terms than might be expected
Another possible reason is that there is distributed demand around Germany, far more so than in most other European countries. Financial sector demand is centred on Frankfurt whose airport, owing to its fairly central position, acts as the country's main international hub, as reported earlier. Technological industry demand is focused around Munich, where the airport acts as a secondary hub, and heavy industry demand is in the Ruhr area, near Düsseldorf.
Yet another factor for lagging long haul figures might be that in the context of globalisation Berlin is only classed as a Beta World City in the listings administered by the Globalisation and World Cities Research Network at the UK's Loughborough University. Beta is the sixth ranking grade (of 10 rungs in all) and – remarkably (and perhaps inaccurately) – puts Berlin alongside Casablanca, Nicosia, Bratislava, Manama and Sofia. Rome is one rung above it; Madrid three; Paris four and London five.
Meanwhile, Hamburg has replaced its dependence on its sea port with a growing presence in the air transport sector, in the process of developing its own commercial and tourism identity (rivalling Berlin) as the natural entry point to the country from the north and west.
So there are both external factors (inadequate tourist visitors, some loss of status as a globalised World City, equally important cities spaced around the country) and internal ones (Air Berlin's failure and Lufthansa's focus elsewhere in Germany) that weigh in the equation.
What Berlin really needs perhaps is an entrepreneur, a Branson or O'Leary, or Kjos, or Fernandes, or even a Freddie Laker (who started his career running the Soviet blockade of West Berlin in the late 1940s) to help put it on the intercontinental map.
When BBI opens, the closure of Tegel could create a problem
When BBI does eventually open, the plan is that – together with the acquired Schönefeld estate – it should be capable of handling 55 million ppa by 2040. The original estimate was that it should open with a capacity of 27 million ppa, rising to 45 million ppa. Latterly FBB, the Berlin airports operator, has approved the construction of an additional terminal that will handle an extra six million ppa and is planned for completion in 2025, at a recently revised cost of EUR344 million.
Sometimes the mere opening of a new airport helps generate additional traffic, the airport itself being a reason to visit for business or leisure reasons. The authorities in Istanbul and Poland must be hoping that will be the case when the new Istanbul International Airport and the Central Polish airport open. It could be the spur in Berlin, too.
The figure of 55 million ppa by 2040 seems quite adequate, but the problem will come when BBI opens with an extended capacity (hopefully) of 33 million ppa, which is 2017's total traffic for Berlin. In other words, it would open at full capacity.
This recalls to mind Bangkok, where Suvarnabhumi Airport opened at capacity in 2006 and where the government closed Don Mueang Airport, only to have to open it again as LCC demand burgeoned in the region. The anticipated closure of Tegel in Berlin is clearly an issue; the numbers don't stack up.
It is not surprising, therefore, that the government is coming under pressure from several quarters to keep Tegel open.
For Brandenburg however, its eyes will be on its future role and, presumably, an expectation that long haul - and probably network - airlines will find the city an attractive aviation vacuum to be filled.
To hear more on the market outlook for 2019 and the pillars that will drive global airline strategic decision-making, join us in Berlin (27/28-Nov-18) for our World Aviation Outlook Summit. More information here.