Belgium's Jetairfly targets further growth with new E-Jets and a Boeing 787
Analysis
In a recent results presentation, TUI Travel Plc described Jetairfly as its "lowest cost" airline, but complimentary words often come with strings attached and the Brussels-based airline was awarded with the challenging task to turn the group's loss making Moroccan low-cost subsidiary, Jet4You, around and to consolidate the struggling airline into its profitable Belgian business.
Jetairfly launched operations in Mar-2004 and has reported continuously positive financial results despite its robust growth rate, intense competition with Ryanair and the difficult operating environment of Belgium, characterised by high social security contributions and taxes on employment.
Ryanair has a large base at Brussels South Charleroi Airport and the LCC is the country's second largest operator, accounting for about 23% of system seat capacity. Jetairfly's full service rival, Brussels Airlines, has been notoriously vocal in criticising Ryanair's alleged subsidised operations in Belgium and its practice of putting Belgian-based flight and aircrew on Irish payroll to lower labour costs.
The European Union in Jun-2012 introduced new legislation governing "home base" rule for aircrew for determining which EU member state aircrew and their employers will pay contributions to. As a general rule, airline employees and their employers are now subject to taxes and social security rules of their operating base instead of the company's home.
See related article: Brussels Airlines to benefit from changed EU law that levels playing field for airlines
Jetairfly books solid growth since 2004
Jetairfly is one of the six airlines belonging to TUI Travel, one of the world's largest integrated tourism conglomerates operating in approximately 180 countries worldwide. TUI Travel, which is listed on the London Stock Exchange as a member of the FTSE 250 and FTSE4Good Indices, reported revenues of GBP14.7 billion and an underlying operating profit of GPB471 million in the financial year ending 30-Sep-2011. But for the nine months ending 30-Jun-2012, TUI Travel slipped into the red with a net loss of GBP287 million on revenues of GBP9.13 billion.
Jointly the TUI Travel airlines operate a fleet of 144 aircraft (at 31-Mar-2012). The group's airlines comprise Arkefly in the Netherlands, Corsair International in France, Jetairfly, Thomson Airways in the UK, TUIfly in Germany, and TUIfly Nordic which flies from Sweden, Denmark, Finland and Norway.
See related article: While struggling to restructure France's Corsair and Reunion's Air Austral battle for market share
Thomson Airways is the largest of the TUI airlines and the largest charter airline in the world. It has 64 aircraft and flies from 26 British airports to 109 destinations worldwide. It was formed by the merger of Thomsonfly (formerly Britannia Airways) and First Choice Airways in the wake of the merger of First Choice Holidays PLC and the tourism division of TUI AG in Sep-2007.
Thomson Airways will be the first UK airline to deploy Boeing's 787 Dreamliner on 01-May-2013, ahead of British Airways and Virgin Atlantic. TUI Travel has orders for 13 787s with purchasing rights for a further 13 aircraft.
Over the next three years Thomson Airways will receive eight of the 13 Dreamliners currently ordered by TUI Travel. Belgium's Jetairfly will take delivery of one 787 in 4Q2013.
Jetairfly launched commercial flight operations in Mar-2004 and has embraced a steady growth path since, more than doubling enplanements from 990,000 in its first year of operations to 2.2 million in 2011 in spite of a levelling off in 2009 owing to the GFC. Expected passenger numbers for 2012 will show another increase, but are not available for release as the airline is fully consolidated in TUI Travel and the group is in its quiet period for reporting results for the financial year ending 30-Sep-2012, with the results announcement due on 04-Dec-2012.
Jetairfly annual passenger growth: 2004 to 2011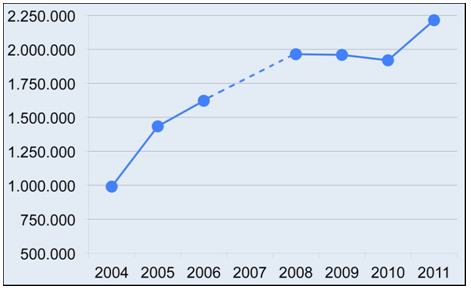 The growth of Jetairfly is purely organic and "controlled" to maintain operational and financial balance and sustainability, Jetairfly chairman Elie Bruyninckx explained to CAPA: "We could have chosen for a higher growth rate but we deliberately decided not to do this; we did not want to go in commercial overdrive and deviate from our model. We are very wary for mutation of our DNA."
iPads and Michelin star food on a leisure low-cost airline: hybridisation at its best
Embedded in the airline's DNA from day one was a hybrid model that targets different segments of the leisure market in the most efficient possible manner with a high degree of flexibility and eye for the changing customer demands. The backbone of Jetairfly's operations is TUI Belgium/TUI Travel, a vertical integrated travel company offering package holidays but the airline's focus extends to all segments of the leisure market. This widens its growth opportunities and simultaneously spreads risks.
In Belgium only 27% of the leisure travel market is organised (in hands of tour operators like TUI Travel) and the airline has always viewed visiting friends and relatives (VFR), second home owners and other leisure related travel such as trekking and backpacking as its natural markets. Increasingly, this also includes customers travelling for business purposes, according to Mr Bruyninckx.
Jetairfly's broad leisure segmentation and hybrid model is on display in its route network, its distribution model and its onboard service offering that varies from LCC to full service. Comfort Economy passengers or passengers who travel on the airline as part of the exclusive VIP Selection package holiday receive a higher baggage allowance, priority check-in, meals prepared by a Michelin star chef and complementary iPads on long-haul flights. Passengers that booked a low-cost flight on jetairfly.com or travel on a more mainstream package deal do pay for meals on board or for the use of iPads on long-haul flights.
A clear multi-channel distribution strategy
As part of its hybrid model Jetairfly adopts a multi-channel distribution strategy and the airline's full content has been available through the different GDSs, including Galileo, Amadeus, Worldspan and Apollo since mid-2012.
Mr Bruyninckx dismissed remarks that the sale via the GDSs comes at a high cost and reasons that "each channel has its value and its price". Travel agents/retail shops still receive a commission and the company recently opened a second Jetairfly.com flightshop for ticket sales to passengers without internet access but wanting to bypass travel agency fees. The airline also operates a call centre in cooperation with the tour operator TUI Belgium.
Volumes in both offline and online channels are growing, Mr Bruyninckx said. He declined to provide details on how much of sales are now made through controlled channels, noting that the mix changes from season to season with more online sales in summer than in winter.
Fleet will be further expanded with E-Jets and one 787
The airline grew its fleet from five 737 classics in the summer 2004 to 20 aircraft in summer 2012, when it operated 12 737-800 fitted with 189 seats, four -700s configured with 144 seats, two 400/500s and two 767-300ERs for its long-haul operations. Its seat capacity rose from 882 to 3,670 over the period and the number of destinations grew from 42 to 99.
Jetairfly fleet growth (number of aircraft): 2004 to 2012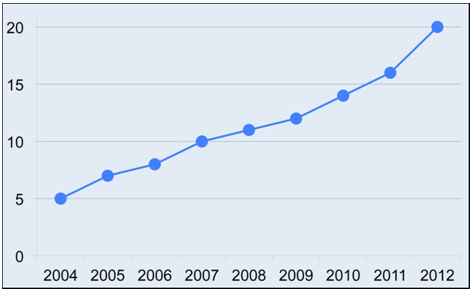 Jetairfly fleet summary: Summer 2012
| Aircraft | In Service | On order |
| --- | --- | --- |
| | 1 | |
| | 1 | |
| | 4 | |
| | 12 | |
| | 2 | |
| | | 1 |
| | | 2 |
| Total | 20 | 3 |
As part of its drive to contain operating costs and trim the environmental footprint of its fleet, Jetairfly has gradually increased the number of brand new aircraft in its fleet and the average age of the narrowbodies is now 5.4 years. This will further reduce to 4.8 years in May-2013 following the introduction of two new Embraer 190s and the phasing out of the aging 737-400s/500s as well as one older -800, which will be replaced by new Next Generation 737s.
In summer 2013, Jetairfly will have three 737-800s fitted with the new Boeing Sky Interior. The airline in Nov-2010 was the first European-based airline to operate a 737 with the new passenger-inspired interior. "We always continue in our efforts to reduce our carbon output and improve the flying experience for our passengers," Mr Bruyninckx told CAPA, while emphasising that the same rationale applies to the 787 and E190 order.
Jetairfly's 787 is scheduled for delivery at the end of 2013 and will replace its oldest 767s. The order for the aircraft dates from 2008 and was part of TUI's first batch of 787 commitments, "and was backed by our strong results," according to Mr Bruyninckx. The airline is tight lipped on future 787 routes and configuration, but revealed to CAPA the aircraft will have a three-class layout although the interior will not feature a full business class with lie-flat seats.
"We will improve the comfort level and it will be an absolute top product, but we're very customer focused and this includes respecting the budgetary constraints of our customers. 99% of our customers are not on a corporate account when they travel with Jetairfly and pay for the trip themselves. It will be a compromise between comfort and budgetary constraint," Mr Bruyninckx said.
Jetairfly is first TUI airline to deploy E-Jets
On 01-Oct-2012, TUI Travel confirmed it had signed an agreement with Singapore-based aircraft leasing company BOC Aviation for two E190s for Jetairfly. The aircraft will be TUI's first Embraers and will be delivered to the group's Belgian airline in Feb-2013 and in Mar-2013. Jetairfly's E190s will be configured with 112 seats in a single-class layout.
Regional aircraft are not the typical or widely expected choice for a European leisure/LCC airline, but Mr Bruyninckx believes the E-Jets are a perfect complement to its current single-aisle fleet, and will allow Jetairfly to provide capacity more economically on lower-demand routes that are currently served by its larger 737s. The E190s are also intended to be deployed in markets where seasonal demand is better satisfied with 100-seat aircraft or to support new, thinner routes. The airline has experience with operating regional aircraft as it deployed a Fokker 100 from 2005 to 2007.
"With the E190, we can reduce the number of costly triangle and intermediate-stop flights that are necessary with our larger airplanes to consolidate loads in smaller markets. That means more nonstop flights and shorter travel times for our passengers", Mr Bruyninckx said, pointing out the regional jets do fit nicely into the airline's overall concept of flexibility, comfort to the passenger, cost control and environmental responsibility.
Crews accept seasonality of Jetairfly's business
Jetairfly operates a highly seasonal business owing to its strong leisure content. The airline flies 146 routes to 99 destinations during the summer (2012) and only 60 routes to 87 destinations during the winter (2012-13).
Several of its 737s fly for TUI Travel companies in North America during the northern winter season and employees have contracts reflecting the seasonality of the operations. In Sep-2012, management and pilots of Jetairfly's neighbour and competitor, Brussels Airlines, were at odds over demand to change aircrew's contracts to incorporate the seasonality.
"We are part of a tour operator, we are an airline and thus by nature our business is seasonal. Our employees know this and our pilots accept that the demands are extremely high in summer," Mr Bruyninckx said, assessing that a pilot wanting to take holidays during the summer would be like a chef in a Michelin star restaurant wanting to sit at home on Friday and Saturday evenings.
The airline's network includes routes operated by Jet4You, the Morocco LCC that Jetairfly has integrated in its operations. Jetairfly's route network is designed to reflect the airline's role as seat provider for the multiple tour operator brands of TUI Belgium. These are mostly sun-and-beach destinations, while other services are developed as low-cost point-to-point opportunities with long term growth prospects. Most routes have a mix of both segments, with some routes having a majority of LCC content and other services are filled mainly with package holiday passengers.
Jetairfly's present network comprises 60 medium and long-haul scheduled routes featuring 26 destinations in Europe and 20 destinations in Africa, according to schedules in Innovata for the week of 29-Oct-2012 to 04-Nov-2012.
Jetairfly network summary: as of 31-Oct-2012
| Total non-stop passenger destinations | 60 |
| --- | --- |
| Domestic | 4 |
| | 20 |
| | 2 |
| Schengen Europe | 22 |
| Other Europe | 4 |
| | 5 |
| | 2 |
| | 1 |
The airline deploys approximately 43% of its international seat capacity in western Europe and 43% in Africa, according to Innovata. Eastern and central Europe accounts for a near 4% capacity share (seats) but Mr Bruyninckx says the region offers attractive growth potential.
Jetairfly operates from four airports in Belgium: Brussels Airport, Brussels South Charleroi, Liege and Ostend with Brussels Airport as its main base. It is the only operator of scheduled flights at Liege airport, where it presently operates six short-haul routes, and it is the second largest operator at Brussels Airport, after Brussels Airlines which has a market-leading 34% capacity share in terms of seats for the week of 29-Oct-2012 to 04-Nov-2012.
Jetairfly accounts for a 6% capacity share in terms of seats deployed on routes to/from Brussels Airport, according to Innovata data. The airlines do compete head-to-head on some leisure routes, such as Agadir, Catania, Malaga, and Marrakech but overall the rivalry declines in winter season and Jetairfly is currently the sole operator to Agadir and Marrakech while Brussels Airlines is now the sole operator to Catania.
There are however larger overlaps in the airlines' summer networks when including Jetairfly's routes from Brussels' secondary airport, Brussels South Charleroi, or Liege.
Jetairfly international capacity share (% of seats) by region: 29-Oct-2012 to 04-Nov-2012
At Brussels South Charleroi, Jetairfly is in direct competition with the airport's dominant operator, Ryanair, which operates 88% of the seats flown to/from the airport, according to schedules in Innovata for 29-Oct-2012 to 04-Nov-2012. Jetairfly operates a much reduced schedule in winter operations and its current network overlaps with Ryanair's on just six routes: Alicante, Fes Saiss, Gran Canaria Las Palmas, Nador, Tangier and Tenerife-Sur. Oujda is now served solely by Jetairfly after Ryanair pulled the route in Sep-2012.
Jetairfly and Ryanair capacity share from Brussels South Charleroi (seats per week, one way): 29-Oct-2012 to 04-Nov-2012
On the three destinations Spain, Jetairfly has a leading capacity share (seats) when factoring in its services from Brussels Airport.
Jetairfly and Ryanair capacity share from Brussels to Spain (seats per week, one way): 29-Oct-2012 to 04-Nov-2012
Jetairfly has market-leading position on several country-to-country markets
In less than 10 years, Jetairfly has managed to establish in several markets a dominant or leading position in terms of seats capacity. Often, this will translate into high seat load factors of 90% or higher.
The Belgian TUI airline is now the largest operator between Belgium and Egypt, Belgium and Morocco (ahead of Ryanair, Europe's largest LCC, and Royal Air Maroc), and between Belgium and Algeria. It is also the sole operator on several leisure long-haul destinations from the country, such as Cancun, Punta Cana, Mombassa, Montego Bay, Phuket, Santo Domingo and Zanzibar.
Belgium to Algeria capacity by carrier (seats per week, one way): 19-Sep-2011 to 21-Apr-2013
Belgium to Egypt capacity by carrier (seats per week, one way): 19-Sep-2011 to 21-Apr-2013
Belgium to Morocco capacity by carrier (seats per week, one way): 19-Sep-2011 to 21-Apr-2013
Jetairfly with its hybrid model and tight cost control is well placed to take further advantage of struggling legacies and national carriers in leisure destinations. The airline's continuous fleet modernisation, with new Embraer jets and a 787 coming online in 2013, and its alertness to spot changes in consumer demands and behaviour will allow it to continue its solid growth path.
Six months after Jetairfly integrated Jet4You, the loss-making Moroccan operations are showing signs of recovery and a break-even result is in sight. This will strengthen Jetairfly's position in the Belgium to Morocco market but also in the much larger France-Morocco market, where it is already the second largest capacity provider with an approximate 15% share of seats produced between the two countries. This is more than Air France, Ryanair, easyJet, Transavia.com France and Air Arabia Maroc.