Azul takes steps to become Brazil logistics, cargo powerhouse
Analysis
Azul Airlines launched its cargo division in 2009, just one year after it debut in Brazil's still-promising market. Since that time Azul has grown its passenger business rapidly, adding widebody jets for long haul flights and new generation Airbus A320neo family jets to utilise opportunities in both the domestic and international markets.

Using the nimbleness of youth and a network that is 70% shielded from competition, Azul Cargo Express has built up a sizeable presence in Brazil, and that geographical density has made a solid contribution to the airline's topline revenue growth.

Azul is looking to deepen its breadth in Brazil's cargo business through a proposed joint venture with the country's postal service, while reports have also surfaced the company could be in talks with Amazon about a potential partnership.
Summary
Azul leverages its network depth in Brazil to build up its cargo business
Although Azul was Brazil's third largest airline in 2017 with an 23% share of passengers carried, its 100 domestic destinations far outweigh the 54 served the country's largest airline GOL.

Azul has utilised its depth within Brazil's domestic market to build up a solid cargo business, which helps drive growth in the airline's non-core passenger revenue. For example, in 4Q2017 the airline's "other" revenue increased 22% year-on-year to BRL56 million, largely driven by a 60% jump in its cargo revenue.
Azul's route network as of May-2018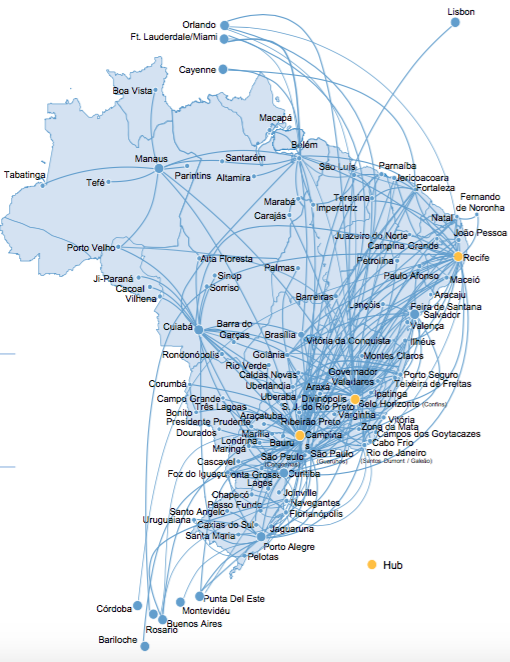 During 1Q2018, Azul's cargo revenue and volume increased by 61% and 66%, respectively, driven in part by the incorporation by larger gauge Airbus A320neo family aircraft into its fleet. Azul took delivery of its first next generation Airbus narrowbody in late 2016, and CAPA's Fleet Database shows the airline now operates 14 of the type. Previously, the company has set a target of operating 22 A320neos by YE2018.
Azul fleet summary as of late May-2018

See related report: Brazil's airlines: recovery, growth and stable order books. Election instability remains a risk
Azul makes a major move with the addition of two dedicated all-cargo jets
At the end of 1Q2018, Azul stated its cargo division served 100 destinations, with 200 stores within Brazil. The unit operates a franchise model based on commissions. Services include critical orders, B2C distribution, palltised cargo and door-to-door express deliveries. The airline's integrated cargo network includes air and road transport.

In late 2017, Azul announced a proposed JV with Brazil's postal service Correios to create a private integrated logistics company. Airline executives recently stated authorities are conducting their antitrust review of the tie-up.

Azul has also forged a deal to lease two Boeing 737-400 freighters for its cargo operations, and the airline aims to have those jets operational by the end of 3Q2018. The addition of the cargo jets marks the first time Azul has added dedicated freighter aircraft to its fleet, and reflects the demand for its cargo business in Brazil. The company has stated a need to have dedicated narrowbody freighter capacity to support growth in its cargo business. The lease terms for those aircraft are five years, and airline executives have stated the addition of those freighters provides Azul with more flexibility as it expands frequency from its Sao Paulo Campinas Viracopos base to Lisbon in Jun-2018.
Azul is positioning itself to capitalise on e-commerce potential in Brazil
News outlet Reuters has recently reported Azul is in talks with e-commerce giant Amazon about a potential partnership. The report highlighted Amazon relies on third party vendors for shipment on its Brazilian website; but the retailer is studying leasing a warehouse outside of Sao Paulo as Brazil's online sales have doubled during the last four years, and are expected to grow at a double digit pace in the coming years. That growth is off a low base, and Azul has concluded that e-commerce needs to get a lot bigger in Brazil. But airline executives are "very excited" about the potential for e-commerce in Latin America's largest economy, which is emerging from a recession.

Azul CEO John Rodgerson recently commented that he has lived in Brazil for 10 years, and the country is not a place where packages show up on your doorstep, and Azul Cargo's 200 stores allows the company to get closer to its customers.

Mr Rodgerson did not offer any comment regarding potential discussions with Amazon, but he did note for the e-commerce company's model, having a point of contact for customers throughout the country is important.

Mr Rodgerson also took time to highlight Azul serves roughly 100 cities in Brazil with aircraft ranging from ATR turboprops to Embraer jets to its A320neo narrowbodies. Add to that the 737 freighters serving trunk routes, "as your look at many of our potential customers in the country, we have logistics solutions for all of them and the world is changing; we are pretty excited to be able to take advantage of these opportunities".
Azul is making shrewd moves to maximise its growth in cargo revenue
Azul is shrewdly using its network position to bolster its cargo business in Brazil, which could ultimately add strength to its already resonant brand in the country. The airline's net promoter score is 64%, which is among the highest for airlines worldwide.

The company's pursuit of different avenues to capitalise on Brazil's growing adoption of e-commerce places Azul in a position to become a leader in cargo and freight logistics in Brazil, and if it does in fact forge a relationship with Amazon, the potential additional revenue Azul could garner could no doubt become significant.