Avianca-TACA reports first quarterly results since IPO
Analysis
Avianca-TACA saw its operating profits drop in 1Q2011, driven by rising fuel prices and losses at its new subsidiary in Ecuador. But the Latin American airline group, which began trading on the Colombian stock exchange earlier this month, remains highly profitable with an operating profit margin of almost 15%.
In its first financial report since its initial public offering, Avianca-TACA recorded a 17% improvement in net income to COP44.5 billion (USD25 million). Revenues were up 16% to COP1.588 trillion but expenses were up 22% to COP1.531 trillion, driven by 40% increase in fuel costs to COP468.8 billion although fuel consumption increased by only 4%. As a result, the group's operating profit (EBITAR) decreased by 16% to COP236.5 billion and its EBITAR margin slipped from 20.4% to 14.9%
Avianca-TACA 1Q2010 vs 1Q2011 financial and operating highlights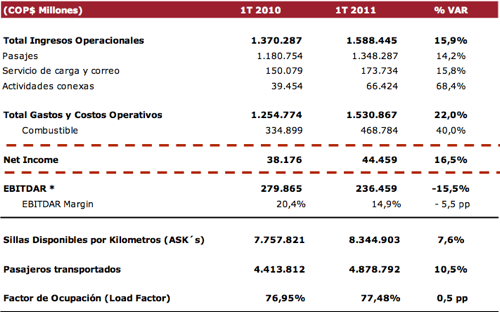 Avianca-TACA transported 4.879 million passengers in 1Q2011, an 11% increase compared with 1Q2010. As capacity was up only 8%, the group's load factor improved 0.5 percentage points to 77%. Passenger revenues were up 14% to COP1.348 trillion while cargo revenues were up 16% to COP173.7 billion. The increase in cargo revenues was driven by a 33% improvement in yields as cargo traffic was down 12% in 1Q2011 on a 4% reduction in capacity.
For comparison purposes, Avianca-TACA has included for both 1Q2010 and 1Q2011 the results of Aerogal, an Ecuadorean carrier which was formally added to the group in Nov-2010. Aerogal, which former Avianca parent Synergy Aerospace had been negotiating to acquire since late 2008, incurred a net loss of about COP5 billion in 1Q2011 despite an improvement in its traffic figures.
Avianca-TACA says Aerogal's passenger traffic grew 16% in 1Q2011 despite only an 8% increase in capacity. As a result the carrier's load factor improved by 6.8 percentage points. But at 67.8% Aerogal's load factor is still more than 9 percentage points below the group's average.
With its acquisition of Aerogal, Avianca-TACA has secured a 26.2% share of the Ecuadorean domestic market. Aerogal currently operates eight domestic routes along with two international routes - Quito to Bogota and New York.
Avianca-TACA says based on the latest data from Colombia's CAA the group has a 54.8% of the Colombian domestic market, up from 52.4% a year ago. In Peru the group captured a 5.8% of the domestic market in 1Q2011, up from 2.3% in 1Q2010. TACA Peru, which before this year operated only one domestic route, has been rapidly expanding its domestic network.
See more: More growth for Peru as TACA expands domestically
Routes within Central America, excluding Panama (where rival airline group Copa based), are also considered domestic. On these routes, Avianca-TACA says it had a 53% share of the market in 1Q2011, compared to 56.6% share one year ago.
Avianca-TACA 1Q2010 vs 1Q2011 domestic market shares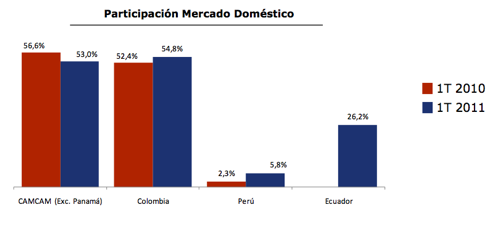 Avianca-TACA also has a sister carrier in Brazil, Avianca Brazil. But Avianca Brazil, previously known as OceanAir, is still owned by Synergy Aerospace and has not yet formally joined the group. Therefore is not included in the Avianca-TACA financial or traffic figures for 1Q2011. Based on Brazilian ANAC data, Avianca Brazil had a 2.5% share of the Brazilian domestic market in 1Q2011. Avianca Brazil only operates domestically with the exception of Sao Paulo-Bogota, which it launched late last year, supplementing the capacity provided by Colombia's Avianca.
In the international market, Avainca-TACA now has a 30.3% share on routes from its home markets of Colombia, Peru, Ecuador and Central America (excluding Panama) to North America, a 38.1% share on routes from its home markets to South America and a 27.6% share on routes from its home markets to Spain. The group's market share on international routes between Colombia, Peru, Ecuador and Central America is 57%.
Avianca-TACA 1Q2010 vs 1Q2011 international market shares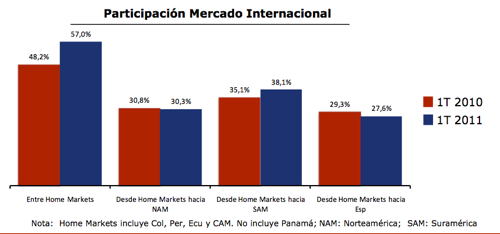 Avianca-TACA continues to rapidly renew its fleet. In 1Q2011, it took delivery of 14 aircraft, including its first four A318s, which makes Avianca the 13th airline in the world to operate all four types of the A320 family. During 1Q2011 11 aircraft exited the group's fleet, including three F100s, three MD-80s, three B737-200s, one B737-300 and one B767.
All four of the 737s had been operated by Aerogal, which took five A319s in 1Q2011. Aerogal was the only carrier in the group operating B737s. The recent retirement of Avianca's last MD-80 and the upcoming retirement of its last F100, which will exit later this year after Avianca takes the last of 10 ex-Mexicana A318s, will give the group a narrowbody fleet consisting entirely of A320 family aircraft and E190s. Avianca Brazil will continue to operate 14 F100s for at least a couple more years alongside its new A320 family aircraft but again it is not yet formally part of the Avianca-TACA group.
Avianca-TACA plans to end 2011 with a fleet of 149 aircraft. This includes five freighters (B767Fs) which are operated by the group's Colombia-based cargo subsidiary Tampa and 36 turboprops – 10 Fokker 50s which Avianca operates on regional routes within Colombia and 26 smaller turboprops operated within Central America by affiliates flying under the TACA Regional banner.
Avianca-TACA fleet plan: 2011-2014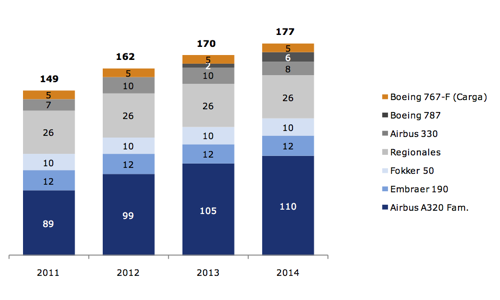 The group is planning to grow its fleet to 177 aircraft by the end of 2014, using the COP500 billion in proceeds from its initial public offering (IPO). Avianca-TACA completed the share offering process in Apr-2011, with the 100 million shares being oversubscribed at a ratio of almost six to one. Avianca-TACA decided to sell the shares entirely to its employees and frequent fliers, representing the first time an airline has allocated 100% of shares from an IPO to employees and passengers.
Shares in Avianca-TACA formally began trading on the Colombian Stock Exchange on 11-May-2011 at COP5000 each. The shares are now trading at just under COP5200.
Avianca-TACA also recently announced a name for the group's newly combined frequently flier programme. LifeMiles will be created from the integration of the Avianca Plus and TACA's Distancia programmes. The two programmes now have over four million members combined.
The group at some point is also expected to select a single brand. For now, the Avianca brand is used on flights from the group's largest hub in Bogota while the TACA brand is used on flights from the smaller hubs of San Salvador, San Jose (Cost Rica) and Lima. The Aerogal brand for now is also still used in Ecuador.
TACA has a larger presence in North America, serving 10 gateways compared to only four for Avianca. But Avianca earlier this month announced it will launch service in Jul-2011 to a fifth US gateway, Orlando, with four weekly A319 flights from its Bogota hub. Avianca passengers travelling to points in North America only served by TACA (Chicago, Dallas, Houston, San Francisco and Toronto) are funnelled through TACA's San Salvador hub.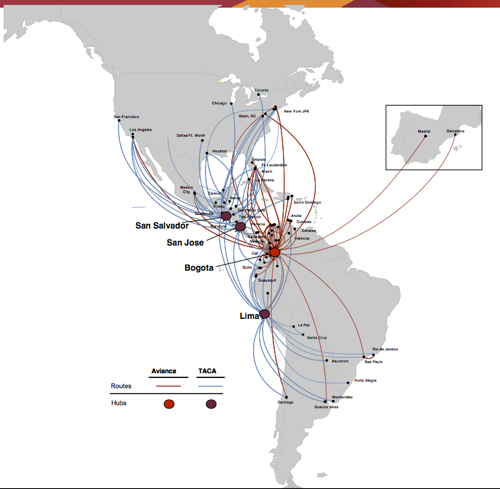 Avianca, however, has a bigger network than TACA in South America and is the only carrier in the group currently operating long-haul services. Avianca currently serves Spain and will likely launch services to other European countries after it starts taking delivery of the 10 B787s the group has on order.
Avianca-TACA's first B787 is now scheduled to be delivered in 2013. In the interim, Avianca will expand its A330 fleet to 10 aircraft. Synergy Aerospace/OceanAir also has ordered 10 A350s, although it remains unclear where these aircraft will end up.