As China's economic growth slows, its airlines maintain optimistic to bullish growth
Analysis
Even though China's economic growth in the second quarter slowed from 9.6% in 2011 to 7.6% in 2012, Chinese carriers are maintaining an optimistic to bullish growth forecast as they take, like many companies and government initiatives in China, a long-term view of their potential. That outlook calls for growth in the short-term to raise brand awareness, especially internationally, and increase travel propensity, which has economic flow-on affects. When economic times are right, and the carriers are sophisticated enough to do so, there will be a sizeable market to profit from.
The implications of that in the short-term are the recent warnings by Air China, China Eastern and China Southern, the country's three biggest carriers, of 1H2012 profits declining by over 50%. In a positive outlook, Jun-2012 profits are up following a decrease in fuel prices. Both carriers recently announced plans to collectively take 30 widebody Boeing 777-300ER aircraft and, amongst other Chinese carriers, are pursuing short- and long-haul international expansion. Already in 1H2012 Chinese carriers transported 8.7% more passengers than in 1H2011.
Total passenger traffic in 1H2012 was 151 million, according to CAAC, with growth strongest in the midwest (cities like Chengdu and Chongqing) and northeast (Dalian, Shenyang). 89 new aircraft were introduced to the civil fleet, which rose to 3,089.
Depressed first half, but second half looks positive with increased profits in June
The Civil Aviation Administration of China's (CAAC) profit forecast gives an optimistic outlook following the CNY1370 million (USD214.1 million) losses Chinese carriers collectively accumulated in May-2012 while earning CNY1840 million (USD287.5 million) profits in Apr-2012 after losses in Feb-2012 and Mar-2012. This follows IATA's forecast of a stronger 2Q2012 than 1Q2012.
CAAC reports Chinese profits in Jun-2012 were approximately CNY2000 million (USD312.5 million), up 10% year-on-year. This reflects the lower price of fuel, whose previous high price coupled with currency devaluation and weak international markets lead China's so-called Big 3 – Air China, China Eastern and China Southern – to post 1Q2012 profit drops in excess of 70%.
Air China, China Eastern and China Southern 1Q operating profits (RMB): 2008-2012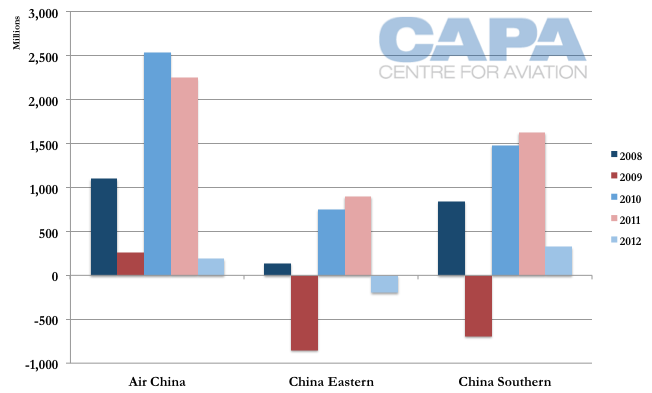 "The situation is even worse than in 2008, during the last financial crisis," Air China chairman Wang Changshun told China Daily. While 1Q2012 profits were significantly below 1Q2008 profits, 1H2012 earnings are expected to still be profitable, unlike in 1H2008 when the Big 3 saw across the board losses. China Southern is the world's seventh largest carrier based on available seats while China Eastern is the ninth and Air China the 13th.
Still, the respite of fuel prices in Jun-2012 was not enough to offset weakened performance for the other five months, and China Eastern and China Southern have issued profit warnings and have been followed by Air China, all stating 1H2012 profits will be down at least 50%. It is more likely 1H2012 profits will be at least 70% lower year-on-year.
Air China, China Eastern and China Southern 1H operating profits (RMB): 2008-2011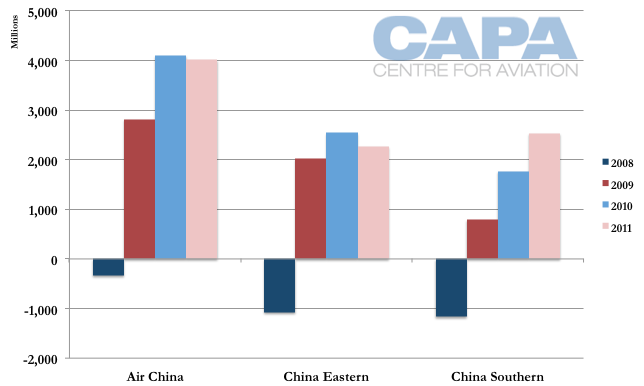 CAAC's reporting of increased year-on-year profits in Jun-2012 follows comments by China Eastern chairman Liu Shaoyong who remarked, "I believe the second half of the year will be better." That reflects commentary from IATA that airlines globally expect a stronger 2H2012 and greater profits in 1H2013.
The majority of Chinese carriers' capacity is domestic, and they are expected to benefit as the government looks to stimulate domestic demand.
On a global scale the carriers are doing well, still being profitable and with mid-single digit margins, but the lack of stronger performance in an economy that is still growing is a concern.
Air China, China Eastern and China Southern capacity share (seats): 16-Jul-2012 to 22-Jul-2012
International networks, due to expand, are dragging profits down
Stunting profits are the carriers' international networks. Services to greater China – Hong Kong, Macau and Taiwan – give the highest yield, although this is highly tilted towards cross-strait flights to Taiwan, where capacity is tightly controlled. The domestic market gives the next highest yield while international outside of greater China typically gives the lowest yield.
Air China, China Eastern and China Southern yield per RPK breakdown (RMB cents): 2011
The carriers have accepted having international networks, and long-haul in particular, that typically break-even at best. The benefit is exposure and long-term positioning as China seeks to address imbalances in most international markets in which Chinese carriers are under-represented. But the current environment of high fuel prices, which disproportionately affect long-haul services, and subdued demand, especially to Europe, will compound long-haul profitability.
While Air China is advantaged with its strong Beijing hub and generally stronger financial performance, it is most exposed to Europe, unlike China Eastern and China Southern, although Frankfurt is one of its strongest performing routes.
Air China international capacity (ASKs) by region: 16-Jul-2012 to 22-Jul-2012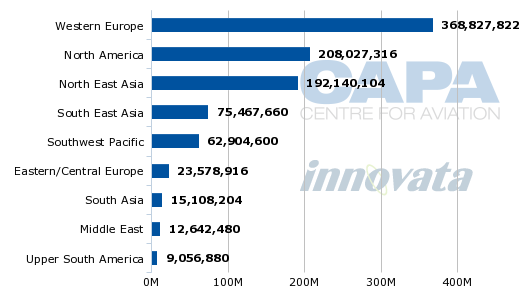 The downward trend will increase as the carriers are planning long-haul expansion. China Southern on Jun-2012 commenced three weekly A330-200 services between Guangzhou and London Heathrow and will increase the service to a daily offering in Oct-2012. As the carrier has faltered in attempts to secure Chinese permission to operate its A380s on stable long-haul routes like New York and Paris, it is considering deploying the aircraft to London Heathrow in what would likely be a loss-making operation.
China Southern Airlines international capacity (ASKs) by region: 16-Jul-2012 to 22-Jul-2012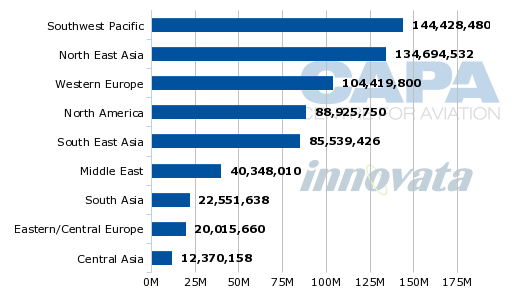 China Southern has taken the most aggressive international expansion policy, a combination of lower exposure and greater chance of its network being cannibalised by the country's high speed rail network, but already it is showing signs of give. The carrier had planned to operate 10 weekly flights between Guangzhou and Melbourne over northern summer 2012 after operating 14 weekly services during northern winter 2011, the peak travelling period in the region. Instead China Southern dropped to a daily offering. Notably, the services that did not proceed as planned were daylight flights from Melbourne that connected to the carrier's evening long-haul departures to Europe and North America, reflecting a regional trend also evident from Cathay Pacific and Singapore Airlines to focus on services within Asia Pacific. China Southern is expected to further expand with this year's arrival of 787s from an order of 10. Its pricing in sixth-freedom markets has become aggressive and poses a serious competitive threat to current status quo of hubs.
See related article: Chinese airlines' sixth freedom roles could challenge Middle East, Asian, European hubs this decade
China Eastern intends to open a three weekly Shanghai-Cairns service from Oct-2012. It has also applied to CAAC for three weekly Beijing-Nanjing-Sydney services to be operated as early as Oct-2012 while Hainan has applied for four weekly Beijing-Chongqing-Sydney services to be opened as early as Jul-2013. Carriers typically apply for more services than they intend to operate. Sichuan Airlines opened a route from Chengdu to Vancouver via Shenyang (one of the growth regions in the northeast) and is planning a route from Chengdu to Melbourne.
China Eastern international capacity (ASKs) by region: 16-Jul-2012 to 22-Jul-2012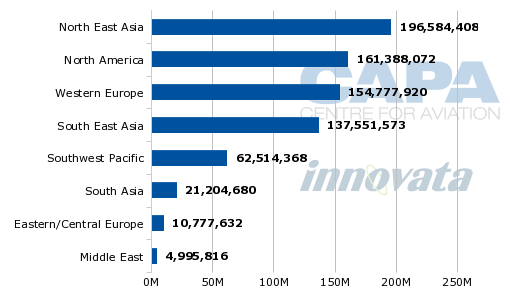 Also in the long-haul space, Hainan intends to operate four weekly 787 services between Beijing and Chicago from Apr-2013. The carrier forecasts a profit within the first year, and while the actual profit will likely vary, the route is stronger due to business demand as well as the absence of a Chinese carrier on the city pairing.
See related article: Hainan Airlines to enter under-served Beijing-Chicago market with 787 service
Carriers are also expanding in the short-haul international markets. China Southern, which is greater exposed to Southeast Asia whereas China Eastern is stronger in North Asia, will increase its presence. China Southern from Sep-2012 will bring Guangzhou-Ho Chi Minh and Guangzhou-Kuala Lumpur from three daily to four daily services and increase Guangzhou-Yangon from two weekly to four weekly services as part of push from Asian carriers into Myanmar following stabilisation. (ANA is the other carrier that has most recently announced routes into Myanmar, with a three weekly all-business class 737 service from Oct-2012.) The Guangzhou-Southeast Asia flights originate in Dalian, another city in China's northeast seeing high growth.
See related article: Myanmar set to become Asia's next big aviation growth market
Juneyao and Spring Airlines, privately-owned LCCs, are planning international expansion while Xiamen Airlines is preparing up for inaugural long-haul expansion with the arrival of 787s and a position that will be bolstered with the carrier joining the SkyTeam alliance in Nov-2012. As a prelude to greater international visibility, the carrier on 25-Jul-2012 will introduce a new brand, including logo and livery.
See related articles:
Great leap forward for service improvement, irregardless of current profits
While the carriers pump out international capacity and undertake significant marketing, as China Southern has done in Australia, they confront service levels the carriers openly recognise as being below international peers, although that is changing with new aircraft deliveries, which are at or exceed international standards. But on average improvements are still to be made, and the carriers treat the Skytrax rating as their gold standard. There is no other group of carriers that takes Skytrax as comparably significant. The carriers aspire to a five-star rating, the challenge of which was reminded last week when Skytrax once again awarded Hainan Airlines best Chinese carrier, the only Chinese carrier to achieve a five star rating.
Air China says investment in in-flight entertainment is its third highest item while China Southern intends to retrofit its narrowbody fleet to have an IFE solution. For soft service, China Southern has hired Australian flight attendants while the carrier has also become the first in the mainland to have a mobile application to book international flights. While Singapore Airlines has indirectly called out what it sees as irrational expansion by China Southern, the market could benefit in the long-term by allowing Chinese carriers to achieve a balanced market share, a precursor to traffic liberalisation and open skies, which the government only talks about vaguely with a 2020 timeframe.
And so the message from Chinese carriers is one stressing the imperative of international competitiveness. The situation is less about stagnation, be it comfort or route options, but rather compression: it was only 1987 CAAC as an airline was disbanded into six airlines, which last decade largely consolidated into three. They now in a matter of years seek to achieve the network and standards other carriers took decades to achieve. Chinese carriers may be fortunate in being allowed to take long-term views rather than short-term ones that appease investors seeking quarterly improvements without long-term prognosis. Bumps like profit warnings and perhaps over-eager expansion come along the path, but only in the conviction of a strong end position.