Xiamen Airlines to join SkyTeam in 2012, strengthening the alliance's presence in China
Analysis
The SkyTeam alliance has taken another step forward in cementing its place in the fast-growing North Asian aviation market with Xiamen Airlines, China's fourth largest carrier and Asia's ninth largest carrier by seats, being formally accepted into the SkyTeam alliance on 17-Nov-2011. Xiamen Airlines will commence the joining process leading to full entry into SkyTeam by the end of 2012.
While few in the aviation industry would name Xiamen Airlines in the list of leading Asia Pacific airlines, it has grown to become a key name to watch in the market. The chiefly domestic Chinese airline is also one of the world's most consistently profitable, notching 24 consecutive years in the black – an amazing achievement given the volatility in the industry over this period. Further healthy growth by Xiamen Airlines is expected amid strong domestic and regional expansion.
The carrier plans to significantly increase its scale over the next five years, targeting CNY30 billion (USD4.5 billion) in annual revenue, more than 30 million passengers and over 300,000 tonnes of cargo by 2015, the end of the 12th five-year plan (2011 to 2015). This will involve an average capacity growth rate of 14.9% p/a over the next five years. The carrier will also benefit from the development of a new airport in Xiamen as it grows its presence.
For more on Xiamen, see related article: Xiamen Airlines now Asia's sixth largest carrier, earning profits all the way
China's fourth largest carrier and Asia's ninth largest carrier
Xiamen Airlines is now the 17th largest carrier by domestic capacity (seats) according to Innovata data for the week ended 20-Nov-2011, and the fourth largest Chinese airline in terms of domestic and system seats, behind only China Southern, China Eastern and Air China and ahead of Hainan Airlines.
Top 15 airlines by system and domestic capacity (seats) in China market: 14-Nov-2011 to 20-Nov-2011
| Rank | Airline | Total seats | Domestic seats |
| --- | --- | --- | --- |
| 1 | | 1,748,017 | 1,544,347 |
| 2 | | 1,496,937 | 1,255,062 |
| 3 | | 1,178,367 | 952,045 |
| 4 | | 561,142 | 527,166 |
| 5 | | 503,178 | 475,950 |
| 6 | | 496,823 | 475,055 |
| 7 | | 380,590 | 366,567 |
| 8 | | 316,400 | 282,620 |
| 9 | | 305,126 | 297,104 |
| 10 | | 156,600 | 146,508 |
| 11 | | 142,680 | 0 |
| 12 | TianJin Airlines | 136,480 | 134,572 |
| 13 | | 111,344 | 107,716 |
| 14 | | 104,388 | 104,388 |
| 15 | | 92,328 | 92,328 |
It is also the ninth largest carrier in the Asia Pacific region in terms of systemwide seats. The carrier has a 6.2% capacity share (seats) of total system China traffic and a 7.4% domestic capacity (seats) share, according to Innovata.
China capacity (system seats per week) by carrier: 14-Nov-2011 to 20-Nov-2011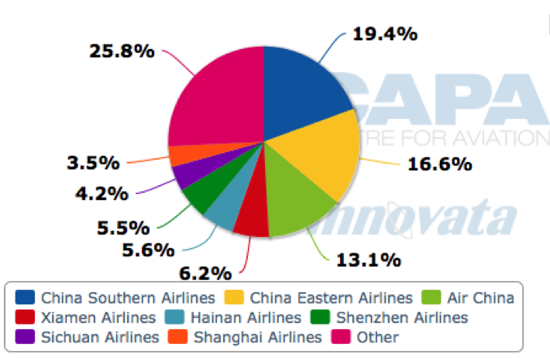 China domestic capacity (seats per week) by carrier: 14-Nov-2011 to 20-Nov-2011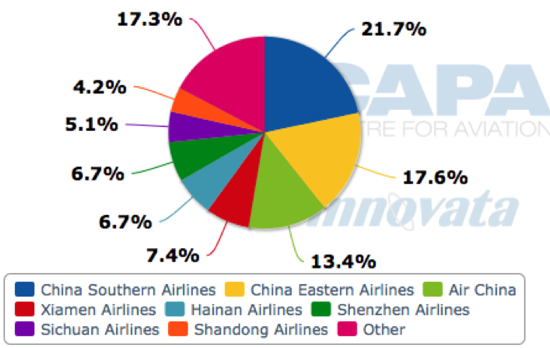 It, however, ranks only 11th in international capacity from China, with a small 1.8% capacity share.
Top 15 airlines by international capacity (seats) in China market: 14-Nov-2011 to 20-Nov-2011
| Rank | Airline | Total seats |
| --- | --- | --- |
| 1 | | 241,875 |
| 2 | | 226,322 |
| 3 | | 203,670 |
| 4 | | 142,680 |
| 5 | | 72,392 |
| 6 | | 67,790 |
| 7 | | 56,662 |
| 8 | | 37,992 |
| 9 | | 37,920 |
| 10 | | 37,044 |
| 11 | | 33,976 |
| 12 | | 33,780 |
| 13 | | 32,404 |
| 14 | | 28,107 |
| 15 | | 28,084 |
Xiamen Airlines looking to expand international presence
The integration of Xiamen Airlines into SkyTeam will be fully supported by major shareholder China Southern, the first Chinese airline that joined SkyTeam in 2007.
Based in Xiamen, a coastal city in East China's Fujian province, Xiamen has a network covering more than 150 routes from its main hubs of Xiamen, Fuzhou and Hangzhou. The carrier network covers most major and medium-sized cities in Greater China, including Hong Kong, Macau and Taiwan, as well as main cities in Southeast and Northeast Asia. Fujian is one of the more prosperous provinces in China with diverse industries such as clothing, tea production and electronics. Tourism has seen very strong growth and is one of the highlights in the region's economy.
Xiamen Airlines, established in Jul-1984, operates a fleet of 78 aircraft, with plans to increase its fleet size to 136 by 2015, including the addition of six B787s. While currently over 93% of the network is domestic, Xiamen Airlines' goal is to boost its international traffic by expanding the network to serve major long-haul destinations in Australia, Europe and North America, starting in 2014.
Xiamen Airlines international vs domestic capacity share: 14-Nov-2011 to 20-Nov-2011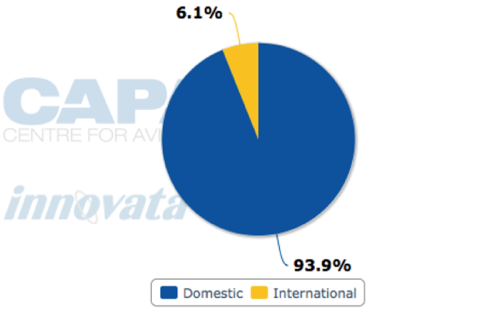 Joining China Southern and China Eastern in SkyTeam will support the carrier's international aspirations. Xiamen Airlines deputy general manager Zhao Dong in Sep-2011 speaking to China Daily stated the carrier is joining SkyTeam alliance as "part of our efforts to further advance international ambitions". "Membership will help us transform from a regional airline into a global player," he said, adding: "We will launch more cooperation and share more flights with other airlines after becoming a member of SkyTeam". Upon the formal announcement of the carrier's planned entry into the alliance, Xiamen Airlines president Che Shanglun similarly commented: "With the accelerated globalisation of the world economy and China's rapid economic development, Xiamen Airlines will further enhance its competitive edge in the coming years by becoming a first-class airline in the Asia-Pacific region. Membership in SkyTeam will enable us to expand our intercontinental network offering, in cooperation with our partners in the alliance".
Joining SkyTeam will help generate expected annual revenue for Xiamen Airlines of CNY30 billion (USD4 billion) over the next five years for the carrier, Mr Zhao said. However, he said that joining the alliance "will mean we may suffer some losses due to global economic fluctuations. But we have measures planned to avoid such a loss," Mr Zhao said, without providing details. The carrier expects to handle over 30 million passengers p/a by 2015.
China – a hotbed for alliance activity
China has been a hotbed for alliance movement in the past 12 months. China Eastern Airlines and subsidiary Shanghai Airlines, a former Star Alliance member, joined the SkyTeam alliance in 21-Jun-2011, joining China Southern in the alliance.
Also in the region, Taiwan's China Airlines joined SkyTeam as its 15th member on 28-Sep-2011. The flag carrier of Taiwan becomes the first Taiwanese airline to join SkyTeam. Mandarin Airlines general manager He Hanye this month stated the carrier would join SkyTeam alliance in the near future following its parent company, China Airlines, joining the global alliance at the end of Sep-2011.
Meanwhile, Star Alliance Chief Executive Board in Jul-2011 also unanimously approved the application of Shenzhen Airlines, majority owned by Air China, to join the alliance. The carrier is expected to join the alliance by the end of 2012 and will add five new destinations to the Star Alliance network in China: Juzhou (Zhejiang Province), Linyi, Qinhuangdao, Shijiazhuang and Zhoushan. Air China has been part of the alliance since 2007. Shanghai Airlines, a previous Star Alliance member, moved to SkyTeam in Jun-2011 following its merger with China Eastern Airlines.
SkyTeam to increase its already large presence in China with Xiamen Airlines addition
SkyTeam has the largest presence in China, with a 38% system-wide capacity share, 39.3% domestic capacity share and 33.0% international capacity share, due to China Southern Airlines' membership (the carrier joined the alliance in Nov-2007) and China Eastern Airlines' membership from Jun-2011 along with subsidiary Shanghai Airlines. Its presence will be further boosted when Xiamen Airlines joins next year, with Xiamen Airlines' presence to increase the alliance China capacity share to over 44%, based on current capacity conditions and its domestic capacity share to close to 47%.
China capacity (seats) share by alliance: 14-Nov-2011 to 20-Nov-2011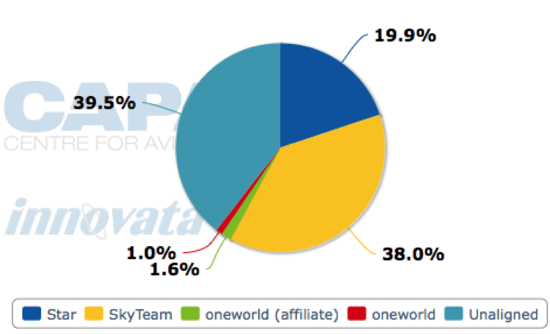 China domestic capacity share by alliance: 14-Nov-2011 to 20-Nov-2011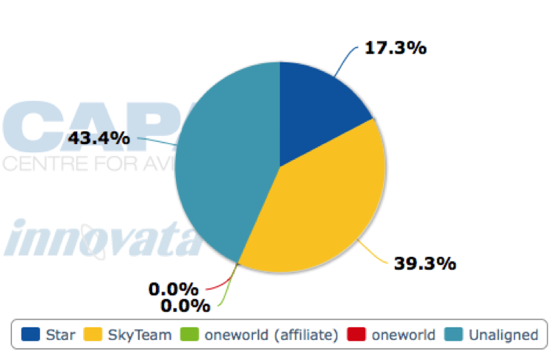 China international capacity share by alliance: 14-Nov-2011 to 20-Nov-2011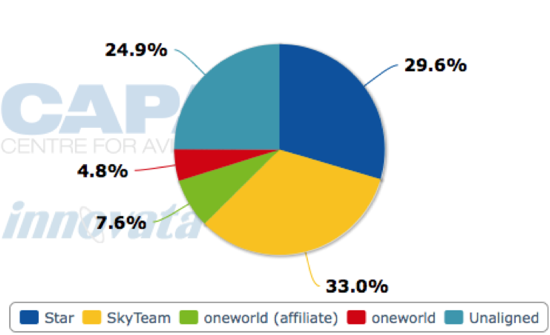 Star Alliance, meanwhile, has a 19.9% system capacity share, due to Air China's membership, with a 17.3% domestic capacity share and a 29.6% international capacity share. oneworld has a very small presence (1.6% capacity share, with no presence in the domestic market and a 4.8% capacity share to/from China) in the mainland market, but has a strong presence in Hong Kong due to Cathay Pacific's membership. Cathay subsidiary Dragonair is only considered a oneworld affiliate member.
China's fifth largest airline and fourth largest international airline, Hainan Airlines, in Aug-2011 stated it has decided to remain outside the global alliances fold for now, with Hainan Airlines and HNA Aviation Group chairman Wang Yingming commenting that Hainan Airlines is "still single because we don't want to marry early". Instead, the profitable carrier plans to accelerate international network expansion organically – a higher risk option. Hainan Airlines will receive 10 aircraft this calendar year, increasing its seat capacity by 11%, with the majority of the planned capacity to be introduced in 2H2011.
Hainan Airlines is the biggest unaligned carrier in China. Its rising product standards, young fleet, strong domestic network from hubs that include Beijing and Haikou and continued profitability make it a compelling partner. Hainan has long flirted with the idea of alliances. In Jun-2010, the carrier said it planned to commence negotiations to join an alliance, stating it has been "considering joining one alliance for a long time". The carrier's manager of public relations, Lu Feng, commented at the time that "joining the alliance is a double-edged sword, but the opportunities in an alliance outweigh the challenges", adding, "it is just like joining the WTO, we enjoy rights and obligations at the same time".
With China Eastern recently joining China Southern in SkyTeam and Air China anchored in Star, Hainan Airlines on the surface would seem a natural fit for oneworld. But Hainan's parentage, the HNA Group, has been aggressively expanding in oneworld stalwart Cathay Pacific's home market in Hong Kong via its units Hong Kong Airlines and Hong Kong Express. Hainan Airlines would need a sponsor, but Cathay is likely to object to the airline's inclusion given Hong Kong Airlines entering an aggressive expansion phase.
Organic network expansion appears the likely medium-term course for Hainan Airlines and its relatives in the Hong Kong market. This is a costly strategy, especially going up against established carriers, which will make bilateral partnerships increasingly important. Already Hainan Airlines partners with airberlin (oneworld from 2012), Malév (oneworld), Brussels Airlines (Star), Rossiya (unaligned) and Aerosvit (unaligned) to provide feed to its European and Russian services, in addition to Hong Kong Airlines and Hong Kong Express.
APPENDIX: Global airline alliances
Global alliances members
Alliance members

LAN

Malev Hungarian Airlines

Tarom

ANA

Pending members