02-Jul-2009 12:25 PM
ANA slumps, Jet Airways jumps, Japan Airlines and Qantas down
Shares in All Nippon Airways fell the most in more than six years on the Tokyo Stock Exchange on Wednesday (01-Jul-09). The reductions occurred on reports, which were later confirmed after the close of trading, that the carrier plans to raise more than JPY150 billion (USD1.6 billion) in a public share offering. The carrier also announced plans to raise its order for B787 equipment for 50 to 55 units.
See related article: All Nippon Airways SWOT: ANA poised for big things
Japan Airlines' shares slipped 1.1%. The carrier, like its major competitor, plans to boost capital amid the economic downturn, and has reportedly secured emergency loans of approximately JPY100 billion (USD1 billion) from a group of Japanese banks, led by the Development Bank of Japan.
ANA and Japan Airlines share price index: Jan-2009 to Jun-2009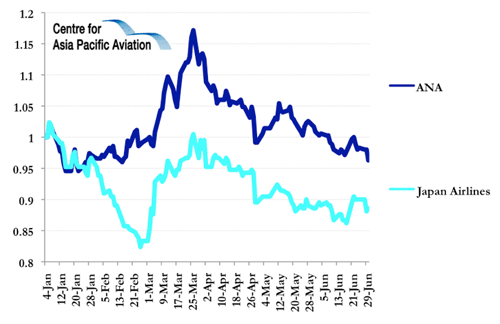 Meanwhile, CAAC reported traffic highlights for May-2009 with passenger numbers increasing 17.8% year-on-year to 18.1 million, supported by growth in domestic and Hong Kong/Macau market, while cargo volume down 3.9% to 341,285 tonnes, following a 3.7% reduction in Apr-2009. (NB the Hong Kong Stock Exchange was closed yesterday, due to a public holiday in Hong Kong).
Elsewhere, Qantas shares slipped 1.0%, while Singapore Airlines remained stable and Jet Airways advanced 4.3%.
Asia Pacific selected airlines daily share price movements (% change): 01-Jul-09