Allegiant Air's intriguing gamble on the resort business attracts scepticism, but execution is key
Analysis
Every time an airline decides to diversify into an entirely new business, the decision is met with a healthy level of scepticism by the investment community, and Allegiant's plan to build a resort in southwest Florida near its base in Punta Gorda is no different.
Although the company's stock valuation has risen since it outlined plans to develop its Sunseeker resorts, Allegiant is still trading below its year-long highs.

Allegiant has always positioned itself differently in the airline/travel space, using older aircraft to operate a schedule of less than daily flights from small to mid size US cities to large tourist destinations, including Las Vegas and Orlando. A key component of Allegiant's revenue has been sales income from selling hotel rooms, vacation packages and rental cars, so its resort/hotel concept is not a surprising move.

Of course, for Allegiant the execution is key. The company is spending a lot of time attempting to allay investor concerns about the risk it is undertaking with Sunseeker, taking a page from Delta's playbook with its Trainer Refinery, and stressing that its capital outlay is essentially the cost of narrowbody aircraft.
But the decision to entrench itself deeper into the travel space carries a certain level of uncertainty about how Allegiant will prioritise managing its new resort alongside running the day to day operations of an airline.
Allegiant ups its game by developing a new resort in Florida
Third party ancillary revenue – mostly hotel rooms and car rentals – has always been core to Allegiant's strategy.
During 2016 Allegiant's revenue from those types of sales grew nearly 12%, to USD44.9 million. The company's total revenue for the year was USD1.4 billion.
Allegiant's annual revenue from third party sales and increase/decrease from 2014 to 2016
| | | |
| --- | --- | --- |
| Year | Third Party Revenue | Percent Change |
| 2014 | USD36.6 million | down 1.2% |
| 2015 | USD40.2 million | up 9.8% |
| 2016 | USD44.9 million | up 11.9% |
Allegiant has been hinting at a change in its hotel strategy for quite some time, and in late Aug-2017 the company stated that it had purchased 20 acres of waterfront property in Florida's Charlotte County, which is home to Punta Gorda – a base for Allegiant since 2012.

The resort will feature 75 hotel rooms, seven to eight condominium towers with more than 700 units, a pool, a marina and several restaurant and retail outlets.

Allegiant settled on Punta Gorda for several reasons. The company has calculated 4.6% of customers travel to Punta Gorda more than eight times per year, and believes passengers travelling that much are second home owners. Punta Gorda also represents the sixth longest average stay among Allegiant's destinations.
Travel patterns to Punta Gorda for the 12M ending Jul-2017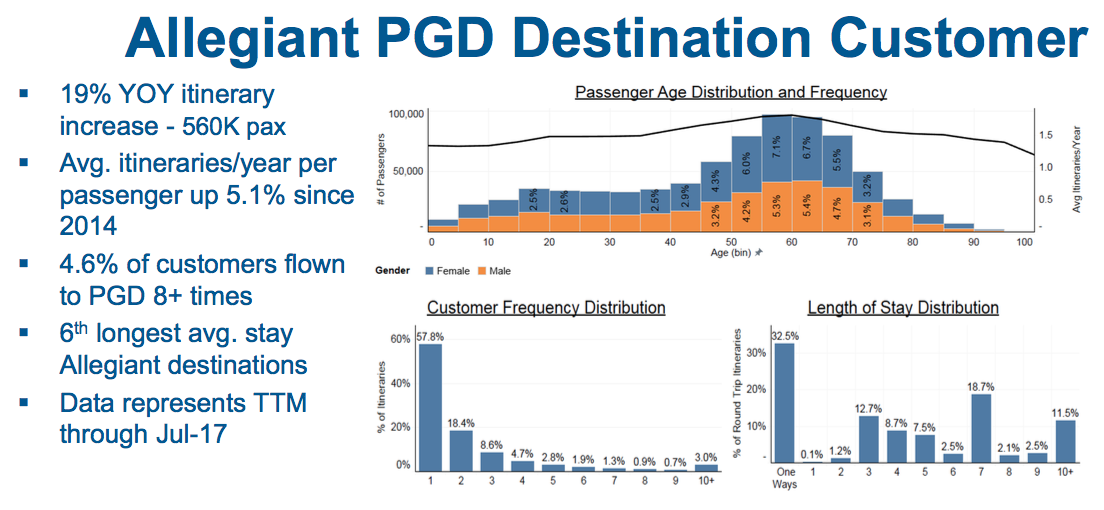 Punta Gorda is approximately 40km from Fort Myers, and about 65km from Southwest Florida International airport. Allegiant operates low frequency service to numerous destinations from Punta Gorda, and is the only airline operating from the airport.
Allegiant service from Punta Gorda as of late Sep-2017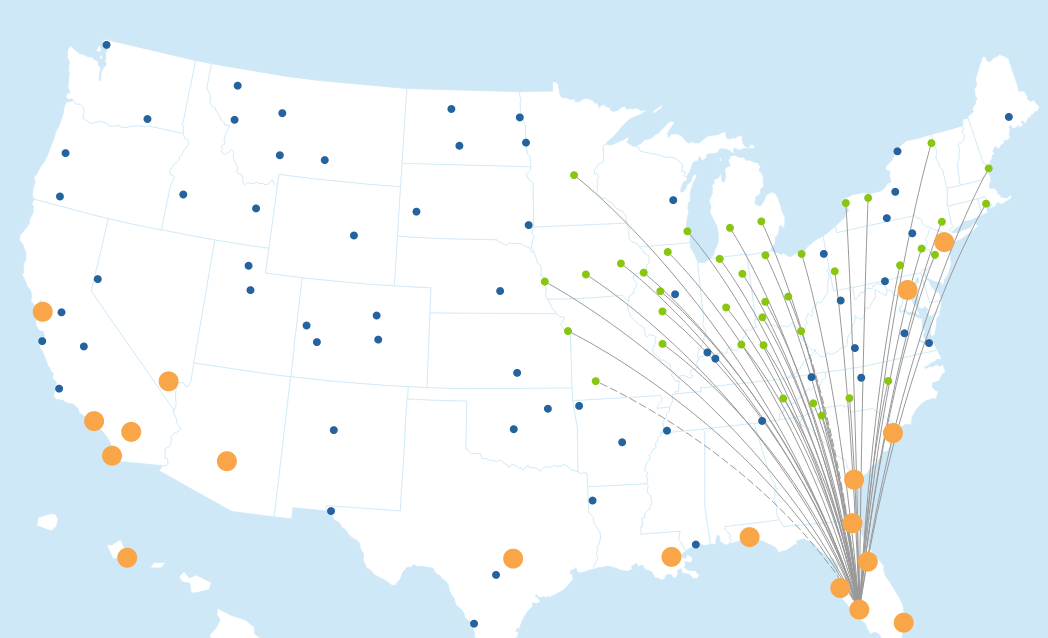 Allegiant harnesses data to determine demand for potential condo sales
Allegiant has spent approximately USD35 million to purchase the land for its Sunseeker resort.
As a next step, the company plans to convert expressions of interest to registrations of individuals interested in purchasing condos, which will require a non-refundable USD5000 deposit. Company president John Redmond recently remarked that if Allegiant could receive three times the number of registrations for 700 condo units offered for sale, "that would be incredible".

Once prospective buyers move into the sales contract phase, a 30% non-refundable deposit would be required. Allegiant will use funds from condo sales to support the assets it will own outright in the resort – hotels, restaurants and bars and retail space.

Two banks have approached Allegiant about financing the Sunseeker resort, but the company believes it does not need financing sources. Allegiant believes it will have more buyers than product for the condominiums.

By harnessing its data, Allegiant garnered interest from 4,100 individuals in the resort (as of mid-Aug-2017 before full details of the concept were released), and more than 750 potential buyers stated a willingness to spend (in round terms) USD750,000 on a unit. Approximately 85% of the individuals expressing an interest in the resort lived outside Florida. Those expressions of interest were from individuals living in 31 US states.
Allegiant to forge a new business arm as costs grow and management shifts
Allegiant is taking great pains to stress that it won't build the assets it plans to own at Sunseeker until it has sold a sufficient number of condo units to cover the costs of those businesses, touting its approach to the resort development as low risk.

The company decided to table plans for its Sunseeker resort at the same time as it is attempting to improve its operational performance, and upheaval in its management ranks continues. Within the last year its former president Andrew Levy has assumed the role of United's CFO, and former chief operating officer Jude Bricker has moved to Sun Country Airlines as its new CEO.

Allegiant has also been facing cost creep that stems from a new pilot contract forged in late 2016, as well as from transition costs to an all Airbus fleet and the elimination of a credit card surcharge. The company expects its unit costs excluding fuel to grow 10% to 12% year-on-year.

Given those developments, the timing for Allegiant to branch out into resort development may seem off. But the company's stock valuation has actually increased since it announced plans for Sunseeker in late Aug-2017, trading up at USD130 in late Sep-2017 after falling to USD118 in mid Aug-2017.
Allegiant takes care to stress its resort investment is a low risk venture
Allegiant's move into the resort-real estate space is a lot for airline industry analysts and investors to digest. The company has adopted a tactic used by Delta Air Lines when it purchased an oil refinery in 2012, when essentially Delta was spending the equivalent of a widebody aircraft to gain more control over managing fuel volatility. Results from the Trainer refinery have been mixed to negative, but its operation has not been a marked distraction for Delta's management team.

See related report: Delta's Air refinery shows some positive promise, but the learning curve remains steep

Allegiant, also, has stated that its investment in the Sunseeker property represents the cost of a single aircraft. (The company is phasing out its MD-80s and moving to an all Airbus fleet).

But unlike Delta's refinery, the resort will be an important component of Allegiant's overall business as it works to become a more integrated travel provider.
Uncertainty will remain a mainstay until Allegiant's condo sales materialise
There have been numerous comparisons made between Allegiant's efforts at becoming a hotel-resort manager and other airlines that have attempted to develop a similar venture with limited, or no, success. Allegiant is forging its hotel-resort venture in an age when it has voluminous data to leverage in making reasonably informed decisions about its business strategy.

But there's no denying Allegiant's decision to invest in a resort is a gamble with an uncertain outcome, which creates some uneasiness as the airline works to shore up operations and restore its cost performance to historical levels.
Those levels of uncertainty will continue to remain intact until a certain volume of condo sales at Sunseeker materialises.