Allegiant Air's immunity from soft prices in the US market challenged as public expectations change
Analysis
Some cracks are beginning to emerge in the immunity from the soft pricing environment that Allegiant Air has enjoyed in the US market. The company is feeling pressure from increased ULCC competition and large network airline discounting on connecting traffic in some of its markets. That added pressure, along with Allegiant's decision to boost off peak flying in response to lower oil prices, is driving down total unit revenues for the company in 1Q2016.

In mid-2015 Allegiant began making a push into off-peak flying, reasoning that the added capacity could lower margins and unit revenues, but could in fact lift overall profits. The company's top-line profitability did jump 154%; Allegiant has also concluded that the added flights, while still profitable, underperformed relative to the company's expectations. However, Allegiant expects to sustain its increases in off peak flying as long as fuel remains at current levels.

Similarly to the situation at other airlines, falling unit revenues and increasing capacity seem to be pressuring Allegiant's stock valuation, as concern grows among investors over its ability to withstand the pricing pressure in the US market place. But despite the pressure on Allegiant's valuation, it will, together with most other US airlines continue to grow profits and returns as fuel prices lift performance. The combination of these measures is driving a different type of behaviour in the market place.
Allegiant opts to increase marginal flying. Profits rise, but unit revenues fall.
Allegiant's total unit revenues fell 10% in 4Q2015 and 6.6% for the full year in 2015. During the year Allegiant opted to adjust its business in response to lower fuel costs by increasing its off-peak flying. During 4Q2015 off-peak operations (Tuesday, Wednesdays and Saturdays) represented 24% of its ASMs, and are growing to 26% during 1Q2016.

Beginning in 2Q2015 Allegiant's quarterly capacity started increasing by double digits year-on-year, and its total unit revenues (including base fares, ancillary sales and ancillary revenue from third parties) began to slide.
Allegiant's capacity increases and total unit revenue performance by quarter for 2015
| | | |
| --- | --- | --- |
| Quarter | TRASM performance year-on-year | Capacity increase |
| 1Q | flat | 6% |
| 2Q | 7% decrease | 17.5% |
| 3Q | 8.2% decrease | 23% |
| 4Q | 10.2% decrease | 25% |
Adding marginal capacity is a practice being used by all airlines in an environment where fuel continues to trade below USD40 per barrel. During late 2015, when it outlined its strategy to increase off-peak flying, Allegiant acknowledged that the increase in that type of capacity would decrease it margins but increase its earnings. For the full year 2015, Allegiant's profits jumped 154% to USD220 million.
Its earnings growth for the year prior fell 6%. Obviously, Allegiant's 2015 profitability was driven mainly by lower fuel prices. Its total fuel expense for 2015 dropped 28% year-on-year.

See related report: Allegiant Air works to take full advantage of lower fuel prices with a major push in off-peak flying
Off peak capacity additions, while profitable, did not meet Allegiant's expectations
In early 2016 Allegiant was queried about the performance of the off-peak flights it was adding to its network, and whether the strategy to increase capacity in less-busy periods was meeting its expectations. Company COO Jude Bricker concluded that the results of the off-peak flying were a mixed bag. He remarked that Allegiant had overestimated the potential of some of those operations, particularly in new markets.

The airline added some off-peak operations into new markets where it had little or no experience. Mr Bricker stated that as Allegiant looks at its schedule for 2016, "we will be able to trim around the edges to optimise the markets we don't have any experience in".

Mr Bricker stressed that the underperformance of some off-peak markets needed to be placed in the proper context. He remarked that Allegiant's network would look exactly the same if the company had perfect information about those markets. "While those flights didn't contribute what we hoped, they still contributed positively", he stated.
Allegiant's route overlap with majors and ULCCs grows, changing the competitive dynamic
One of the biggest attractions for investors in Allegiant (which has the highest stock price of all publicly traded US airlines) is the company's niche business model of operating service between large leisure destinations, such as Las Vegas or Orlando, and small markets including Boise, Idaho or Casper, Wyoming. Its competitive overlap with other airlines consequently remains relatively low, which has shielded Allegiant from some of the pricing pressure that emerged in the US market place in 2015.

By early 2016, Allegiant's immunity against the depressed pricing was diminishing. Mr Bricker explained that ULCCs were fighting over routes from larger markets to some of Allegiant's leisure destinations. Using Philadelphia as an example, he remarked that fares in that market had fallen significantly, which has affected some of Allegiant's markets that are a three hour drive from Philadelphia, such as Allentown, Pennsylvania. Both of the US ULCCs Frontier and Spirit operate service from Philadelphia.
Frontier offers flights to Cancún, Fort Myers, Montego Bay, Punta Cana, Tampa and Miami. Spirit operates service from Philadelphia to Atlanta, Chicago O'Hare, Dallas/Fort Worth, Las Vegas and Myrtle Beach.

Mr Bricker estimated that for 4Q2015 and 1Q2016 Las Vegas and Orlando had both experienced 10% industry seat growth. He stated that growth was creating a requirement for discounted fares. For the week of 28-Feb-2016 to 6-Mar-2016 Orlando Sanford and Las Vegas are Allegiant's top two bases, based on seat deployment.
Allegiant Air global top 10 hubs/bases/stations by seats: 29-Feb-2016 to 6-Mar-2016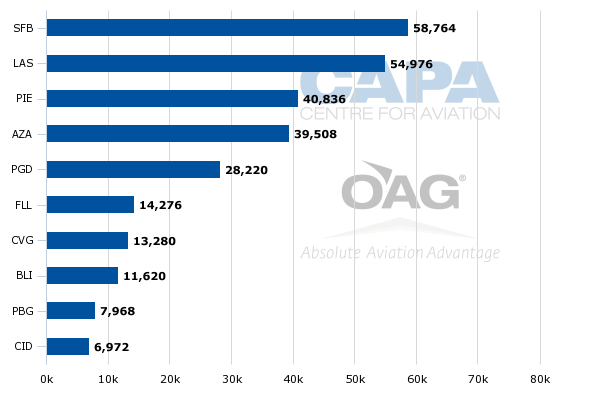 Allegiant has also experienced discounting for connecting passengers in some of Allegiant's markets, by the large US network airlines. "I think for the first time, we are seeing some of the network carriers that offer that connecting service priced aggressively," said Mr Bricker. But he clarified that aggressive pricing is not stimulatory pricing. "They [network airlines] have a lot more seats to fill, and they are cutting prices to do so, particularly in the off peak periods."

During the past couple of years Allegiant has opted to enlarge its roster of medium sized markets, while consolidation among the large US global network airlines has created opportunities in markets such as Cincinnati and Pittsburgh. Cincinnati is Delta's smallest hub and Pittsburgh is the former US Airways' legacy hub.

At YE2015 Allegiant served 18 medium-sized markets, compared with eight the year prior. As Allegiant moves into larger markets it does create more competitive overlap for the airline. Based on schedules out to mid-Aug-2016, Allegiant estimates that it will overlap with large network airlines on 48 routes, with lower cost and branded airlines on six routes, and with ULCCs on 14 of its routes.
As of Nov-2015, Allegiant overlapped with large network airlines on 33 routes, with lower cost and branded airlines on four routes, and only on two routes with ULCCs.
Allegiant's lower unit revenues and rising capacity could be pressuring its stock valuation
Allegiant's own off peak capacity increases, pricing pressure, lower passenger levels from cross-border airports due to currency pressure, and weakness in markets where the oil industry is a big economic driver, are all combining to drive down the company's total unit revenues 11% to 13% for 1Q2016.
Its capacity in the first quarter is projected to grow 15% to 19%, and 12% to 16% for the full year. The company's projections for capacity growth in 2016 are higher than increases in 2013 (8.8%) and 2014 (9.8%), but lower than the 17.7% ASM growth that Allegiant posted in 2015.
Allegiant Air annual available seat miles and year-on-year growth: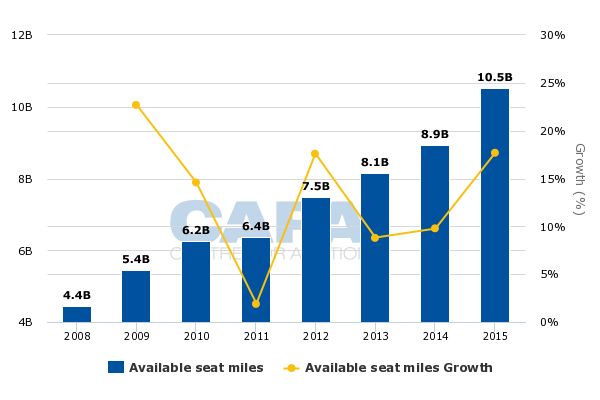 Although Allegiant's model is completely different from other airline business models, its rising capacity and falling unit revenues are mirroring the performance of other airlines, and in turn – pressuring the company's stock. The price peaked at USD233 a share in Aug-2015. (Trading at USD172 at 2-Mar-2016.)
Allegiant Air share price: Early Mar-2015 to Late Feb-2015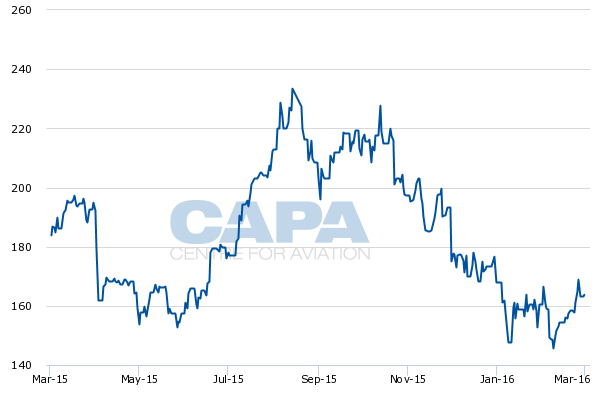 Allegiant may need to re-educate investors about the nuances of its business model
Lower fuel costs have fundamentally altered the industry dynamics in the US market.
Allegiant's exposure to the soft pricing within the US domestic space is still relatively limited, but the company acknowledges that it is feeling the effects of other airlines' discounting. This acknowledgment, alongside a forecast of lower unit revenue and rising capacity, could trigger some concern among investors that Allegiant's business model may not be impervious to current market conditions.

The ULCC space is among the most fascinating in North America. Spirit is making subtle changes under new leadership and Frontier is working to prove that the US market can sustain two ultra-low cost discounters, at a time when low fuel prices are allowing large US network airlines to compete aggressively with those airlines.

For now, Allegiant remains truly under the radar of large network airlines. Although it is moving into larger markets, its low frequency model - based on the ability to operate low utilisation levels thanks to the low capital cost of its older aircraft - remains intact. It truly targets the cost conscious traveller who is unconcerned about schedule frequency – as of 28-Feb-2016, 154 of its routes were served just twice weekly.
As 2016 progresses, Allegiant may need to start re-emphasising the unique attributes of its business model to investors.