Allegiant Air works to take full advantage of lower fuel prices with a major push in off-peak flying
Analysis
Allegiant Air's business strategy has always been unique in the US market place – and even globally. Although the company has slightly modified its approach of linking small markets with large leisure destinations during the past couple of years, Allegiant's business model has emerged as one that seems to withstand cyclicality and other challenges that airlines face.

During 2015 Allegiant has not escaped the unit revenue degradation that has swept through most of the US industry. But its decline stems more from internal factors than Allegiant's exposure to the US domestic regions enduring the fiercest pricing pressure. Allegiant has opted to tilt its business in a direction to maximise the benefits of lower fuel costs, which show no signs of disappearing in the short to medium term.

Allegiant is steering its business toward off-peak flying, which is driving down unit revenues and margins, but lifting profits. It is a similar move adopted by larger airlines, but Allegiant's niche business model creates more opportunity for the company to push the envelope on marginal flying.
Allegiant's unit revenue declines are driven by unique factors, not industry wide challenges
The unit revenue pressure that has swept through the US industry during 2015 has not escaped Allegiant, its total unit revenues (including ancillary sales) fell 8.2% in 3Q2015 on a 17% drop in average air fare to USD 71 (ancillary items not included). For the 9M ending Sep-2015, Allegiant's total unit revenue fell 5.2% and average fares sank 13.8% to USD79.

Factors that are driving a negative passenger unit revenue performance for the large US airlines – foreign exchange pressure, exposure to global weak economies and pockets of weak domestic pressure – are not driving the unit revenue declines at Allegiant. The airline has little exposure to the domestic regions that are pressuring unit revenue declines of major airlines, mainly Dallas and Chicago. Allegiant's top bases by seats reflect its network strategy of serving larger leisure destinations from smaller markets.
Its top five bases for the week of 2-Nov-2015 to 8-Nov-2015 are Las Vegas, Orlando Sanford, St Petersburg-Clearwater, Phoenix Mesa and Punta Gorda.
Allegiant Air global top 10 hubs/bases/stations by seats: 2-Nov-2015 to 8-Nov-2015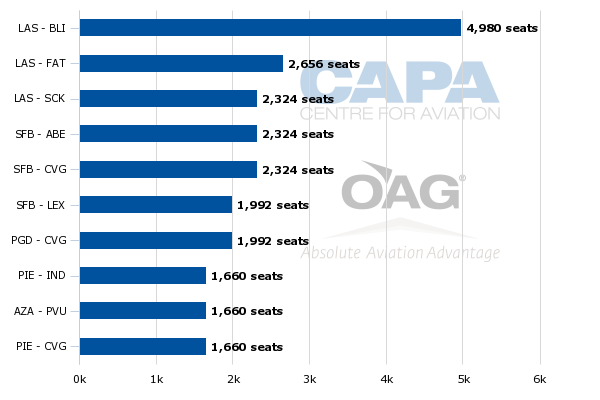 Allegiant's unit revenue decline is driven by the company's decision to ramp up off-peak flying to increase utilisation, something that benefits profitability in an environment where fuel costs remain low. Allegiant's top line fuel expense fell nearly 30% for the 9M ending Sep-2015.
Allegiant opts to add incremental capacity in off-peak times as fuel costs remain low
At the end of 3Q2015 Allegiant's management outlined the factors driving down its unit revenues, largely measures taken internally to drive up profitability as fuel costs remain drastically below year ago levels.

One driver of the unit revenue decline is outsized capacity growth. Allegiant's ASMs jumped 24% year-on-year in 3Q2015, and the company is forecasting similar growth in 4Q2015. Starting in Apr-2015 Allegiant's year-on-year ASM growth began increasing by double digits, peaking at 26% in Aug-2015.
Allegiant Air monthly available seat miles: 2007 to Aug-2015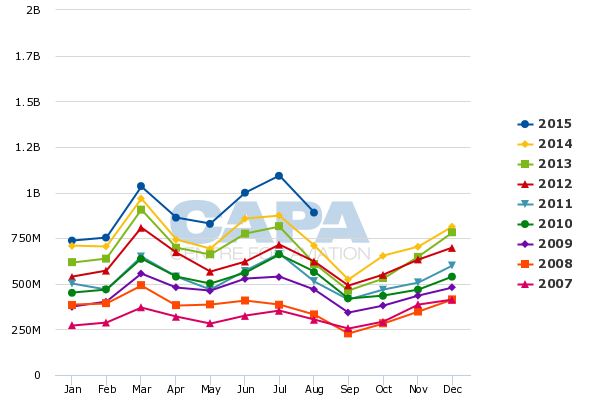 Most of the capacity increase is driven by new market growth. Allegiant estimates that during the last two quarters of 2014, 4.5% of its ASMs were generated by new markets. Roughly 9% of its ASMs in 3Q2015 and 12% in 4Q2015 represent markets in operation for less than 12 months.

Allegiant has also made a push to add off-peak capacity, which is a more positive proposition in a low fuel cost operating environment. The airline estimates its flying on Tuesdays, Wednesdays and Saturdays has risen 66% year-on-year in 3Q2015. For the last two quarters of 2015, Allegiant projects that 23% of its capacity will be generated on off-peak days of the week.

The airline is also adding capacity in off-peak season, disproportionately growing in months that are usually lower demand periods for the airline.

Allegiant's unit revenues in 3Q2015 were also affected by a credit card surcharge, which drove 2ppt of the decline.
Investors seem comfortable with Allegiant's strategy in a low fuel cost environment
Summing up Allegiant's current capacity deployment strategy company SVP planning Jude Bricker recently stated: "We're going to find opportunities to fly airplanes that add returns, but at lower margins than what we would otherwise schedule in a high fuel environment. So as fuel [costs] come down, we find these incremental opportunities to dispatch airplanes. And that's going to bring down our margins and increase our earnings."

Allegiant's 3Q2015 profits jumped 14% year-on-year to USD44.5 million, and for the 9M ending Sep-2015 its net income soared 100% to USD164 million.

Allegiant's 2014 operating margin was 17.6%. During 1Q2015 its operating margins reached nearly 33% and its 2Q2015 margin was nearly 29%. The company's operating margins in 3Q2015 were 26%.

Mr Bricker remarked that with the incremental flying that Allegiant is adding, the company's operating margin would fall closer to 20% on roughly 15% annual growth for the longer term. He remarked if margins fall below that level, then incremental flying would be cut.

The downward trend on Allegiant's total unit revenues will continue through 1H2016 as the incremental capacity comes online. Its total unit revenues in 4Q2015 are projected to drop 8.5% to 10.5%.

Unlike Spirit, which is the largest ULCC operating in the US, Allegiant's unit revenue guidance has not sent its stock plummeting. Although it has had ups and downs during 2015, on a year-on-year basis at the beginning of Nov-2015 its stock price had grown from USD135 per share to USD195. By contrast, Spirit Airlines' stock price had dropped from USD75 to USD35. Spirit competes directly with US major airlines, attempting to stimulate traffic among travellers priced out of air travel.
Allegiant Air stock price: early Nov-2014 to early Nov-2015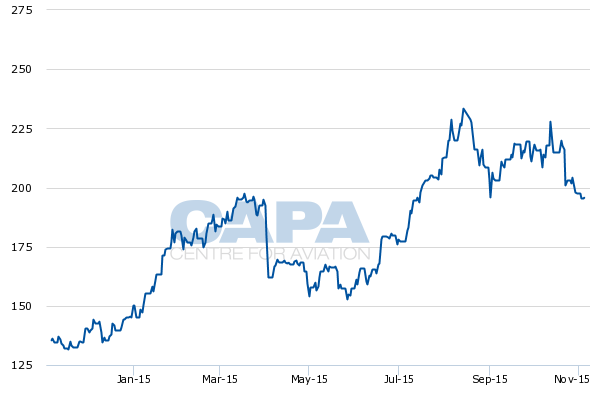 But even before lower fuel costs made those passengers more viable to larger airlines, American and Delta had taken notice of Spirit, and now, Frontier. It seems as if the major airlines are devising strategies to compete with ULCCs when fuel costs eventually rise, however far out in the future that may be.

Although Allegiant has migrated its model to more medium sized markets, it is still a low frequency airline, with the vast majority of its routes averaging two frequencies per week.
That does create some shield from the competitive reach of larger airlines. ULCCs Frontier and Spirit usually operate one to two daily flights in markets where they compete directly with larger airlines, placing them squarely on the radar of American, Delta, United and Southwest.
Allegiant Air domestic routes served by frequency/week: 2-Nov-2015 to 8-Nov-2015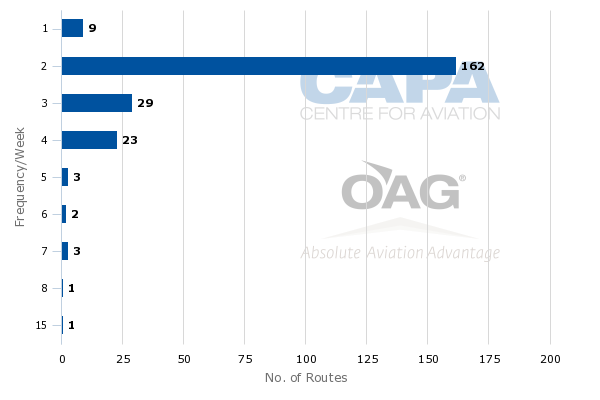 See related report: US major airlines recognise the ULCC threat. Market dynamics will change. But beware cost creep
Allegiant's moves to exploit lower fuel costs make sense
Allegiant's decision to add capacity on the margins in a low cost fuel environment is not surprising. It seems like a logical move by the airline to continue its streak of profitability. Given its small size – 77 aircraft – and business model that keeps it more shielded from large airlines than traditional ULCCs, the expanded supply should not be a disruptor in the market place.

Allegiant seems to be managing the incremental capacity to maximise profits, and not dilute margins below a certain level.
It also assures that if margins fall below its targets, it will pull back on its expansion in off-peak times. Allegiant's network composition and frequency strategy make this a low risk proposition for an airline that has sustained profitability through various cycles. At this point there should be no reason to doubt its current tactics to fully exploit lower fuel costs.