Allegiant Air: unit revenues could still turn positive in mid-2017 as cost pressures rise
Analysis
Although Allegiant Air's niche model differs from those of the majority of US airlines, the company has not been immune from the weaker pricing environment that has engulfed the US industry during the past year. Similarly to many US airlines Allegiant is beginning to see improving trends in the US market, and believes it can attain positive total unit revenues by mid-2017 as its own capacity growth slows and certain routes within its network mature.

Allegiant is facing pressure on its 4Q2016 unit revenues driven by effects from operational disruptions that were triggered by Hurricane Matthew and the timing of the Christmas holiday. But if the company reaches the lower end of its quarterly unit revenue guidance, Allegiant's sequential improvement in unit revenues during 2016 will continue for the final three months of the year.

A new pilot agreement and other items are creating pressure for Allegiant in its unit cost performance in 4Q2016 that could continue into 2017. One cost area where Allegiant should see relief is in its maintenance expense, as the phase-out of its older MD-80 aircraft begins in full force.
Performance of medium sized markets helps Allegiant sequentially improve 3Q unit revenue
Allegiant's total unit revenue (TRASM) improved sequentially from 2Q2016 to 3Q3016. Originally Allegiant had guided to a 10.5% to 8.5% year-on-year decrease in its TRASM, but the company revised its projections in the middle of 3Q2016 to a drop of 7.8% to 7.4%.
Allegiant total unit revenue performance: 1Q2016 to 3Q2016
| | |
| --- | --- |
| Quarter | TRASM decrease |
| 1Q2016 | 10.5% decrease |
| 2Q2016 | 9.1% decrease |
| 3Q2016 | 7.4% decrease |
The company's better-than-expected unit revenue performance in 3Q2016 was driven by a performance in mid-sized markets that exceeded Allegiant's expectations. Allegiant executives remarked that the secondary routes it serves from those medium-sized markets significantly outperformed projections. At YE2015 Allegiant served 18 medium-sized markets, including Cincinnati, Austin and Pittsburgh.

"We continue to see maturity in these markets, which we attribute to increased customer awareness due to the time that we've been in these markets and our marketing efforts there", Allegiant COO Jude Bricker has said.

As was the case with most US airlines, Allegiant began to see some improvement in pricing strength during 3Q2016.
Allegiant executives observed that close-in pricing is increasing between two to three weeks prior to a flight departure, and those trends should continue into 4Q2016.
Allegiant targets returning to positive unit revenues in mid-2017
Allegiant's TRASM projections for 4Q2016 are a decline of 7.5% to 5.5% year-on-year. The company anticipates that the effects from Hurricane Matthew will negatively affect its TRASM by 0.5ppt in 4Q2016, while the position of the Christmas holiday will result in 1ppt of TRASM pressure. Two positive factors for potentially better year-on-year comparisons in 4Q2016 include lower growth in new markets for Allegiant and higher peak-period flying. Its scheduled capacity for the last three months of the year is slowing to 10% to 14% growth year-on-year, versus a 20% increase in 3Q2016.

Some US airlines have outlined definite periods for a return to positive unit revenues during 2017, including Southwest, American and Delta. Others – jetBlue and Alaska – have refrained from offering timeframes for a restoration of positive unit revenue.

See related reports:
Allegiant believes it can return to positive unit revenue in mid-2017 as its capacity growth should moderate. Its scheduled ASMs are projected to increase 15% to 17% in 2016, but should fall below those levels in 2017.

Company executives recently said that Allegiant's growth rate during 2Q2017 will fall below levels of the same period a year ago, which is one factor contributing to the company's ability to achieve positive TRASM levels.

Generally the industry expectation is that positive changes in the US pricing environment should continue. Rising fuel costs are also dictating changes in pricing and capacity management. Nearly every US airline is forecasting lower capacity growth in 2017 in order to return to positive unit revenues, as the benefits of lower fuel costs start to soften.

Allegiant executives remarked that "garbage fares" that have persisted in the US environment have improved. While there are still aggressive fares lingering in the market place, Allegiant believes an upside remains for pricing in the US market during 2017.
A new pilot deal drives cost pressure for Allegiant in late 2016 and beyond
Allegiant is bracing for significant cost pressure in 4Q2016, with a forecast 10% to 12% rise in unit costs year-on-year. Its unit cost projection for FY2016 is an increase of 1% to 3%. Previously Allegiant has guided to a unit cost increase excluding fuel of zero to 4% for 2016.

See related report: Spirit Airlines, Allegiant Air, face cost pressure in 2016; reduced fuel costs drove stellar 2015

Much of the cost pressure in the last three months of 2016 has been attributed to a new contract Allegiant reached with its pilots earlier in 2016. The airline has estimated a USD45 million run rate for the agreement from Aug-2016 to Jul-2017, and expects expenses of USD14 million to USD15 million from the new agreement in 4Q2016.
Airline executives acknowledged that the "pilot agreement is going to put a lot of pressure on the ex-fuel cost structure".

Other factors driving 4Q2016 cost inflation include increased depreciation expense for Allegiant's MD-80 fleet, cost pressure from establishing stations in larger cities, and the timing of some maintenance expenses.
Previously Allegiant has estimated USD20 million in spend on the first round of heavy maintenance on its Airbus fleet in 2016. The average age of Allegiant's Airbus fleet is 14.3 years.
Allegiant Air average fleet age as of 3-Nov-2016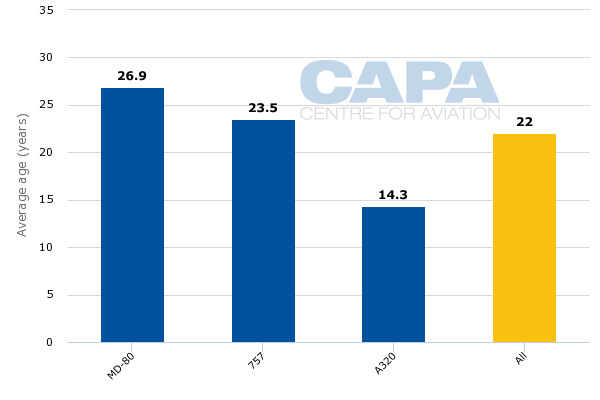 Allegiant's maintenance cost pressure should ease starting in 2017 due to less engine and maintenance events on its MD-80 fleet as it begins to phase out those aircraft. Earlier in 2016 Allegiant ordered 12 new-build, current generation Airbus narrowbodies from Airbus, which will accelerate the MD-80 exit to 2019 from 2020 to 2021.
Allegiant Air fleet summary as of 3-Nov-2016
With fewer heavy checks and engine events on its MD-80s Allegiant is predicting its maintenance expense should fall dramatically during the next couple of years.

In 2016 the company is also transitioning from a direct expense method for maintenance on its Airbus fleet to a deferral method, a change that should alleviate some of the volatility in Allegiant's maintenance expense accounting.

Although Allegiant will face cost pressure from the recently ratified pilot agreement, over the long term the transition to a single Airbus fleet should become a cost tailwind for Allegiant. The company needs to keep its sub-USD6 cent unit cost edge in order to continue its successful execution of a niche ULCC model.
All US airlines, including Allegiant, seek to benefit from the start of improved US conditions
Allegiant has joined numerous US airlines in declaring a return to positive unit revenues in 2017 as pricing trends in the country are beginning to show signs of upward stability. For Allegiant and many other US airlines facing unit cost pressure excluding fuel, and rising fuel costs – returning to positive unit revenue takes on a new level of importance.

All US airlines are expressing a reasonable level of confidence that a slow reversal of pricing erosion beginning to take shape should continue into 2017. Airlines across all business models are attempting to rein in their capacity next year to strike a more favourable supply-demand balance to sustain pricing stabilisation.
Allegiant is no different in aiming to capitalise on the benefits of more rational supply and regaining lost ground in pricing.