All Nippon Airways grows with new Haneda slots, with some replacement of Narita services
Analysis
All Nippon Airways is implementing growth made possible by its contentious victory in being awarded 11 new slots Tokyo Haneda slots in the recent allocations, while arch rival Japan Airlines received only five. ANA in Dec-2013 announced its intentions for eight of those slots. As expected, there is a mix between using Haneda slots to facilitate growth and others to replace existing services from Tokyo Narita.
An all new service to Vancouver, ANA's first Canadian destination, will be accompanied by an additional service to Paris CDG. But ANA's London Heathrow service will switch from Narita to Haneda. Regionally, Hanoi, Manila and Jakarta see new services while Bangkok and Singapore will have Narita flights shifted to Haneda.
The three remaining slots go to China (one) and Germany (two). Given current market conditions, it is unlikely that ANA would use all of those slots in the short term for entirely new services. That potentially means six of the 11 will be used to shift Narita flights to Haneda rather than provide the entirely new growth that was trumpeted during the slot allocation process. This is a reality known but not acknowledged as Japan's airlines seek to focus on their core home market while Asian competitors – with the necessary lower costs – pick up the slack.
ANA uses eight of the 11 slots: five are new services, three are replacements
ANA in Dec-2013 announced some of the routes it will introduce with the 11 daily slots at Tokyo Haneda it was awarded in Oct-2013. Haneda is not far from downtown Tokyo whereas Narita can be two hours away, making Haneda the preferred airport, especially for time and efficiency-conscious Japanese passengers. Haneda remains primarily a domestic airport and further expansion of services is not planned in the medium term.
See related report: Japan awards international Tokyo Haneda Airport slots, but Narita Airport remains the main hub
The awarding was contentious as ANA received 11 slots while JAL only received five. The process was not transparent but effectively regulator MLIT looked down on JAL's state-funded bankruptcy restructuring as it created a lower cost base for JAL than ANA. ANA was previously the more efficient of the two and is now embarking on a major cost reduction programme to become more competitive. The political overtures of the process were loud, and JAL – typically reserved – was unusually sharp in denouncing the slot process. While it has called for a revision, that is unlikely and now ANA is planning for the future.
ANA announced plans for eight of the 11 slots, which the MLIT awarded for service to a specific country but not city. There is net growth from this first and major tranche of slots, led by a new service to Vancouver and an additional daily service to Paris CDG. A summary of the routes announced as of 09-Dec-2013 is below.
Haneda slot dispersal for ANA and JAL, and ANA's use of slots: 09-Dec-2013
| | | | | |
| --- | --- | --- | --- | --- |
| Country | Slot Awarded to ANA | Slot Awarded to JAL | ANA's Use of Slot | New/Replacement Service |
| Canada | 1 | - | Vancouver, daily, 767-300ER, eff 30-Mar-2014 | New |
| China | 1 | 1 | - | - |
| France | 1 | 1 | Paris, daily, 777-300ER, eff 30-Mar-2014 | New; existing Tokyo Narita-Paris CDG service re-timed |
| Germany | 2 | - | - | - |
| Indonesia | 1 | - | Jakarta, daily, 787-8, eff 30-Mar-2014 | New; existing Tokyo Narita-Jakarta service re-timed |
| Philippines | 1 | - | Manila, daily, 787-300ER, eff 30-Mar-2014 | New |
| Singapore | 1 | 1 | Singapore, daily, 787-8, eff 30-Mar-2014 | Replacement of 1x daily Tokyo Narita-Singapore 787-8 service. Total Tokyo (all airports)-Singapore frequency remains unchanged |
| Thailand | 1 | 1 | Bangkok, daily, 777-200ER, eff 30-Mar-2014 | Replacement of 1x daily Tokyo Narita-Bangkok 767/777 service. Total Tokyo (all airports)-Bangkok frequency remains unchanged |
| UK | 1 | 1 | London Heathrow, daily, 777-300ER, eff 30-Mar-2014 | Replacement of existing daily Tokyo Narita-London Heathrow 777-300ER service |
| Vietnam | 1 | - | Hanoi, daily, 767-300ER, eff 30-Mar-2014 | New |
ANA adds Vancouver, its first Canadian destination
The only entirely new long-haul destination being added is Vancouver, which ANA will serve daily with a 767-300ER. The route is likely to be upgraded to the 787-8 in due course. (The relatively short flight time for a Japanese long-haul flight, eight to 10 hours, makes it a lower priority for ANA's long-haul configured 787s.)
This is the first destination for ANA in Canada, whereas JAL already serves Tokyo Narita-Vancouver daily with a 767-300ER. Air Canada also has a daily 767-300ER service from Narita to Vancouver. JAL does not serve any other Canadian points, such as Toronto. Air Canada serves Tokyo Narita from Calgary (three weekly 767-300ER flights) and Toronto (daily 777-300ER). It has also announced plans for a daily 787-8 service from Toronto to Haneda. ANA and United have a trans-Pacific joint venture but Air Canada is not part of this. (Air Canada is however part of the Star-led joint venture across the Atlantic.)
The omission of Vancouver is surprising at first blush but also understandable. Japan's neighbouring markets, like mainland China and Taiwan, have pushed or exhausted the bilateral rights made available to it. In the case of China, additional capacity was quickly added once the bilateral permitted. Vancouver is also a strong destination for Cathay Pacific. The push from this part of Asia is due to immigrant, cultural and business ties whereas there are few Japanese in Vancouver.
Besides local traffic, ANA no doubt will be pursuing connecting traffic from China due to that market's greater demand than supply. Connection options from China however are limited as ANA only has Beijing and Shanghai services at Haneda. Tokyo's geography can also make it a more ideal connection point than from Hong Kong, for example.
Canada to Japan (seats per week, one way): 19-Sep-2011 to 8-Jun-2014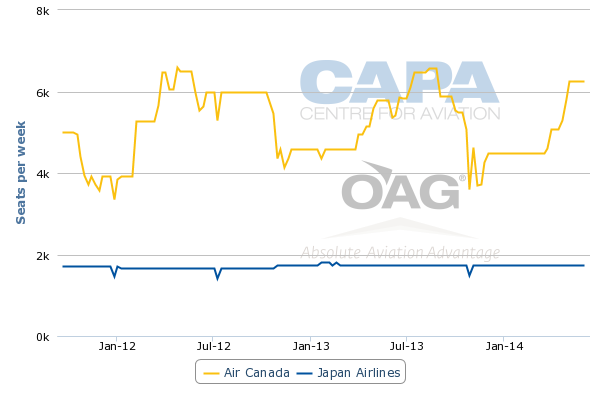 Hanoi added to Ho Chi Minh while Jakarta and Manila receive a second daily flight
Hanoi is ANA's only other entirely new destination arising from this expansion programme. A daily 767-300ER Haneda-Hanoi service follows ANA's daily 767-300ER Narita-Ho Chi Minh service. The allocation of Haneda slots to Vietnamese services is surprising given the small market, but there are political influences as Vietnam and Japan grow closer.
The other growth in Southeast Asia (as opposed to shifting of Narita services to Haneda) is Jakarta and Manila, each seeing a second daily flight. There is segmentation as there will be a daily flight to/from each city from both Haneda and Narita.
The Haneda-Jakarta service will largely take over the existing times used by Narita-Jakarta: a daylight outbound flight and overnight return. The Narita service shifts to an evening departure that arrives in Jakarta almost at midnight and then departs Jakarta early in the morning, arriving in Narita in the mid-afternoon. The Haneda timings will be far more convenient for Tokyo business travellers (in addition to being operated out of Haneda instead of Narita).
The new Narita timings however are more suited to connecting traffic, especially trans-Pacific. Passengers arrive in Narita in the afternoon and have a short connection to Jakarta. On the way back, the early departure ensures onward connections can be made. The timings are similar to intra-Asia flights from Delta and United Airlines that connect Southeast Asian destinations with US-bound services from Hong Kong and Tokyo Narita.
Garuda Indonesia had been looking to partner with Delta via Tokyo for flights to the US, which Garuda does not offer. Delta does not fly to Jakarta but has a wide US network from Narita. However, it seems Garuda is now looking to partner with other carriers over Narita. A host of North Asian carriers cater to the Indonesia-US market, including Asiana which commenced Jakarta services earlier in 2013. ANA's re-timing of the Narita-Jakarta service will enable it to target this market as previously connections did not align. Cathay and China Airlines are the largest foreign carriers in the Indonesia-Northeast Asia market.
Indonesia to Northeast Asia (seats per week, one way): 19-Sep-2011 to 8-Jun-2014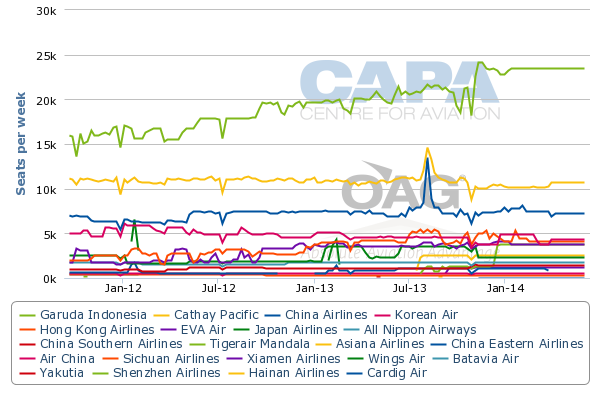 The new Manila service from Haneda is scheduled similarly to the Jakarta service in that there is a daylight departure from Haneda. But as Manila is closer to Tokyo than Jakarta, ANA is able to offer an evening return service to Tokyo rather than an overnight service. The existing Narita-Manila service is already timed to connect with trans-Pacific services and will be not changed.
ANA's services also seek to improve what has been a dearth of non-stop services between the corners of Northeast Asia and Southeast Asia, leading more intermediary carriers (Cathay, China Airlines, SIA) to fill the void. ANA's focus is on the local markets (and somewhat necessitated by limited international connections at Haneda) but the additional Jakarta service will enable ANA to focus on connecting traffic to Jakarta from Narita.
Philippines to Northeast Asia (seats per week, one way): 19-Sep-2011 to 8-Jun-2014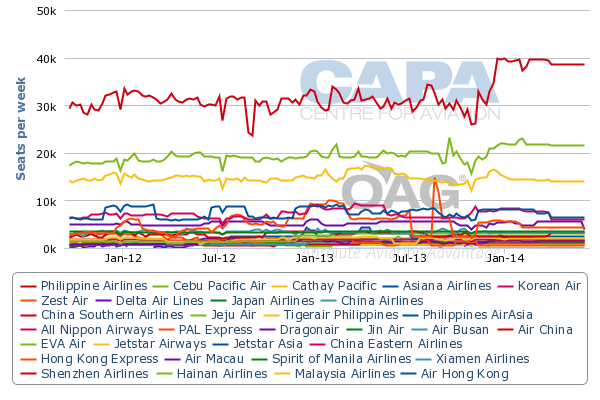 Elsewhere in Southeast Asia, ANA is using Haneda slots to replace Narita services to Bangkok and Singapore. Overall frequency to those cities remains unchanged.
China slot allocation outstanding, but there are limited opportunities on Chinese side
One of the three Haneda slots ANA has yet to allocate is for China. No doubt there will be growth in the Japan-China market in the long term, but in the short term ANA is challenged to use the slot on an entirely new service owing to Beijing and Shanghai being capacity restrained. ANA would likely gain greater value moving an existing Narita-Beijing/Shanghai flight to Haneda than to open a flight from Haneda to another Chinese city.
Alternatively, there may have been private discussions between China and Japan that saw a Haneda slot being given to the Chinese side in exchange for a slot in Beijing or Shanghai, and in particular Shanghai Hongqiao airport, the more convenient airport in Shanghai for business passengers. Japan and Taiwan in the past have worried about issuing China with new slots/rights since Chinese carriers could use their existing slot portfolio and re-allocate a slot from a low-yielding domestic flight to a high-yielding regional route. Japanese and Taiwanese carriers would have to secure new slots from a pool that is almost empty – and tightly controlled, allowing for government allocation if there is a quid pro quo.
Separately, ANA announced it would resume Nagoya-Shanghai Pudong 737-700 services from 30-Mar-2014, having suspended it on 27-Oct-2013. This is becoming a regular seasonal adjustment for ANA.
ANA has two slots for Germany – how to use them?
ANA's last two slots are services to Germany. The MLIT's awarding of both of the available slots to ANA was, in some views, the largest discrepancy since ANA already held the sole Haneda slot to Germany. That gives ANA a monopoly on all three Haneda slots to Germany, and gives Star a monopoly as Lufthansa holds the German slot for Japan services. ANA will have five Haneda slots to Europe (comprising the previous Germany slot and the new one to France and the UK and the two new ones to Germany).
JAL will only have three (comprising its previous French slot and the additional one to France, and the new slot to the UK). Whereas ANA will have three German slots, JAL will only have two of the three French slots.
ANA has not said how it will use its new German slots. It already has service from Narita to Frankfurt and Munich (each daily) as well as Haneda to Frankfurt. An additional new service could be too much capacity, unless perhaps Europe-Japan JV partner Lufthansa pulls down capacity. (Lufthansa Group carriers Austrian and SWISS are also part of the JV.) The Frankfurt and Munich services could be moved to Haneda, but there are some international connecting opportunities by keeping the services at Narita.
Foreign airlines gradually announcing their plans for Haneda slots
Of the slots awarded to airlines besides ANA, JAL has not made its plans public yet. A few foreign airlines have. Singapore Airlines will add a third daily Singapore-Haneda service, leaving one slot for Haneda still to be used. It has not, yet at least, reduced Narita capacity in conjunction with the Haneda expansion. Virgin Atlantic has said it will move its Narita-Heathrow flight to Haneda. British Airways is so far maintaining its daily Narita-Heathrow flight while Haneda-Heathrow will use a new slot to have a more favourable 08:50 departure time compared to 06:25. The service will also operate daily compared to the five weekly in the northern summer 2013 season.
More pronounced gains will come from Air France, which will add about 100 seats a day in the Tokyo-Paris market, in addition to ANA's entirely new 777-300ER service. Air France will offer up to double daily Haneda-Paris CDG 777-200ER/300ER services (using both of the Haneda slots France was awarded) but Narita will be reduced from a daily A380 and daily 777-300ER to a single 777-300ER.
The two 777 services at Haneda are equivalent to the A380 service plus about 100 seats. This aircraft deployment decision was likely driven by Haneda not permitting the A380 during daylight hours. With Tokyo capacity to be concentrated to Haneda, there was likely no need for an A380 at Narita.
Air Canada has announced a new Toronto-Haneda service with the 787-8 that is not yet affecting its Narita operation. Air Canada in Nov-2010 announced a Vancouver-Haneda flight but in Jan-2011 cancelled it, citing low demand as a result of the nighttime Haneda slots (for use between 23:00 and 06:00) it was working with then. The recent awarding of Haneda slots was for flights during the day and evening.
Haneda slot dispersal for foreign carriers: Oct-2013
Transfer of services from Narita to Haneda is fine – problem is expectations were set too high
It was inevitable that Haneda slots would be used to shift flights from Narita to Haneda. It was never a question of if but rather of how many. ANA is creating genuine growth, but certainly not as much as it and JAL were surprisingly able to lead the market to believe with off-the-record statements about additional annual profits per slot being in the tens of millions of dollars. That was fanciful.
So far at ANA, two long-haul flights will be added while one is shifted from Narita to Haneda. Three short/medium-haul flights will be added while two are shifted to Haneda. The remaining three slots are unlikely to all be used for pure growth; even two would be surprising.
JAL's announcements are awaited while for foreign long-haul carriers, the bet is on a shifting of flights rather than growth. Asian carriers are more likely to add entirely new services. There will be some limitations and challenges as A380 operations at Haneda are so far confined to undesirable nighttime periods.
There is nothing wrong with this outcome, which is a reflection of the twin obstacles facing Japanese carriers. First, Japan's economy still needs to be revived, limiting point-to-point traffic. Second, the cost bases of ANA and even post-restructured JAL are some of the highest in Asia, limiting their ability to offer connecting traffic. They have geographic advantages in certain markets, namely North America, but they will not be the powerhouses of Korean Air or Cathay Pacific.
See related report: Asian airline cost rankings: AirAsia X, SIA & Thai are most efficient while ANA is highest cost
If the result of the Haneda slot allocation is disappointing because many services are being transferred from Narita to Haneda, that is only because expectations were set too high in the first place.