All-business class North Atlantic airlines. Will Odyssey Airlines' epic tale end in triumph?
Analysis
In Homer's epic tale The Odyssey, it takes Odysseus 10 years to return home after the Trojan War. Although CEO Adam Scott's first attempt to start Odyssey Airlines began around nine years ago, he will he hoping for a smoother journey after the planned launch of all-business class flights between London City Airport and New York in 2016.
Odyssey's business model is based mainly on the convenience of London City and the deployment of the Bombardier CS100 in a 40 seat configuration. It will compete with British Airways' 32 seat A318 business class-only service from the same airport, in addition to multi-class services from BA, American, Virgin Atlantic, United and Delta from Heathrow.
History has not been kind to premium-only operators on the North Atlantic, whose share of global premium revenues is declining. In spite of this less than encouraging backdrop, Odyssey is not the only airline planning all-business class operations between Europe and North America. Following our recent analysis of Dreamjet's forthcoming launch between Paris and New York, in this second of two reports we look at Odyssey's prospects.
See related report: All-business class North Atlantic airlines: Dreamjet seeks to avoid L'Avion's Paris-NYC nightmare
Odyssey Airlines aims to be first non-stop trans-Atlantic operator from London City
Odyssey Airlines is still about two years away from launching operations, but has what looks to be a more innovative approach to the all-premium model than previous attempts (as reviewed in our report of 6-Jun-2014). It plans to launch in 2016 with an all-business class service from London City to New York (the New York airport has not yet been chosen).
After the London-New York route, Odyssey is considering other North American destinations, including Toronto, Washington, Boston and Chicago, in addition to cities in the Middle East and Europe. European destinations could provide a means for Odyssey to increase its aircraft utilisation, but success on the launch route to New York will be the first priority and the main focus of our current analysis.
Odyssey has already raised GBP5 million and is currently in the process of seeking a further GBP5 million through crowdfunding to fund its ongoing plans. It hopes to approach financial institutions for GBP60 million in 1H2015 to allow it to launch the airline in 2016. It published an Investment Note in May-2014, which provides a good deal of information about its approach.
London City has advantages over airports used by previous all-business class start ups
London City benefits from its proximity both to the Canary Wharf business district and also to the City of London financial district. Odyssey is positioning itself squarely in the business passenger market and its choice of London airport fits this market well. CAA survey data say that 96% of London City passengers are in socioeconomic groups ABC1 and 64% are time-sensitive business passengers.
Previous all-business class airlines on the Atlantic operated from Stansted (Eos and MAXjet) and Luton (Silverjet), which did not attract the same demographic. Moreover, while the size and strength of the London-New York premium market means that the majority of Odyssey's passengers are likely to originate in and around London, it could also benefit from LCY's connections with other European business destinations.
Passengers at LCY also enjoy a much easier and quicker check-in and boarding process than at London's larger airports. As far as the airport at the other end of the route is concerned, at this point all that Odyssey can say is that it will operate to "similarly efficient and convenient airports in its target destinations". Based simply on location, this would seem to favour LaGuardia Airport over JFK and Newark, since the former is the closest to central Manhattan. However, it may be difficult to find an airport that replicates LCY's attractions.
The CSeries will make Odyssey different
Odyssey has been most different from other all premium airlines in its fleet choice. It has ordered 10 Bombardier CS100 aircraft (and a further five purchase rights) and plans a 40 seat configuration. Bombardier expects the first CS100 delivery to its launch customer to take place in 2H2015.
Odyssey's 40 seat flights, operating from the stronger catchment area of London City, should be less of a challenge to sell than the higher number of seats per flight offered by its predecessors in airports that were further from their target markets. Eos operated with 48 seats. MAXjet with 92 to 102 seats and Silverjet with 100 seats.
Perhaps more importantly, the CSeries aircraft offers more efficient fuel burn and lower operating costs than current similar sized aircraft, although Bombardier's claim of a per seat cost advantage of around 15% assumes a standard 110 seat configuration.
In Jan-2014, Bombardier pushed back the CS100's entry into commercial service from Sep-2014 to 2H2015. The manufacturer insisted it would meet its new schedule, but, as with other new aircraft programmes, there remains a risk of further delays (a recent engine-related incident on a test aircraft adds to the perception of this risk).
Nevertheless, the CS100 should allow lower operating costs and better reliability than previous all-premium operators on the Atlantic, which used ageing Boeing 757 and 767 equipment. Eos, MAXjet and Silverjet all went out of business when oil prices rose sharply in 2007/2008 and their old aircraft also presented challenges with regard to maintenance costs and reliability.
See related report: All-business class North Atlantic airlines: Dreamjet seeks to avoid L'Avion's Paris-NYC nightmare
The risk of oil price spikes remains a real one, as with all airlines, and Odyssey plans to mitigate this with a combination of fuel hedging and the use of surcharges. However, a small start-up may initially struggle to find counterparties for the necessary hedging transactions. Moreover, surcharges only work to the extent that there is demand to pay for what is effectively a fare increase.
London-New York market
One advantage that Odyssey would appear to have over Dreamjet is the sheer size of the London-New York market for premium air travel compared with Paris-New York. Using data from OAG for the 12 month period Apr-2013 to Mar-2014 (covering the most recent completed summer and winter seasons), London-New York had more than half a million premium seats, more than four times the number of premium seats on Paris-New York (on a two-way basis).
At launch in 2016, Odyssey plans two daily frequencies from LCY to JFK with its 40 seat CSeries. This would represent an additional 12% on top of the current London-New York premium market on an annual basis (using data from OAG), certainly large enough to be noticed.
Premium* seat capacity London to New York (all airports): Apr-2013 to Mar-2014

One of Odyssey's challenges will be to cope with the seasonality of demand on the route. In August, the peak month for leisure demand, but the trough for business travel, premium seat capacity between London and New York is less than half its March level. Larger network rivals are better placed to absorb fluctuations in demand.
See related report: Qatar Airways all-business London service. An attempt more likely to succeed than others were
Could competitors also operate trans-Atlantic CSeries flights?
The physical constraints of London City Airport mean that no other aircraft type can fly trans-Atlantic non-stop on both legs. British Airways' all-business class A318 service to New York stops at Shannon in Ireland to refuel on the westbound leg, although tailwinds allow the return flight to operate non-stop.
BA has made a virtue out of a necessity by taking advantage of Shannon's US immigration clearance capabilities (thereby speeding passengers through JFK on arrival at the final destination), but Odyssey's non-stop service will offer a time saving and allow it more flexibility with its schedule.
In the 12 month period Apr-2013 to Mar-2014, BA's London City-JFK service accounted for around 7% of its total London to New York premium seat capacity (source: OAG Traffic Analyser). This has become a successful niche for BA and it is unlikely to sit back and watch Odyssey enter without any response.
Odyssey's May-2014 Investment Note says that it is "the only CS100 customer currently actively pursuing this business model". In addition, Bombardier's order backlog (and the delay of its entry into service) means that Odyssey should have a head start on any other airline that may seek to replicate its model.
A glance at Bombardier's customer list reveals that orders for the CS100 have been placed by Braathens Aviation (for Swedish operator Malmo Aviation), Lufthansa and Gulf Air, none of whom is ever likely to compete head to head with Odyssey in London.
However, the customer list also includes three aircraft for Lease Corporation International and five aircraft for PrivatAir. According to the CAPA Fleet Database, LCI's deliveries are expected in mid 2016, before Odyssey's later in the same year. It is not known who will lease and operate these aircraft, but slot availability at London City is unlikely to be a major constraint and it is theoretically possible that an incumbent or another new entrant at LCY could establish an Odyssey-type of operation using them.
PrivatAir specialises in the operation of long-haul business routes on a wet lease and charter basis for major airlines. It is thought to be talking to potential airline customers at London City (including British Airways) in connection with the possible use of its CSeries aircraft for trans-Atlantic all-premium services.
If BA were to contract with PrivatAir at LCY, this would strengthen its position in response to Odyssey, eroding the latter's advantage. However, PrivatAir's CSeries aircraft are not expected until 2018 (source: CAPA Fleet Database) and BA may be reluctant to sub-contract part of its strategically important London-New York operation.
Odyssey plans to have a major airline partner
Another example of how Odyssey appears to have given some thought to its business model is that it aims to have a major network airline partner from the start of its operations.
One of the major hurdles faced by independent new long-haul operators in the past has been their inability to offer passengers a network and frequent flyer programme benefits that can compete with established incumbents. This is particularly relevant for the large corporate accounts that characterise the intercontinental premium markets and which Odyssey expects to account for two thirds of its passengers.
An agreement with a major airline partner would help Odyssey to meet this challenge and, assuming that it was an operator at LCY, would also provide additional feed (something else that previous all-business class operators lacked). Odyssey also plans to develop contacts with corporate accounts well ahead of the start of operations and finding a suitable network partner will be key to accelerating the level of interest from corporates.
At this stage, we can only speculate about the identity of a possible partner. It would gain most from a partner that operates at London City, particularly from British Airways (the leading airline with 46% of seats). It is less clear what BA would get from a tie up, as it could probably just drop its prices to battle with Odyssey, at least for a while.
However, if Odyssey proves to be a cost efficient competitor with an attractive product and it starts to take away market share, its experience with L'Avion in Paris may have taught it that it is better to cooperate with such a competitor.
Apart from BA, the other major airlines at London City are SWISS, Lufthansa and Alitalia. Each could provide feed, but would be less attractive to members of BA's Executive Club FFP, whose loyalty to BA could be a major hurdle for Odyssey. CityJet does not fit the description of a major airline, but its business oriented network could also bring some suitable feed to Odyssey (although it would not overcome the FFP problem).
A major airline partner that does not operate from LCY would help to address Odyssey's lack of a large FFP and may increase its access to corporate accounts, but would not be as attractive as a partner in the same airport. Competition concerns are unlikely to prevent a tie up with another LCY operator, because the authorities usually look at market share on city pairs. If they chose to focus on airport pairs, then competition concerns could play a part in limiting Odyssey's partnership choices.
London City Airport airlines by share of seats: 2-Jun-2014 to 8-Jun-2014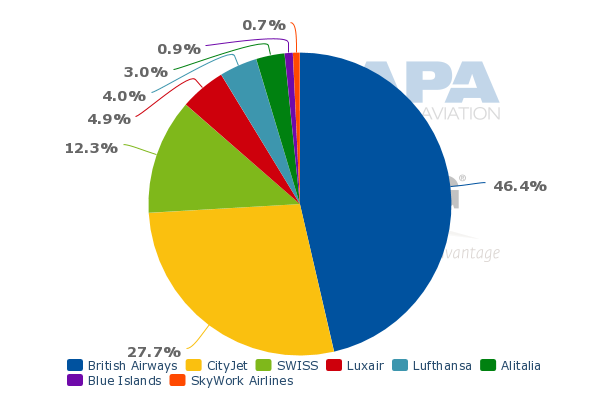 Odyssey's market positioning
Odyssey will position itself at the high end of the business class segment, promising a "travel experience more akin to a private jet". This is partly due to the C Series' larger windows and improved climate control, but also to planned on-board catering, services such as wi-fi and its IFE system, and what it claims will be the longest fully flat beds in the industry.
A clear positioning in the business segment should be preferable to the more blurred positioning of previous airlines in this space. Neither Silverjet nor MAXjet had fully flat beds and established themselves more as discount business class carriers. If Odyssey gets it right, its offer will be clearly superior to that of these two (taking account of both inflight and airport features).
Eos had a stronger on-board product and service than Silverjet and MAXjet, but its London Stansted base was not fully consistent with a premium carrier and Odyssey should be better positioned than Eos with respect to the airport features.
Odyssey has not given an indication of its planned pricing strategy. It seems that its product (including the choice of London airport) will be superior to that of the previous all-business class airlines operating from London to New York and possibly to BA's A318 service from LCY.
A premium pricing approach would be consistent with this, but, at least initially, it is likely to have to price at a discount in order to stimulate demand for an unknown brand. It plans to increase from twice daily at launch to 15 daily flights by year six, but the launch schedule will be inferior to competitor offerings on the city pair. Much could depend on its choice of airline partner and the attractions of its FFP.
Many of Odyssey's management team have been there before
Odyssey's CEO Adam Scott is a former banker with Goldman Sachs, who initially attempt to start Odyssey in 2005 to 2008, based on operating from LCY with A318 aircraft. Those years saw a number of other trans-Atlantic all-business class airlines come and go and it seems Mr Scott has tried to learn from their mistakes.
He has collected together a number of executive from those failed attempts and brought them into the Odyssey management team. The team includes CFO John Bavister (ex Silverjet) and co-founder and CCO Raymond Hickey (another ex Goldman Sachs banker). Odyssey's May-2014 Investment Note names Peter Evans (ex Silverjet) as COO, but its website currently lists the COO position as vacant (as at 9-Jun-2014). Odyssey's advisers include Stephen Miller, former CEO of the defunct long-haul LCC Oasis Hong Kong Airlines.
Odyssey: some strengths and some challenges
Odyssey certainly appears to have done its homework and has assembled a team with significant experience of the all-business class market. Its strengths should include the size of the London-New York premium market, the CSeries aircraft, London City Airport and launching with a major airline partner (depending on the final choice).
Its challenges will include the lack of a network and FFP with which to attract and retain loyal customers (this could be mitigated by a partnership with a major airline), choosing a suitable New York airport, coping with seasonal fluctuations in demand, pricing strategy and the possibility of a competitor replicating its CSeries-based model.
In Homer's Odyssey, the hero Odysseus' strengths are tested to the full by a long series of challenges. At the end, he can only win back his wife Penelope by killing all the suitors that have gathered in his absence. It seems unlikely that Mr Scott's venture will have such a devastating impact on his competitors.
Ultimately, much will depend on the execution of Odyssey's plans and on external factors, such as the state of the demand cycle when it launches. The 'all eggs in one basket' nature of the premium-only start up airline leave little scope for error or bad luck.