Albuquerque, Anchorage and Charleston featured in new JetBlue route roll-outs for 1H2013
In a curious move JetBlue is boldly taking on Alaska Airlines in one of Alaska's core markets – Seattle-Anchorage – without having a strong anchor base on either side. JetBlue is also introducing new service to Albuquerque in New Mexico and Charleston in South Carolina and is expanding its intra-Caribbean network with new flights from its San Juan focus city to Punta Cana and Santiago in the the Dominican Republic. The expansion at San Juan appears to be a move by JetBlue to backfill some flights likely being eliminated by American Eagle as it winds down its long-standing San Juan hub.
The recently announced new markets for 1H2013 runs somewhat counter to statements recently made by JetBlue management that Boston would continue to play a major role in the carrier's network as it continues work to add attractive markets to business travellers. Charleston is the only new market which will be served from Boston, where JetBlue will offer roughly 109 daily departures during 4Q2012. JetBlue will serve Charleston from Boston with one daily flight and from New York JFK, its largest hub, with two daily flights.
Based on current schedules in Innovata for the week commencing 26-Nov-2012, JetBlue accounts for about 26% of seat capacity in Boston. JetBlue has been making a concerted push to create a focus city in Boston and, by its own estimates, calculates its seat share in Boston expanded from 12% during 2Q2007 to 23% in 2Q2012.
Boston has been a primary growth vehicle for JetBlue during that time, and in Oct-2012 carrier CEO Dave Barger pledged that the carrier would add new business markets from Boston in 2013 as the carrier estimated that competitive capacity in the market would fall in the double-digits year-over-year during 1Q2013.
Boston Logan capacity by carrier (% of seats): 26-Nov-2012 to 02-Dec-2012
JetBlue's decision to introduce seasonal flights from Seattle to Anchorage in May-2013 is somewhat puzzling given its pledge to grow Boston, and the fact that Alaska Airlines operates the service from its largest hub and headquarters Seattle.
JetBlue does have some experience in serving the Anchorage market after operating seasonal flights during the northern hemisphere summer season from Long Beach to Anchorage in 2011. JetBlue is the sole operator on the seasonal flights from Long Beach to Anchorage resuming in May-2013, but Alaska serves Anchorage from Los Angeles International Airport, which is located only about 40km from Long Beach.
Schedules in the Innovata database show that just prior to JetBlue's 16-May-2013 launch of the new Seattle-Anchorage service, Alaska and United Airlines will offer roughly 16,300 weekly seats in the Seattle-Anchorage market. Both carriers typically increase their capacity to Anchorage at the onset of the summer high season.
JetBlue will likely operate 150-seat Airbus A320s on its single daily flight between Seattle and Anchorage, which will add about 1,000 additional weekly seats on the pairing. While JetBlue's gamble on the new route is low-risk from a capacity perspective, Alaska has a lock on the market in terms of higher frequencies which allow for better scheduling and a loyal frequent flyer base that will be tough for JetBlue to penetrate.
JetBlue may have some success in market stimulation through initially offering promotional and introductory fares, but Alaska will likely match and offer extra incentives to its frequent flyer base. With such intense competition from Alaska Airlines, JetBlue will face challenges in replicating the success it has enjoyed in the Long Beach-Anchorage market.
Seattle to Anchorage capacity by carrier (seats per week, one way): 19-Sep-2011 to 19-May-2013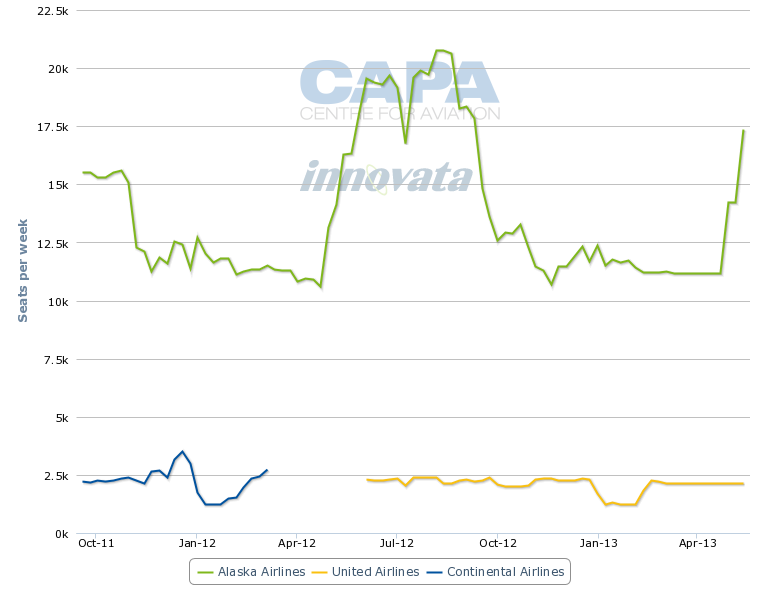 Increasing competition with Delta in Charleston
JetBlue plans to enter the Charleston, South Carolina market in Feb-2013 with the launch of twice-daily service from New York JFK and a single daily flight from Boston. Charleston is more of a hybrid business and leisure destination rather than a pure business market. Most of the new services JetBlue are introducing in early 2013 have more of a leisure bent, obviously to target seasonal demand in some markets.
JetBlue joins familiar company in Charleston as schedules in Innovata show that Delta Air Lines currently offers about 370 weekly seats from JFK to Charleston (rising to 910 in Mar-2013) and nearly 1,900 seats from its LaGuardia hub to Charleston (increasing to roughly 2,380 in Mar-2013). United Airlines also operates service from its Newark hub to Charleston.
New York JFK to Charleston capacity by carrier (seats per week, one way): 04-Jun-2012 to 19-May-2013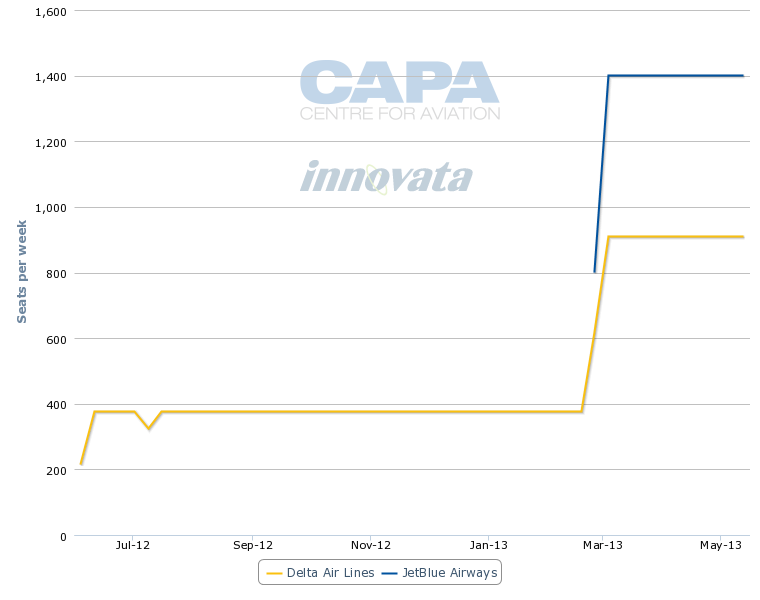 New York LaGuardia to Charleston capacity by carrier (seats per week, one way ): 19-Sep-2011 to 19-May-2013
New York Newark to Charleston capacity by carrier (seats per week, one way): 19-Sep-2011 to 19-May-2013
Only five carriers serve the small Charleston market – American, Delta, Southwest, United and US Airways. Delta has a majority seat share at the airport, accounting for 38% of the seats on offer.
The major carriers mostly operate service to their respective hubs, with some of the services operated by their regional partners. Southwest also serves some of its top markets from Charleston including Baltimore, Chicago Midway and Houston Hobby as well as Nashville.
Charleston International Airport capacity by carrier (% of seats): 26-Nov-2012 to 02-Dec-2012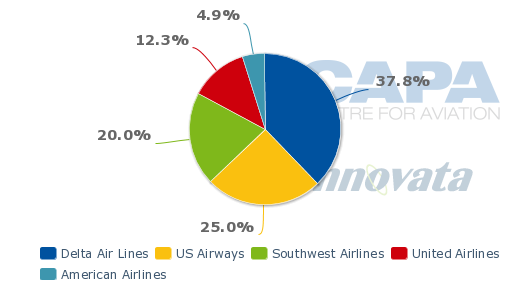 By serving Charleston from its focus cities of New York and Boston, JetBlue should be able to co-exist with its legacy rivals in the market, tapping its already-established passenger base at JFK and utilising its increasing dominance in Boston. It is also operating the service with its 100-seat Embraer 190s, which is more comfortable than 50-seat regional jets operated by Delta Connection partners from Charleston to JFK and LaGuardia.
JetBlue will become the second low-fare carrier to operate from Charleston after Southwest, so overall fares in the New York-Charleston will fall initially as Delta will likely match JetBlue's introductory fares on the pairing.
Expanding regionally from its San Juan focus city
JetBlue during 1H2013 is also adding service from its San Juan focus city to additional destinations within the Caribbean. The carrier launched intra-Caribbean flights in late 2011 and currently operates Embraer 190s from San Juan to St Maarten, St Croix, St Thomas and Santo Domingo. JetBlue also offers service from its San Juan base to numerous markets in Florida and the US northeast, which drives the carrier's dominant position at the airport in terms of seats on offer.
San Juan capacity by carrier (% of seats): 26-Nov-2012 to 02-Dec-2012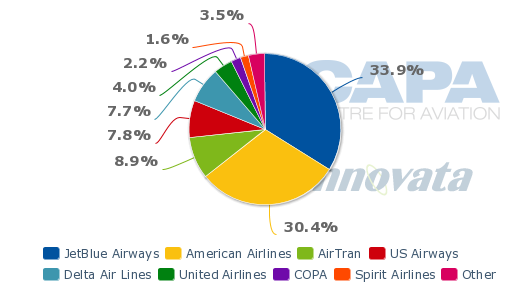 Beginning in May-2012 JetBlue is adding service from San Juan to Punta Cana and Santiago in the Dominican Republic. JetBlue currently serves both those destinations from its New York and Boston focus markets as part of its status as the largest carrier serving the Dominican Republic, based on seat capacity.
Dominican Republic capacity by carrier (% of seats): 26-Nov-2012 to 02-Dec-2012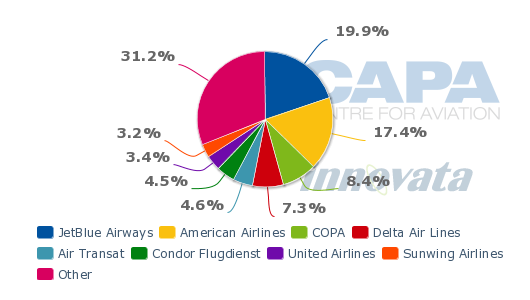 American currently serves Punta Cana and Santiago from San Juan through American Eagle's subsidiary Executive Airlines. But Eagle is shuttering operations from San Juan, which was once a major hub for the carrier, in Mar-2013.
JetBlue appears to be seizing on an opportunity to backfill some of the service being cut by American as it phases out the ATR 72s operated by Executive. It seems logical that JetBlue would replace Executive's 64-seat turboprops with its 100-seat jets in markets where it has a dominant presence, and will be uncontested once American ceases operations in the market.
See related article: American Eagle's exit from San Juan leaves gap in small intra-Caribbean markets
Adding New Mexico to its route map
JetBlue also plans to introduce its first service to the state of New Mexico in Apr-2013 with the introduction of new flights from JFK to Albuquerque, which is primarily a leisure destination. JetBlue will enjoy a monopoly status on the pairing as no other carrier operates service in the market.
Southwest is the largest operator in Albuquerque, representing about a 64% seat share at the airport, serving numerous destinations from the airport including Tucson, Dallas, Phoenix, Los Angeles, Oakland, Houston, El Paso, Denver, Phoenix, Las Vegas, Portland, Chicago Midway, Baltimore, Seattle and Kansas City. American serves its hubs in Dallas, Miami and Los Angeles from Albuquerque while Delta feeds its hubs in Atlanta, Salt Lake City and Minneapolis from the airport.
US Airways operates service from Albuquerque to its Phoenix hub, and United operates flights from Albuquerque to its hubs in Denver, San Francisco, Houston, Chicago and Washington Dulles as well as Los Angeles. Ultra low-cost carrier Frontier Airlines also operates service from Albuquerque to its Denver hub.
JetBlue's entry into Albuquerque appears fairly low-risk, given it faces no competition on the route and could fairly easily redeploy the aircraft used to support the single daily flight, which features a red-eye operation on the outbound flight to Albuquerque. Some airlines have opted to shed their late night flights after determining they were essentially unprofitable, so it will be interesting to see if JetBlue will be successful in attracting enough demand for its scheduled operations from Albuquerque.
JetBlue cuts under-performing routes
As it introduces new service to Charleston, Anchorage, Albuquerque and the Dominican Republic during 1H2013 JetBlue is also cutting flights from JFK to Pittsburgh and Burbank to Las Vegas.
JetBlue has served Pittsburgh from JFK since 2006, and currently represents 45% of the seats on offer in the market compared with Delta's 44% share and 11% held by American. US Airways and Delta also operate service from New York LaGuardia to Pittsburgh, which results in an approximate weekly total of 8,500 weekly seats on offer from New York City's two airports to Pittsburgh. United also offers roughly 2,500 weekly seats from its New York Newark hub to Pittsburgh.
JetBlue told local publication The Pittsburgh Post Gazette that it could never achieve profitability on its flights to Pittsburgh even after trying numerous tactics to make the service viable including frequency adjustments and the timing of flights. JetBlue's service from Pittsburgh to Boston, where it competes with US Airways, will remain intact. With just roughly 3,500 weekly seats in the market, the supply likely more matches demand, and JetBlue has the ability to leverage its leading position in Boston.
New York JFK to Pittsburgh capacity by carrier (seats per week, one way): 19-Sep-2011 to 19-May-2013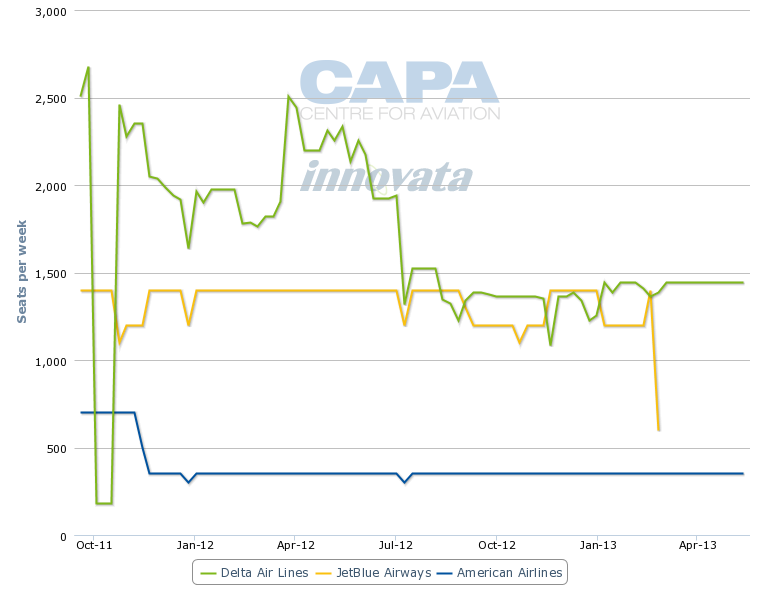 New York LaGuardia to Pittsburgh capacity by carrier (seats per week, one way): 19-Sep-2011 to 19-May-2013
On flights from Burbank to Las Vegas, Southwest Airlines (which accounts for 77% of Burbank's seating capacity) maintains a nearly 91% share of the seating capacity compared with JetBlue's roughly 10% share. JetBlue doesn't have a large presence in Burbank, and aside from Las Vegas only serves JFK from the airport. The combination of JetBlue's limited presence in the market and the status of Burbank-Las Vegas as a highly travelled leisure market likely created a low-yield scenario for JetBlue.
Burbank to Las Vegas capacity by carrier (seats per week, one way): 19-Sep-2011 to 19-May-2013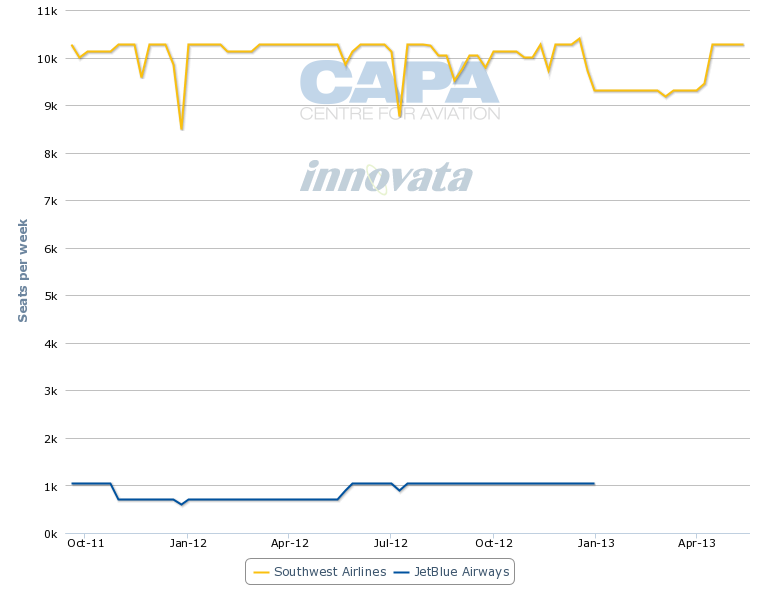 JetBlue's market moves during the first half of 2013 appear to be somewhat of a mismatch given the carrier's pronouncements that it intends to keep building up Boston. While new route launches from Boston are probably forthcoming, JetBlue for the moment is keen to trial some markets outside its major focus areas of Boston and the Caribbean, which could be a signal that those regions are reaching some level of maturity after a rapid buildup during the last few years. But despite the carrier's reach into some new domestic markets, Boston and the Caribbean will remain key pillars of JetBlue's network.