Airberlin-Etihad: the loss of 29 codeshare routes endangers competition in Germany, says Etihad
Analysis
In Dec-2015, the Administrative Court of Braunschweig upheld a decision by the German Ministry of Transport to deny approval of 29 codeshare routes between loss-making airberlin and its biggest shareholder Etihad. The affected routes are among those that had previously been approved, but the Ministry first raised concerns in the summer of 2014, following lobbying by Lufthansa. Germany's federal aviation authority Luftfahrt Bundesamt (LBA) had rejected 34 airberlin/Etihad codeshares in Oct-2014 for operation in winter 2014/2015, but then reversed its decision.
However, in Nov-2015, it approved the 29 codeshares only until 15-Jan-2016. Both Etihad and airberlin are launching a further legal appeal. The dispute relies on different interpretations of the air services agreement between Germany and the United Arab Emirates, in particular the codeshare provisions. The anti-Gulf lobby, led in Germany by Lufthansa, has seized upon the apparent ambiguity in the agreement to damage its biggest German competitor.
Without such approval, airberlin risks the loss of traffic feed, leading to lower load factors and revenues. Etihad CEO James Hogan said in Oct-2015 that the loss of codeshare approval on the affected routes would "severely, and possibly terminally damage airberlin".
See related report: Airberlin's new codeshare with Alitalia is no substitute for the loss of Etihad codeshare routes
Airberlin carries Etihad's code on 58 routes
airberlin has significant codeshares with its largest shareholder Etihad (and with other airlines in which Etihad owns a stake). In a strategy press conference on 11-Nov-2015, airberlin said that its codeshares with Etihad embraced around 2,500 weekly flights, 100 routes and 80 joint destinations. These figures cover routes operated by both airlines, whether airberlin carrying the Etihad code or vice versa.
The codeshare routes affected by the latest court ruling are a subset of those operated by airberlin that carry the Etihad code. According to data from OAG for the week of 4-Jan-2016, airberlin currently carries Etihad's EY code on a total of 58 routes from Berlin Tegel, Duesseldorf, Munich, Frankfurt and Stuttgart and its three services to Abu Dhabi from Germany. In addition, airberlin operates three more seasonal codeshare routes with the EY code that have limited or no winter schedule.
Airberlin's entire network consists of a total of 79 non-stop passenger destinations, of which 64 are in Europe (week of 4-Jan-2016, source: OAG). The routes that airberlin operates in codeshare with Etihad make up a large portion of its business.
The codeshare relationship has helped airberlin's traffic and load factor…
Although Etihad already had a very small equity stake in airberlin, the strategic relationship between the two really started in late 2011, when the Abu Dhabi based airline raised its stake to 29%. In 2012, the first full year of this relationship, the number of common codeshare passengers with Etihad was 323,000. This rose to 563,000 in 2013 and to more than 600,000 in 2014 (around 2% of airberlin's total passenger numbers).
See related report: Airberlin receives a vote of confidence from Etihad, but how will the relationship evolve now?
The positive impact of this additional traffic feed into its network from Etihad passengers can be seen in airberlin's load factor development since 2011. Its load factor rose from an underwhelming 77.0% in 2011 to 84.2% in 2015. However, much of this load factor improvement took place in 2012 and it has failed to match its 2013 level of 84.8%.
Moreover, in recent years, airberlin's load factor variations seem mainly to have been a factor of capacity constraint. In 2014, ASKs were increased by 3.1% and load factor fell by 1.3ppts, whereas 2015's load factor improvement by 0.7ppts was linked to a 5.4% cut in ASKs.
Certainly, capacity constraint helps load factor, but additional feed resulting from Etihad codeshare arrangements is also crucial for an airline that is losing passenger numbers.
airberlin passenger numbers (million), ASKs (billion) and passenger load factor* (%) 2005 to 2015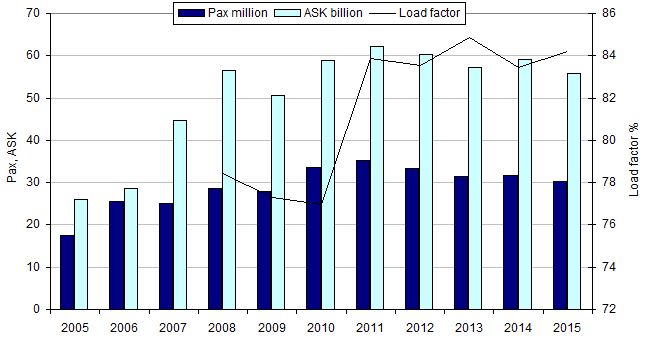 See related report: Airberlin: another restructuring from another CEO after another loss in 2014
… and its revenue
Of course, the traffic generated by the codeshare agreement has a direct impact on airberlin's revenues. Moreover, most of the additional revenue resulting from this feed goes straight to the bottom line.
Etihad said in Oct-2015 that its codeshare partnership with airberlin had carried more than two million joint passengers since 2012 and contributed EUR252 million to airberlin's earnings over this period. Other sources have put the annual revenue benefit on airberlin from the Etihad codeshare at EUR140 million. Most of the benefit to airberlin comes from those flights where it carries the Etihad code, while Etihad benefits most from flights that it operates under the airberlin code.
The table below lists the 58 airberlin routes on which it carries the EY code (as of 4-jan-2015, according to schedules data from OAG), listed by hub without duplicating routes (for example, Berlin to Munich is shown under Munich and not under Berlin). The total number of routes from each hub are 28 from Berlin, 22 from Duesseldorf, nine from Munich, two from Frankfurt and three from Abu Dhabi.
In addition to the routes shown in the table, airberlin operates three summer only routes on which it carries the EY code: Duesseldorf to Venice and Los Angeles and Munich to Alicante (a partial winter service is included on this latter route). It ceased to operate Duesseldorf to Madrid, which was also an Etihad codeshare route, at the end of summer 2015:
Airberlin routes with Etihad code week of 4-Jan-2016
Loss of approval affects half of the airberlin operated codeshare routes
Among these routes, there are 29 that will no longer be approved under the Germany/United Arab Emirates bilateral agreement. This number is precisely half of the 58 routes listed above and includes Abu Dhabi to Berlin and Stuttgart. Not affected are flights operated by Etihad that carry the airberlin code, but these have a lesser impact on airberlin's revenues. (Airberlin's AB code is carried by Etihad from Abu Dhabi to Berlin, Duesseldorf, Frankfurt, Zurich and a range of destinations across Asia Pacific and Middle East).
A precise estimate of the revenue impact on airberlin from the loss of codeshare approval on the 29 routes requires a level of detailed information that is not public. Nevertheless, in terms of its rough order of magnitude, the impact could be up to half of the EUR140 million annual revenue benefit noted above. As a perennial loss maker with annual revenue of just over EUR4 billion, airberlin cannot afford to lose revenue of this magnitude.
See related report: airberlin SWOT: even Etihad's millions can't help it to profit in year of peak airline sector margin
Lufthansa's "protectionist antics"
In launching its latest legal appeal to protect the codeshares, Etihad CEO James Hogan said on 4-Jan-2016 that his airline remained committed to airberlin. "We will fight all the way to protect our investment, to protect our partnership with airberlin and to protect competitive choice in German air travel".
He added that Etihad's support for airberlin was in stark contrast to the lack of support from German authorities, noting that his airline's investment in the Berlin based airline had followed "encouragement from German regional and national Government representatives".
Mr Hogan was adamant that the codeshare routes previously approved meet the terms of the air services agreement between Germany and the UAE. Indeed, they had previously been operated with no concerns raised, but now "the rules have changed", he said.
Mr Hogan was not shy in pointing the finger at the source of his problems in this respect. "Our commitment continues to be undermined by the lobbying efforts and protectionist antics of Lufthansa, the national airline," he said. His airberlin counterpart Stefan Pichler agreed, saying that the main beneficiary of the decision was Lufthansa.
Despite the court ruling, Berlin could resolve the situation with a simple email - if it had the will
The two airlines are determined to send a "business as usual" signal, saying that all bookings made on the affected flights will be honoured. In addition, they are still jointly marketing flights via Abu Dhabi feeding into Etihad's global network.
Nevertheless, the stakes are high, for both airlines. All told, Etihad has put a total cash sum into airberlin of more than EUR800 million (including equity, loans, convertibles and the acquisition of its topbonus FFP). In Oct-2015, Mr Hogan said that the codeshare routes were "a key reason" that Etihad invested in airberlin.
His assessment that the loss of codeshare approval on the affected routes could be terminal to airberlin is probably not an exaggeration for an airline with only one year of (very small) net profit since 2007.
That such a potential outcome for the German travelling public should hinge on a controversial interpretation of an ambiguous phrase in a bilateral air services agreement serves only to highlight the need for change to this silly system.
Then again, it would be a relatively straightforward move for the German government to rectify the problem with a simple Exchange of Notes with the UAE.
A mere email from Berlin would do it. So, in the final calculation, this implies that it is today German government policy to admit a restriction that offers a clear and substantial threat to German airline competition (and to 8,000 airberlin employees).
It is hard to see where that sits in a national trade policy that encourages competitive markets and high levels of employment.