Air Seychelles looks to ride Chinese boom & grow in tandem with part-owner Etihad – Australia next?
Analysis
The Seychelles attracted 4,500 Chinese tourists in 2012, so it and flag carrier Air Seychelles look with envy to the Maldives, which in 2012 had 230,000 Chinese tourists. Air Seychelles hopes to attract a greater number of Chinese visitors not only from its flights departing Hong Kong, the first of which left on 25-Mar-2013, but via traffic feed across mainland China from a pending partnership with Cathay Pacific that it hopes to announce in coming weeks. In exchange for feed, Air Seychelles' link will enable Cathay to sell the Seychelles, finally giving it a presence in China's booming demand for luxury tropical getaways. And the Cathay partnership may be extended to Air Seychelles' part-owner Etihad Airways.
Air Seychelles links Mahe to Hong Kong via Abu Dhabi, effectively giving Etihad Airways – which owns 40% of Air Seychelles – an Abu Dhabi-Hong Kong flight via codeshare in absence of its own service to Hong Kong due to aircraft shortages. This use of open air service agreements, at Air Seychelles/Etihad and globally, is only in its early days. A MoU between the Seychelles and Australia could also in the long-term allow Air Seychelles to expand Etihad's footprint in Australia at a time when competitor Emirates is dominating the continent and the UAE-Australia bilateral capacity is capped.
Hong Kong link should boost Chinese visitor arrivals in the Seychelles
Air Seychelles' inaugural Mahe-Abu Dhabi-Hong Kong service departed on 24-Mar-2013, with the return service leaving Hong Kong on 25-Mar-2013. This was however well past the early Feb-2013 launch Air Seychelles had hoped for in order to tap demand during the busy Chinese New Year travelling season.
See related article: Revitalised Air Seychelles looks to use Hong Kong as Asian hub and proxy service for Etihad
The delay was due to regulatory process in Hong Kong. The service is operated thrice weekly with an objective – but no specific timeframe – to bring it to a daily service.
The Seychelles as a remote island nation is dependent on tourism, the single largest economic source at over 25%. The last few years have prompted a structural shift in the target markets of tourism-dependent island nations like the Seychelles, but also Maldives, La Reunion and Mauritius. As the global financial crisis appears to diminish, demand for these distant and expensive holidays from Europe, Asia – and China in particular – has experienced growing demand following increases in wealth (so providing the means) and pollution (providing the incentive, partially, to explore pristine areas). Whether it is literally off-the-charts pollution in Beijing that even the country's leaders now address directly, or thousands of dead pigs mysteriously showing up in one of Shanghai's rivers, places like the Maldives and Seychelles become nothing short of paradise.
Yet the Seychelles and Maldives have diverged when it comes to Asian markets. The Maldives was first to make a whole-hearted effort at targeting mainland China. It not only allowed the establishment of MEGA Maldives, a charter and scheduled carrier, but also actively courted a number of new Chinese and Asian carriers.
Singapore Airlines now serves Male in the Maldives twice a day with A330s, allowing connections over its hub. The Maldives ended 2012 with 230,000 Chinese tourists – an almost 300% increase in three years, and the first time China has been a bigger source of tourists for the Maldives than Western Europe.
See related article: China-Maldives airline market grows rapidly; MEGA Maldives, SIA, SriLankan & Chinese carriers win
The Seychelles in comparison ended 2012 with 4,500 Chinese visitors, about 2% of total visitors, whereas the Chinese in Maldives accounted for 24% of all tourists. Western Europe accounts for 58% of visitors to the Seychelles, almost all for tourism. In Hong Kong for the inaugural flight, Seychelles Minister for Home Affairs and Transport, Joel Morgan, went on the offensive, proclaiming of the Seychelles, "It is much more than the Maldives". Etihad CCO Peter Baumgartner acknowledged "the success of the Maldives" for China.
The Seychelles has some time to catch-up with the Maldives. Its annual visitors – 208,000 – were a fraction of the Maldives' 958,000. The Seychelles has taken longer than the Maldives to attract mega brand-name resorts, but beyond that there are no agreed factors (other than access, i.e. flights, and corresponding marketing) that made the Maldives more attractive than the Seychelles, or vice versa.
The Seychelles is visa-free, critical for mainland Chinese, who typically require visas prior to travel for many countries. Air Seychelles' Mahe-Abu Dhabi-Hong Kong route will provide 39,624 one-way seats per annum. Even if a fraction of the passengers boarding in Hong Kong are going to the Maldives, and the rest transferring in Abu Dhabi to Etihad's global network, Etihad will feed passengers on the Abu Dhabi-Mahe leg, boosting overall visitor numbers – but not necessarily with huge net increases from mainland China that will allow the Seychelles to rival the Maldives.
Male International Airport (Maldives) system seat capacity by carrier: 25-Mar-2013 31-Mar-2013
Mahe International Airport (Seychelles) system seat capacity by carrier: 25-Mar-2013 31-Mar-2013
Air Seychelles' Hong Kong service would not have been possible without its equity stake and strategic partnership with Etihad, a fact which both carriers openly acknowledge. Air Seychelles could not sustain a service to Hong Kong on its own; with Etihad feed it is possible. Air Seychelles codeshares to 19 destinations with Etihad and two with airberlin.
Yet feed from Etihad going to Hong Kong creates dual ambitions for the route. Air Seychelles has a requirement that the Seychelles Government promote the Seychelles to Hong Kong and greater China. But Etihad is also pleased it can plant its foot in the Hong Kong market via Air Seychelles. Etihad has been actively pricing itineraries to/from Hong Kong on Air Seychelles, even marketing Air Seychelles' service as "from Hong Kong to Abu Dhabi and the world" – with no direct mention of the Seychelles.
Etihad has not served Hong Kong (which competitors Emirates and Qatar Airways do) due to an aircraft shortage, according to Mr Baumgartner. Etihad's fleet deliveries in 2013 direct from manufacturers (and not including from lessors) are narrowbody A320s and ultra-long-haul 777s, which are spoken for already.
Etihad Airways projected delivery dates for aircraft on order being purchased directly from manufacturers*: as at 25-Mar-2013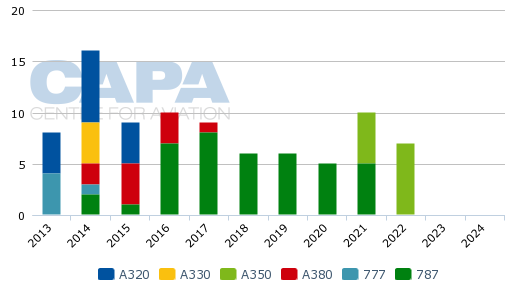 Without the Etihad partnership, however, Air Seychelles faced a doubtful future – if a future at all.
See related articles:
Air Seychelles international routes: 25-Mar-2013 to 31-Mar-2013
Air Seychelles is targeting, for now, its Hong Kong service both on Hong Kong (population seven million), and nearby mainland Chinese cities of Guangzhou (five million) and Shenzhen (10 million). The elephant in the room is clearly wider mainland China and its population of 1.3 billion – not all of whom have the means to travel, but only a proportion of whom Air Seychelles needs to tap.
And for that it needs a partner.
Hence Air Seychelles is finalising an agreement with Hong Kong's Cathay Pacific, including wholly-owned subsidiary Dragonair, which is the largest foreign/non-mainland carrier in China and twice the size of its next competitor (Asiana). Dragonair serves more Chinese cities than any other foreign airline. Air Seychelles' morning arrival into Hong Kong and evening departure facilitates smooth connections across Dragonair's mainland China network. (It also feeds well into Etihad's schedules.) Air Seychelles hopes to announce the Cathay agreement in coming weeks, possibly as early as Apr-2013.
Top 20 airlines ranked on international seats from mainland China: 25-Mar-2013 to 31-Mar-2013
Rank
Airline
Total Seats
1
MU
China Eastern Airlines
277,271
2
CA
Air China
223,457
3
CZ
China Southern Airlines
199,269
4
KA
Dragonair*
157,335
5
OZ
Asiana Airlines*
80,796
6
KE
Korean Air*
69,755
7
NH
All Nippon Airways*
60,471
8
HX
Hong Kong Airlines*
49,176
9
JL
Japan Airlines*
39,400
10
SQ
Singapore Airlines*
38,477
11
CI
China Airlines*
35,792
12
TG
Thai Airways*
35,598
13
FM
Shanghai Airlines
32,324
14
NX
Air Macau*
32,132
15
MF
Xiamen Airlines
32,130
16
UA
United Airlines*
32,096
17
BR
EVA Air*
30,572
18
EK
Emirates*
28,007
19
HU
Hainan Airlines
24,434
20
MH
Malaysia Airlines*
23,540
The agreement could have a wider remit and cover a broader alliance between Cathay and Air Seychelles and the latter's part-owner Etihad. As CAPA previously wrote:
Air Seychelles has begun discussions with Cathay Pacific to form a partnership, likely initially with a special prorate agreement, which are progressing well. Air Seychelles would eventually like a deeper partnership, but the carrier notes Cathay's conservative approach to partnerships and alliances; Air New Zealand recently secured a rare partnership from Cathay.

See related article: Air New Zealand-Cathay Pacific partnership has implications across Asia and for SIA & China Southern

Cathay Pacific and its wholly-owned subsidiary Dragonair offer a range of connecting opportunities across Asia, and in particular, mainland China, where Dragonair is the largest foreign carrier. Air Seychelles is also interested in connecting services to Japan, whose population is not only adventurous-minded (unlike Hong Kongers, who can be reticent – in part because of the government's nannying) but also always looking for a new destination. It would have been unlikely for Air Seychelles to serve Japan on its own. The discussions build on the limited partnership Air Seychelles had with Cathay Pacific when Air Seychelles served Singapore, but flight times did not sync, limiting opportunities for Air Seychelles and Cathay to see much transfer of traffic.

Cathay does not serve the Seychelles, so Air Seychelles reckons it can provide transfer traffic to Cathay that does not compete with Cathay's own services. Plus Air Seychelles believes Cathay can use the Seychelles as another destination for it, and its holiday division, to sell.

...

Air Seychelles envisions the partnership with Cathay deepening to cover Abu Dhabi-Hong Kong sectors. Air Seychelles will operate three times a week, on different days from Cathay's three weekly services to Abu Dhabi (two direct, one via Riyadh). From Abu Dhabi, Cathay could transfer passengers to the Seychelles on Air Seychelles or potentially Etihad too. But schedules will need changing, as flights from Abu Dhabi to Male depart at 08:25 and 09:00, but Cathay arrives in Abu Dhabi at 21:25 and 01:15, which create long layovers. On the return, Cathay departs Abu Dhabi at 02:25 twice a week and 22:35 once a week, which bodes well for the 20:10, 01:00 and 01:10 arrival times into Abu Dhabi from the Seychelles. Air Seychelles and Etihad may need to look at offering flights during different banks while Cathay would need to consider its timings – perhaps seemingly simple but a big step for a carrier that is highly independent.

That is long-term, but the possible corollary to a more strategic position from Cathay in Abu Dhabi and with a carrier part-owned by Etihad is for Cathay and Etihad to partner. Etihad would see much to gain, although it would need to finely balance its existing relationships with mainland Chinese carriers China Eastern and Hainan Airlines – but those are embryonic, and while there are potentially large synergies to be realised, which the Chinese carriers realise, they have a long list of strategic initiatives.
See related article: Revitalised Air Seychelles looks to use Hong Kong as Asian hub and proxy service for Etihad
Also in the tropical island market, Cathay is looking to nudge itself in the Maldives via a partnership with forthcoming oneworld member SriLankan, whose membership Cathay is sponsoring. SriLankan dovetails with Emirates as the largest carrier serving Male.
As CAPA previously wrote:
SriLankan currently does not codeshare with Cathay Pacific, but the two carriers plan to consider codesharing after SriLankan formally enters oneworld. SriLankan and Cathay could potentially cooperate on the Hong Kong-Colombo route as well as markets beyond Hong Kong and Colombo.

A partnership between Cathay Pacific and SriLankan would make sense as it would help Cathay access the Maldives, which Cathay does not currently service but has emerged as an important and profitable market for some of its biggest competitors including Singapore Airlines (SIA). For SriLankan, a partnership with Cathay and Cathay regional subsidiary Dragonair could help it access offline markets beyond Hong Kong in North Asia, particularly secondary cities in China as SriLankan only serves primary Chinese cities, and on the west coast North America.

A Cathay-SriLankan partnership would also be logical as Cathay is now mentoring SriLankan on the oneworld membership process, helping the smaller carrier with meeting IT and other requirements. SriLankan recently began the process of transitioning to an IT system from Amadeus which will support its ascension into oneworld.
See related article: SriLankan Airlines focuses expansion on North Asia as it prepares to join oneworld
Air Seychelles continues to look to grow in tandem with Etihad. While Air Seychelles was due to announce a second long-haul destination at the end of 2012, that has been pushed back to 2013. Air Seychelles does not yet have the capacity to go daily to Hong Kong.
Beyond that, Air Seychelles could one day serve Australia in partnership with Etihad under a recent bilateral air service agreement between Australia and the Seychelles. Although it is only at MoU stage, it is understood to be very open and liberal, allowing Air Seychelles to link the Seychelles with Australia via varying intermediary points that would be advantageous for Etihad. Non-stop from Abu Dhabi to Australia would require new aircraft as Air Seychelles' A330-200s do not have the range.
But adding a stop would allow Air Seychelles to reach Australia with its existing A330-200s or additional medium-haul aircraft it acquires. Etihad serves Brisbane via Singapore on A330-200s while Emirates has a service to Melbourne via Kuala Lumpur and Singapore while another service to Sydney is via Bangkok.
While Etihad may prefer to see its own metal in Australia, it is limited by air service agreements between Australia and the UAE that are maxed out, largely due to fellow UAE carrier Emirates' presence, making it the largest foreign airline in Australia. Capacity is controlled for services to Brisbane, Melbourne, Perth and Sydney but more open to other cities as well as services to a first tier city that route via a secondary Australian point.
Expansion of the bilateral capacity caps in 2014 and 2015 will add about two daily services for Brisbane, Melbourne, Perth or Sydney, but these will no doubt be quickly taken up, especially as Emirates looks to accelerate growth following its partnership with Qantas, and Etihad looks to increase its presence as partner Virgin Australia expands its use of Singapore Airlines links (Etihad has already announced increasing Abu Dhabi-Melbourne capacity by replacing A340-500/600 aircraft with 777-300ERs).
Australia international capacity by carrier: 25-Mar-2013 to 31-Mar-2013
Air Seychelles – a small but not insignificant airline, pointing the future way countries view flag operators
What Air Seychelles does not have in size it has in intriguing lessons for the changing partnership model at airlines as well as in the way countries view flag carriers.
Without taking the Etihad investment, and corollary pushes and pulls (such as Etihad's promotion of the Hong Kong route being about linking the service to its network rather than just the Seychelles), the Seychelles would have found itself either without a flag carrier or being forced to continue to subsidise a loss-making flag carrier. Air Seychelles reported a small USD1 million profit for 2012, but this came after a few years of losses and barely a year into Etihad's management of Air Seychelles. Few governments would have the courage to do what the Seychelles has done. Japan's recent re-evaluation of its aviation and tourism national interest is another similar story, which provided Middle East network carriers greater access, even though it was at the expense of local carriers; the value was a larger net benefit on the economy.
See related article: Japan-UAE bilateral agreement expands access, welcoming Gulf carriers to serve national interests
As CAPA previously wrote of government approaches to liberalisation:
The really fundamental shifts that make these changes possible – and are about to reshape the industry – are the new underlying government attitudes towards liberalisation. For many governments, protectionism of flag carriers is becoming secondary to a new perception of the national interests, in terms of improved transport access. How that access is provided is now less important than making sure it is there.
See related article: Radial Alliances and Virtual Airlines. Reshaping the partnership model in a new world
The Etihad-Air Seychelles relationship is another pointer the future aviation industry where international airlines become more closely aligned and concentrate on serving the routes they are each best equipped (and allowed) to do. The eventual outcome is to deliver a more sustainable industry, with flow-on benefits to service and contributions to economies.