Air Italy leads Europe's national airline branding. What's in a name?
Analysis
When the Sardinian airline Meridiana rebranded as Air Italy earlier this year it was a reminder that a brand that appeals to national pride is still tempting in aviation.
Air Italy and its minority shareholder Qatar Airways sensed an opportunity to fill the 'flag carrier' brand gap expected to open up upon Alitalia's demise. Alitalia has continued to operate in administration for longer than originally expected, but that does not change the point that a national brand is still perceived to have value in Italy.
Elsewhere in Europe, others are also looking to benefit from the adoption of a name that sounds like a good old fashioned 'flag carrier'. Air Belgium is a new long haul operator planning to launch from Brussels Charleroi, while other nationally branded start-ups include Air Albania, Blue Slovakia, FlyBosnia, Air Andorra and Italian Airways (founded by a former Meridiana/Air Italy CEO).
However, these look like throwbacks to a bygone era. For many years now, most of the growth in European aviation has come from airlines with non-national names (e.g. Ryanair, easyJet and Wizz Air) and when even the big legacy groups have chosen non-national names for new airlines (think of Hop, Level and Joon). Norwegian may be the exception that proves the rule.
Summary
Air Belgium is a new hybrid long haul airline to be based at Brussels South Charleroi. Initially operating services to Asia, it expects to add destinations in the Americas to its network. It has a target launch date of 30-Apr-2018 for a four times weekly service to Hong Kong, its first destination. It plans to add six mainland Chinese cities during the summer 2018 season.
According to data from OAG, there was no previous connection between Hong Kong and Brussels until Cathay Pacific launched a service to Brussels Zaventem in Mar-2018. Ethiopian Airlines operates Brussels-Hong Kong, but not Hong Kong-Brussels.
Air Belgium's biggest shareholder is Aviation Investment Holding, which has just less than a 50% stake. Other investors include Belgium's Federal Holding and Investment Company, the Walloon Investment Company, 3T Management & Associates and Sabena Aerospace. It completed a three hour rehearsal flight with 257 passengers on board an Airbus A340-300 in a three class configuration on 21-Apr-2018.
Air Albania is a proposed new flag carrier from Tirana
Air Albania is a proposed airline intended to serve as the flag carrier for Albania, which is being assisted on the project by Turkish Airlines. The Albanian Prime Minister Edi Rama said on 21-Nov-2017 that the new airline could launch operations from spring 2018, although little is known about its state of progress.
Planned routes from the capital city, Tirana, reportedly include Podgorica, Pristina, Sarajevo, Skopje and Zagreb.
A previously planned 2015 new start, Albanian Airways, failed to launch.
Airlines using the names of Hungary, Slovakia, Bosnia and Andorra have also been proposed
A proposed national airline for Hungary, Solyom Hungarian Airways, also failed to materialise in 2015. It had been intended as a replacement for Malev, which ceased operations in 2012.
Other proposed new airlines that include the names of countries in the airline name include the low cost Blue Slovakia; the full service Sarajevo-based FlyBosnia; and the regional airline Air Andorra.
The Milan Bergamo-based charter airline Italian Airways plans to operate 340 seat Boeing 777-200ER aircraft and to form a feeder agreement with Ryanair, which is the leading airline in Italy.
Italian Airways' founder and CEO is Giuseppe Gentile, the founder of the old Air Italy and former CEO of the Meridiana-Air Italy merger. Italian Airways' initial network will operate from Italy to five or six currently unserved long haul destinations.
After delays to the airline's expected launch in 2017, summer 2018 is now thought to be its aim.
Air Italy is the only one of the new breed of nationally named airlines that is fully up and running. In Oct-2011 the formerly named Meridiana Group acquired Air Italy, which had been set up in 2005 under private ownership. It operated to mainly leisure destinations in Europe, Africa, the Indian Ocean and Caribbean.
The acquisition of Air Italy by Meridiana took place at a similar time to Alitalia's acquisition of Air One. Following its integration, Air Italy operated under the code and brand of Meridiana.
The Air Italy name then lay dormant until Meridiana rebranded under this name in Mar-2018 as part of a restructuring plan following the sale of a 49% stake in the group to Qatar Airways in Sep-2017.
See related reports:
Air Italy is still cutting capacity, particularly in the summer
Operating as Meridiana, the Olbia-based group cut its annual seat capacity by 27.5% between 2013 and 2017. According to data from OAG, its seat numbers will be cut by 27.5% year-on-year in summer 2018 (operating as Air Italy), following a 15.5% cut in winter 2017/2018.
The deeper cut in Air Italy's summer capacity compared with winter will reduce its seasonal bias towards the summer. However, its schedule is still very seasonal, with the winter accounting for only 28% of its seats in the 12 months to the end of summer 2018.
This proportion has increased from 22% for the 12 months combining summer 2017 and winter 2017/2018, but is still much less than the average of 34% for airlines in Europe.
But Air Italy's fleet is growing after years of decline
According to the CAPA Fleet Database, Air Italy has a fleet of 11 Boeing aircraft in service at 24-Apr-2018. This comprises one 737-700, seven 737-800s and three 767-300ERs.
The fleet has an average age of 18.0 years (16.6 years for the 737s and 21.8 years for the 767s), highlighting the need for renewal. Air Italy plans to withdraw its 767 fleet by the end of 2018.
Eight new aircraft are to be added in 2018, comprising three Boeing 737 MAX and five A330-200s. According to Air Italy's social media accounts, it revealed its first MAX in its new livery on 21-Apr-2018.
Starting in Apr-2018 Air Italy will receive 20 new 737 MAX aircraft over three years from Qatar Airways, from whom it will also receive the A330s until they are replaced with 787s starting in May-2019.
The fleet additions mark the reversal of a previously shrinking trend. The Meridiana Group fleet consisted of 38 aircraft at the end of 2012, although this had fallen to 29 by summer 2014 and 12 at the end of 2017. Air Italy plans to operate 50 aircraft by 2022.
Air Italy operates from 25 airports in summer 2018 vs 49 in summer 2017
For a long time based at Olbia Costa Smeralda Airport, Air Italy will have a new life focused on Milan Malpensa as its main base, with Rome Fiumicino and Olbia serving as secondary bases.
The airline's summer 2018 schedule, with the significant capacity cut noted above, marks a period of network rationalisation before it pursues its planned new growth ambitions.
According to OAG, Air Italy will operate to/from 25 airports in its peak capacity week of 20-Aug-2018, compared with 49 airports in the same week of summer 2017. Olbia remains its biggest airport this summer, but with a capacity cut of 8.7% year-on-year.
Milan Malpensa becomes its number two airport (up from third), with a capacity increase of 61.1%, and Rome Fiumicino moves to third from fourth, following an 18.0% increase in seats. Milan Linate falls from second to fourth after a 33.0% reduction.
Air Italy: airports served, week of 20-Aug-2018
| | | | | |
| --- | --- | --- | --- | --- |
| Rank | Airport | Total | Seat Share | Change y-o-y |
| 1 | | 51,150 | 30.4% | -8.7% |
| 2 | | 37,002 | 22.0% | 61.1% |
| 3 | | 18,500 | 11.0% | 18.0% |
| 4 | | 15,540 | 9.2% | -33.0% |
| 5 | | 7,330 | 4.4% | -46.1% |
| 6 | | 4,070 | 2.4% | 50.1% |
| 7 | | 4,030 | 2.4% | -46.5% |
| 8 | | 3,640 | 2.2% | -26.8% |
| 9 | | 2,960 | 1.8% | 67.0% |
| 10 | | 2,590 | 1.5% | -54.2% |
| 11 | | 2,560 | 1.5% | -74.3% |
| 12 | | 2,520 | 1.5% | -2.2% |
| 13 | | 2,520 | 1.5% | -40.4% |
| 14 | | 2,220 | 1.3% | 0.5% |
| 15 | | 2,080 | 1.2% | new |
| 16 | | 1,850 | 1.1% | 92.7% |
| 17 | | 1,480 | 0.9% | 0.5% |
| 18 | | 1,110 | 0.7% | -50.4% |
| 19 | | 1,068 | 0.6% | 18.1% |
| 20 | | 1,068 | 0.6% | 19.7% |
| 21 | | 1,068 | 0.6% | 136.3% |
| 22 | | 534 | 0.3% | 142.7% |
| 23 | | 534 | 0.3% | 142.7% |
| 24 | | 370 | 0.2% | 0.5% |
| 25 | | 370 | 0.2% | 0.5% |
| | Total | 168,164 | 100.0% | -25.0% |
Air Italy operates 27 routes in summer 2018 vs 90 in summer 2017
Air Italy's route network is reduced from 90 routes in the week of 21-Aug-2017 to just 27 in the week of 20-Aug-2018.
The domestic network falls from 24 to 14 routes, while domestic seat numbers fall by only 6.1% as the airline refocuses on larger routes and axes smaller ones.
Rome Fiumicino-Milan Malpensa is a new domestic route this summer, while Malpensa replaces Linate on routes from Milan to Naples and Catania. In this schedule 11 domestic routes are cut entirely.
The international network falls from 66 routes to 13, with seat numbers being reduced by 56.3%. Milan Malpensa to New York JFK and Miami are new this summer, while 55 international routes are cut.
Air Italy: number of routes in weeks of 21-Aug-2017 and 20-Aug-2018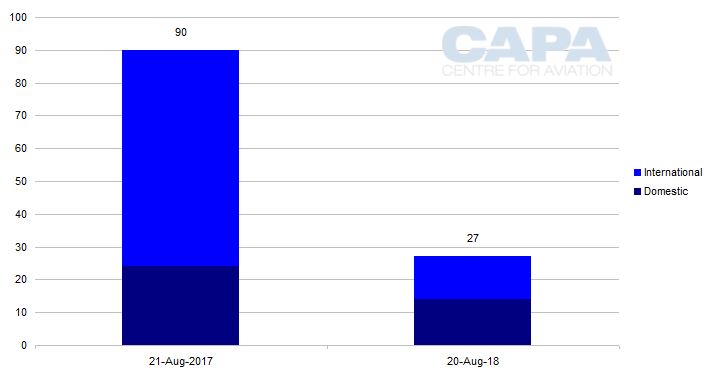 There is strong capacity growth on routes from Malpensa to Moscow Domodedovo, Mombasa, Zanzibar, Havana, Lagos and Accra. Of the 13 international routes, 11 are from Malpensa and just two are from Olbia (to London Gatwick and Moscow). In summer 2017 Air Italy operated international routes from 14 Italian airports and included a large number of leisure destinations in the Mediterranean that are dropped this summer.
Air Italy plans to launch a four times weekly Milan Malpensa-Bangkok service from Sep-2018, adding a third new long haul route. The airline will also launch another "long range destination" from Rome Fiumicino Airport in 2019.
Air Italy aims for more than 50 year-round routes by 2022, based on networks from Milan Malpensa and Rome Fiumicino. Its historic Olbia base will continue to operate with a more seasonal schedule.
Air Italy aims to return to growth and replace Alitalia as the national airline
Air Italy's capacity cuts over a number of years have led to a drop in its share of all seats in Italy from 4.9% in summer 2013 to 2.0% this summer (based on the week of 20-Aug-2018).
However, this summer's cuts appear to be aimed at refocusing its network for a new period of growth, as signalled by its Qatar Airways-backed fleet plans.
Air Italy aims to carry 10 million passengers per year by 2022, of which more than eight million to/from Milan Malpensa. Its 2017 passenger numbers are not known, but it flew 3.5 million seats, so 10 million passengers by 2022 is an ambitious target.
Alitalia's future is still unknown. The deadline for bids to buy it, or parts of it, continues to slip, while the European Commission has recently opened a State aid investigation into loans granted by the Italian government.
Interest has been reported from Lufthansa, easyJet and Wizz Air, although successive Italian governments have been uncomfortable about the prospect of foreign control of Alitalia.
See related report: Alitalia's bidders: Lufthansa, easyJet & Cerberus; workforce, restructuring, politics all critical
There is a certain irony that Air Italy aims to replace Alitalia as the national airline, but with the backing of the national airline of another country.
Nationally branded start-up airlines may be flying into a headwind
The trend for many years has mainly been one of market share gains by low cost airlines, at the expense of 'flag carriers', with brands that are not country-specific.
Norwegian Air is an obvious and high profile exception to this trend, but it may also be moving towards an acquisition by IAG to ease its financial burdens.
Setting aside the specifics of the situation in Italy, the new batch of nationally branded start-up airlines in Europe may be flying into a headwind.