Air freight opportunities in Papua New Guinea attract Qantas and Skyforce as economic boom unfolds
Analysis
Growing demand for air freight capacity to cater to Papua New Guinea's booming resources sector and seafood exports appear to have encouraged carriers Qantas and Skyforce to apply for dedicated freight allocations from the Australian International Air Services Commission.
Qantas through its subsidiary Express Freighters Australia and Sydney-based Skyforce Aviation have applied to the IASC for a total of 53 tonnes of freight capacity per week each way on the Australia-Papua New Guinea route. A total of 77.5 tonnes capacity per week in each direction is currently available under the bilateral air services agreement between the countries which allows for a total of 100 tonnes per week.
Currently Pacific Air Express has the market to itself after HeavyLift Cargo Airlines collapsed in 2012. The state of Queensland is a major source of supplies for PNG's mining sector, while also serving as a transit point for some of the country's Japan-bound fresh tuna exports.
PNG economic development is based on a natural resources and fishing industry boom
PNG's economy is riding the crest of a natural resource boom including oil, gas, copper, gold and nickel which accounts for nearly two-thirds of export earnings.
A massive liquefied natural gas (LNG) production facility being developed by a consortium led by American oil company Exxon Mobil is expected to start production in 2014, exploiting PNG's natural gas reserves estimated at 155 billion cubic meters. The LNG plant is the largest investment project in PNG's history and has the potential to double GDP in the near term and triple the country's export revenue, according the CIA World Factbook.
Research by ANZ Bank indicates that PNG's natural resources sector could quadruple by 2030, producing USD25 billion in annual export revenues. The country's economic growth is being driven by the urbanisation and industrialisation of Asia, ANZ CEO Mike Smith told the Port Moresby Chamber of Commerce and Industry in Feb-2013. PNG's prosperity is being underpinned by a super cycle in mining and energy, and increasingly agriculture.
Several mining new mining developments or expansions are also under consideration, largely replacing existing projects where production has peaked.
PNG aims to become a major fisheries processing centre
In addition PNG has a burgeoning fishing industry. PNG's 2.5 million square kilometre exclusive economic zone (EEZ) contains about 18% of the world's total tuna stocks. About 750,000 tonnes of tuna is caught in PNG's EEZ each year, most of which is landed and processed in other countries. However, PNG has a long term goal of processing in-country all of the tuna caught within its EEZ.
Four new processing plants are planned for a 215 hectare fisheries industrial zone near Malahang with the first due to open in Jun-2013. The Madang Industrial Centre on the country' north coast aims to bring canning processes closer to the Pacific fishing grounds and create the economies of scale needed for the development of supporting infrastructure including port facilities, power generation and waste water processing.
PNG economy is highly dependent on air freight access
PNG's economy is highly dependent on air freight for both imports and exports.
National carrier Air Niugini has rapidly expanded in recent years as foreign investment pours into the country to develop its wealth of natural resources, driving demand for domestic and international air travel.
See related story: Air Niugini expands in growing economy despite service challenges and weak balance sheet
Air Niugini provides nearly three quarters of PNG's total seat capacity and relies on a range of interline freight agreements with global carriers including Singapore Airlines, Cathay Pacific, Emirates and United to provide onward access to China, Europe and the United States.
The wholly government owned carrier also provides ground handling services at Port Moresby Jackson International Airport where it has expanded facilities in recent years to cope with more than 11,000 tonnes of freight per year.
Port Moresby freight hub route map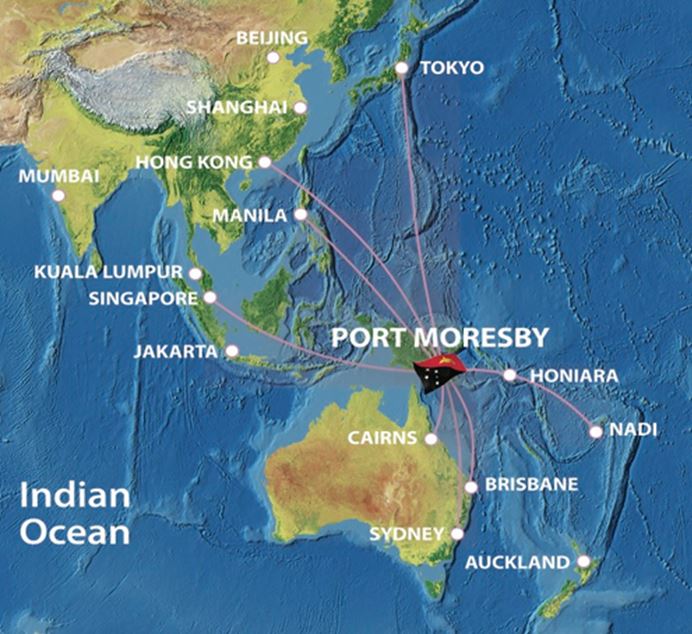 PNG's total international freight operations grew 45% in 2011 to 31 million freight tonne-kilometres performed, compared to 22 million FTKP in 2010, according to ICAO.
Most of the country's fresh dairy products, fruits and vegetables are imported by air while on the export side seafood, especially a large trade in fresh Tuna to Japan, is reliant on air freight links via Australia. The Tuna export market is conservatively estimated to be worth in excess of PGK1 billion (USD453.5 million).
Pacific Express has serviced the Australia-PNG route on its own since 2010
Pacific Air Express has been the sole dedicated freight carrier between Australia and PNG since 2010. The carrier has progressively increased capacity on the route to 52.5 tonnes per week offering three-times weekly 737-300 freighter service between Melbourne and Port Moresby.
In its last application for a further 17.5 tonnes of freight capacity in Mar-2011 to support the third weekly service, Pacific Air Express stated that the development of airfreight volumes had been constrained by a shortage of available capacity and that its flights were regularly overbooked. Pacific Air Express stated that the additional capacity would service increased activity in the PNG energy and mining sectors.
Pacific Air Express holds its capacity under three determinations issued in Dec-2009, June-2010, Apr-2011, each allowing for 17.5 tonnes for a five year period. With each capacity increase Pacific Air Express added a weekly 737-300 frequency on the route. The 737-300 is leased from New Zealand-based Airwork Flight Operations Ltd which holds a foreign air operators certificate for the PNG route.
Pacific Air Express also uses the 737-300 for scheduled freighter services to the Solomon Island and Vanuatu, which are not subject to capacity restrictions for Australian carriers.
HeavyLift Cargo Airlines' demise leaves nearly 80 tonnes of capacity unused
HeavyLift Cargo Airlines was a significant provider of dedicated air cargo services on the Australia-PNG route until it was placed under external administration in Jan-2012. At the time the airline, which had its main hub out of Brisbane, held rights to operate 39 tonnes of freight capacity under two separate determinations when it ceased trading. HeavyLift's freight capacity was held under two determinations; 16.5 tonnes under determination [2009] IASC 117 and 22.5 tonnes under determination [2011] IASC 111.
The Sydney-headquartered carrier also held rights to 25 tonnes of freight capacity on the Australia-Solomon Islands route. HeavyLift operated a fleet of Boeing 727 freighters and a Shorts SC-5 Belfast high-capacity freighter.
The Australian Department of Infrastructure and Transport cancelled HeavyLift's international airline licence in Aug-2012, prompting the IASC to conduct a review of HeavyLift's capacity in Jan-2013 and the capacity being revoked and subsequently offered back to the market.
Qantas plans to operate Boeing 737-300 freighter services to PNG
Qantas has applied for 35 tonnes of freight capacity per week on the route in its own right for five years which it intends to operate through subsidiary Express Freighters Australia using its fleet of four 737-300 converted freighters.
The tonnage requested suggests Qantas will operate a single weekly service on each of the nominated routes: Melbourne-Brisbane-Port Moresby-Melbourne and Cairns-Brisbane-Port Moresby-Cairns. Qantas plans to fully utilise the capacity by 30-Apr-2014. Qantas last operated its own dedicated freighter service to PNG in 2009 when it had rights to offer up to 17.5 tonnes per week.
Qantas also codeshares on Air Niugini's 767-300 passenger services between Port Moresby and Brisbane under which it purchases about half the freight capacity available on the aircraft on a hard block basis and has the option of taking additional space on a soft block basis. Air Niugini operates the 767 services between Port Moresby and Brisbane nine-times weekly. Air Niugini also offers more limited freight capacity on its services to Brisbane, Sydney and Cairns using a mix of 737-800, F100 and Q400 aircraft.
Air Niugini competes in the freight market with 767 belly-hold space
Air Niugini also operates its 767 fleet to Asia predominantly to carry foreign workers employed in the resources sector. The carrier flies four-times weekly to Singapore, three-times weekly to Manila and weekly to Hong Kong and Tokyo.
The carrier also operates a substantial domestic air freight network in a country that lacks a major land transport system connecting the capital, Port Moresby, to other major centres. The carrier uplifts more than 11,000 tonnes of cargo each year, but its international freight offering is limited to belly-hold space on its three Boeing 767 aircraft. It is therefore not able to compete directly with dedicated freighter services which are able to offer main-deck capability able to haul large equipment for the resources industry.
The 767 services are crucial to the PNG importers and exporters due to the aircraft's ability take palletised and containerised freight and its ability to carry significantly more freight than the 737.
But the viability of Air Niugini's widebody services is heavily reliant on the codeshare agreement with Qantas which was renewed by the IASC in Jun-2012 for another five years. Qantas' entry to the market in its own right may put the viability of this service at risk.
Air Niugini Boeing 767-300ER Estimated International Cargo Capacity from Port Moresby by Destination
Destination

Frequencies

Est. Cargo Capacity

(kgs)

Est. Cargo Capacity

Share

BNE

9

113,598

50%

SIN

4

50,488

22%

MNL

3

37,866

17%

HKG

1

12,622

6%

NRT

1

12,622

6%

Total

18

227,196

100%
Skyforce seeks to re-enter the Australia-PNG freight market
Sydney-based Pionair Australia, trading as Skyforce Aviation, also plans to re-enter the Australia to PNG freight market and has applied to the IASC for 18 tonnes of freight capacity each way which it plans to operate with a twice weekly Convair 580 aircraft from Brisbane and Cairns to Port Moresby and other unspecified destinations in PNG.
In its application to the IASC, Skyforce stated it had received interest for additional services in particular from the mining and fishing industries. Pionair holds an Australian High Capacity Passenger and Cargo AOC as well as a PNG FAOC. In addition Pioneer will seek an international airline licence and to perform regional services.
The carrier claims to have extensive operational experience throughout PNG, South East Asia and the South Pacific. Skyforce operates a fleet of 10 aircraft, including two Convair 580 cargo aircraft with a payload capacity of 6.5 tonnes and two Bae146-200QCs with a payload capacity of 12 tonnes, according to its website.
Pionair was granted 12 tonnes of freight capacity in Sep-2010 for three years, which it planned to operate with twice-weekly Convair 580 services between Brisbane, Cairns and Port Moresby as well as other destinations in PNG. Under the IASC determination Pionair was required to fully utilise the capacity by the end of Mar-2011. However, after being granted four time extensions to fully use the capacity, the allocation was revoked in May-2012 at the request of Skyforce.
PNG's air freight growth offers opportunities - and risks - for airlines
The forecast growth of PNG's economy, particularly the resources and fisheries sectors, bodes well for air freight to and from the country. Australia carriers are looking to increase capacity, but even if all the requested capacity is granted, another 24.5 tonnes will remain available under the bilateral agreement. As the largest and most powerful airline in the region Qantas's proposed entry into the market in its own right will undoubtedly disrupt the previous equilibrium.
Also, Air Niugini's plans to acquire its own dedicated widebody freighter have so far not come to fruition, suggesting that international freight demand growth is still relatively muted. Whether there is significant upside appears likely to be tested in coming months, assuming IASC approval of the new applications.