Air Canada and WestJet maintain supply growth targets as unit revenues trend down
Analysis
Canada's two major airlines have adopted divergent - but ultimately converging - paths during the last few years to lay the foundation for expanding margins and ensure sustained positive financial results. WestJet has opted to create a product mix to attract a higher percentage of business travellers while attempting to avoid alienating its core cost conscious customer base. Air Canada has decided to increase its reach among leisure passengers.

Overall, each airline's respective strategy appears to be paying off in the form of solid returns, margin expansion and increased profitability. But both airlines in the short term are facing unit revenue and yield pressure for different reasons.

Similar to most US airlines, WestJet and Air Canada continue to deliver strong top-line results even if unit revenues remain under pressure. But if oil prices, which are slowly ticking upwards, suddenly start to rapidly rise, Canada's airlines may need to revisit their capacity projections as overall supply in some regions is exceeding GDP growth.
WestJet opts to block out the middle seat in Plus to attract more business customers
WestJet's latest moves in targeting business travellers is in the form of eliminating the middle seat in the Plus sections of its Boeing 737 narrowbodies and the 767 widebodies joining its fleet later in 2015. The airline debuted its Plus product with a soft launch in late 2013, and then rolled out its fare families in 2014 that feature the Plus option along with Flex and the Econo.
Plus is the most expensive and offers the most choice and flexibility to travellers while Econo is the lowest tier geared toward cost conscious customers. WestJet added a first bag fee to Econo in late 2014.

The airline is not planning any aircraft reconfigurations on the narrowbodies and instead is adopting some tactics used by European airlines. WestJet plans to increase Plus fares by 3% to 9%, but maintains the fare levels will remain approximately 75% below Air Canada's business class. WestJet is only operating two 767s by YE2015, so the changes are obviously targeted to its narrowbody fleet.
Elements of WestJet's fare tiers that debuted in 2014

One driver in WestJet's decision was a softening of Canada's economy and the expectation that a significant amount of business travellers will be "coached by their CFOs" to start saving travel dollars, company CEO Gregg Saretsky recently concluded.
"We're seeing a tremendous price sensitivity amongst business travellers, and corporate travel programmes are prohibiting travel in business class cabins on flights...between four and five hours, which for the most part is all of our domestic network," Mr Saretsky concluded.
Seat width in business class on Air Canada's narrowbodies is more generous than Plus
WestJet could be working to make its Plus offering more competitive to Air Canada's business class on similar sized aircraft. According to Seatguru, the width in WestJet's Plus section of its 737-700s/800s is 17in. Pitch ranges from 36in to 39in on the -800s and 36in to 40in on its -700s.
WestJet Fleet Summary as of 20-May-2015

Air Canada on its website states its A319 narrowbodies have a 38in to 39in, pitch, the A320s feature a 37in pitch and the A321s offer a 37in to 38in pitch in business class. All business class seats on those aircraft feature a 21in width, which is 4in more space than WestJet's offering before the airline blocks the middle seat on the narrowbodies, and outfits them with new tray table.
Air Canada fleet summary as of 20-May-2015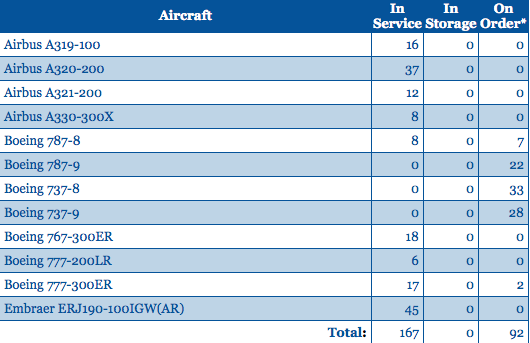 WestJet has stated since the middle seat block out begins in Sep-2015 its forecasted capacity growth of 4% to 5% in FY2015 remains unchanged. Airline executives also said with other fleet movements that include outfitting aircraft with a new in-flight entertainment system essentially nets out the changes from blocking out the middle seat.
Air Canada's response to WestJet's decision to block the middle seat in its Plus offering is to convert the seating in the premium cabin of the Airbus A319s operated by its low cost subsidiary rouge from a 3x3 configuration with a blocked middle seat to a 2x2 offering with the middle seat completely eliminated. The airline expects to complete the reconfigurations by the end of Jun-2015. Air Canada was likely studying a complete removal of the middle seat on rouge, but obviously it felt a need to respond to WestJet's plans. The seat pitch of the new rouge premium product on the A319s is 36in and the width is 21in, which is less generous then the business class offering on mainline A319s, which is closer to WestJet's Plus offering.
Capacity in some Canadian markets still remains above GDP growth
Air Canada during the last couple of years has been aiming to increase its percentage of leisure passengers through the introduction of its low cost subsidiary rouge and the operation of higher density Boeing 777s.

During 1Q2015, WestJet cited an industry supply increase of 11% to the Caribbean and Mexico, which was creating pricing and margin pressure in some of those markets. Overall, the airline's unit revenues fell 0.7% in 1Q2015 and yields notched up 1.2%.

See related report: WestJet continues to record a solid financial performance, but faces pockets of capacity pressure

The airline stated that in some of its transborder markets that industry capacity was up roughly 10% in 1Q2015, and while it is moderating in 2Q2015, it is still above GDP increases. Moody's recently cut its 2015 GDP forecast for Canada to 1.5% from 2.5%.

CAPA reported in early Feb-2015 that Air Canada's seats on offer to the Caribbean were up nearly 15% year-on-year, and its seats to Mexico had increased 4%. Air Canada has been transitioning many of its sun destinations to rouge, whose aircraft have a denser configuration. Air Canada also highlighted aggressive pricing due to increased industry capacity to sun destinations during 1Q2015; but also stated with the different cost structures of its regional and mainline businesses along with rouge, it can access pockets of demand, particularly in the leisure space. "So that obviously affects all of our competitors that may not have had to deal with us in those areas in the past," said Ben Smith, president, passenger airlines.
WestJet and Air Canada believe margins will prevail as unit revenues decline
Air Canada's yields and unit revenues have been declining during the last two to three quarters and 1Q2015 was no different. Its passenger unit revenues fell 2.7% and yields declined 4.2%.

The airline's philosophy is that the higher mix of leisure customers and the increased stage length are driving down cost while preserving margins and profitability. Air Canada's unit costs excluding fuel, the cost of ground packages at Air Canada vacations and unusual items fell 1.8% in 1Q2015 and is projected to fall 1.5% to 2.5% for FY2015. Its yields and unit revenues are also likely to keep falling as its projected average stage length for FY2015 is expected to grow by 3%.
Air Canada 2Q2015 and FY2015 capacity and unit costs projections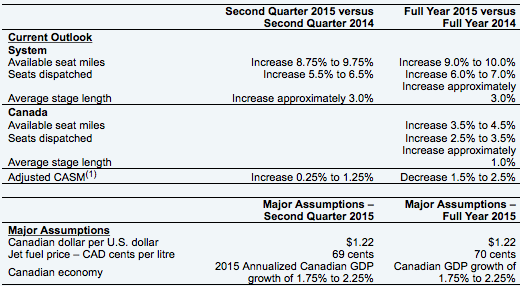 See related report: Air Canada faces some currency pressure after executing its strategy solidly in 2014
Added capacity and price competition is stimulating demand
WestJet is projecting what it deems as a moderate decline in 2Q2015 passenger unit revenue, while unit costs are projected to rise for both the quarter and FY2015. Some of the revenue pressure is driven by the introduction of new markets by WestJet's regional subsidiary Encore, and some is generated by capacity increases higher than GDP in some markets.
Mr Saretsky observed that while load factors are down, they have not decreased as much as "you would otherwise expect. A lot of traffic has been price motivated".
WestJet unit revenue, unit costs and capacity guidance: 2Q2015 and FY2015
The unit cost pressure WestJet faces in FY2015 stems from the doubling in size of its Bombardier Q400 fleet operated by Encore. The Q400s have an average stage length of 300 miles compared with 1,000 miles for the 737s operated at the mainline. "You've got a mix of new ASMs that is significantly higher cost...and that's what is creating the unit cost performance pressure", says WestJet CFO Vito Culmone.
WestJet took delivery of four Q400s in 1Q2015, and exercised an option for an additional aircraft due for delivery in 2016, bringing total Q400 deliveries for 2016 to six. As of the end of 1Q2015, Encore was operating roughly 20 of the turboprops.
Air Canada and WestJet keep their 2015 capacity growth intact
Both WestJet and Air Canada expanded operating margins in 1Q2015. WestJet grew it operating margin by 5.6ppt to 18.2% and Air Canada posted a positive operating margin of 6.2% compared with a negative 2% margin the year prior. WestJet's profits jumped 57% to CAD147 million (USD120 million) while Air Canada's adjusted net income was CAD122 million (USD99 million) versus a CAD132 million (USD107 million) loss the year prior.

Those results seemingly support each airline's theory that margins and profits are holding up despite unit revenue pressure. Their performance is no doubt propped up by lower fuel costs that are allowing for margin preservation and growth in what seems to be a fare environment that is reflective of capacity growth that is higher than GDP.

Neither airline has any plans to refine capacity guidance for FY2015. Air Canada is maintaining its 9% to 10% growth and WestJet is not straying from its projected 4% to 5% expansion.
Air Canada and WestJet will need to refine their supply growth if conditions worsen
Both WestJet and Air Canada have their own reasons for growing capacity in 2015 as they work to put in place the pieces of their respective business transformations. But at some point even so-called efficient capacity growth can tip the supply-demand balance, which seems to be occurring in the US market place.

Canada's aviation market has reached a certain level of stability as each participant in the duopoly generally behaves rationally. With apparently limited capital available for low cost startups, the threat of new entry is encouraging that stabilisation. As a result both airlines stand to keep their solid financial performances in most metrics intact. But oversupply is an overhang, and its effects could intensify if demand weakens or fuel costs jump. WestJet and Air Canada say they are prepared for those scenarios. Their preparation could be very well be put to the test.