Air Berlin's net loss narrows in 2009; Reduces B787 orders as part of efforts to gain higher earning
Analysis
Air Berlin narrowed its net loss to EUR9.5 million in 2009, a considerable improvement from a EUR83.5 million net loss in 2008, as it reduced operating expenses by 6.2% (as a result of the carrier's efficiency programme), exceeding the 4.4% revenue reduction in the period.
The carrier's EBTIDAR result improved by 8.4% to EUR504 million, while EBIT reached EUR28.5 million in the 12-month period (up notably from EUR2.0 million in 2008 and higher than the previous-announced forecast of more than EUR14 million). Shares in Germany's second largest carrier were up 1.2% yesterday.
Air Berlin financial highlights for the 12 months ended 31-Dec-2009
| Currency: EUR | 2009 | % Change |
| --- | --- | --- |
| Revenue (mill) | 3,240 | -4.4% |
| Operating expenses (mill) | 2,780 | -6.2% |
| EBTIDAR (mill) | 503.7 | +8.4% |
| EBIT (mill) | 28.5 | +1,325% |
| Net profit (mill) | (9.5) | Compared to a EUR83.5 million loss in the previous corresponding period |
Air Berlin will publish detailed full-year results on 25-Mar-2010.
Air Berlin has continued to report impressive increases in RASK over the past two years, stemming from its effective capacity deployment plans and acquisitions that have reduced fare competition in some core markets. The LCC has previously stated that its strategy is to focus on maintaining profit margins over building market share although the carrier, with the acquisition of the TUIfly routes, has managed to grow marketshare and unit revenues concurrently.
The carrier, in its month recent monthly traffic release, reported a 3.3% year-on-year increase in RASK to EUR 5.51 cents in Feb-2010, with this coming off double-digit growth of 12.1% in Feb-2009. Air Berlin has only reported two months of RASK reductions in the past two years, an impressive record considering the operating environment. In FY2009, the carrier reported a revenue per ASK increase of 7% year-on-year, to EUR 5.75 cents.
Air Berlin revenue per ASK (RASK) growth (% change year-on-year) and trend line: Apr-2008 to Feb-2010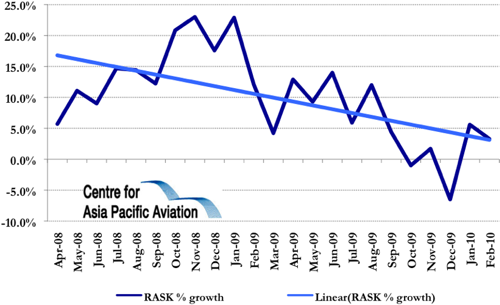 Looking forward, Air Berlin has stated it would strive for higher earnings in 2010, compared to 2008 and 2009 results. To achieve this, the LCC, in Jan-2010, stated it planned to significantly reduce costs and possibly sell aircraft, and is also in talks about partnerships and alliance options, open for new agreements. Progress in all these areas has been in made in 1Q2010 as follows:
Air Berlin key strategic developments: 17-Feb-2010 to 17-Mar-2010
Area

Date

Details

Fleet Plans – reduces B787 orders

17-Mar-200

Air Berlin agreed with Boeing to "streamline" its order book to account for a "change in market conditions" and in order to meet Air Berlin's "specific operative requirements". The two parties have agreed on a reduction of the number of firm orders of B787 aircraft from 25 to 15 (the ten aircraft order reduction has a current list price of approximately USD1.7 billion) and to reduce the number of optional B787 aircraft from ten to five. The agreement also provides that the delivery of nine B737 aircraft will be rescheduled to 2015. These aircraft were originally scheduled for delivery in 2010 or 2011, respectively. Air Berlin CFO, Ulf Hüttmeyer, commented, "with a partnership spirit we have mutually agreed with Boeing to adjust the Air Berlin order book to meet Air Berlin's operational requirements and the market conditions. The agreement with Boeing demonstrates that Air Berlin believes in the future of the B787 aircraft. We look forward to the first delivery in Nov-2015. For Air Berlin, the agreement means a significant reduction of its financial obligations due to lower and much more distributed investment profile".

Increased focus business passengers

10-Mar-2010

Air Berlin announced plans to increase its range of offers for business travellers, with the launch of a new customer loyalty programme that is specifically geared towards small and medium-sized companies (Air Berlin also offer corporate rates for major customers and a topbonus frequent flyer programme). Under the scheme, companies are credited with business points for every business trip taken (on Air Berlin and NIKI services) by a permanent employee.

IR – Air Berlin avoiding industry disputes (just)

03-Mar-2010

Air Berlin and Vereinigung Cockpit (VC), the German pilots' union, agreed to hold negotiations on unresolved issues of the framework collective agreement. As a result, previously-announced warning strikes, aimed at pushing for better working conditions for pilots at Air Berlin's charter airline unit LTU, were called off. Working hours on long-haul services at the core of the dispute.

Increasing participation in NIKI

17-Feb-2010

Air Berlin contractually agreed with Privatstiftung Lauda (private Lauda foundation) to indirectly acquire 25.9% of the shares of NIKI Luftfahrt GmbH, increasing its current participation the Austrian LCC from 24 to 49.9%. The purchase price for the shares was EUR21 million. NIKI's integration into the Air Berlin Group increases Air Berlin's fleet size by 11 aircraft. According to the provisional figures, NIKI achieved revenue of EUR260.2 million (up 17% year-on-year) and EBIT of EUR23.1 million (+71%). The following conditions were announced:

The agreement will enable Air Berlin to have better access to the Vienna hub, opening up an additional access to the fast-growing markets of Eastern Europe."
Elsewhere in Europe, shares in Ryanair and easyJet gained 2.8% nad 0.7%, respectively, with Vueling gaining 2.6%, following the previous day's 10.7% jump.
Selected LCCs daily share price movements (% change): 18-Mar-2010