Air Berlin unit revenues improve in Aug-2009, Air Berlin-TUIfly cross-shareholding plans withdrawn
Analysis
The German LCC transported 2.7 million passengers in the month, a 3.7% reduction, as the carrier implemented a targeted 5% capacity (ASKs) reduction. Load factor improved by 1.1 ppts to 84%.
In other Air Berlin news, Air Berlin and TUI travel, late on Monday, announced the amendment to the terms of its proposed transaction between Air Berlin and TUI Travel's German aviation business. Under the new agreement, the two parties will no longer implement the cross share holdings that were previously announced.
However, the other commercial agreements and the strategic benefits of the transfer of TUIfly's scheduled flying business will remain. Following discussions with the German Federal Cartel Office, TUI Travel will now either acquire a 9.9% stake in Air Berlin for a cash consideration of EUR33.5 million, which it will sell over a period of time, or alternatively will pay Air Berlin EUR15 million.
Air Berlin will no longer acquire a stake in TUIfly and TUI Travel will also no longer receive the right to nominate a non-executive director to the Board of Air Berlin. The transfer of the TUIfly scheduled flying operations shall be effected by the end of Oct-2009. Air Berlin's shares rose 1.1% yesterday.
Selected LCCs daily share price movements (% change): 07-Sep-09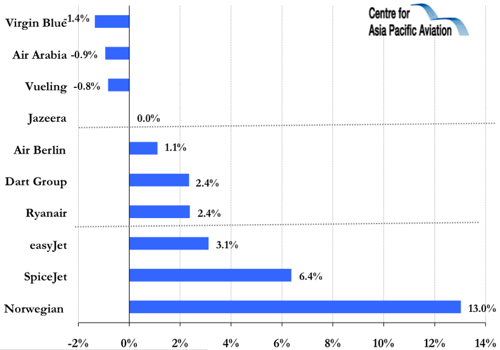 Also in Europe, Norwegian Air Shuttle shares soared 13% yesterday, ahead of the release of the carrier's traffic results today.
Ryanair, meanwhile, took delivery of its 200th Boeing aircraft, with the LCC the largest operator of B737-800 aircraft in Europe, and the second largest in the world, after Southwest Airlines.
In the US, markets were closed yesterday, due to Labour Day.