Air Berlin to prioritise profits over market share; Southwest downgraded
Air Berlin's shares were up 1.0% yesterday, as CEO, Joachim Hunold, in an interview with The Financial Times Deutschland, stated the carrier plans to raise prices, giving priority to growing the airline's profit margins over market share.
In Sep-2009, Air Berlin increased revenue per ASK by 4.4%, with passenger numbers declining 4.1% to 2.7 million in the month. See related report: Air Berlin unit revenues reach highest levels in 18 months in Sep-2009
Mr Hunold added that the carrier, which had planned to reduce total debts to less than EUR600 million by the end of 2009, achieved that goal in mid-2009, and may reduce this level further.
Southwest downgraded; AirTran upgraded prior to financial release
In the US, Southwest Airlines' shares fell 0.7% on Monday, after it was lowered from 'Neutral' to 'Underweight' by JP Morgan, which stated the carrier's shares should be trading closer to USD11. The carrier's shares closed at USD9.16 yesterday.
See related article: Southwest Airlines SWOT: Fourth net loss in past five quarters; difficulties to continue
Meanwhile, AirTran' shares jumped 5.1% yesterday, as JP Morgan upgraded AirTran from 'Neutral' to 'Overweight'. JP Morgan cited lower costs, higher profits, better liquidity, as well as a cheaper valuation in their research of the LCC.
AirTran, which is expected to release its 3Q2009 financial results today (20-Oct-2009), is expected to post an adjusted profit for the quarter, which has seen the carrier shifting its focus to profitable routes and boosting its cash balance to ensure it will continue to weather the downturn.
According to Barclays Capital, AirTran shares have significant upside potential on an absolute basis, but added that, "in a sector where we believe the risk-rewards are exceptional, that upside is no longer competitive with the rest of the industry".
AirTran's shares fell 3.7% during 3Q2009, ending the quarter at USD6.25 on 30-Sep-2009. (The carrier's share price has subsequently fallen from this level).
AirTran share price growth: Jan-2009 to Oct-2009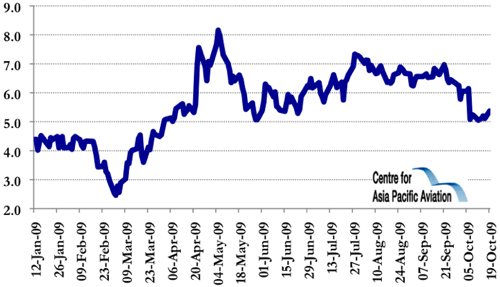 GOL's share offering boosts cash position by USD365 million
GOL's shares slipped 3.5% yesterday, as the carrier announced the conclusion of its global share offering, which increased its cash position by BRL627.1 million (USD365.2 million). The carrier's improved cash position now represents more than 20% of its net revenues recorded during the past 12 months.
According to GOL, "the success of the offering has put GOL among the world's most capitalised airlines. This will create shareholder value because it will allow the company to develop its strategic plan in a flexible manner and with a focus on results".
Selected LCCs daily share price movements (% change): 19-Oct-09