Aegean Airlines' good results continue in 3Q2014, but competition with Ryanair is growing
The Aegean Airlines Group's string of good financial results continued with 3Q2014 operating profit increasing by more than a quarter compared with the same period a year earlier (based on proforma figures with Olympic in the comparable). Aegean is growing its capacity at a double digit rate, with particularly strong growth in the domestic market and on international routes from Athens, just as Ryanair is expanding rapidly in Greece. This has led to downward pressure on yields and RASK, but Aegean has successfully cut CASK even more quickly to drive up its margins.
Competition between Aegean and Ryanair looks set to intensify in 2015, when the battle may extend to Cyprus, regardless of whether or not one of them is successful in biding for Cyprus Airways.
As Aer Lingus will testify, having Ryanair as your nearest and biggest competitor focuses the mind. Aegean will need to prove that its recent good run can be extended.
Aegean Airlines Group's 3Q operating profit up by more than a quarter
In 3Q2014, Aegean Airlines Group's net profit of EUR63 million was 18% higher than the proforma prior year figure (including Olympic Air as if it had been part of the group throughout the period and not just from its acquisition at the end of Oct-2013). Revenues were up 11% on a proforma basis and the operating profit of EUR86 million was up 26% on the same basis. The operating margin improved by 2.8 ppts from the prior year period to 24.8%.
For 9M2014, the Group's revenues grew 10%, net profit was up 31% and operating profit grew by 43%, again all on a proforma basis. The 9M operating margin of 14.8% was 3.4 ppts above the proforma margin for the same period last year.
Aegean Airlines Group 3Q2014 and 9M2014 consolidated financial results summary
| EUR million except where stated | 3Q2013* | 3Q2014 | Change | 9M2013* | 9M2014 | Change |
| --- | --- | --- | --- | --- | --- | --- |
| Revenue | 311.8 | 347.5 | 11% | 670 | 736.1 | 10% |
| Other operating income | 1.7 | 1.5 | -12% | 5.6 | 6.2 | 11% |
| EBITDAR | 97.1 | 112.5 | 16% | 157.1 | 185.2 | 18% |
| EBIT | 68.4 | 86.1 | 26% | 76.5 | 109.3 | 43% |
| Operating margin % | 21.9 | 24.8 | 2.8 | 11.4 | 14.8 | 3.4 |
| Net profit | 53.1 | 62.6 | 18% | 60 | 78.6 | 31% |
| RPK million | 3,219 | 3,610 | 12% | 6,716 | 7,592 | 13% |
| ASK million | 3,795 | 4,334 | 14% | 8,496 | 9,562 | 13% |
| Load factor %** | 84.8 | 83.3 | -1.5 | 79.0 | 79.4 | 0.3 |
| RASK EUR cent | 8.26 | 8.05 | -2.5% | 7.95 | 7.76 | -2.4% |
| CASK EUR cent | 6.46 | 6.07 | -6.1% | 7.05 | 6.62 | -6.1% |
| CASK ex fuel EUR cent | 4.40 | 4.13 | -6.2% | 5.00 | 4.69 | -6.4% |
See related report: Aegean Airlines Group benefits from Olympic Air integration with a strong 1H2014 profit increase
One of Europe's most profitable airlines
Aegean Airlines Group's 9M2014 operating margin places it second behind Ryanair among European airlines reporting results for the first nine months of calendar 2014. Based on the rolling 12m to Sep-2014, Aegean's margin of 12.1% is just nudged down to third place by easyJet's 12.8% (9M results are not available for easyJet) and Ryanair's 16.5%.
Operating margins for European airline groups 3Q2014 and 9M2014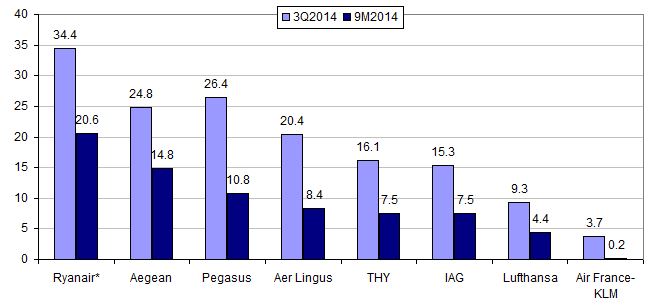 Strong liquidity even after cash return to shareholders
The Group's gross cash balance was up from EUR226 million at the end of Dec-2013 to EUR259 million at the end of Sep-2014, equivalent to 103 days of revenues. Debt (in the form of finance lease obligations) remained stable at EUR59 million through the 9M period, giving the group a net cash position of EUR200 million at the end of Sep-2014. This was lower than at the end of 1H, but follows a cash return to shareholders of EUR1 per share, or a total of EUR71 million, Jul-2014.
ASKs up 14% in 3Q
The Aegean Group increased total ASKs by 14% year on year in 3Q2014 (treating Olympic as part of the prior year period throughout), higher growth than the 11% growth in 1H, but RPK growth reached only 11%. As a result, 3Q load factor slipped by 1.5ppts to 83.3%. For 9M2014, ASKs and RPKs both grew by 13%, with load factor virtually stable at 79.4%.
Passenger numbers grew more rapidly on the domestic network (+16%), stimulated by lower fares, than on the international network (+12%) for the 9M period. On the international network, Aegean has been reducing capacity at its regional bases in favour of Athens and traffic was also affected by weaker Russian demand. International traffic from Athens grew by 18%, reflecting Aegean's network changes and the recovery in in-bound tourism.
Aegean Airlines (including Olympic Air) 9M2014 operating statistics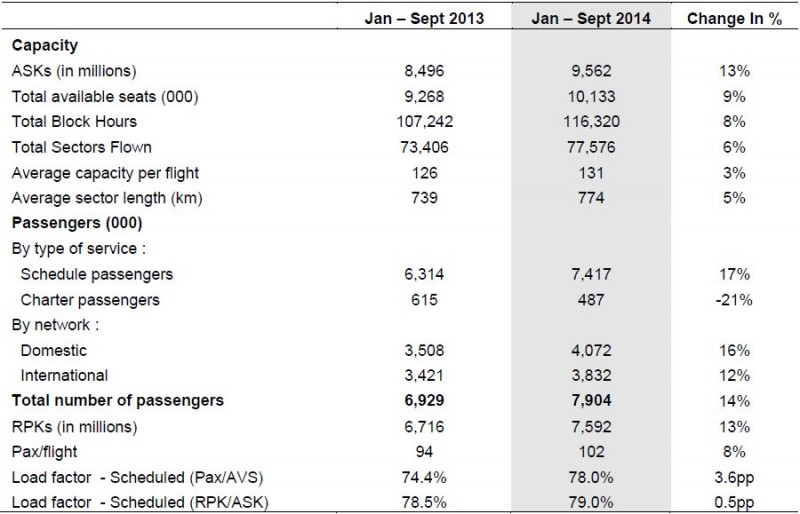 Revenues up 11%
Group revenue growth of 11% for 3Q was slower than the 14% growth in ASKs. For 9M, revenue growth of 10% was slower than the 13% increase in ASKs. Scheduled passenger revenues grew by 7% for the 9M, while the smaller category 'other' revenues (ancillaries, cargo and executive aviation) more than doubled. Charter revenues continued to fall.
According to our calculations, total revenue per ASK (RASK) fell by 2.5% year on year in 3Q, very close to the 2.4% reduction for 9M.
Aegean Airlines 9M2014 consolidated revenues
Operating costs up 7%, less than revenues
The group's operating costs grew by 7% in 3Qand by 6% for 9M, less than the increase in ASKs and revenues for both periods. In 3Q, fuel costs were up 8% and non fuel costs were up 7%. Labour costs fell by 6%. For 9M, fuel costs were up 6% and non fuel costs were up 5%. Labour costs fell by 5%.
Reductions in cost per ASK (CASK) have been fairly consistent through the year, falling by 6.1% in 3Q and in 9M, more than offsetting the drop in RASK.
Aegean Airlines 9M2014 operating costs, EBITDAR and EBIT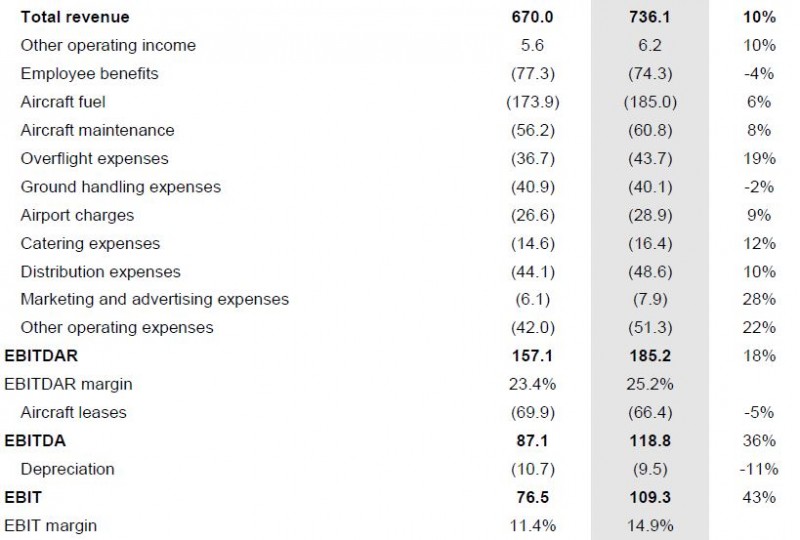 Much reduced Olympic appears now to be profitable
As we have previously highlighted, Aegean manages the two brands in the Group as an integrated network. Nevertheless, analysis of the disaggregated results of the parent company Aegean and its subsidiary Olympic suggests that the acquisition synergies are having a positive impact.
The reported accounts of the parent Aegean Airlines show that its net profit grew by 10% to EUR65 million in 9M2014 and its operating profit increased by 26% to EUR93 million, showing a further improvement after a year on year deterioration in 1Q2014, which was reversed in 2Q.
See related report: Aegean Airlines Group losses narrow thanks to cuts at Olympic, but parent company losses grow in 1Q
By subtracting the Aegean Airlines stand alone results from the consolidated Group results, we can calculate that Olympic Air's profitability improved very substantially in 9M2014 (see table below) as its capacity, revenues and costs were sharply reduced. Olympic now only operates domestic PSO routes.
Disaggregated summary results for Aegean Airlines (parent company) and Olympic Air 9M2014 versus 9M2013
| | 9M2013 | 9M2014 | Change |
| --- | --- | --- | --- |
| Aegean (reported) | | | |
| Revenue | 532.5 | 687.5 | 29% |
| EBIT | 73.4 | 92.8 | 26% |
| Net profit | 59.2 | 65.1 | 10% |
| Olympic (calculated) | | | |
| Revenue | 137.5 | 48.6 | -65% |
| EBIT | 3.1 | 16.5 | 432% |
| Net profit | 0.8 | 13.5 | 1588% |
Further growth is planned in 2015
Aegean's growth looks set to continue in 2015, when it plans to offer 15 million seats, an increase of 2 million, or 15%. This is faster than the 9% seat growth in 9M2014. The 2015 network will have 100 international destinations, 16 more than in 2014, and a total of 134 destinations, with 91 destinations to be served from Athens. Aegean will operate to 42 countries, ten more than in 2014.
Aegean's Managing Director Dimitris Gerogiannis said, "We will continue to invest in growing our fleet and capacity for 2015, adding destinations and penetrating new source markets for Greek tourism. Our key priorities involve continuous investments in growing our network, achieving scale economies as well as focusing on new service offerings to our passengers within a fast changing competitive environment that does offer however significant opportunities to grow further."
A key strategic battle for 2015 will be Ryanair's growing presence in Greece. In the domestic market, Ryanair's share of seats is 18% for the week of 24-Nov-2014, up from 2% a year earlier, according to OAG data. Over the same period, the Aegean Group's share of seats has fallen to 76% from 94%, in spite of Aegean's 13% capacity increase. Ryanair's entry has stimulated an increase in the total domestic market by more than one third over the past year.
On routes from Greece to Western Europe, Aegean's share of seats is now 35%, down from 39% a year ago, while Ryanair's is up to 19% from 7% a year ago (source: OAG, week of 24-Nov-2014 versus same week of 2013). Aegean still has a stronger position overall in the Greek market, but Ryanair's superior pan-European presence and its CASK advantage of more than 40% against Aegean make it a formidable competitor.
See related report: Ryanair's growth in Greece threatens Aegean's turnaround only months after Olympic acquisition
…and the battle looks set to move to Cyprus too
The two airlines are also competitors in the bidding for Cyprus Airways, although the privatisation process appears to have stalled after Cyprus' Minister of Finance Harris Georgiades said the government has rejected proposals from Ryanair and Aegean (Cyprus Mail/ch-aviation.com/ttgdigital, 16-Nov-2041). Mr Georgiades said that Cyprus Airways is not attracting serious interest from potential strategic investors (Cyprus Mail/InCyprus, 13-Nov-2014).
A decision from the European Commission is expected soon in connection with a state aid investigation in to funds provided to the airline by the Cypriot government. Mr Georgiades said: "As long as the European Commission's decision hangs on the air it is hard to find an investor, we are preparing for the worse case scenario."
Whether or not either of Aegean or Ryanair is successful in acquiring Cyprus Airways, both are known to be keen to expand in this market and so their battle will not only be in the Greek market.
See related report: Cyprus Airways: investor needed as market share evaporates
In the meantime, Aegean is to be applauded for its achievements this year in integrating the Olympic acquisition and in driving down unit costs more than enough to offset downward competitive price pressures. Competition with Ryanair will continue to test its skills.