A year of growth for Allegiant in 2009
Analysis
Airline shares were in positive territory yesterday, as carriers are reporting better-than-expected Dec-2009 traffic data (so far United Airlines, Continental, Alaska Airways and Allegiant have reported traffic results, with the remaining US carriers to report either this week or next).
Allegiant (shares up 3.5% yesterday), which has been robust throughout the global economic slowdown, saw an improvement in scheduled passenger load factors in Dec-2009 (up 2.3 ppts to 87.9%), after six consecutive months to reductions (although load factors remained above 89% during the period, with a full year load factor average of 87.5%, up 0.4 ppts year-on-year).
Allegiant passenger numbers and load factor (%) figures and growth levels: 2008 vs 2009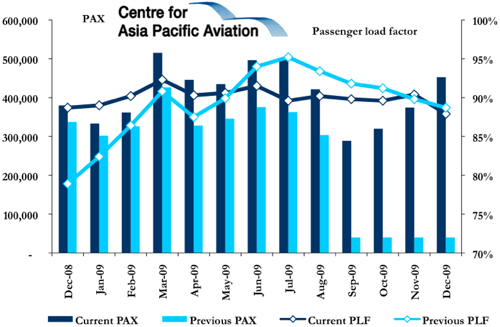 Capacity (ASMs) was increased by 16.0% in the month (lower than the FY2009 average of 22.7%), at a time when the majority of US carriers are reducing capacity, with passenger numbers rising 14.1% to slightly over 450,000 (full year passenger numbers were up 24.0% to 5.3 million.
Allegiant schedule service capacity (ASMs) growth: Dec-2006 to Dec-2009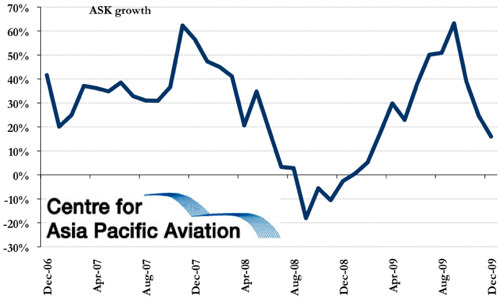 Also in the US, JetBlue's shares gained 5.4%, as the carrier kicked off the expansion of services at San Francisco International Airport with the addition of new flights to Boston, Long Beach and New York.
Together with its recently added nonstop service to Fort Lauderdale, and its daily service to Austin, Texas, JetBlue now offers 11 daily departures from SFO.
For more LCC analysis, please see The Centre's landmark Global LCC Outlook Report.

Selected LCCs daily share price movements (% change): 05-Jan-2010