Africa Aviation Outlook 2019: Change may be in the air – at last
Airline Leader
AFRICA REMAINS a market of huge potential but even larger challenges. The outlook for 2019 is mostly more of the same, but with some glimmers of hope.
New start-ups and most existing airlines will struggle to overcome the obstacles that have repeatedly prevented most African airlines from succeeding. Foreign airlines dominate the African market and have a huge competitive advantage. Africa is an extremely challenging market for any LCC or new start-up. However, a long list of airline failures has not dissuaded more start-ups from entering the market. Nigeria's Green Africa Airways is the latest to seek to break the logjam, well funded and with strong credentials.
Africa's current commercial aircraft fleet consists of 1,700 aircraft, according to CAPA Fleet Database, and there are only 257 aircraft on order from African airlines. Ethiopian has the largest order book, and although Green Africa Airways has not yet started operating it has the second largest order book, with almost as many orders as Ethiopian.
Ethiopian Airlines has been a standout and is growing rapidly with a pioneering cross-border model. Royal Air Maroc has also emerged as a standout, and is now preparing to become the first African member of oneworld. With a new well funded Nigerian airline entering, 2019 may at last offer new hopes for change.
Summary
The African airline sector continues to struggle, with most airlines in the red
Ethiopian Airlines has emerged as the clear market leader and is pursuing rapid growth, partially through new cross-border JVs
Royal Air Maroc has also emerged as a standout in a challenging market and is now preparing to join oneworld
Green Africa Airways is the latest high profile start-up, in Nigeria, and has placed an order for 50 firm 737 MAX 8s
Ethiopian is Africa's largest and most successful airline
Ethiopian is the market leader in Africa, accounting for nearly a 9% share of total seat capacity. Ethiopian is now more than 50% larger (based on seat capacity) than EgyptAir, Royal Air Maroc and South African Airways. At the beginning of this decade Ethiopian was smaller than all these airlines and was also smaller than Kenya Airways, which is now one third the size of Ethiopian.
Air Algérie, Emirates, British Airways, Air France and Saudia are the other top 10 airline brands in Africa.
The British Airways brand includes Comair, which operates as a BA franchise in the domestic South African market and on regional international services in southern Africa.
Emirates is the largest foreign airline in Africa (by a wide margin) followed by British Airways, Saudia, Air France and Turkish Airlines.
The gap between Ethiopian and Africa's other main flag carriers is even wider when its cross-border JVs and subsidiaries are included. The Ethiopian Airlines Group now consists of five airlines in five African countries – Ethiopian Airlines, Togo-based ASKY, Malawian Airlines, Chad-based Tchadia Airlines and Ethiopian Mozambique Airlines.
ASKY launched in 2010, Malawian in 2013, Tchadia in Oct-2018 and Ethiopian Mozambique Airlines in Dec-2018. Ethiopian expects to launch more new airlines in 2019; it is targeting Guinea, Ghana, Nigeria and Zambia.
Ethiopian has been consistently profitable this decade and now has the scale that no other African airline group has been able to achieve. This gives Ethiopian the resources to establish cross-border JVs successfully and compete effectively against foreign airlines.
Africa's top 10 airlines ranked by weekly seat capacity: 14-Jan-2019 to 20-Jan-2019
| | | | | |
| --- | --- | --- | --- | --- |
| Rank | Airline | IATA | Weekly seats | Seat Share |
| 1 | | ET | 345,016 | 8.4% |
| 2 | | MS | 229,885 | 5.6% |
| 3 | | AT | 204,346 | 5.0% |
| 4 | | SA | 188,421 | 4.6% |
| 5 | | AH | 175,685 | 4.3% |
| 6 | | EK | 172,344 | 4.2% |
| 7 | | BA | 131,499 | 3.2% |
| 8 | | KQ | 123,333 | 3.0% |
| 9 | | SV | 110,170 | 2.7% |
| 10 | | AF | 109,836 | 2.7% |

As Ethiopian Airways grows so does the hub role of Addis Ababa
There has been an extraordinary rise of Ethiopia as a destination and a transfer hub for long haul travel to sub-Saharan Africa. Addis Ababa (Ethiopia's capital) has grown its volume of international transfer passengers to sub-Saharan Africa, for five years in a row (2013-17).
Addis Ababa's Bole International Airport, which is currently being upgraded with a new terminal, at an investment of USD345 million, has now overtaken Dubai International as the leading gateway to the region. Meanwhile, according to late-2018 data from ForwardKeys, international bookings for Ethiopia, for the period from Nov-2018 to Jan-2019, were up by more than 40% on the same period in 2017 – well ahead of all other destinations in sub-Saharan Africa.
This has even raised concerns in South Africa, previously the (declining) powerhouse of African aviation. Airports Company South Africa (ACSA) COO Fundi Sithebe highlighted concerns over Johannesburg losing its leading hub status, observing that South African Airways (SAA) decreased international seat capacity at Johannesburg's Oliver R Tambo International Airport (JNB) by 13% between Mar-2018 and Sep-2018. Noting SAA now accounts for 46% of passengers at the airport, she said: "The threat is real that East and West Africa will take over from Johannesburg as a hub. We really need to entice passenger [growth] policies with a dominant airline at Johannesburg".
Royal Air Maroc resumes growth, joins oneworld, with expansive plans
Royal Air Maroc has also been profitable in recent years, while virtually every other African flag carrier has been in the red. The airline has completed a turnaround, enabling it to accelerate growth despite intense competition from LCCs in its home market. In Dec-2018 Royal Air Maroc unveiled plans to join oneworld, which it expects to enter formally in 2020.
Royal Air Maroc will be oneworld's first full member in Africa (Comair is a oneworld affiliate through its status as a BA franchise) and joining the alliance should support its ambitious plans for expanding its African network. The airline has historically been focused on Europe, which still accounts for over half of its total international seat capacity, but has started growing its African footprint as part of an overall plan to make Casablanca a hub for traffic heading to or from Africa. Over the next five years the airline plans to nearly double passenger traffic and add 27 destinations (mainly in Africa).
Morocco is a highly competitive market but also fast growing, providing opportunities both for foreign airlines (LCCs and FSCs) and Moroccan airlines. LCC capacity in Morocco has more than tripled over the past decade, whereas FSC capacity has increased by less than 30%, according to CAPA and OAG data. LCCs accounted for 44% of international seat capacity to/from Morocco in 2018, compared to 23% in 2009.
Kenya Airways in expansion mode
After numerous setbacks in recent years, many of them outside its control, Kenya Airways too is looking to grow. The flag carrier commenced daily service to New York in Oct-2018 (although this is reduced to five times weekly from 16-Jan-2019 to 19-Jun-2019). Services to Washington and Atlanta are also reportedly in planning, pending establishment of suitable codeshare agreements with US airlines, along with increasing frequencies on some African routes.
As part of plans to enhance the East African hub role of Nairobi Airport, Kenya Airways Group MD and CEO Sebastian Mikosz in Aug-2018 announced plans to enter a partnership agreement with the Kenya Airports Authority for the operation of Nairobi Jomo Kenyatta International Airport. Mr Mikosz said: "Investments in JKIA are critical for Kenya Airways. We want to follow all the procedures a public private partnership entails, and we are working on modalities of it now". The airline is expected to take over the airport's maintenance, catering, warehousing and ground handling staff.
LCC penetration rates in Africa remain relatively low
LCCs accounted for only 12% of seat capacity within Africa in 2018, according to CAPA and OAG data. The LCC penetration rate to/from Africa is a larger 16%, but this is still a modest figure compared to the global average and consists almost entirely of services connecting North Africa with Europe.
The LCC penetration rate in Africa has grown significantly over the past decade but from a very small base. There are still several major markets in Africa that have no – or virtually no – LCC presence.
This is particularly the case outside Egypt, Morocco and South Africa; these three countries account for more than 70% of Africa's total LCC seat capacity.
By capacity, Ryanair is the largest LCC in Africa and accounts for 13% of total African LCC capacity. However, its African network is limited to just Morocco (where it has nine destinations).
Three of the other top five LCCs in Africa are from South Africa and operate almost entirely in the South African domestic market – South African Airways' LCC subsidiary Mango, the Comair budget brand Kulula, and the independent LCC FlySafair.
Air Arabia Maroc (a subsidiary of UAE-based Air Arabia) is also among the top five but does not have any services within Africa. Air Arabia Maroc only serves the Morocco-Europe and domestic markets.
LCCs dominate the Morocco-Europe market, accounting for approximately two thirds of total capacity. LCCs have a strong share of the domestic South African market (approximately 60%) but are very weak in virtually all other African markets.
Intra-African LCC operations are difficult to sustain
In the largely nationalist and protectionist markets of much of Africa, establishing as an independent LCC is demonstrably challenging. Pan-Africa LCC group fastjet has struggled, and in Dec-2018 it was forced to suspend services in its original home market of Tanzania. fastjet operations began in 2012, with aspirations to launch affiliates in several African countries. It now only operates in Mozambique and Zimbabwe and accounts for a less than 3% share of total LCC capacity in Africa.
Kenya Airways' LCC subsidiary Jambojet has also not pursued significant expansion since launching in 2014 and similarly has less than a 3% share of total LCC capacity in Africa.
This may be about to change, as Green Africa Airways enters
Given the immense potential, with poor surface transport infrastructure and limited regional connectivity, a long list of airline failures has not dissuaded more start-ups from entering the market.
Nigeria-based Green Africa Airways is the latest high profile airline start-up, having announced in Dec-2018 a commitment for at least 50 737 MAX 8s. The new airline has pedigree, supported by former American Airlines CEO Tom Horton and former VivaColombia CEO William Shaw.
Boeing is bullish on Africa after forging (with Green Africa) the largest aircraft deal in the history of African aviation. Boeing forecasts that the African fleet will more than double over the next 20 years and African airlines need 1,190 new aircraft (includes replacements and growth).
Africa LCC and FSC capacity: 2009 to 2018

Africa overall looks likely to continue to underperform for the foreseeable future
Africa's current commercial aircraft fleet consists of 1,700 aircraft, according to CAPA Fleet Database. There are only 257 aircraft on order from African airlines.
Not surprisingly, Ethiopian has the largest order book, accounting for 52 (20%) of the 257 firm orders. Green Africa Airways has the second largest order book and almost as many orders as Ethiopian – although it has not even started operations.
LCC capacity in Africa by airline: 14-Jan-2019 to 20-Jan-2019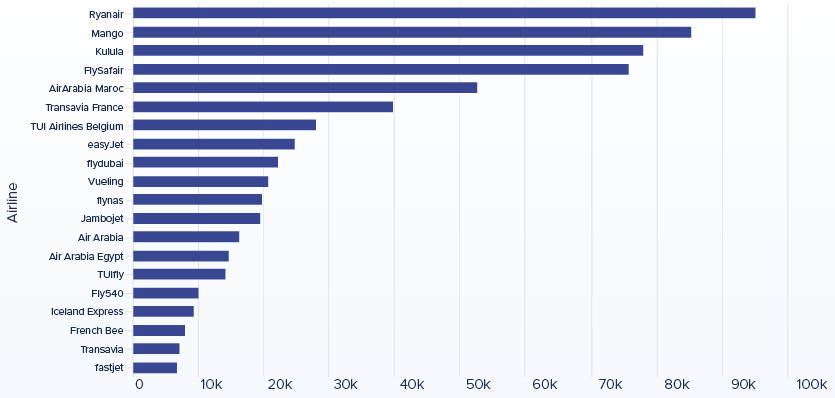 Clearly there are huge opportunities for African airlines to grow their fleets and traffic. However, regulatory and nationalistic constraints and intense competition from foreign airlines remain as restrictions on entry and growth.
For new entrants, deep pockets and political resilience are key ingredients for any new entrant and even most of Africa's incumbent airlines will once again struggle to turn a profit and grow in 2019.
There is one bright spot on the horizon. As a potential economic powerhouse, with many years of dabbling unsuccessfully with national airlines, Nigeria now has the potential to set a track for a new array of lower cost services. If Green Africa is successful, other governments may eventually see the way to creating a more hospitable environment for new entry.