Africa Aviation Outlook 2018: Potential for growth, as always
Airline Leader
THERE ARE ONLY SO many times it is possible to highlight the prospects for growth in aviation across the African continent while still maintaining enthusiasm that the huge potential can actually be realised.
It is clear that Africa represents the last frontier for aviation development, but impotent government transport strategies and ongoing protectionism practices continue to limit its success. There is a mild hope of regulatory progress, while perhaps the greatest optimism attaches to some very persistent attempts to expand LCC operations in the region.
The Jan-2018 launch of the Single African Air Transport Market (SAATM) is certainly progress, it but threatens just to be yet another unfulfilled landmark in African aviation - unless the industry works closely with governments to break the barriers that are restricting the continent from reaching the levels of which it really should be capable.
The agreement, signed by 22 nations which account for around 75% of intra-African air transport and together have a population of approximately 600 million people, can only be seen as serious progress once a full roadmap for its adoption is formulated.
Admittedly, there has been regulatory progress in some parts of the continent in the past year, most notably in Mozambique, which has opened its domestic market to foreign airlines, and while some airlines are proving successful in enhancing African connectivity on an intercontinental scale, efforts to grow intra-Africa connectivity continue to face hurdles.
IATA predicted African airlines would post a collective loss of USD100 million by the end of 2017, with a similar predicted deficit also expected in 2018 , thanks to high operating costs and the restrictive aviation policies of most African countries.
The high taxation that almost all African governments impose on aviation fuel means that the operating costs of the local airlines are among the highest in the world, while costly monopolies among service providers at the different airports continue to blight the industry. However, airline failings across the continent cannot simply be dismissed on those grounds.
Poor management practices and government restrictions on operational freedoms have severely impaired the natural progression of the industry. Former shining lights of the continent, such as Kenya Airways and South African Airways (SAA), continue to struggle. SAA is in the midst of its largest ever restructuring, involving overall capacity being cut by around a quarter and domestic capacity by more than a third as aircraft are removed from its fleet.
After a first quarter loss of ZAR1.4 billion (USD121 million) in the current financial year SAA did post a rare profit in Jul-2017, but the full year forecast for 2017's loss was USD293 million, some USD90 million more than the previous estimates. Perhaps a change in the Presidency will open a new era for SAA.
Ethiopian Airlines continues to emerge as the most positive light for Africa as it grows both within the continent under its own brand, in partnership with other nations' governments and on the global stage, using a hub-and-spoke strategy in Addis Ababa to boost Africa's connectivity to the world. Ethiopian now serves over 115 destinations with new arrivals in 2017 including Bahrain, Chengdu, Madinah, Oslo and Singapore, and within Africa links to Antananarivo, Conakry and Victoria Falls.
The East African airline has also been at the forefront of fleet renewal across Africa as one of the early customers for both the Boeing 787-8 and then the A350-900. It has also ended the year bringing the first of its 787-9s into passenger operation. The Embraer E-Jet has also achieved some key deals, becoming the larger aircraft of choice for the restructured LCC fastjet, now a fully African carrier, while SA Airlink has also used the type to bring the first ever commercial air services to the remote island of St Helena, a British territory in the South Atlantic Ocean.
Seats from 2008 to 2018 for Africa

Schedules data showed seat inventories within and from Africa rose approximately 6.3% for FY2017, with the last nine consecutive months achieving higher growth than that of 2016. There remain significant variations throughout the continent though. Central and Western Africa has experienced eight months of small capacity declines compared with 2016, but will achieve modest year-on-year growth of approximately 1.2%. This compares with full year growth estimates of 2.7% in Southern Africa, 8.6% in Northern Africa and 12.7% in Eastern Africa: healthy numbers, but the question is how much of this growth is sustainable, let alone profitable?
Given the relatively strong growth, a slower rate might be expected in 2018 – but this may not be the case. IATA predicts air travel growth in Africa will outpace all other regions of the world over the next 20 years, albeit from a much smaller base. Positively, IATA expects 8.0% growth in demand, slightly outpacing capacity expansion of 7.5%.
CAPA expects a number of new entrants to enter local markets across the continent, many claiming to offer an LCC model in a continent where largely externally imposed costs allow anything but low cost operations. How many will survive the year has much to do with the role that governments will play, both in relaxing protectionist behaviour and in reducing excessive cost burdens. Smaller – and often inefficient - national carriers will meanwhile continue to struggle against rising competition both from within and outside of Africa.
Africa aircraft in service by airline*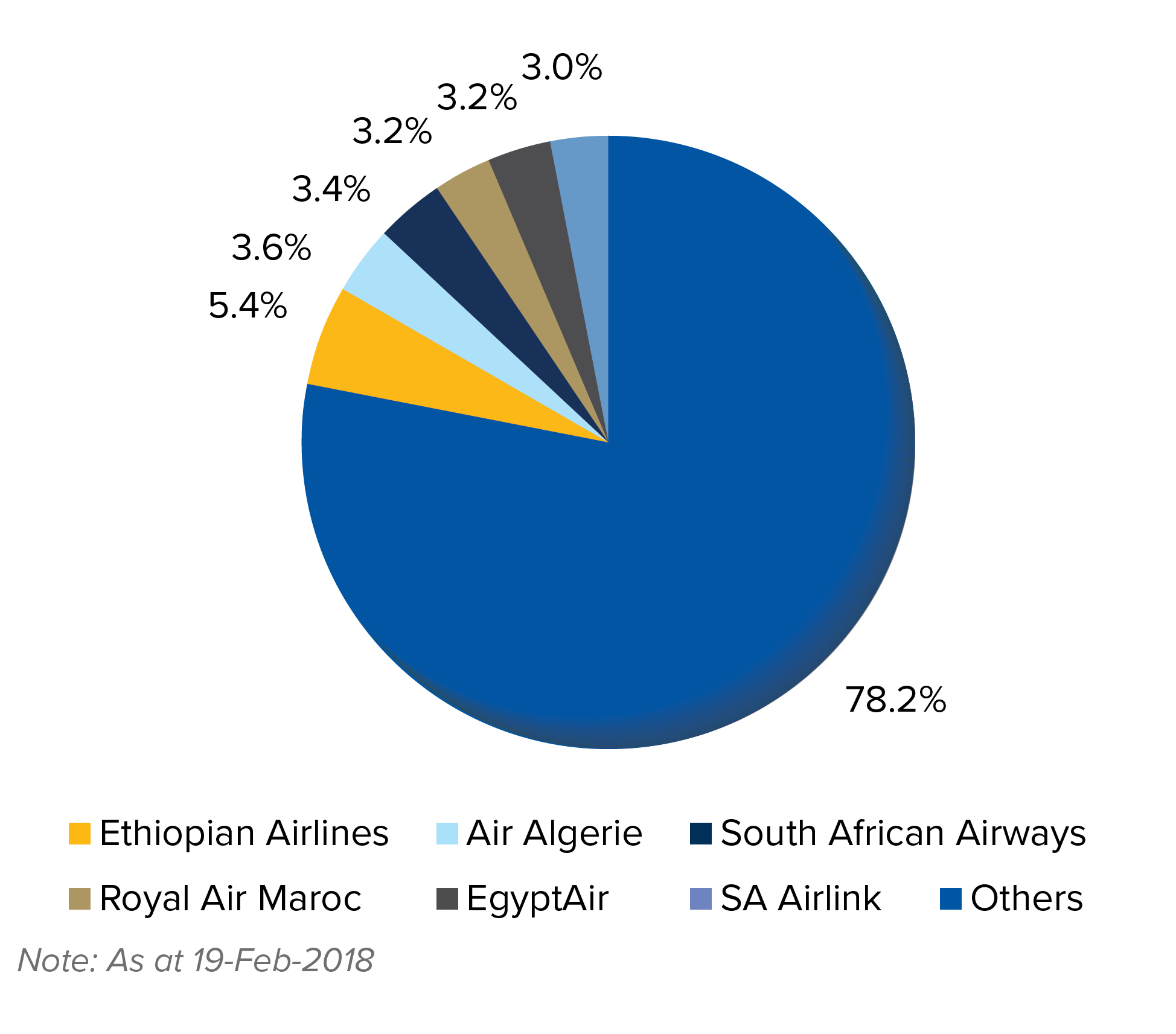 Meanwhile, governments will continue to push for their own 'flag' carriers. Increasingly though, these will hopefully be facilitated through partnerships with an established airline partner - a model which has been demonstrably successful among some nations in recent years.
Aviation in Africa currently supports USD72.5 billion in economic activity and 6.8 million jobs but its share of the global tourism industry is going backwards, as the continent's share shrinks from 4.8% of global arrivals and receipts in 2006 down to 3.3% in 2016.
To recite the decades painful old cliché, Africa's potential remains massive. But until governments recognise the wider benefits an efficient aviation system can bring, with its impact on economic development, that persistent situation will continue. An important first step would be to remove counterproductive taxation systems, but much remains to be done on the essentially protectionist regulatory front.
The SAATM is a fine expression of goals, but unfortunately, like the supposedly liberalising Yamoussoukro Decision long before it, it could simply turn out to be yet another unfulfilled landmark of aspirations in African aviation.