A321neoLR: Ideal for new North Atlantic routes, potentially a global game changer
Airline Leader
AIRBUS COMPLETED the first A321neoLR test flight on 31-Jan-2018 and expects the aircraft to enter service in 4Q2018. With an extended range and seat costs equivalent to much larger aircraft, it holds the promise of a much wider profile of city pair operations. But the impact is likely to be gradual, as limited numbers arrive in service. Long haul low cost operators are prominent among first movers.
LCCs Norwegian Air, Jetstar, Peach Aviation and Air Arabia are the leading LCCs to have committed to acquiring the A321neoLR. Air Arabia signed a deal with Air Lease in Nov-2017 for six A321neoLRs, while Norwegian announced in Jul-2016 the conversion of 30 A320neo orders to A321neoLRs. Both plan to take delivery of A321neoLRs from 1H2019.
Jetstar's parent Qantas Group in Feb-2018 announced the conversion of 18 A321neo orders to the A321neoLR. Jetstar plans to take delivery of the 18 aircraft from 2020 to 2022.
And All Nippon Airways subsidiary Peach announced in Jul-2018 the conversion of two A320neo orders to the A321neoLR. Peach plans to take delivery of both aircraft in 2020 and will likely order more A321neoLRs for its new long haul operation. Jetstar and Peach have to wait until 2020 as there are no more available early slots.
Summary
There are now 10 airlines, including four LCCs, that have announced commitments for the A321neoLR since the programme was launched over three years ago.
There are likely several other airlines that have acquired the A321neoLR but have not yet been disclosed because Airbus does not distinguish between the A321neoLR and A321neo in its order book.
Most of the A321neoLRs will be used in the trans-Atlantic market.
There are also opportunities for the aircraft to penetrate thin long haul markets within Asia Pacific.
Jetstar has converted 18 A321neo orders to the A321neoLR and Peach Aviation has converted two A320neo orders to the A321neoLR.
Ten airlines have so far announced commitments for A321LRs; most have a low(er) cost profile
Airbus launched the A321LR programme in Jan-2015 with a commitment from Air Lease Corporation. The aircraft is essentially identical to the A321neo, which was launched in late 2010 and entered service in Apr-2017, with the exception of an extra fuel tank and a higher maximum take off weight. This enables the A321LR to fly approximately 1,000km further than an A321neo, for a range of over 7,000km.
Ten airlines have announced commitments since the A321LR was launched in 2015. These include the four LCCs (Air Arabia, Jetstar, Norwegian and Peach) and six full service airlines (Aer Lingus, Air Astana, Air Transat, Primera Air, SATA and TAP Air Portugal).
Full service Air Astana was the first airline to announce an A321LR commitment, signing a deal with Air Lease Corp in Jun-2015. Air Astana plans to take delivery of its first A321neo in early 2019. Primera is currently in line to become the first operator, with both of the A321LRs it has ordered slated to be delivered in 4Q2018.
Air Transat, Primera and SATA are all considered FSCs, although they follow leisure airline models. Aer Lingus, Air Astana and TAP are flag carriers but not in the traditional sense; they follow hybrid models, particularly Aer Lingus.
A321LR Disclosed Commitments*
| | | |
| --- | --- | --- |
| Airline | Number of orders | Source |
| | 30 | |
| | 18 | |
| | 15 | |
| | 10 | Airbus |
| | 8 | Air Lease Corp |
| | 6 | Air Lease Corp |
| | 4 | Air Lease Corp |
| SATA | 4 | Air Lease Corp |
| | 2 | Peach |
| | 2 | |
| Unassigned | 37 | Air Lease Corp |
Only four airlines have announced A321LR orders directly from Airbus. Air Lease Corp and AerCap are investors in the model
Aer Lingus, Air Arabia, Air Astana and SATA are taking their A321LRs from Air Lease Corp, while the aircraft for Air Transat and Primera Air are being sourced from AerCap. Air Lease Corp and AerCap are the only two leasing companies to have so far announced A321LR orders.
TAP Portugal, Norwegian, Jetstar and Peach are so far the only airlines to announce A321LR orders directly with Airbus.
The six total orders (four airlines and two leasing companies) are for a combined 136 aircraft as of Aug-2018, according to the CAPA Fleet Database. They consist of 59 aircraft from launch customer Air Lease Corp, 30 for Norwegian, 18 for Jetstar, 17 for AerCap, 10 for TAP and two for Peach.
Of the 59 orders from Air Lease Corp, 22 have been placed (eight to Aer Lingus, six to Air Arabia, four to Air Astana and four to SATA), while placements for the remaining 37 have not yet been announced.
Air Lease likely has customers for some and perhaps most of these aircraft but has not yet disclosed the customers. All 17 of the AerCap aircraft orders have been placed, including two for Primera Air and 15 for Air Transat.
Several other airlines may have undisclosed commitments to the A321LR; there could be 20 operators by 2020
Several other airlines are likely to have committed to A321LRs but have not formally announced their intention to operate the new type. It is likely that other leasing companies have also committed to A321LRs on behalf of their customers.
Airbus does not provide a breakdown between the A321LR and the standard A321neo in its order book. Therefore, several customers (airlines and leasing companies) that have ordered the A321neo may have specified A321LRs but these are not being reflected in the Airbus order book (and never will be).
Airbus currently has orders for more than 1,500 A321neos. The 136 disclosed commitments for the A321LR represent only about 8% of the total A321neo order book.
The A321LR will ultimately account for a much larger share of total A321neo deliveries. There could be more than 20 A321LR operators by the end of 2020.
Airbus discloses when an airline converts an A320neo order to larger A321neos but does not disclose if an airline converts an A321neo order to the A321LR. It is entirely up to the airline to announce the acquisition of A321LRs. For privately owned airline groups such as Lion Group a public announcement is not likely.
All-economy A321LRs have range limitations – perhaps accelerating hybridisation
While the A321LR has the potential of becoming a game changer on long haul routes of up to eight hours, the new type will have constraints in the emerging long haul low cost segment. It is for example unable to operate for eight hours in the maximum 240 seat configuration.
Airlines will therefore have to opt for a lower density configuration to take full advantage of the A321LR's increased range, which is one main benefit of the new type. A low density configuration generally does not work for short haul LCCs or for many full service airlines.
This suggests that on long narrowbody routes of over seven hours the A321LR could become a niche operation, limited to markets with high enough yields and premium traffic to justify relatively high costs. The A321LR costs more to buy than the standard A321neo and has relatively high operating costs on long routes; obviously these costs have to be recovered for an airline to justify the investment.
In these cases there is the potential to vary the configuration to allow for more business-type seating, or even lie flat, as AirAsia X currently applies on its long haul widebody operations. (AirAsia X is looking at acquiring A321neoLRs but has not yet decided whether to go with the standard A321neo or the A321neoLR. AirAsia X intends to acquire 40 A321neos/A321neoLRs – although most will likely be in an all-economy configuration, some could be a dual class configuration with its lie flat product.)
One example of this higher yielding operation potential is Air Astana. The Kazakhstan flag carrier plans to use its fleet of A321LRs to replace 757s on long thin routes from Kazakhstan to Western Europe and East Asia. It currently operates 757s to Bangkok, Frankfurt, Ho Chi Minh City, Kuala Lumpur, London and Seoul (routes of six to eight hours).
Air Astana will likely lay claim to the longest A321LR route, as it has selected a low density configuration and its routes are generally longer than the trans-Atlantic routes the European customers of the A321LR intend to operate. The aircraft is ideal for Air Astana as its long haul routes are very thin and generally have no competition – and high average yields.
Jetstar plans the densest configuration among A321LR operators, Air Astana the lowest
Of all the airlines to have announced A321LR commitments so far, Jetstar has the densest configuration. Ultimately its decision to squeeze 232 seats onto the aircraft will probably define its network options.
Of the other LCCs, Norwegian has opted to configure its A321LRs with 220 seats and Air Arabia with 215 seats. Peach has not yet stated how it will configure its A321LRs.
Air Arabia has always offered a relatively generous 32in pitch on its A320s, seating 168 passengers compared to the normal LCC configuration of 180. The 32in pitch will be maintained on the A321LRs, and the LCC is expected to use the aircraft to launch routes of six to seven hours to Asia, Africa and potentially Western Europe. Air Arabia's longest current routes (Sharjah to Nairobi and Urumqi) are approximately five hours. Air Arabia does not yet serve Western Europe from its Sharjah base.
The six full service A321LR operators plan two class configurations with between 166 and 200 seats. Air Astana has the least dense configuration, opting for 16 lie flat business and 150 economy seats. This matches the configuration Air Astana currently has on its 757 fleet.
The North Atlantic looks to be an ideal market for route multiplicity

The potentially more mainstream opportunity for LCCs is to deploy A321LRs on shorter sectors of around six hours, better suited to routes like the North Atlantic. On a six hour route, an LCC is capable of operating the A321LR with a full payload of passengers at the maximum all-economy configuration. The bulk of A321LR orders is from North Atlantic-focussed airlines.
Norwegian has already demonstrated the potential for smaller widebodies like the 787, which it has operated since 2013, and 737-MAX to open up new city pair options on the North Atlantic and the A321LR has the potential to add further to the possibility of new links. Norwegian was the first LCC to launch long haul narrowbody trans-Atlantic flights with 737 MAX 8s in summer 2017 and now plans to add longer narrowbody trans-Atlantic routes in 2019 after it takes delivery of A321LRs.
The region's other lower cost operators similarly can add to the proliferation of smaller city pairs.
Aer Lingus, Air Transat, Norwegian, Primera, TAP and SATA all plan to use their A321LRs on trans-Atlantic routes.
Aer Lingus now uses A330s and wetleased 757s on Ireland-North America routes. Air Transat operates A310s and A330s on Canada-Europe routes and plans to phase out the A310s as it takes A321LRs.
TAP and SATA both operate A330s on Portugal-North America routes. SATA also began deploying A321neos from its Azores base to Boston in early 2018, a route of less than six hours. SATA also plans to use A321LRs for longer Portugal-North America routes. Denmark's reincarnated Primera launched trans-Atlantic services in summer 2018 with A321neos and plans to launch longer trans-Atlantic routes after it takes delivery of the A321LRs.
The trans-Atlantic market offers the best scope for exploiting the characteristics of the A321LR, particularly for thinner secondary routes. The aircraft has the range to connect the northeast US or eastern Canada with a large portion of Northern and Western Europe.
While longer trans-Atlantic routes are possible with a low density configuration, the A321LR will likely mainly be used on shorter routes in medium or high density configuration, further blending, or blurring the shape of LCC and leisure based full service operators.
There will soon be probably 20 LCC A321LR operators – and the impact will reach beyond their direct effect
The 757 has been used for years to serve thinner trans-Atlantic routes but the type is starting to reduce in number as the fleet ages. The A321LRs offer similar range and size but are much more efficient, making them attractive to both LCCs and FSCs.
LCCs have never acquired 757s, although they were often favoured by European "charter" companies, very much the equivalent of LCCs under a different regulatory regime. The A321neo and 737 MAX 8, which have slightly less range and capacity than the A321LR, are opening up long haul narrowbody opportunities to LCCs for the first time.
There inevitably will be a lot more than four LCC operators of the A321LR. The A321LR has the potential to open up hundreds of new LCC city pairs that are too small for widebody aircraft but too long to be economically served with other narrowbody aircraft.
With the current order book, the biggest impact will clearly be in the trans-Atlantic market. Over time the A321LR will also penetrate some long haul routes within the vast Asia Pacific region, along with the Middle East-Africa and Middle East-East Asia markets.
The difference the A321LR makes could prove to be transformative in network terms.
Its impact is likely to ripple beyond the direct operation of the aircraft as consumers and the extended aviation food chain – notably airports – experience the benefits of direct service, often avoiding congested hubs and uncomfortable customer experience.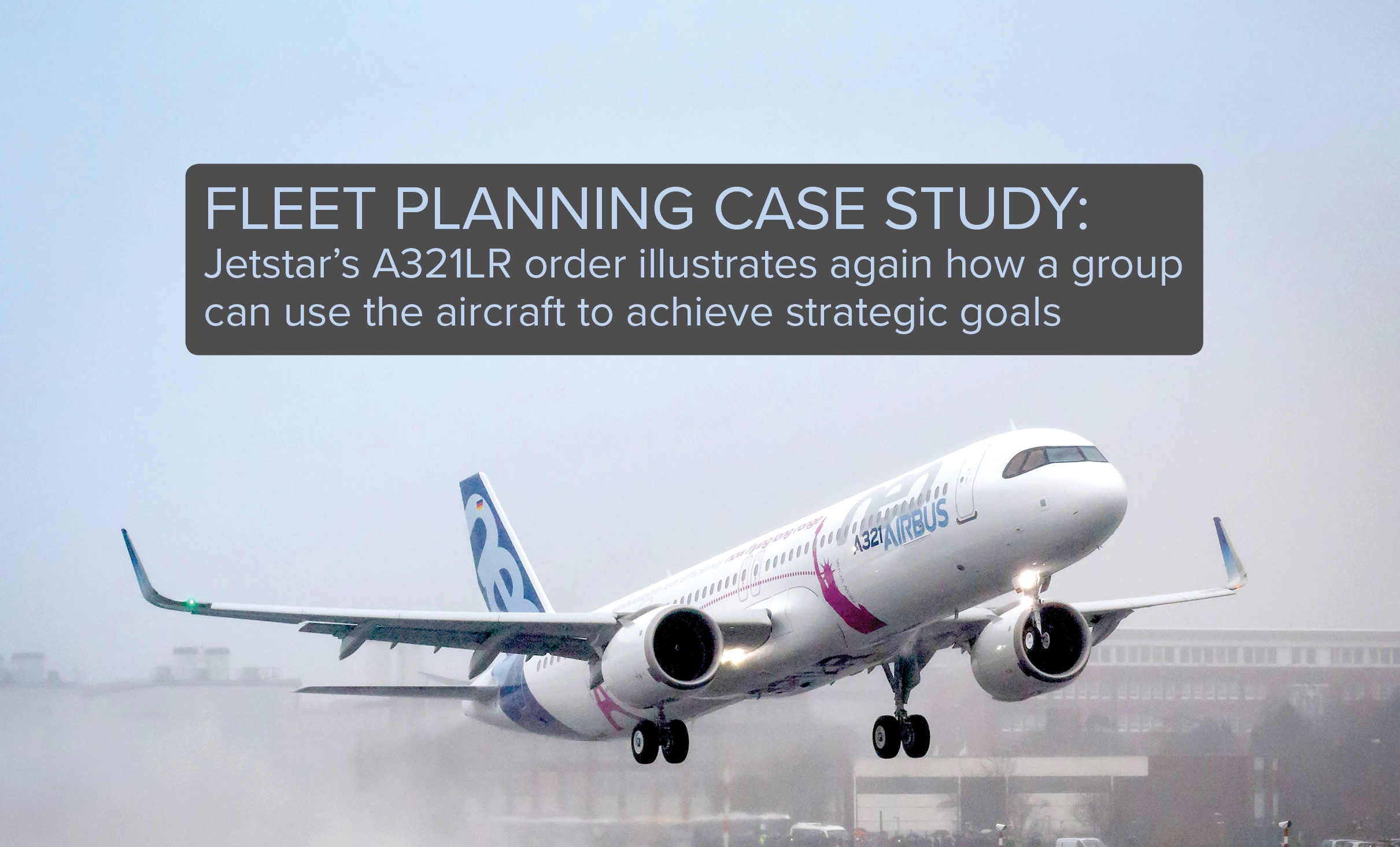 JETSTAR WAS A pioneer of the long haul low cost model, launching long haul services with A330s as long ago as 2006. It has since taken on a role of servicing a number of international routes characterised by low yields, making profitability possible where operations by its parent Qantas were otherwise unsustainable.
However Jetstar has not expanded its long haul operation for several years, due to fleet limitations, as the Qantas Group tempered its fleet expansion strategy. Its current fleet of 11 787-8s replaced 11 A330-300s. Now, with its first long haul narrowbody aircraft, the A321LR, Jetstar should be able to drive a new phase of long haul growth, again enhancing the group strategy and tapping into markets where other airlines might find competitive service hard to achieve.
A good example of how the A321LR can be used by a group LCC is Jetstar's initial plans for deploying A321LRs on the six hour Australia-Bali routes, currently served with Boeing 787-8s.
Jetstar will have a tight seating configuration, at almost maximum capacity
Jetstar plans to configure the A321LRs with 232 economy seats, or just eight seats short of the maximum.
The Qantas Group LCC currently operates 180 seat all-economy A320ceos, 220 seat all-economy A321ceos and 335 seat two class 787-8s. (Qantas itself uses predominantly Boeing equipment on short haul operations.)
The A321LR has significantly lower unit costs compared to the 787-8, enabling Jetstar to compete more effectively against other airlines in the Australia-Bali market. Using the new A321LR will also free up 787-8s for longer routes to Asia – the lower yielding routes where Qantas Group needs a presence, but where full service operations are not economically viable.
Jetstar recognises the potential to use the A321LR to launch new routes
Jetstar could also use some of its 18 A321LRs to launch new routes which are too thin for the 787 and out of the range of the A320ceo family.
Jetstar CEO Gareth Evans said in Aug-2018: "Fundamentally they are going to be doing a lot of flying domestically in Australia but it does open up new markets within that range circle for us."
Airbus lists the range of the A321LR at up to 7,400km. A 7,400km range circle from Melbourne or Sydney encompasses almost all of South East Asia. However, Mr Evans acknowledges that due to the high density single class configuration selected by Jetstar the Sydney-Bali and Melbourne-Bali routes would be "getting towards the edge of the range". The A321LR therefore provides opportunities to launch services from Melbourne or Sydney to parts of Indonesia, but other South East Asian markets are not under consideration.
Potential New Jetstar Airways A321LR Routes Ranked By Distance*
| | | |
| --- | --- | --- |
| Airline | Distance | Current operators |
| | 4300km | N/A |
| | 4325km | Samoa Airways, Virgin |
| | 4530km | N/A |
| Melbourne-Yogyakarta | 4791km | N/A |
| | 4794km | N/A |
| | 4803km | N/A |
| | 4992km | |
| | 5008km | N/A |
| | 5058km | |
| Sydney-Yogyakarta | 5080km | N/A |
| Melbourne-Jakarta | 5206km | |
| | 5348km | |
| | 5363km | N/A |
| Sydney-Jakarta | 5517km | |
| | 5586km | N/A |
Jetstar Airways Fleet Summary*
| | |
| --- | --- |
| Airline | In Service |
| | 52 |
| | 0 |
| Airbus A321-200 | 8 |
| Airbus A321-200neo | 0 |
| Airbus A321-200neoLR | 0 |
| | 11 |
| | Total: 71 |
Jetstar is also looking at using the A321LR to launch routes from Western Australia to New Zealand and from eastern Australia to new Pacific Island destinations. These would be routes of similar length, or slightly longer, than Melbourne/Sydney-Bali, but significantly shorter than the published maximum range.
There are also potential opportunities to use A321LRs to open new routes from Jetstar Group's bases in Japan, Singapore and Vietnam.
Jetstar Japan's rival Peach plans to use its A321LR fleet to fly deeper into South East Asia and potentially India. Peach's only current destination in South East Asia is Bangkok, which it is only able to serve from Okinawa rather than Osaka or Tokyo.
However, the overseas Jetstar partner opportunities are not on the table until after 2022 as the group has decided to allocate all 18 A321LRs to Australia-based Jetstar Airways. The initial 18 aircraft essentially provide Jetstar with a platform to experiment with a small number of new routes from Australia (as most of its A321LRs are already – tentatively – earmarked for existing routes).
Jetstar has adopted a conservative approach and has plenty of time to decide on the relatively small number of new long haul narrowbody routes it will launch with A321LRs in the early part of the next decade.
There will undoubtedly be considerable interest in the route selection process among some of the smaller, less congested, airports in the region.