CAPA Perspectives: Japan-Australia hits the accelerator to become the fastest growing market
Press Release
After being quiet for so long, Japan is moving quickly. Seat capacity between Australia and Japan has increased by 35.6% to be the largest international growth market for Australia so far in 2016. The increase can be attributed to Qantas' expansion of its Japanese operations with the addition of Brisbane-Tokyo Narita, while ANA returned to Sydney from Haneda in late 2015.
Australia to Japan (seats per week, one way): 20-May-2013 to 31-Oct-2016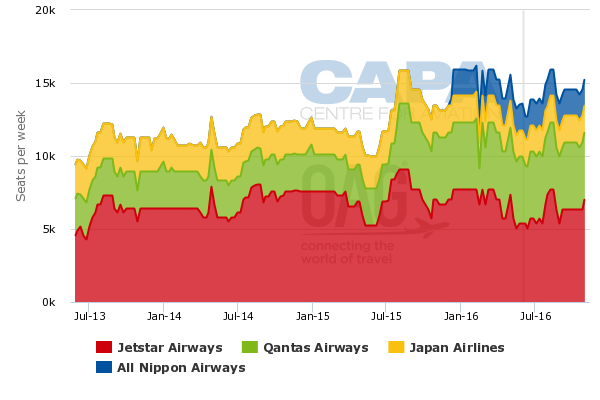 Qantas' mainline operation has 33.8% of total seat capacity, including Jetstar in this figure increases to 76.1%. JAL holds 13.4% while ANA operates a marginally smaller 13.2%. Around 40% of Japanese visitors travel on Jetstar, followed by Qantas at 22% and Japan Airlines with 12%. Increases in monthly inbound arrivals from Japan have consistently held in the double-digit range since the capacity additions, while Japan remains among the top 10 outbound markets for Australians travelling overseas.
The increases are perhaps unexpected – eclipsing even China which grew at 28.0%, and Indonesia at 20.7%. The market share distribution remains heavily weighted in favour of the Qantas Group, not unlike the Japanese tourism boom of the 1990s. Demand remains strong, though no indicator of yield – all carriers reported load factors in excess of 90%; Jetstar at 93.5%, Japan Airlines at 96.6%, ANA at 96.7% and Qantas at 97.3%. Let the good times roll.