Russia's growing leisure market gets a leg up as Transaero orders A380s
CEO Olga Pleshakova had indicated the airline was planning to upgrade its long-haul fleet with either the B747-8 or the A380, and the order for four concludes the discussion. An order for either VLA would have seen Transaero become the first Eastern European-based carrier been the launch customer for that region. The engine selection has not yet been announced.
Transaero, which is primarily a long-haul leisure-focussed carrier, announced it plans to configure its A380s with 700 seats, making it one of the densest configurations announced to date, beaten only by Reunion-based Air Austral's plans to squeeze 840 seats into the aircraft. It is currently an all-Boeing operator, although it has signed for eight A320neos.
Transaero capacity (seats) breakdown (Nov-2011)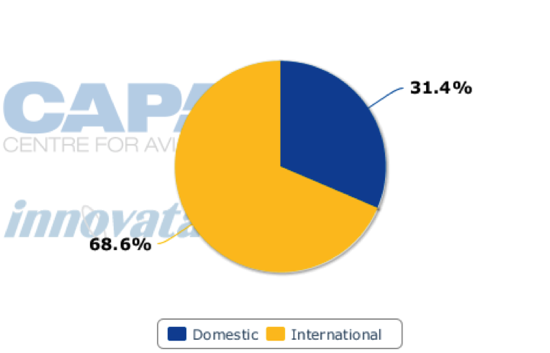 Air Reunion's A380s are expected to be used on the heavy leisure market between Paris and Reunion, located off Africa's east coast. Three classes will be offered on Transaero's A380s, although with 700 seats on board, it is likely the first and business class cabins are likely to be small, and certainly not the all-upper-deck business cabin that premium traffic-focused carriers have introduced on their A380s.
So far it is early days to see if Transaero, the sole Eastern European operator for a VLA, will spur other airlines to order VLAs. There are, however, few other airlines in the complex, highly fragmented and generally loss-making Eastern European region that could effectively use an aircraft such as the A380. Rival Aeroflot, which is also chalking up impressive growth, is the only other carrier at this stage. If no other A380 orders come out of the region, Transaero is likely to enjoy yield and cost advantages over rivals, which will further fuel its growth.
Announcing the order, Airbus' EVP Europe, Asia and the Pacific Christopher Buckley said the manufacturer expects passenger traffic in [Russia] to increase at an average rate of 5.6% per year over the next 20 years. Transaero, which lives on a diet of double-digit growth, is likely to exceed Airbus' growth projections.
Transaero passenger traffic and growth (FY2003-FY2010)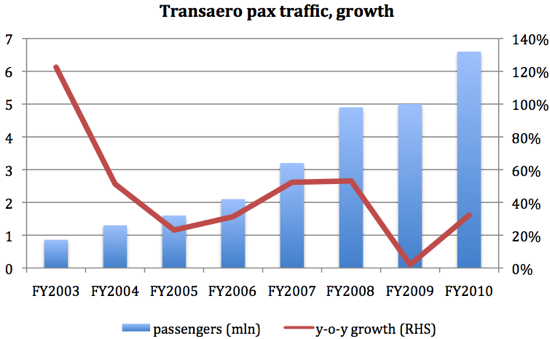 Transaero, Russia's second-largest airline behind Aeroflot, has proven itself as the most growth-hungry carrier in the booming Russian market, consistently outpacing the country's system growth rate. In 2011 it is once again among the fastest-growing carriers, with passenger numbers up 29.5% in the Jan-Sep (inclusive) period to 6.6 million, twice the system growth rate. Transaero's cargo traffic has bucked the global trend this year and is up 30.2%. Transaero is the only major Russian carrier to consistently increase market share (by system RPKs) over the past five years and it more than doubled its share of the total market (by passenger numbers) between 2006 and 2010, now claiming 11.7% of the total Russian market. Transaero even eked out a 3.6% increase in 2009, when the Russian market shrank 9.5%.
CAPA looked at the extraordinary growth of the Russian market, in which Transaero is playing an important part, in the Sep-2011 edition of its magazine Airline Leader. The order for A380s, while only for four, is a major step forward for Transaero and signals it expectations for future strong growth in Russia's long-haul market.
Transaero is a major player in Russia's fledgling international leisure market, operating an extensive medium-haul summer route network to more than 20 leisure destinations on the Mediterranean and Black Sea coasts. It is also one of the country's largest charter carriers. Transaero's long-haul international comprises destinations in the US, the Caribbean, the Middle East, the Indian Ocean, East Asia and South East Asia. The airline's network swells in the summer period, with new routes and frequencies added to leisure destinations.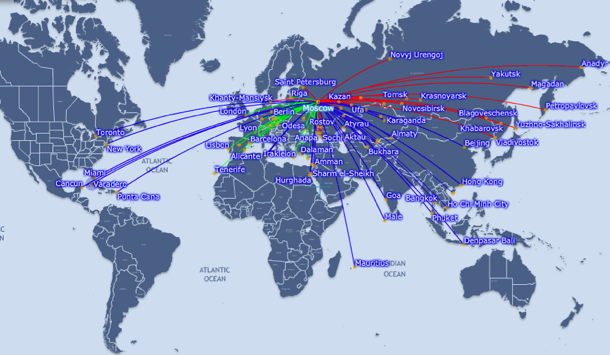 An area to watch will be to see if Transaero's order elicits a response from Aeroflot, which has been aggressively defending its long-haul market share as Transaero relentlessly pushes ahead with growth plans and bites at its heels, particularly in the long-haul space. While Aeroflot carries over twice as many passengers as privately owned Transaero, Aeroflot is only 25% larger in RPK terms in the Jan-Sep period, according to Rosaviatsia.
Aided by A380s, Transaero is likely to continue to close this gap, particularly in RPK terms. One can postulate the volume of ASKs four A380s could potentially add. For example, 700 seats at a conservative estimate of two routes of about 7400 km (Bangkok and New York JFK, two key long-haul routes), with two daily sectors and four aircraft could add over 15 billion ASKs per annum to Transaero's network. The total ASK gap between Aeroflot and Transaero in 2010 was 7.2 billion, and has been closing fast.