Worldwide premium revenues down 40%. European LCCs winning - premium pax "may not return" - IATA
Analysis
The International Air Transport Association (IATA) has observed that "structural declines" in premium traffic are now occurring, particularly in Europe. IATA stated the deterioration in premium travel is occurring despite the better economic news declared by Germany and France. It noted that passengers who had previously paid premium fares to travel on short-medium haul European routes "and have now moved to the back of the aircraft, or onto low fare airlines, may not return".
Within Europe, travel on premium tickets declined even more in Jun-2009 at a rate of 31.3%, compared with a 30.6% decline in May and a 24.2% fall in the first quarter. Economy travel on this market is moving is the opposite direction with a moderation in the recent decline to 3% in June, after 4.9% in May and a 7% decline in the first quarter, according to IATA.
The comments will be welcomed by easyJet (which has made a major assault on key European business markets), as well as Ryanair and other non-IATA member LCCs.
Global premium demand improves, at the expense of yield
IATA noted the decline moderated in both premium and economy travel in Jun-2009. The number of passengers travelling on economy tickets has shown signs of reaching a floor since Mar-2009, according to the industry body, but until June, "that seemed largely due to business travellers switching from premium to economy seats rather than any underlying stabilisation of demand". In June, numbers travelling on economy tickets fell by 5.5% compared to a larger 7.6% decline in May. The decline in premium travel numbers also moderated, from -23.6% in May to -21.3% in June.
IATA total premium traffic growth: Apr-07 to Jun-09
But the issue now, according to IATA is that this stabilisation of passenger numbers is "partly being achieved at the expense of much lower yields, as airlines seek to boost cash flow by making more cheaper seats available". IATA estimates revenues from premium travel fell 33% in 1Q2009 and 41% in 2Q2009 and was still declining at a rate close to 40% in Jun-2009.
Asia struggling
Some key Asian markets saw a further deterioration in June. Since economic conditions improved in many key Asian economies during the second quarter, the further deterioration in air travel is "likely due to continued concerns over influenza A (H1N1)", according to IATA. Within the Far East, premium passengers numbers showed an accelerated decline of 19.3% in June, after a 17.1% fall in May and an 11.7% 1Q2009 fall. IATA stated, "notably much of the accelerated decline in this market was due to passenger travelling on economy tickets, consistent with the view that this deterioration was probably due to the impact of influenza A (H1N1) concerns".
A similar decline was seen on the Europe to Far East market, where premium travel was down 23.7% in June. However, this was not true of all Asian markets. Across the North and Mid Pacific there was a moderation in the decline of total passenger numbers from 18.9% in May to 16.3% in June. Premium travel was down 27.9% on this market.
IATA premium traffic growth by region - Jun-09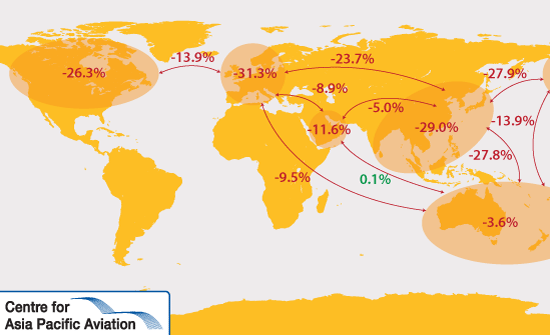 IATA premium traffic growth by region year-on-year growth: Jun-08 to Jun-09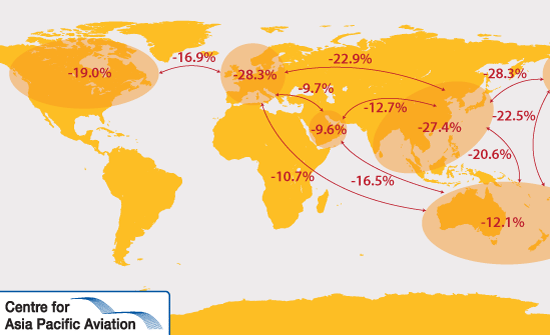 Middle East carriers gaining, but at what cost?
There was a further improvement in passenger numbers travelling between the Middle East and Asia, according to IATA. Premium travel remains down on last year, but economy is up sharply, taking total passenger numbers up 14.6% in June after a rise of 9.4% in May, "partly reflecting the investment in tourism in the Middle East and direct travel to the region", according to the industry body.
Europe to Middle East passenger numbers were also up 7.5% in June. Part of the growth in these two markets, compared to the decline in direct Europe to Far East markets "reflects the success of Middle Eastern airlines in gaining market share from the direct flights by flying passengers via their hubs", according to IATA.
However, these gains could be coming at a cost. While the Middle East share of premium traffic is holding up, its share of premium revenue dipped sharply in Jun-2009.
IATA Middle East premium revenue share vs premium traffic share: Apr-08 to Jun-09
Europe and US faring better
IATA stated there was also some evidence that more stable Q2 economic conditions in the US and Europe began to influence travel, with total passenger numbers across the North Atlantic falling by 'only' 3.5% in June compared with a 6.3% decline in May.
The improvement is most visible in economy travel where numbers were just 1.7% down on levels last year, after first quarter numbers were down 9.5%. The same is not true for premium travel. IATA stated, "bankers may be getting bonuses again, but the level of financial market activity remains low and that is a key driver for business travel on this market. Passengers travelling on premium tickets across the North Atlantic remained down 13.9% in June.
Outlook: 40% declines in premium revenues can't persist for long without change
IATA's comments that tentative signs of a floor being reached for revenues and passenger numbers at the end of the second quarter are cold comfort for premium-focused airlines. This is because that floor is at levels some 40% below last year – a situation that, if it persists, will be catastrophic for earnings for many carriers.
Fundamental reforms by airlines and regulators will be needed to adjust to the structural changes inflicted by economic pressures and rising competitive.