With Qatar Airways as new member, oneworld seeks to regain momentum but may become more divisive
Analysis
The global upheaval in airline alliances and partnerships will only intensify with the oneworld alliance expected to announce in New York City on 08-Oct-2012 the membership of Qatar Airways, sponsored by International Airlines Group (IAG). oneworld will seek to regain momentum after failing so far to secure an Indian and mainland Chinese member. It is also the smallest and loosest of the three marketing alliances and in recent years has had carriers frequently in financial straits, including Mexicana (now defunct), Malev (now defunct) Japan Airlines and American Airlines.
While Qatar's addition would indicate unanimous approval from oneworld carriers, it would not have been attained easily and does not guarantee all carriers are pleased. Qatar for IAG's British Airways and Iberia will be a deep partner while for others – chiefly Cathay Pacific, Finnair and Qantas – it will be a competitor and they must sort through how to integrate Qatar into their web at a time marketing alliances are losing lustre to a Middle East-centric approach. For this redirection of global aviation strategy, there is no guide. Qatar and oneworld are writing a new rulebook.
Alliance membership was once seen as the pinnacle strategic option – aircraft were painted, lounges branded – but in the eventuating new order, some oneworld carriers will not prize alliance membership, either of their own doing or a result of their benefits being lessoned. The candidate list is tall: American Airlines is being courted by Emirates, which has a close relationship with Japan Airlines and in Sep-2012 signed an extensive partnership agreement with Qantas; Finnair's future has been bet on connecting European-Asian traffic, a staple of Qatar Airways; Cathay Pacific already has a hands-off approach and Qatar's addition will do little to reverse that stance; Royal Jordanian is in Qatar's backyard; and airberlin has a deep partnership and equity stake with Qatar rival Etihad Airways.
This crop of seven is more than half of oneworld's 11 active members. The likely outcome to emerge over some time was put succinctly to Aviation Week by Etihad CEO and airberlin board member James Hogan, who said of airberlin's strategy: "oneworld is secondary".
Members and pending additions to oneworld, SkyTeam and Star Alliance: as of 03-Sep-2012
Global alliances to shift to Middle East, or network anchor member
The ascension of Qatar Airways will not break up oneworld, at least not overnight. Once initial welcoming or apprehension settles and carriers work through the details of Qatar's entrance, the prospect of a Middle East network carrier as a key member will be tantalising. But with time some carriers may realise a different mega hub carrier is more suitable, say either for access to specific markets, the carrier's partnership platform or because a regional neighbour that has been in the same alliance is in fact a competitor and working with the same long-haul partner stymies potential.
Qantas has made its move, aligning with Emirates and loosening ties with British Airways and Cathay Pacific. The next to break rank could be American Airlines or Japan Airlines. While those two are less likely to entirely leave oneworld, Qantas, for example, could have greater ability to secure partnerships – especially in much-needed Asia – without the weight of its marketing alliance possibly clashing with a prospective partner's alliance. airberlin joined with Etihad before it formally entered oneworld (although airberlin's decision to seek membership in oneworld was made before Etihad forged a tie-up with airberlin).
And so a new global order of global aviation emerges: an airline's alliance strategy centered not around a marketing group but a network carrier anchor, often from the Middle East, with other carriers that cater to demand nuances.
Reckonings will not be confined to oneworld members. All carriers will have to consider their position. Potential anchor partners can be found not just in Emirates, Etihad or Qatar – the Middle East trio (or troika, Air Canada and Lufthansa may contend). Star's Turkish Airlines is effectively a Middle East network carrier while regional carriers in emerging markets of Latin America and Africa may turn to fledging and ambitious local long-haul carriers like Ethiopian Airlines or Kenya Airways for global reach.
This is a strategy pursued by a few – airberlin, Virgin Australia – but will grow in popularity. That will see air transport become more strategic, an industry based on what carriers bring to the table rather than the convenience of who is left or willing to break rank. Traffic flows could be re-routed and new carriers born to bring competition and fill gaps, to name two implications.
Building an independent network takes time and can be heavy on resources, unlike the global access an airline gains once it works through alliance criteria. Exhaustive as alliance membership may be with hundreds of alignment protocols, it is not as complex as going through that process partner by partner. An independent network runs the risk of mismanagement, and a strategy or position that is anything but sound at home will not be appealing to prospective partners. Yet once completed, there are few downsides while offering incredible rewards.
The impetus will largely be Qatar's entrance into oneworld, although that is a move that follows the Emirates-Qantas partnership, which was prompted by the quiet Etihad-Virgin Australia alliance. But before this global shift there will be much to work through amongst existing partners after Qatar joins oneworld.
Qatar's addition would shift 0.6% of global capacity – but a growing share
The addition of Qatar Airways, the world's 42nd largest carrier by seats and 19th by seat kilometres, would shift into oneworld 0.6% of seat capacity for the week 01-Oct-2012 to 07-Oct-2012, increasing oneworld's total share of global scheduled capacity from 11.6% to 12.2% (assuming all pending members join). Star will be twice the size with a 24.8% share, and SkyTeam straddling the two with an 18.3% share. Qatar has achieved this position with 102 passenger aircraft, and with 180 passenger aircraft on order its prominence will only increase.
Alliance capacity distribution: 01-Oct-2012 to 07-Oct-2012
Global capacity assuming all pending members join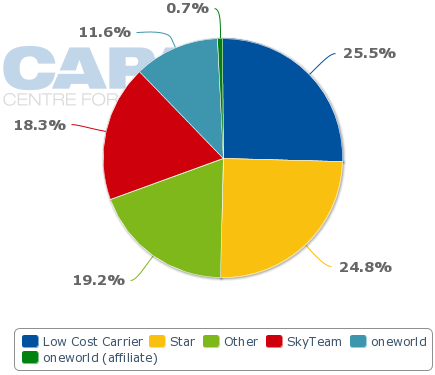 Global capacity with pending members and Qatar into oneworld
Qatar will allow oneworld to make considerable gains in Africa, India and the Middle East which have seen light oneworld coverage. Its overall strength, however, is not in numbers but efficiency, as CAPA earlier wrote:
When oneworld's most recent member, airberlin, joined in Mar-2012, oneworld noted how much the carrier extended the alliance's network, especially in the large German domestic market. Qatar by contrast would add a mere 17 [now 20] destinations to oneworld's network of what it says is over 800. These supplementary destinations are primarily in emerging, but not first tier, markets. Six of the 17 [and six of the now 20] destinations would likely have been added to oneworld's network if its plan for India's Kingfisher Airlines to join the alliance earlier this year had persevered.

With the exception of India's Trivandrum, all of the new destinations Qatar would bring to oneworld are already served by SkyTeam, Star or both. (Trivandrum is served by SilkAir, wholly owned by Singapore Airlines but not included in the alliance, although parent SIA codeshares on SilkAir's Trivandrum service.) In a testament to Star's strength following the addition of Turkish Airlines, many destinations that Etihad or Qatar would bring to oneworld are served by Turkish, underscoring the benefits oneworld could derive from a global network carrier.

The opportunity, therefore, for oneworld is not size but efficiency by way of having better connections. For example, while oneworld may already claim Entebbe and Hyderabad as destinations, via service from only British Airways, the need to connect through London to access those destinations make them of little benefit to Japan Airlines (JAL) or Qantas.
For more on market-by-market affects, see related article from Jun-2012: oneworld's BA and Qantas may shake up global alliances irreversibly as Emirates and Qatar enter
New passenger destinations, served or planned, Qatar would bring to oneworld: 03-Oct-2012
| Qatar destinations new to oneworld | Service by other alliances |
| --- | --- |
| Ahmedabad, India | Star |
| Ankara, Turkey | SkyTeam, Star |
| Calicut, India | SkyTeam |
| Cochin, India | SkyTeam |
| Gassim, Saudi Arabia | SkyTeam |
| Goa, India | SkyTeam |
| Islamabad, Pakistan | SkyTeam, Star |
| Kigali, Rwanda | SkyTeam, Star |
| Kilimanjaro, Tanzania | SkyTeam, Star |
| Kolkata, India | SkyTeam, Star |
| Lahore, Pakistan | SkyTeam, Star |
| Mahe, Seychelles | SkyTeam, Star |
| Maputo, Mozambique | SkyTeam, Star |
| Mashhad, Iran | SkyTeam, Star |
| Najaf, Iraq | Star |
| Peshawar, Pakistan | SkyTeam |
| Shiraz, Iran | Star |
| Tehran, Iran | SkyTeam, Star |
| Trivandrum, India | n/a |
| Yangon, Myanmar | SkyTeam, Star |
Qatar is the best fit of the Middle East carriers for oneworld. As CAPA previously wrote:
Of the three theoretical candidates – Emirates, Etihad and Qatar – Qatar would be the most effective for oneworld. Emirates has become sufficiently large that it can not only sustain itself on its own without worry but that same size would make it potentially difficult to integrate into an alliance.

Etihad meanwhile is the smallest of the three Gulf carriers, a situation unlikely to change given it has approximately 90 aircraft on order compared to Qatar's 190. Etihad has formed an extensive network of codeshares, interlines and cross-equity (the largest of any of the Middle East three) that would fall under serious revision if it were to join oneworld. Its partnerships are strategic and span aligned and unaligned carriers where geographically convenient.
Willie Walsh's friendship with Qatar's Akbar Al Baker the driving force
It has been IAG, owner of British Airways and Iberia, CEO Willie Walsh that has courted Qatar Airways CEO Akbar Al Baker. Negotiations became well advanced more than six months ago for Mr Walsh to confidently predict, as he told CAPA in Apr-2012, "I will be amazed if one of the Gulf carriers does not join an alliance this year. It would be a healthy development. We have certainly discussed Gulf airline membership in oneworld at great length."
The two executives are straight-talking and have achieved considerable gains: Mr Walsh turning around BA and Mr Al Baker leading Qatar Airways into a formidable force. Known for their at times sharp if frank remarks, the two have spoken fondly and with admiration of each other in public and in private are close colleagues.
For IAG, seizing the world; for oneworld, regaining momentum
Mr Walsh has become something of an unstoppable force, first turning around British Airways, restructuring Iberia's short-haul network that saw the creation of Iberia Express, acquiring bmi and its previous London Heathrow slots and now warning Iberia's long-haul sector that it will face deeper competition. Emboldened by the once in a lifetime Heathrow slot acquisition – and threat of Etihad's stake in airberlin, and possible partnership with Air France-KLM – Mr Walsh's opportunity is no small matter: establish IAG as the leading airline group in Europe, a market that bestows the opportunity to have global dominance, and become the world's leading airline.
Mr Walsh cannot realise the opportunity alone – even with the bmi slots, BA has a lower share at Heathrow than rival European carriers have at their hubs – and nor is it necessary in an age of deep partnerships and anti-trust immunity. Mr Walsh, like most but increasingly not all executives, is still faithful in subscribing to the power of marketing alliances and their necessity. Bringing Mr Al Baker's Qatar Airways into the fold enhances value for both.
See related articles:
Oneworld of course sees a tremendous lift, too. Qatar offers the alliance a needed boost at the time American Airlines is in bankruptcy proceedings with a disenfranchised workforce, this after Japan Airlines went through its own restructuring (and pondering to join SkyTeam). Iberia too now seems beset with woes not dissimilar to its national economy, and could face reinvigorated competition following the outcome of TAM's alliance selection and ownership of TAP, two heavyweights in the growing Europe-Latin America market.
Top 10 airlines ranked on seats between Europe and Latin America: 01-Oct-2012 to 07-Oct-2012
Rank
Airline
Total seats
1
IB
Iberia
74,232
2
AF
Air France
62,682
3
TP
TAP Portugal
35,860
4
KL
KLM Royal Dutch Airlines
32,300
5
BA
British Airways
28,454
6
LH
Lufthansa
28,000
7
UX
Air Europa Lineas Aereas
26,312
8
JJ
TAM Airlines
24,854
9
AZ
Alitalia
14,346
10
DE
Condor Flugdienst
13,572
Iberia, whose furthest eastward flights are to Tel Aviv, gains from Qatar's presence in Barcelona and Madrid to have more global connections. In recent months Emirates has turned its attention to this market, a rare instance where it is not the trendsetter.
See related article: Emirates' Spanish expansion highlights Iberia's long-haul weakness to the east
In further Spanish qualms, IAG at the corporate level must contend with financially uncertain Spanish shareholders. Local reports have suggested IAG gauged Qatar's interest in become a shareholder.
See related articles:
Of the three marketing alliances, oneworld is the smallest. It sees itself as the preferred alliance for business, with member carriers linking global financial centres. But the larger size of Star offers greater options, as does SkyTeam, which in recent years has made considerable gains, especially in Asia and China in particular where it has signed up China Southern and China Eastern, the two largest carriers in mainland China and the world's eighth and ninth largest carriers respectively. Xiamen Airlines, and other Asian carriers, will come into the SkyTeam fold too. Star meanwhile has Air China and soon Shenzhen Airlines while oneworld has no mainland member, a result of pressure from Cathay Pacific and the Chinese government, stymieing oneworld's obvious pick, the privately-owned Hainan Airlines.
India is a trouble for the alliances, with Kingfisher failing to join oneworld in early 2012, and Air India not joining Star. Star now looks to receive Jet Airways while SkyTeam is considering a hybrid platform that would allow affiliation with low-cost and hybrid carriers, which are aplenty – and successful and stable – in developing markets: Indigo in India and Gol in Brazil, to name two. oneworld meanwhile, with SriLankan as a pending member, is looking to replicate the previous strategies of SkyTeam and Star in targeting smaller carriers.
See related article: SkyTeam plans new partnership platform to attract hybrids and LCCs, especially in Brazil and India
Adding Qatar would allow oneworld to make considerable leaps in some segments. Qatar's regional strength is in the Middle East, where travel within is still relatively low and thus of lower appeal than signing up a carrier with a large domestic network. But Qatar's overall strength is in long-haul traffic flows, and there the carrier offers choice to a number of markets globally. Once shunned for being stiff competition, many carriers are realising this competition is inevitable and partnering gives a benefit, a if-you-can't-beat-'em-join-'em mentality.
Gloal system seat capacity by alliance*: 01-Oct-2012 to 07-Oct-2012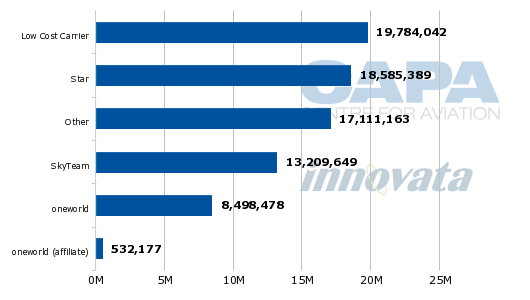 Unprecedented negotiations within oneworld
Not all oneworld carriers subscribe to this join-'em approach, or that Qatar is the answer. Mr Walsh securing membership for Qatar would indicate hard-won negotiations. Finnair would have been one of the harder carriers to convince given the carrier has bet its future on using its Helsinki hub to connect North America and Europe with Asia, where the shortest flight path is somewhere near Helsinki.
CEO Mika Vehviläinen, in a Mar-2012 interview with CAPA, sought to downplay the competitive pressure from Qatar Airways stating its intention to enter Helsinki (the only Middle East carrier to do so). Mr Vehviläinen saw Qatar's Doha hub as a lesser alternative than Helsinki. "If I look at the flying to Asia, we have so much more direct routes," Mr Vehviläinen said.
See related article:
But with Qatar shifting from another competitor to one that, through oneworld membership, would offer many of the same advantages as Finnair, Finnair's position becomes more endangered.
Mr Walsh would also have faced a tough sell closer to home at British Airways, his former stomping ground now under the leadership of seasoned executives who do not always share Mr Walsh's candid approach on the need for deep change. Other members could have swayed closer to neutrality, if not because of reaction than because they are like Cathay a hands-off member, like Qantas have their own strategy (with Emirates) or objecting could have jeopardised an important standing.
Divide between some oneworld members to grow
oneworld was never a close alliance the way Star was with Lufthansa taking the lead and establishing close protocols. oneworld is more a set of bilateral agreements with some carriers' membership difficult at times to discern. While IAG and Qatar will work closely together, the addition of Qatar will only further distance other members.
A rift in oneworld came in Sep-2012 with Qantas announcing its intention, subject to regulatory approval, to form an extensive partnership with Emirates, and in doing so end the long-standing joint services agreement with British Airways, an arrangement that had proved useful but in recent years could not hold Qantas to firm ground in a more competitive world. Qantas, like other oneworld members, will have to honour basic frequent flyer and other agreements with Qatar Airways, but should not be expected to partner deeper. Qantas is open to maintaining codeshares with British Airways to/from Europe via Asia, but this cooperation will be small. Also in the wake of the Qantas-Emirates partnership, Qantas will end its codeshare to Rome with Cathay Pacific but continue coding with Finnair to Helsinki (Emirates does not serve Helsinki).
See related articles:
Certain relationships to other oneworld members are important to Qantas, such as the joint business agreement with American Airlines, codeshare with LAN, and the limited cooperation on JAL's network as well as with JAL for Jetstar Japan. But now Qantas has fewer strategic ties to oneworld, and indeed its existing relationships could exist independently of oneworld. Perhaps the strongest argument to remain in oneworld is gains for its frequent flyer programme.
Like Qantas, airberlin would be expected to have minimal involvement with Qatar Airways owing to its partnership, including shareholding, from Etihad Airways. Had airberlin's alliance decision come later, it may have found more traction in considering to be independent; its dealings with oneworld carriers outside of American Airlines are few.
See related articles:
As deep as the Qantas-Emirates relationship and implications are, it will be pale in comparison to the fallout if Emirates succeeds in a relationship with American Airlines, which Emirates CEO Tim Clark disclosed in Sep-2012 as being in negotiations for, although commentary from the AA side is scant. Emirates' interest is in greater access across the United States, and it already serves key AA hubs of Dallas, Los Angeles and New York City. No doubt Emirates would want to see long-haul feed from AA, but that traffic would bypass AA's trans-Atlantic alliance with oneworld members.
See related article: Emirates continues courting American as ink dries on Qantas deal
Emirates has few partnerships, but one partner is JAL, with whom it has a limited codeshare. With JAL wanting greater access to the Middle East and Africa without serving the market, this partnership could be extended or conversely formed with Qatar Airways.
Cathay Pacific, like Singapore Airlines, takes a hands-off approach to alliances, and it is difficult to imagine Qatar's addition changing that. A further gap between Cathay's objectives and its ties with oneworld raises the valid question when Cathay might leave oneworld to join shareholder Air China in Star or if the Chinese ideology of divide and conquer will be maintained. Qatar's impact on pending oneworld member Malaysia Airlines is not clear. Once a contender to partner with British Airways and Qantas to reinvigorate oneworld, MAS has become insular as it adopts another turnaround plan. While MAS offered potential, prospective suitors wanted an airline with its house in order. It is difficult to see MAS having a central role in pan-carrier strategic moves.
Latin America is the youngest market for the Middle East network carriers so little partnership infrastructure has been established, although local reports have mentioned the unsurprising possibility of partnership discussions between local carriers and the Middle East network carriers. Latin America is a market that will grow tremendously, especially for the Middle East network carriers, but oneworld faces an obscure future in the market. LAN and TAM following their merger were expected to select oneworld as their alliance (a move that would see TAM leave Star) but there are now indications that TAM may instead become independent, and so would feel fewer obligations to partner with a Middle East carrier in oneworld.
Complete alliance rethink will be accompanied by casualities
Global alliances have evolved from a first phase of marketing organisation to a second phase of anti-trust immunity and now are set to enter a third phase of contending and partnering with Middle East network carriers. The ramifications are complex and contradictory, out of which will be casualties along the way. As long as airlines tidy up loose ends, remaining focused on their individual strategy, outcomes can be stable. Carriers with already shaky standing – and there are plenty – will be encumbered.
The world is changing faster for airlines than at any other point in recent memory, and there is no better time for change than when the operating environment is as threatening as ever. Partnerships and alliances have been at the centre of that change, and after Qatar's ascension into oneworld, will only gain in prominence. It is an exciting world with new prospects, but also an environment possible to be left behind in. Following the status quo is not sufficient; it must be redefined.