While struggling to restructure, France's Corsair and Reunion's Air Austral battle for market share
Reunion-based Air Austral and French carrier Corsair International are at loggerheads, with Corsair claiming Air Austral received state aid when the local government of Reunion subscribed to the recapitalisation of the airline in Jul-2012. Regional authorities injected EUR63.5 million in the financially struggling airline, increasing their indirect shareholding in the company from 47% to 95%.
Air Austral gained worldwide notoriety in Jan-2009 when it signed a MoU with Airbus for the purchase of two A380s in a "low-cost" single-class configuration with around 840 seats. The airline so far is the only operator to have ordered the A380 with such a high seat density. However, the fate of the two Air Austral aircraft is uncertain with reports claiming the order has been cancelled. Air Austral's A380 were scheduled for delivery in 2014.
See related article: A380 operators finding configuration sweet spot as value halo persists
For Corsair, the government funded recapitalisation of Air Austral distorts competition between the airlines and therefore it is incompatible with European Union rules on state aid. It also argues that Air Austral and Reunion should have notified the European Commission beforehand to verify whether the transaction is in line with the internal market. Conversely, lawyers for Reunion's regional and local authorities argued they acted as a "prudent investor" and that their action was to safeguard the interest of shareholders.
As an overseas department of France, Reunion is an outermost region of the European Union and European legislation therefore applies.
Corsair mounted a legal challenge aiming to stop the injection of public funds in Air Austral on grounds that the European Commission was not consulted in advance, but the Administrative Court of Saint-Denis de La Reunion dismissed the request on 03-Sep-2012. A second action to obtain the annulment of the decisions by the two public authorities to provide public money to Air Austral is still ongoing.
France to Reunion market is basis of the dispute
The discontent of Corsair with the nature of Air Austral's recapitalisation is normal. Corsair has its own financial difficulties and it is very unlikely that the French government will throw it a lifeline in the same way that the Reunion authorities did to its competitor.
Corsair International is the French airline subsidiary of Europe's largest tourism conglomerate TUI Travel Plc. Corsair and Air Austral compete on the high density air market between France and the country's overseas territories of Reunion and Mayotte in the Indian Ocean.
See related article: European woes force changes for the better at Indian Ocean carriers with Air Austral the latest
Of the approximately 12,700 weekly one way seats on offer on routes from France to Reunion, Air Austral holds a 44% share and Corsair 32%. Air France is the third player on the market with a 24% share, based on schedules in Innovata for the week of 10-Sep-2012 to 16-Sep-2012. The market will become more crowded when XL Airways France commences a weekly non-stop service from Marseille to Saint Denis de la Reunion Gillot Airport on 10-Dec-2012.
France to Reunion capacity by carrier (seats per week, one way): 19-Sep-2011 to 24-Feb-2013
The France to Mayotte market is much smaller. Air Austral accounts for about 58% of the approximately 2,500 weekly one-way seats and Corsair holds a 42% share. But XL Airways intends to add some competitive clout to the duopoly through the launch of a once weekly service from Marseille to Dzaoudzi in Mayotte on 13-Dec-2012 (this flight will also stop in Reunion but only on the return leg).
France to Mayotte capacity by carrier (seats per week, one way): 19-Sep-2011 to 24-Feb-2013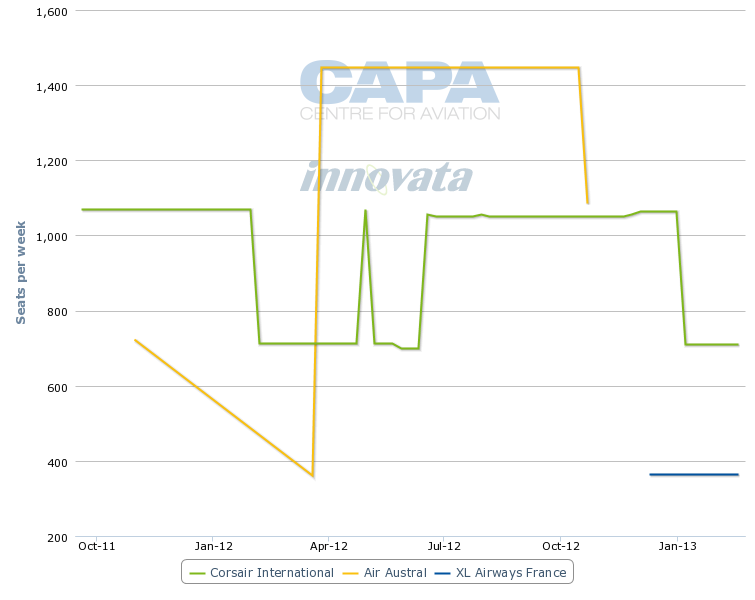 Corsair's "TakeOff 2012" restructuring ends with strikes
Corsair International, previously known as Corsairfly, adopted its current name in Mar-2012 as part of a total revamp of the company announced in May-2010. The carrier's restructuring plan dubbed "TakeOff 2012" includes a reduction of workforce by 25%, the replacement of three Boeing 747-400s with two A330-300s and the refurbishment of all aircraft cabins as part of a repositioning to a scheduled airline from a leisure carrier that sold seats as part of holiday packages. Paris-based Corsair also adjusted its network, and consolidated routes to southern Africa and the Caribbean.
The landing of TakeOff 2012 is not likely to be soft as some weeks before the projected finalisation of the restructuring programme four unions representing cabin crew and ground staff at Corsair International filed a strike notice. Employees called industrial action for 07-Sep-2012 through 09-Sep-2012 to avoid redundancies and to obtain better working conditions. The turnaround plan of Corsair aims for 380 voluntary redundancies spread over the two-year period of TakeOff 2012 but unions fear that this target has not been reached and will result in forced lay-offs.
The initial impact of the strikes were limited by management, and on 07-Sep-2012 all flights operated as scheduled with the exception of the Paris Orly-Saint Denis de la Reunion Gillot Airport service. Corsair International operates a daily night service between the two airports aboard a 582-seat 747-400.
According to the accounts of TUI Travel Plc for the nine months ending 30-Jun-2012, Corsair International incurred an underlying operating loss of EUR16 million. TakeOff 2012 is targeting to bring the company to break-even in 2014. The airline carried 1.4 million passengers in 2011, data from the French civil aviation authority DGAC show.
Air Austral's ongoing restructuring is more comprehensive. The company recorded net debt of EUR161 million as of 30-Mar-2012, and reported an operating loss of EUR48 million for fiscal year 2011-12 on revenue of about EUR415 million, driven somewhat by the sluggish European economy but foremost due to the carrier's overly ambitious expansion.
The airline embarked on a major network and fleet expansion committing to two A380s and two new B777-200LR aircraft and opening several new long-haul routes, connecting Reunion with secondary airports in France. Air Austral also inaugurated a Paris-Reunion-Sydney-Noumea service in 2009. The idea was to propose an alternative for passengers travelling to New Caledonia, who normally transit through Asia.
When Air Austral ordered the 777-200LRs at the Farnborough Air Show in Jul-2010, the airline's chairman and CEO Gerard Etheve said the aircraft "is the only widebody airplane that can fly non-stop to Paris with a full payload from our short runway on the island of Mayotte." Air Austral received its first 777-200LR in Aug-2011 but the company reportedly was unable to pay for its second 777-200LR due for delivery in Apr-2012.
At 30-Mar-2012 Air Austral's cash position had fallen to EUR9.2 million from EUR35.5 million a year earlier. In an attempt to save the airline which he founded as Reunion Air Services in 1974, Mr Etheve resigned in Apr-2012. He was replaced by a former Air France executive Marie-Joseph Male who promptly initiated a profound turnaround plan aimed at saving the airline from collapse.
Under Mr Male's plan, Air Austral's fleet will be reduced from 11 to nine aircraft as two 777s (one -300ER and one -200LR) will be sold, employee numbers will be reduced and the network trimmed. The airline's new management is targeting a turnover of EUR372 million and a loss of EUR26.7 million for fiscal year 2012-2013 and break-even for fiscal year 2013-2014.
With the recovery plan, Mr Male hopes to attract new shareholders. Air Austral enplaned 1.1 million passengers in 2011.
Air Austral Fleet Summary: as at 08-Sep-2012
Air Austral appears undecided on service suspensions to secondary airports in France
As part of its turnaround efforts, Air Austral shelved its loss-making twice-weekly service Saint Denis de la Reunion-Sydney-Noumea on 16-Aug-2012. The service was operated with 777-200LR aircraft. The carrier was the sole operator on the route, according to Innovata.
See related article: Air Austral back to Bangkok, Sydney and Noumea after Etihad-Seychelles partnerships frees capacity
The airline had also decided to put the knife in its network from Reunion to secondary cities in France, which reportedly operate with a load factor of 50% to 60%. But apparently Air Austral does not want to lose its leading market position in the Reunion-France market and in Aug-2012 the airline postponed plans to pull out of all secondary French cities from the start of the northern winter 2012/13 season.
Air Austral will continue to operate once weekly Saint Denis de la Reunion-Lyon-Nantes and Saint Denis de la Reunion-Marseille-Toulouse services from 28-Oct-2012 to 20-Jan-2013. Previously these cities were to be cancelled starting 28-Oct-2012. The service from Saint Denis de la Reunion to Bordeaux, however, appears to be cancelled and is not bookable on the Air Austral website after of 22-Oct-2012.
Air Austral is the sole operator on the Reunion-Lyon, Reunion-Bordeaux and Reunion-Marseille sector, according to Innovata. However, XL Airways will launch a once weekly flight from Marseille to Reunion on 13-Dec-2012.
Western Europe (France) represents a 38% share of Air Austral's weekly seat capacity and four of its 10 largest routes (in terms of seats) are to mainland France, based on data in Innovata for the week of 10-Sep-2012 to 16-Sep-2012.
Air Austral capacity share (% of seats) by region: 10-Sep-2012 to 16-Sep-2012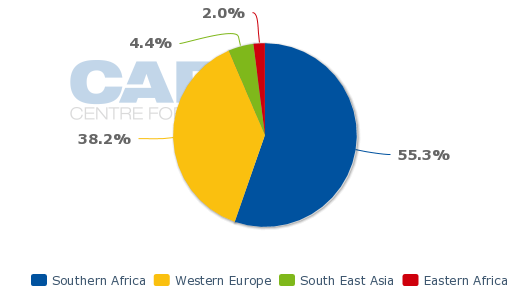 Air Austral top 10 routes by seats: 10-Sep-2012 to 16-Sep-2012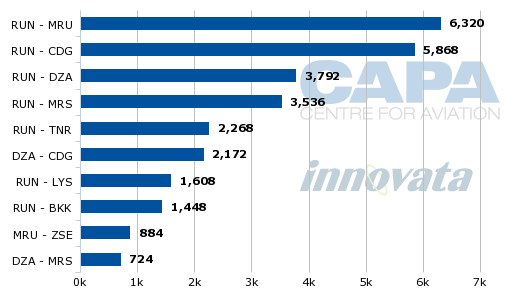 Corsair will defend its Reunion market share
As part of its TakeOff 2012 restructuring plan, Corsair International redesigned its network to cocentrate on routes to southern Africa, the Caribbean and to a lesser extent to North America. The airline operates to four destinations in southern Africa, all in the Indian Ocean; the French overseas departments of Reunion and Mayotte and the former French colonies of Madagascar and Mauritius.
The airline deploys some 11,000 weekly seats to/from these four destinations and France, according to schedules in Innovata for the week of 10-Sep-2012 to 16-Sep-2012. This represents about 41% of its seat capacity.
Paris Orly-Saint Denis de la Reunion is Corsair's largest route, representing some 8,100 seats per week. Its main competitor on the route is Air Austral, which operates to/from Paris Charles de Gaulle and produces some 5,900 weekly seats, based on schedules in Innovata.
Corsair International capacity share by region (% of seats): 10-Sep-2012 to 16-Sep-2012
Corsair International top 10 routes by seats: 10-Sep-2012 to 16-Sep-2012
The dispute between Corsair International and Air Austral is emblematic of Europe's airline industry, with one party – often rightly so – accusing the other party of receiving state aid which distorts competition. Corsair will defend its interests as the stakes are high. Traffic to/from Reunion represent some 30% of the airline's revenues, according to Corsair CEO Sylvain Bosc. But government funding is no guarantee for long-term success. Time will tell if Air Austral will overcome its folie de grandeur.