Where the A380 flies: Japan and intra-Asia routes decline while Australia & Middle East grow
Analysis
The A380 is once again under media scrutiny, despite there being no major movement on the type. Comments from Air France and Qantas about not taking further A380s have long been assumed, and it has been apparent that Malaysia Airlines does not even have the need for its A380s. Singapore Airlines not renewing the lease on its first A380 is hardly surprising, and offers no definitive conclusion about the A380 or second-hand market; early A380s had different production and are not as efficient as later models. The lack of movement on the A380neo continues to irk the model's largest customer by far, Emirates, and may not make for a productive relationship as Emirates weighs an A350 or 787 order.
For most, the A380 continues to fly. How and where it flies is changing. Flights to and from the Middle East are becoming more common as Gulf airlines, and mostly Emirates, take delivery of A380s. A further shift to the Middle East is inevitable. In Japan there has been a near exodus of A380s; airlines dropping the type as they moved from Narita to Haneda, which cannot accommodate the A380 during the day, and Singapore Airlines down-gauging. Intra-Asia flying is decreasing – notable given the growth of A380s based in the region. Services by the A380 to Australia are growing, perhaps as it becomes an easy market for airlines to redeploy capacity amid European security concerns and trans-Pacific overcapacity.
This report focuses on the largest market pairs for the A380 (excluded are smaller market pairs such as Europe/Middle East-Africa, Australia/Asia-North America, Europe-South America). CAPA in Feb-2016 examined specific airports that the A380 serves.
The report can be found here: A380 airport usage: Dubai is most popular, Heathrow has the highest number of foreign airlines
On 16-Sep-2016 Qatar Airways commenced A380 services to Sydney, replacing the 777-300ER that Qatar used to launch the Doha-Sydney service on 01-Mar-2016.
In the Australian market Qatar lags its peers Emirates and Etihad. Qatar did not receive the early and generous bilateral allotment (and subsequent additions) that Dubai and Abu Dhabi did. Qatar has consistently hit its bilateral allotment. After launching Sydney Qatar had again reached its limit, but flagged its desire to go twice daily on Melbourne and Sydney while adding Brisbane to its network.
As CAPA noted in an Aug-2015 report, if Qatar's Australian capacity were in the same proportion to Emirates as is Etihad's, Qatar would have approximately 18,000 weekly seats and 50-60 weekly flights, Instead Qatar has only 28 weekly flights: a daily each to Adelaide, Melbourne, Perth and Sydney. Qatar's under-representation in Australia impacts its network because it does not have the Australian feed to support its extensive European network. In this context of needing to grow, but being constrained by bilateral limits, the A380 deployment is important as it delivers a 44% seat increase for the seasonal deployment.
See related reports:
Sydney marks only the second global destination that the three Gulf airlines all serve with A380s, the first being London Heathrow.
Among various cities that might receive A380 service from all three, Etihad does not deploy its A380s to Paris and Bangkok (as Emirates and Qatar do), while Qatar does not deploy its A380 to New York JFK (as Emirates and Etihad do). Strategically New York JFK is an obvious fit for Qatar's A380, but Qatar's terminal at JFK has taxiways that cannot support the weight of the A380.
The segment between the Middle East and "Southwest Pacific" (essentially Australia; there is no nonstop A380 service from the Middle East to New Zealand) has the same number of A380 flights in Dec-2016 as Southeast Asia-Europe.
These are tied as third largest markets for the A380, with the largest being Europe-Middle East and second largest being Europe-North America. Until recently Middle East-Southwest Pacific was the fifth largest A380 market. Besides Qatar's A380 deployment to Sydney, the market received a boost with Etihad deploying the A380 to Melbourne.
Middle East-Southwest Pacific and Middle East-Southeast Asia have won gains in A380 market share, almost exclusively because of Gulf operators (Qantas operates daily from Australia to Dubai).
Share of A380 flights by selected region pair: 2011-Dec-2016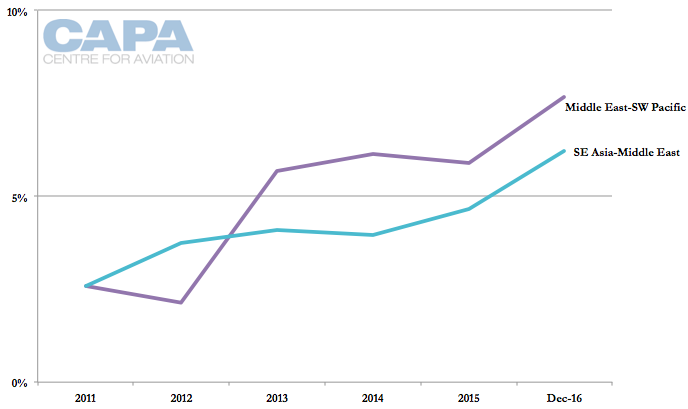 The increased share of A380 flying in Middle East markets is consistent with the disproportionately high concentration of A380s based in the Middle East, and in particular at Emirates, whose A380 fleet is four times that of the second largest A380 operator, Singapore Airlines.
The largest A380 market is by far from Europe to the Middle East, which accounts for 27% of all A380 flights. Emirates alone has nine daily flights to London.
Share of A380 flights by selected region pair: 2011-Dec-2016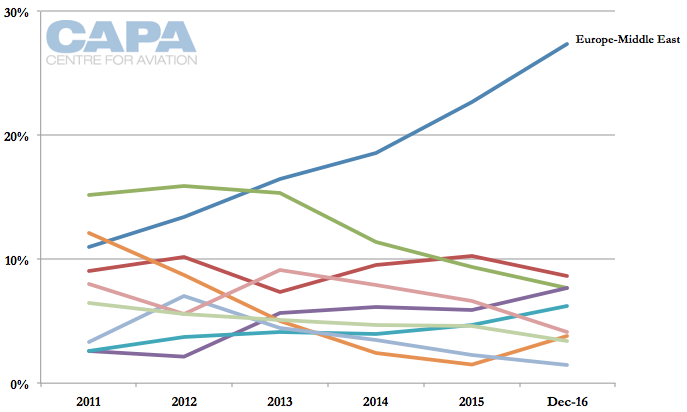 The next largest A380 markets all account for less than 10% of flying.
As there is a wide gap in the largest markets, the following chart omits Europe-Middle East so that the other large A380 markets can be examined in closer detail. Since 2013, Europe-Middle East has been the largest A380 market. Previously the largest market was between Southeast Asia and Europe (green line in the chart below).
Southeast Asia-Europe has declined in market share for several reasons. As noted earlier, the concentration of A380s in the Middle East naturally distorts comparisons with other markets. Singapore Airlines was the launch customer, thus receiving the bulk of its A380s before other airlines and therefore early to widen its network, including in its core Southeast Asia-Europe market. Qantas' relocation of its European stopover hub from Singapore to Dubai removed two daily A380 flights.
Finally, the growth of Gulf airlines impacted the Southeast Asia-Europe market. There was a direct impact from Gulf airlines growing to Southeast Asia and an indirect impact of Gulf airlines growing in Australia – a key source market for Southeast Asian airlines flying to Europe.
Share of A380 flights by selected region pair: 2011-Dec-2016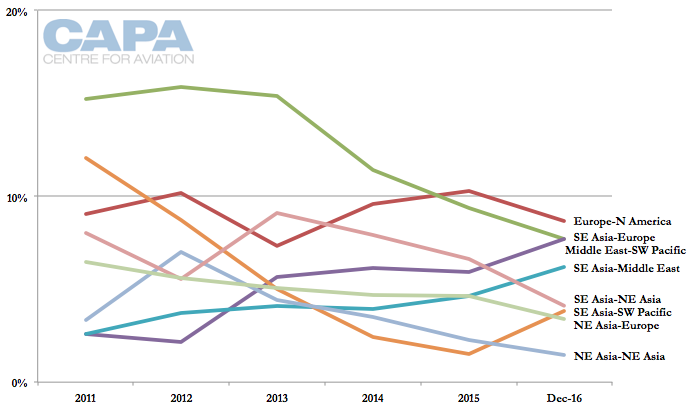 A380s have largely exited Japan while growing in China
The A380 gives reflection to two of Northeast Asia's markets: the former booming market of Japan and the new focus of China. Tokyo Narita in its heyday was filled with 747s, yet changes – economy, more Narita slots, opening of Haneda – have resulted in the dwindling of services by large capacity aircraft. What was once thought to be a larger A380 destination is now dwindling.
Japan reached a peak of six daily A380 departures in 2013, but in Dec-2016 will have only one. European airlines (Air France and Lufthansa) withdrew A380s when they were able to move from Narita to Haneda, which is closer to the city centre but cannot accommodate the A380 during daylight hours. Emirates operated the A380 only during 2012 and 2013, according to OAG data.
Thai Airways has reduced its A380 flights to Japan. Singapore Airlines was the last major operator but is downgauging Singapore-Tokyo Narita-Los Angeles (which counted for two daily A380 departures) from A380 to 777-300ER. Japan will receive a small boost when ANA takes delivery of its A380s.
China overtook Japan for international A380 departures in 2014. China will end 2016 just shy of 10 daily A380 departures. China is capable of more A380 departures and airlines are willing, but various approvals through many layers can stymie further A380 frequencies. Including China Southern's domestic A380 flights, China averages 12 daily roundtrip A380 flights. China's total A380 departures have fallen in frequency in past years due to fewer domestic A380 flights (which for China Southern is a good development).
Average daily A380 departures by market: 2011-Dec-2016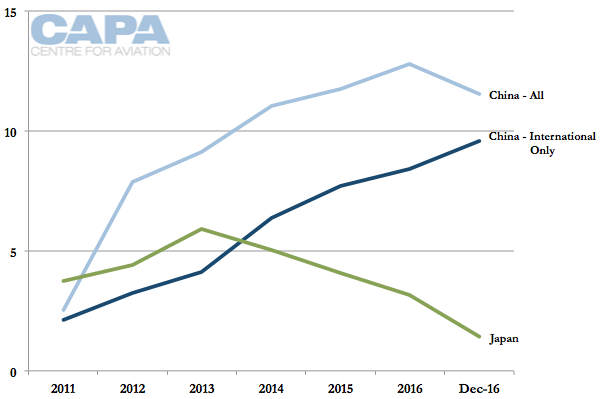 Intra-Asia A380 flying is decreasing
Intra-Asia A380 services are declining. In 2013 there were more A380 flights from Southeast Asia to Northeast Asia than there were A380 flights between Europe and North America. Until 2015 there were more A380 flights within Asia (Northeast and Southeast) than between Europe and North America.
At the opposite extreme for each region, one of the longest intra-Asia trunk routes – from Singapore to Tokyo – is 5,349km. That is comparable to the 5,849km between Paris and New York.
Share of A380 flights by selected region pair: 2011-Dec-2016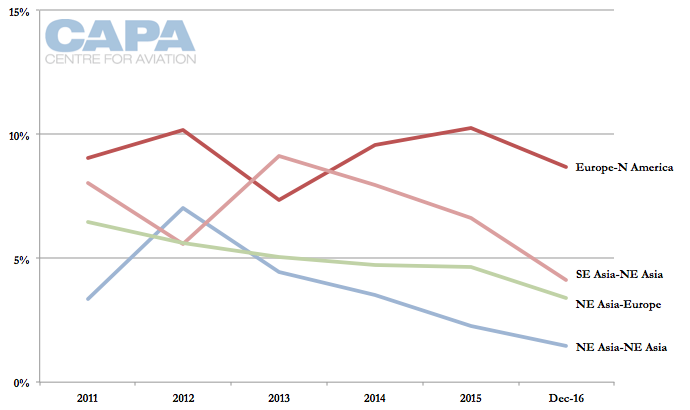 Trans-Atlantic flights can be much longer, while intra-Asia flying is much shorter. With Singapore Airlines being the second largest A380 operator globally and its hub in Singapore being close to the extreme of most Southeast Asian markets, it is perhaps unsurprising that since 2013 SIA has been the largest operator of A380 flights within Asia. SIA will remain, for now, the largest A380 operator on intra-Asia flights, even after it replaces the A380 with the 777-300ER on Singapore-Tokyo Narita-Los Angeles.
Thai Airways and China Southern are the next largest operators. Thai Airways' Bangkok hub is not as far south as Singapore but is far enough that widebodies are needed to Japan, for example, where demand is high. China Southern operates domestic A380 services.
Average daily intra-Asia A380 flights by operator: 2011-Dec-2016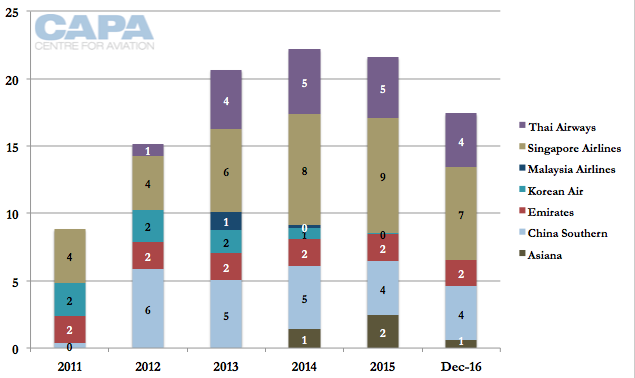 In 2012 there were more intra-Northeast Asia A380 flights than between Northeast Asia and Southeast Asia. During this time a number of operators tried regional flying on Northeast Asia, where slots are constrained, or had the flights for crew training. China Southern operated two more intra-Asia services in 2012 than it did in 2015 or will operate in Dec-2016. Korean Air withdrew intra-Asia A380 flights around 2013/2014, while Malaysia Airlines briefly tried its hand at intra flying in 2013. Asiana started in 2014, the year it received its first A380.
Singapore Changi has been the airport with the most intra-Asia services since 2014. Prior to that greatest proportion of services were at Hong Kong. No local airline in Hong Kong operates the A380, but it has favourable factors for intra-Asia A380 deployment. Its distance – broadly between Northeast and Southeast Asia – means that Hong Kong is a relatively short flight for airlines looking to maximise utilisation and take advantage of downtime. Slot constraints (more present now than in 2012) could make a case for upgauging if there is spare capacity. Finally, the perception of it as a premium market might have given hope for sales.
There are also notable intra-Asia services at Beijing, despite no major local airline having a major base there (China Southern has a small one). Bangkok also hosts a number of intra-Asia services, including Emirates' Bangkok-Hong Kong.
Average daily intra-Asia A380 flights by major market: 2011-Dec-2016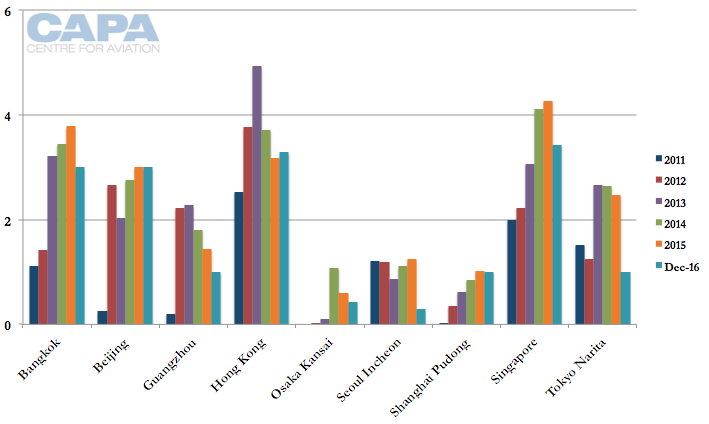 In terms of net A380 flights, the two largest non-Middle East markets (Europe to North America, Southeast Asia to Europe) are experiencing moderate growth. There is some moderate decline on Northeast Asia to Europe, but 2015 was the outstanding year for A380 flights in that segment.
A standout is the market between Southeast Asia and Australia. Since the 2012 peak of five daily A380 flights from Southeast Asia to Australia the A380 services have declined to (broadly) two flights a day. This occurred as Qantas moved Australia-Singapore flights to Australia-Dubai for onward connections from Dubai instead of Singapore. Singapore Airlines also reduced A380 flying, a complex story of adding frequency and destinations in Australia, as well as changes in global markets. Of other Southeast Asian A380 operators – Malaysia Airlines operated the A380 to Australia for a week, and Thai Airways never has, according to OAG data.
In Dec-2016 Singapore Airlines will operate four daily A380 flights to Australia. SIA has previously operated four daily A380 flights during certain periods of 2013 and 2014. Its average for 2016 is only two flights – the result of the capacity addition being made only in Nov-2016. It will be rolled back from Feb-2017. Still, SIA will return to peak southern summer A380 services not seen since 2012.
There is some distortion from comparing prior full years with a sample period at the end of 2016, as evidenced by SIA's seasonal A380 spike. However, an ongoing trend (not fully reflected in full-year figures) is Emirates' two daily A380 flights from Southeast Asia to Australia. Emirates has upgauged Bangkok-Sydney and Singapore-Melbourne from 777-300ER to A380. Statistically, these two daily A380 flights from Emirates replace Qantas' two former A380 flights from Australia to Singapore.
SIA has slack A380 demand. A change in North American flying has meant removing A380s from the long Singapore-Tokyo Narita-Los Angeles rotation. The quiet European winter, combined with weak sentiment in Europe and security concerns, may not make Europe a strong market for the large capacity the A380 brings. Airlines are reporting a shift in demand from Europe to Australia amid security concerns in Europe. Australia is seen by consumers as a "safe" destination, and may be a logical market for SIA to redeploy A380s to temporarily, since the period coincides with the peak Australian travel season and SIA has significant experience in Australia.
Further shifts to the Middle East – and Dubai – are inevitable
As the A380 fleet becomes even more concentrated at Emirates it is inevitable the A380 will feature more strongly on routes to and from the Middle East than other regions. Four key markets for the A380 not involving the Middle East have received a smaller share of A380 flights in recent years: Europe to North America, Southeast Asia to Europe, Northeast Asia to Europe, and Southeast Asia to Southwest Pacific.
Southeast Asia-Southwest Pacific is experiencing a spike in Dec-2016, above 2014 and 2015 levels, but this may prove short as Singapore Airlines redeploys capacity after the peak southern summer, and as former A380 markets (for example, Europe) stabilise.
Share of A380 flights by selected region pair: 2010-Dec-2016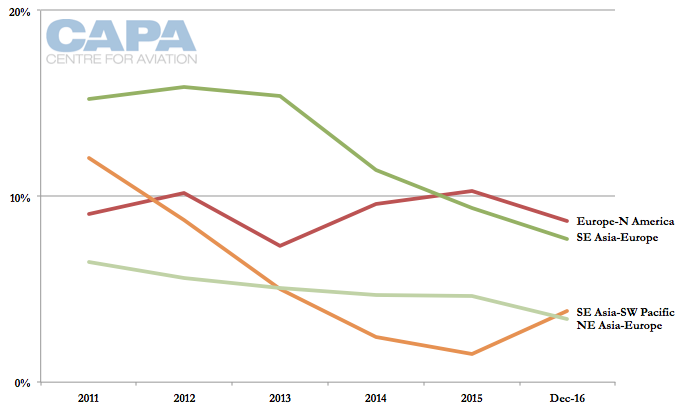 Proportion of flights can be misleading. Despite the above four markets accounting for a smaller proportion of A380 services, this is impacted by faster growth in the Middle East. The four markets are receiving an increase – and typically at record highs – in net flights.
Average daily one-way A380 flights in selected region pair: 2011-Dec-2016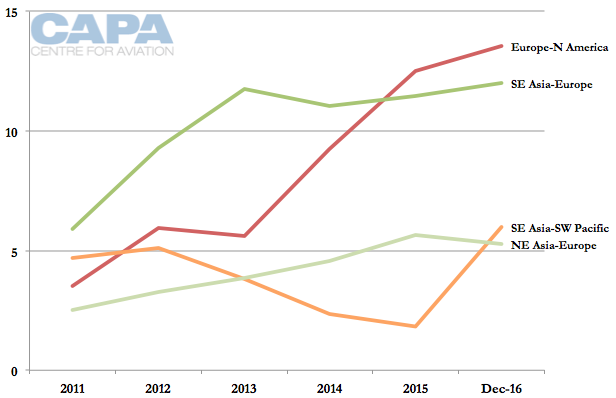 Net growth of A380 flights outside the Middle East will slow as airlines besides Emirates complete their A380 deliveries or, like Air France and Qantas, do not intend to take delivery of previously ordered aircraft. One notable public exception is British Airways, which has mulled further A380s – at the right price. ANA has A380s coming for use to Hawaii.
Although the Middle East and Gulf defines the A380's service profile, it is largely with Emirates; Etihad and Qatar have said they do not intend to take further A380s. Even with a few more Emirates fifth freedom A380 flights, the A380 will continue to shift to be most represented on services to and from Dubai.