WestJet exudes confidence in 8% to 11% capacity growth in 2016 even with unit revenue pressure
Analysis
Canadian airline WestJet has offered system capacity guidance for 2016 of an additional 8% to 11%, which on the surface may seem ambitious given Canada's economic climate, and overall global economic uncertainty. But the airline is exuding confidence in its forecast following its financial performance in 2015, after Canada's economy sank into a recession during the first half of the year.

Perhaps, more importantly, WestJet is assuring that it has levers to pull if demand falters or if Canada's economic forecast is refined. Those levers include reducing utilisation and decreasing flying during shoulder periods. WestJet is already adjusting its winter schedule for warm weather markets; it experienced capacity pressure on those routes in early 2015.

This should help protect its precious investment grade status. Similar to US airlines, WestJet has also endured decreasing unit revenues in 2015, and is warning that its performance in that metric during 4Q2015 will fall below year-to-date results. Its unit revenue decline for the 9M ending Sep-2015 was 3%.
Encore regional flights and long haul 767 operations drive WestJet's 2016 growth
WestJet's current 2016 capacity guidance for a year-on-year increase of 8% to 11%, is relatively a wide range.
If the airline reaches the top end of its guidance, it would be the first double digit increase since 2010, when WestJet's capacity also jumped 11% year-on-year. Its projected system capacity growth for 2015 is 4.5% to 5.5%.
WestJet annual available seat miles: 2009 to 2014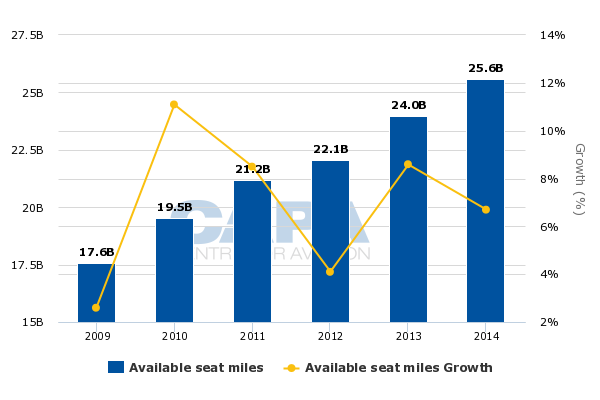 Recently WestJet CEO Gregg Saretsky stated that the majority of the airline's capacity growth in 2016 is driven by its regional subsidiary Encore and new long haul, trans-Atlantic flights operated with Boeing 767 widebodies. Roughly 3% of the growth is driven by its core Boeing 737 narrowbody operations.

Mr Saretsky emphasised that WestJet's domestic capacity in 2016 will rise 4% to 6%, which is "significantly moderated from the up 7% this year".

WestJet's CEO cited the most recent Bank of Canada economic forecast of 2% GDP growth for 2016. He stated WestJet would apply a multiplier of 1.5 to that estimate to project domestic traffic growth of 3% to 3.5%.

As a reminder, Mr Saretsky explained that during 1H2015 Canada endured a recession with annualised growth of just 1.1%; but WestJet still generated strong financial results. For 1H2015 WestJet's net profit expanded 43% to CAD202 million (USD152 million), and its operating margin increased 4.1ppt to 14.7%.
Its profits for the 9M ending Sep-2015 grew 57% to CAD304 million (USD229 million), with a 3.6ppt increase in its operating margin to 14.9%. Its year-on-year profits from 2011 (when it posted 11% capacity growth) to 2012 increased from CAD149 million (USD112 million) to CAD242 million (USD184 million).
WestJet annual net profit (loss): 2009 to 2014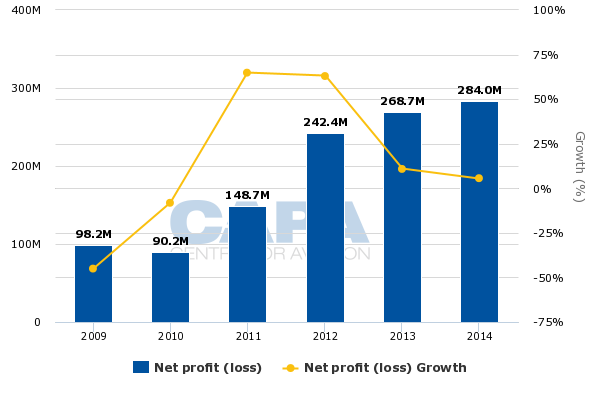 WestJet pulls back in shoulder periods on service to warm weather markets
In perhaps an offensive move to counter concerns about WestJet's planned capacity growth, Mr Saretsky explained if the Bank of Canada's 2% growth in GDP for 2016 fails to materialise WestJet could reduce utlisation and "pull flying from shoulder periods to accelerate [installation] of our in-flight entertainment and connectivity system".

WestJet is already refining its strategy for the shoulder season for flights to warm weather markets for the 2015-2016 winter season. During 1Q2015 WestJet estimated that industry capacity from Canada to the Caribbean and Mexico was up 11%, and with that level of growth, pricing and margin pressure ensued.

See related report: WestJet continues to record a solid financial performance, but faces pockets of capacity pressure

WestJet for the 2015-2016 season is delaying the start of its winter schedule for Southern markets into mid-Dec-2015 versus introducing those flights in Nov-2014 for the 2014-2015 season. "We''re taking advantage of the peak and we're parking some of that flying where we would expect demand to be softer in the shoulder," said Mr Saretsky.

Data from CAPA and OAG show that for the week of 9-Nov-2015 WestJet's seats on offer between Canada and the Caribbean are down 21% year-on-year. Air Canada's seats have risen 10% and Air Transat has posted a 19% increase. Sunwing's seats have fallen 10% year-on-year. Overall, seats between the two regions are down 4% to approximately 52,038.
Canada to the Caribbean: (seats per week, one way): 10-Nov-2014 and 9-Nov-2015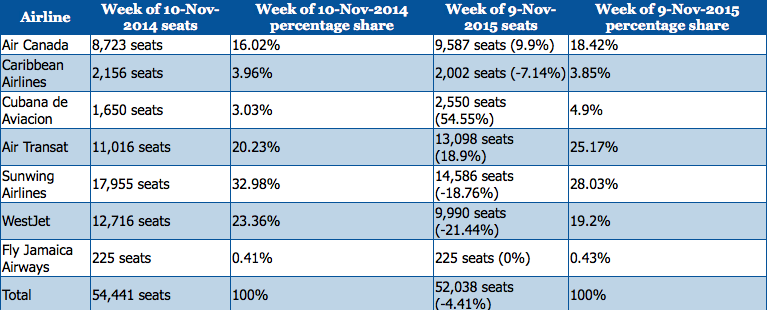 Between Canada and Mexico, WestJet's seats have fallen 1.2% year-on-year. Air Canada's have grown nearly 30% year-on-year and Air Transat and Sunwing have posted increases of 26% and nearly 6%.
Canada to Mexico: (seats per week, one way): 10-Nov-2014 and 9-Nov-2015

WestJet is confident about long haul flights after two years of modest service to Europe
WestJet is marking a milestone in 2016 when it launches widebody flights to London Gatwick from six Canadian cities – Toronto, Vancouver, Calgary, Edmonton, Winnipeg and St Johns. The push to Gatwick is obviously playing a large role its capacity projections for 2016.

(Note: CAPA will take an in-depth look at WestJet's long haul strategy in a forthcoming report)

During the summer of 2014 WestJet made its first foray into Europe with the launch of narrowbody flights from Toronto to Dublin with a stopover in St John's. It continued that service in the summer of 2015 and added flights from Toronto to Glasgow via Halifax.

Based on statistics supplied by Mr Saretsky, WestJet is confident its new widebody flights debuting in 2016 will produce favourable results. He stated that in 2015 WestJet's ASMs to Europe jumped 150% year-on-year, and the airline generated a 180% increase in traffic.

Using exchange rates of the CAD up 12% against the GBP and 13% against the EUR, Mr Saretsky said that "Canada is a bargain. We expect it to be a bargain in 2016."

Although WestJet believes the 767 routes should perform favourably, the longer stage lengths will create some pressure on unit revenues. The company has estimated that, mathematically, during 2016 the longer haul operations of the 767s would drag unit revenues down by 1.8% and the Q400 turboprops with shorter stage lengths are boosting unit revenues by 0.4% to 0.5%. On a pure numbers basis, that would drive unit revenues down 1.3% to 1.4% in 2016 on a fleet-wide.

As the stage length of the widebodies creates some drag on WestJet's unit revenues, part of the decrease should be offset by ancillary sales. The airline is introducing a checked bag fee on international flights and increasing prices of pre-reserved seating based on distance flown. WestJet estimates those initiatives should generate CAD15 million (USD11 million) to CAD25 million (USD19 million) in annual revenue. During 3Q2015 its top line ancillary revenue increased 76% to CAD90 million (USD68 million).
WestJet is forecasting continuing unit revenue pressure until 2Q2016
WestJet's short term unit revenue pressure will continue at the end of 2015. Airline executives warned its unit revenue performance during 4Q2015 would be worse than the 3% decline the company posted for the first nine months of 2015. The main drivers of the decline are new markets under development in 2015 and some effects from the weaker economies in Alberta due to the collapse in energy prices.
The number of new markets introduced in 2016 will fall year-on-year from 22 to 13, "so the percentage of our network that is under development is reduced year-on-year," Mr Saretsky concluded.

The company begins to annualise the new market growth in 2Q2016, and Mr Saretsky stated he would expect to see unit revenue pressure continue until that time. Similar to most North American airlines experiencing unit revenue pressure, WestJet is not offering a timeframe for a return to a positive performance. But the general consensus among those airlines is that unit revenues will not reach a positive trajectory until 2H2016 at the earliest.
WestJet signals it is not taking any steps to risk the status of its investment grade rating
WestJet and Alaska Air Group have secured key investment grade status during the last year.
Alaska recently outlined a projection of 8% capacity growth in 2016, which is higher than the US industry average.

Both airlines have arguably stellar financial records during the last few years, and have weathered numerous weak cycles during those times. More importantly, neither company will take steps to jeopardise its investment grade rating. It is still early to firmly crystallise growth for 2016, but each airline will no doubt refine their targets downwards if demand trends change and economies weaken.
WestJet is sending a clear message in that direction to allay concerns that its growth is too rapid as global economic uncertainty remains an overhang.